As another beautiful autumn season approaches, you need to know the best places to see fall colours in Ontario. I've come up with a list of the top 25 spots to witness magnificent fall foliage in Ontario. Most of these involve some hiking, although there are a couple of short walks to lookouts and even an incredible journey by train.
Posts may be sponsored. Post contains affiliate links. I may be compensated if you make a purchase using my link.
Immerse yourself in the great outdoors as nature's palette completely transforms. A lush green landscape becomes a wash of red, orange, and yellow. While there are hundreds of parks and trails to view the fall colours in Ontario, I had to narrow it down to 25 of my favourites. Which one is your favourite?
Fall Colours in Ontario: The Best Fall Hikes and Lookouts
Here's a quick summary of the places that you'll find awesome Ontario fall colours. Some of these offer a lookout point with epic views. Others are the most popular places for fall foliage (and for good reason!).
1000 Islands National Park
Agawa Canyon
Algonquin Provincial Park
Arrowhead Provincial Park
Beamer Memorial Conservation Area
Bon Echo Provincial Park
Cheltenham Badlands
Cup and Saucer Trail
Dundas Peak
Ferris Provincial Park
Frontenac Provincial Park
Huron Natural Area
Island Lake Conservation Area
Kerncliff Park
Killarney Provincial Park
Lake Superior Provincial Park
Lion's Head Provincial Park
Mono Cliffs Provincial Park
Niagara Glen
Point Pelee National Park
Pukaskwa National Park
Rattlesnake Point
Restoule Provincial Park
Rouge National Urban Park
Sager Conservation Area
Sherman Falls (Bruce Trail in Hamilton)
Fall Colour Report: When is the Peak Viewing Time?
Depending on where in the province you're visiting, the peak fall colors in Ontario can range anywhere from late September and early October to late October. From the end of September, you can usually start seeing the leaves change colour in southern Ontario.
Of course, you want to know precisely the best times to witness the most vibrant leaves on the trees. What is the best time of year to see the leaf color changes? For the best recommendations on where to go for brilliant fall colours in Ontario, Ontario Parks has their fall colour report. It's an interactive map that's continually updated throughout the fall season.
While this map applies only to the provincial parks in Ontario, you can roughly use it as a basis to plan all of your trips to see the gorgeous autumn leaves. In 2020, I found that the best fall colours in southern Ontario happened generally between the second week of October right through to the end of October. In some cases, you might be able to catch glimpses in early November, though most of the leaves will have fallen to the ground by this point.
Join the Ontario Hiking Facebook Group
You are also welcome to join our Ontario Hiking Facebook Group – it's a great way to ask questions about hiking in Ontario, share your Ontario hikes, and get inspired!

Fall Colours in Ontario at 1000 Islands National Park
Thousand Islands National Park is one of the top places to visit in autumn as the fall foliage is quite stunning. There are several areas within the 1000 Islands National Park, both on the mainland and on the islands themselves. On the mainland, I highly recommend checking out the Landon Bay Trails to witness fall at its finest.
The Thousand Islands formed where The Frontenac Arch intersects with the Saint Lawrence River. You'll find alluring pine forests, craggy shorelines, and thousands of islands that are the tops of ancient mountains. Some notable spots at Landon Bay is the stone archway that you see when you first enter the park, as well as the lookout at the very top of the trail (it's only a short hike to reach it).
Ontario Fall Colours: Agawa Canyon
The Agawa Canyon is a shallow canyon located deep in the Algoma District of Northern Ontario. The Algoma Central Railway is a railway that operated for many years, transporting passengers between Sault Ste Marie and Hearst. It was most famous for its Agawa Canyon Tour Train, which has functioned as a separate entity since 2015. It's extremely popular for viewing the fall foliage, so you'll need to book far in advance for this time of year.
Starting in Sault Ste. Marie, hop on board the Agawa Canyon Tour Train and take a train ride up to the canyon. Fall is the most popular season to visit. You can see the beautiful autumn scenery on your way up to the canyon. Once you arrive, the surroundings around Agawa Canyon are stunning with all of the colourful trees. It's about a 10 hour day trip (4 hours to get there, 1.5 hours at Agawa Canyon, and 4 hours return trip).
Algonquin Provincial Park
This list wouldn't be complete without Algonquin Park, one of the best places to go for a hike in Ontario all year long. It's one of the best provincial parks for viewing the fall colours in Ontario. The fall colours begin to appear from mid September to mid October. The Sugar Maple and Red Maple trees tend to change colour on the last week of September or first week of October.
While Algonquin Park covers a huge, vast territory in Ontario, you really can't go wrong with any of its hiking trails. Some of the best trails to check out include the Centennial Ridges Trail, the Hardwood Lookout Trail, and the Two Rivers Trail. To plan your trip to Algonquin Provincial Park in the fall, the Ontario Parks website has this great guide.
Arrowhead Provincial Park
Arrowhead Provincial Park provides the wow factor that you might be seeking on Ontario hiking trails. There's an incredible lookout point, a beautiful waterfall, a peaceful lake, and shaded paths through the woods. Whether you're going camping at Arrowhead Provincial Park or simply visiting for the day, it's an amazing park in Ontario that you need to visit as soon as possible.
There are a couple of must visit spots at Arrowhead Provincial Park: Big Bend Lookout and Stubb's Falls. After that, feel free to hike any of the trails. You'll surely see spectacular colours on all of them. Head up to cottage county and experience Arrowhead Provincial Park for the beautiful fall colours as soon as possible.
Beamer Memorial Conservation Area
Beamer Memorial Conservation Area in Grimsby offers breathtaking views overlooking the Niagara Peninsula, the Niagara Escarpment, and Lake Ontario. While it's an outstanding place to go hiking in the spring for the annual hawk migration, the fall colours add an extra level of brilliance in September and October.
From the trails above the escarpment, you can enjoy scenery that extends out towards the lake. Continue your hike and make your way down the escarpment. Follow the edge of the river, and you'll eventually reach a beautiful waterfall.
Bon Echo Provincial Park
Bon Echo Provincial Park in southeastern Ontario is home to Mazinaw Lake, one of the deepest lakes in Ontario. Since Bon Echo is at a higher elevation when compared to many other areas of Ontario, we tend to be able to see the fall colours there first. Hues of red and orange begin to make appearances in mid-September, although you'll be able to see shades of autumn well into October.
There are lots of fantastic hiking trails at Bon Echo Provincial Park to explore, including the easy Bon Echo Trail and the moderate High Pines Trail. There's even a hiking trail (Cliff Top Trail) that's only accessible by water. Mazinaw Rock on Mazinaw Lake is one of Canada's largest visible collections of indigenous pictographs.
Cheltenham Badlands
The Cheltenham Badlands are one of the most unique natural features in Ontario. While this was once a little known gem of the region, it's now one of the most instantly recognizable landscapes in the province. This exposed red Queenston shale terrain is like no other in the region. Visiting in the fall adds an extra layer of awesome: the red, orange, and yellow leaves make an amazing backdrop!
It's likely a bit of a drive for most visitors. This fascinating site in the middle of the country in Caledon, about an hour away from Toronto and Mississauga (and north of Brampton). I truly feel that these badlands in Ontario are well worth the drive to witness a sight that you won't see anywhere else. It's only open from the spring to the fall, and you currently need to book your ticket ahead of time online.
Cup and Saucer Trail
The Cup and Saucer Trail on Manitoulin Island is continually ranked as one of the best places to go hiking in Ontario. The fall scenery here is outstanding. There are beautiful views from the edge of the Niagara Escarpment with fall colours extending off to the horizon.
While there are 15km of trails to explore, don't miss the White Trail that features the 70 metre high East Lookout that towers over the surrounding landscape. This panoramic view is one you'll want to savour, and one reason why Ontario is such an incredible place to explore.
Fall Colours in Ontario: Dundas Peak
The Dundas Peak is one of my favorite places to visit for the hiking, the waterfalls, and its lookout. First, it's one of the prettiest places in Hamilton and dare I say, all of Ontario. Even though the Dundas Peak has been fenced off, you can still witness some of the most brilliant fall colours in Ontario here.
Located at the Spencer Gorge Conservation Area, it's possible to visit the Dundas Peak and Tews Falls all in one go. You can also add a separate reservation to see nearby Websters Falls. A lot of the imagery on the home page of this blog was taken at the Dundas Peak. I'm originally from the town of Dundas, and I grew up visiting this beautiful place back to when I was a kid. So, it will always hold a special place in my heart.
Ferris Provincial Park
Ferris Provincial Park is an awesome place to go hiking for a few reasons. While the hiking trails themselves aren't the most remarkable or interesting, it's the scenery all around that you'll truly enjoy. Located in Campbellford, Ontario, you'll be able to view some really pretty Ontario fall colours here, too.
First, there's an amazing suspension bridge (the Ranney Gorge Suspension Bridge) that leads into and out of the park with astounding views. Next, there's a small waterfall you can see. Plus, the hiking trail that follows the gorge provides beautiful lookouts across the Trent River along the way.
Frontenac Provincial Park
Frontenac Provincial Park in Southeastern Ontario offers 160km of hiking trails past 22 lakes. You'll easily find some of the best fall colours in Ontario here, and it can take weeks to explore all of its trails. If you are interested in hiking all of the trails, there's something called the Frontenac Challenge that might interest you.
Essentially, between September 1 and October 31, you'll need to hike all 11 loops and 160km of the trails at Frontenac Provincial Park. If you finish the challenge, you'll receive a certificate of accomplishment. For those folks who are really determined, complete the challenge five times and your name will be engraved on the "800 km Club" plaque. Complete it10 times and you will be honoured on the "10 Challenge Under Their Boots" plaque.
Huron Natural Area
Huron Natural Area is home to some of the best Kitchener hiking trails. There are several interconnecting hiking trails at Huron Natural Area. You can take a couple of hours and hike all of them or embark on a shorter hike completing one or two. It's the perfect place to go hiking in Kitchener with the whole family.
You'll surely be impressed by the fall colours as you wander through the forest. Be sure to head to the Board of Education Pond during your walk, a gorgeous and very reflective small lake in the middle of the park.
Island Lake Conservation Area
Island Lake Conservation Area is a really special place to go hiking in Ontario. There are numerous meanders through tall trees in the middle of the forest. There are also expansive boardwalks and bridges crossing the lake offering beautiful scenery. Combine wildlife and birds with some of the best fall colours in Ontario, and you'll quickly see why Island Lake Conservation Area is so spectacular.
The main trail that wraps around the perimeter of the park is the Vicki Barron Lakeside Trail. It's about 8km in length, which might seem far to some, but it's a relatively flat path the entire way. Feel free to walk or cycle this trail and enjoy the everchanging scenery as you explore the park.
Fall Colours in Ontario: Kerncliff Park
Kerncliff Park is one of the top places to go hiking in Burlington, Ontario. Without knowing much about the park, you can expect that it will already be amazing as its part of the Bruce Trail system. As there are so many different trails you can take, you can return here numerous times for new experiences. Don't visit Kerncliff Park without taking a quick jaunt around the wetlands boardwalk before heading into the forest.
The fall colours are absolutely brilliant. The trees are so tall, towering overhead. The leaves are vibrant shades of red, orange, yellow, and green. Gradually hike up to the top of the park where you can see views of Hamilton and Lake Ontario off in the distance.
Killarney Provincial Park
The Crack in Killarney Provincial Park is one of the best Ontario hiking trails, hands down. The hiking trail meanders around a pretty lake with outstanding views. Then, things get better and better as you continue towards the top. It's an adventure to scramble up the boulders at "The Crack". Once you reach the top, you'll be rewarded with some of the most spectacular scenery in the province.
There are several trails within Killarney Provincial Park that will look incredible in the fall: the Crack Trail (as I just mentioned), the Chikanishing Trail, and the Lake of the Woods Trail. While you're in Killarney, you can always add a trek around the Killarney Lighthouse Trail or zip up towards Sudbury to see Onaping Falls.
Lake Superior Provincial Park
First, one of the top fall drives in Ontario is between Sault Ste. Marie and Wawa. This is where you'll find the glorious Lake Superior Provincial Park. You'll find Great Lakes forests with predominantly sugar maple, red maple and yellow birch trees, as well as boreal forests of the north (mostly evergreens). It's a really special place where both of these ecosystems collide, and it inspired many paintings by the Group of Seven.
The epic 600km Voyageur Trail runs through Lake Superior Provincial Park, as well as Pukaskwa National Park, Pancake Bay Provincial Park, and Casque Isles. It's one of the best long distance trails in Ontario, if you're looking for a challenge.
Lion's Head Provincial Park
While Lion's Head Provincial Park is admired mostly for its turquoise blue waters, this park is extra gorgeous in the fall. Add magnificent fall foliage to an already beautiful place, and it's even more magical. Lion's Head is one of the best places to go hiking on the Bruce Peninsula, and many people visit on their way up to Tobermory and the Bruce Peninsula National Park.
Please take note that you now need to book parking for Lion's Head at McCurdy Drive Municipal Parking Area in advance. This park has grown in popularity so much, and there are a limited amount of parking spaces. This is the main access for the trek to Lion's Head Lookout within the Lion's Head Provincial Nature Reserve.
Mono Cliffs Provincial Park
Mono Cliffs Provincial Park has an impressive display of those red, orange, and yellow trees that you're seeking. You'll have the best views of these classic fall landscapes from the observation deck on the Cliff-Top Side Trail. While you're there, you don't want to miss the iconic boardwalk that meanders between the cliffs themselves.
When you're visiting Mono Cliffs Provincial Park, one of the best spots to see the fall colours in Ontario, don't miss the South Outlier Trail. It's an overlooked gem where you'll catch glimpses of red and orange trees along the trail. There's another gorgeous lookout spanning across the treetops here, too.
Niagara Glen
Niagara Glen in Niagara Falls is one of the best spots for fall colours in Ontario. The Niagara Glen trail descends deep into the Niagara Gorge where walking paths meander through 4km of Carolinian forest. You'll be treated to impressive ancient rock formations of the Niagara Escarpment, lush ferns and plants, and jaw-dropping views of the Niagara River's turquoise waters.
The Niagara Glen nature trails are very easy to navigate and they are very well marked. You'll start at the top of the gorge with spectacular views overlooking the Niagara River. Use our Niagara Glen hiking guide to research the trails ahead of time. It's my favourite hike in all of Niagara region, and its beauty is elevated even more in the autumn.
Point Pelee National Park
Point Pelee National Park is the southernmost area of Canada's mainland, and it's a fantastic place to visit all year long. It's well worth the road trip, especially if you decide to take the scenic route on the back roads. Witness the wonders of nature by foot or bike and immerse yourself in Canada's most ecologically diverse national park.
Not only is Point Pelee amazing for the fall colours, but you can also experience some unique moments in nature, too. First, there are thousands upon thousands of Monarch butterflies that gather in Point Pelee on their way to Mexico. Next, there's an annual fall bird migration that includes birds of prey. So, it might not just be the pretty autumn leaves that you see here, but so much more.
Pukaskwa National Park
I realize that the above photo isn't showing Pukaskwa National Park in the fall, but I'm sure you can imagine how beautiful these trees would look in shades of red, orange and yellow. Pukaskwa combines authentic boreal wilderness with the culture of the Anishinaabe First Nations. You can explore 135km of Lake Superior coastline here or take a hike on the 60km coastal trail.
Don't worry, day trippers, you can soak up the beauty of Pukaskwa National Park with ease. The most amazing scenery can be witnessed from the White River Suspension Bridge, a bridge spanning 30 meters across the chasm at a height of 23 meters. As you can imagine, this is one of the best places in Ontario for fall hikes.
Fall Colours in Ontario: Rattlesnake Point
Rattlesnake Point in Halton Region is one of the prettiest places to hike in Ontario, especially in the fall. The views from Buffalo Crag Lookout Point are breathtakingly beautiful, and there are several hiking trails to witness the vibrant fall foliage. You'll need to reserve your park visit in advance, and keep in mind that Rattlesnake Point is extra popular in September and October.
Restoule Provincial Park
Restoule Provincial Park near North Bay has astonishingly beautiful oak, maple, and birch forests that burst with colour in the fall. The "must do" trail at Restoule is the Fire Tower Trail. You'll experience dense forests, tranquil boardwalk trails, and rugged rocky cliffs. You can stop to admire Amber Lake before climbing to the top of Stormy Lake Bluff, which has some pretty spectacular views.
Some other trails at Restoule Provincial Park include the Grawbarger Trail, the River Trail, the Rangers Point Trail, the Angels Point Trail, and the Gibs Trail. There are also opportunities to explore the park by mountain bike as several of these trails are well suited for biking, too.
Rouge National Urban Park
Rouge National Urban Park is Canada's first national urban park, a unique wilderness setting, and one of the best places to go hiking in Toronto. It combines amazing biodiversity and natural landscapes with history and culture of the area. You'll find Toronto's only campground, vast marshes, a sandy beach on Lake Ontario, Carolinian forest, and some of Canada's oldest Indigenous sites.
When hiking at Rouge National Urban Park, you'll be truly spoiled for choice. There are numerous trails of various distances and difficulties. I suggest venturing out on the Vista Trail (there's a great viewing platform), the Mast Trail, and the Orchard Trail. All three can be completed in one big loop. If you're looking for places to see the fall colours in Toronto, head straight to Rouge Park.
Sager Conservation Area
Sager Conservation Area isn't much of a hike, but it's most well known for its epic viewpoint and scenery. It's one of the highest points of land in the area, and there's a lookout tower with 360 degree panoramic views. Combine it with a trip around the Bay of Quinte or Prince Edward County.
There's a large, free parking lot at Sager Conservation Area. From the car, you'll see a boulder to your left with a drawing of the lookout tower on it. Hike up a series of steps to the top (97 steps to be exact), and then walk to the top of the 30 foot tower (48 more steps) for impressive views. It's worth all the climbing, trust me! Visiting in the fall is especially amazing as you'll witness autumn colours for days.
Sherman Falls (Bruce Trail in Hamilton)
Sherman Falls, otherwise known as Angel Falls and Fairy Falls, is a 17 metre high curtain waterfall that flows from the Ancaster Creek. To reach Sherman Falls, park your car at a parking lot on Artaban Road (part of the Dundas Valley Conservation Area). Speaking of the Dundas Valley Conservation Area, it's another great place for a fall hike, and you can make your way there by foot after seeing Sherman Falls.
There are so many amazing waterfalls in Hamilton, and many of them look positively stunning surrounded by orange and red leaves. Make sure you visit after a rainfall, if it's possible, because some of the waterfalls might be dried up after a hot summer.
What to Bring on a Hike
A proper pair of hiking shoes is an absolute must. It's also a good idea to bring sunscreen and lots of water, too. My water bottle of choice is the GRAYL Purifier because you can drink ANY water from any source, no matter what. Water from lakes, streams, rivers, public restrooms, you name it. It's the world's fastest portable purifier. Get your hands on one ASAP!
Don't forget to pack some bug spray because there can be biting bugs depending on the time of year. Even if there aren't any signs, it's safe to assume that ticks are all over Ontario hiking trails. Protect yourself against ticks by reading our guide to avoiding ticks on the trails.
For amazing deals on hiking products like backpacks, boots, clothing, and gear, check out the Decathlon Canada shop!
What are some of your favourite places to see brilliant fall colours in Ontario? There are way more than 25 places to see the fall foliage in Ontario, whether you're going on a scenic drive or a lengthier fall hike. Be sure to let me know all of the best ways and top places that you love to view the fall colours. Leave me a note in the comments below!
Become an Ontario Hiking Supporter!
Join the Ontario Hiking Patreon and you'll become a VIP member of the Ontario Hiking community! You'll receive ad-free, downloadable hiking guides with new guides added weekly. Plus, there are many more perks! Become an Ontario Hiking Supporter today!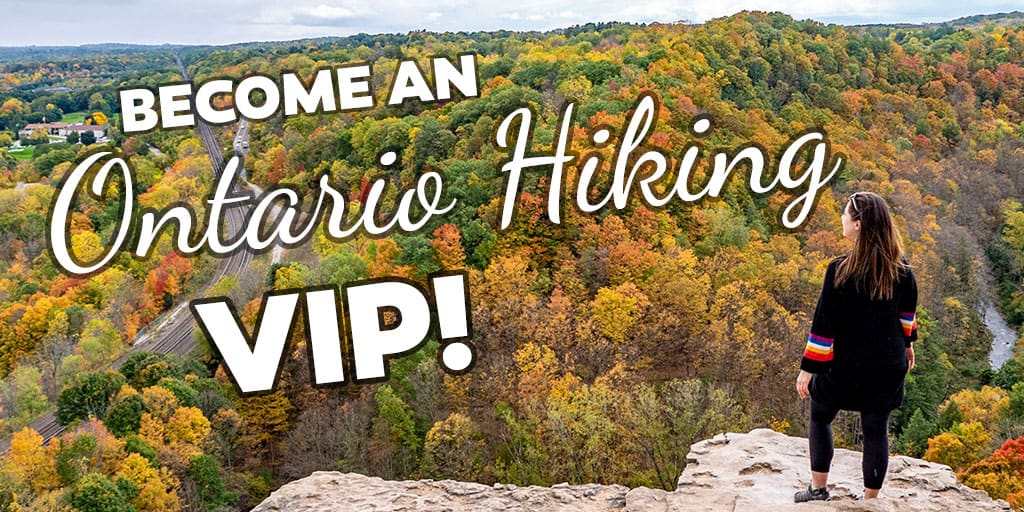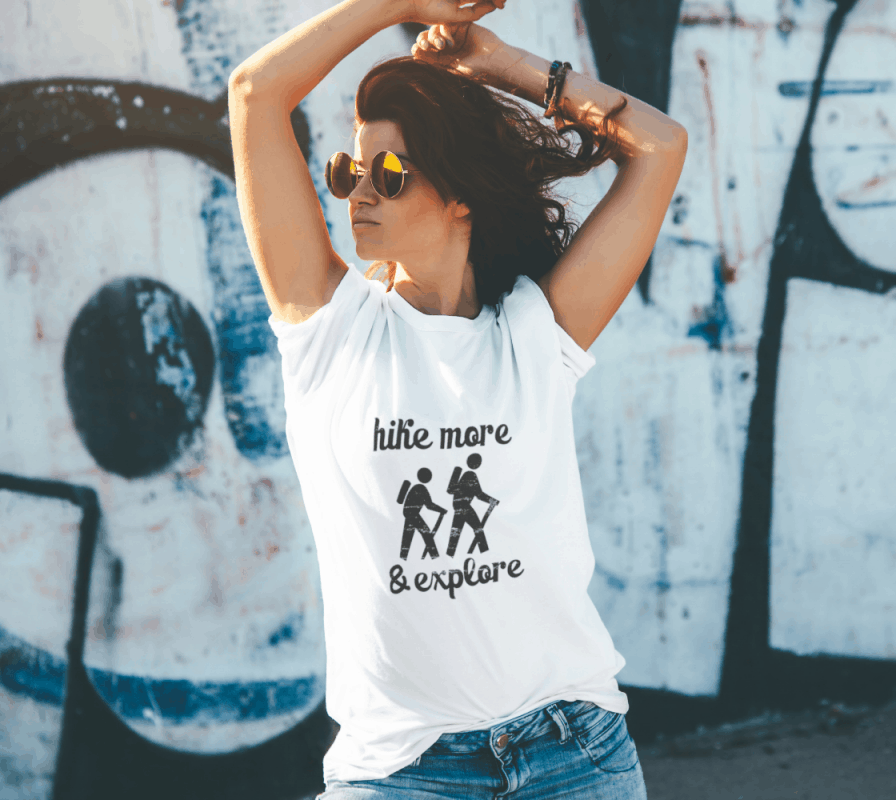 Inspired by adventures and nature. Ontario hiking and Bruce Trail apparel & accessories, designed by me.