The Chikanishing Trail is an amazing place to go hiking at Killarney Provincial Park. If you love beautiful scenery of the water and picturesque Canadian landscapes, you're in luck! While there are many great hikes at Killarney Provincial Park, I highly recommend fitting the Chikanishing Trail into your plans.
Posts may be sponsored. Post contains affiliate links. I may be compensated if you make a purchase using my link.
The Crack is the most famous hiking trail at Killarney Provincial Park, and it's one of the best hikes in Ontario. Whether or not you're able to hike The Crack, I still suggest that you venture over to the southern side of the park to experience this one, too. The panoramic scenery is entirely different from those at The Crack, and it's a little bit easier to hike, too.
Another great hike just outside of Killarney Provincial Park is the Killarney Lighthouse Trail. This starts at the edge of town at the Killarney Mountain Lodge and continues along the coast to the lighthouse. The Killarney Lighthouse Trail is almost like a warmup to the Chikanishing Trail as both are pretty coastal hikes.
Become an Ontario Hiking Supporter!
Join the Ontario Hiking Patreon and you'll become a VIP member of the Ontario Hiking community! You'll receive ad-free, downloadable hiking guides with new guides added weekly. Plus, there are many more perks! Become an Ontario Hiking Supporter today!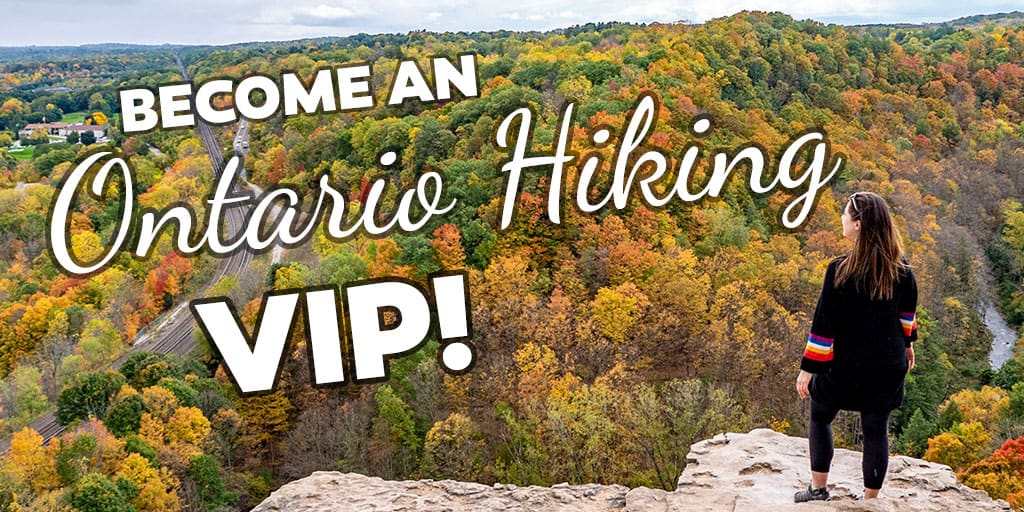 Chikanishing Trail Map
Here is a Chikanishing Trail map that's posted at the trailhead within Killarney Provincial Park. As you can see, it's a loop trail starting at the parking lot. You'll walk across the rocks at the side of the Chikanishing Creek until you reach a lookout point at Georgian Bay. Then, you'll hike back through the forest to your starting point.
Hiking the Chikanishing Trail at Killarney Provincial Park
Starting at the trailhead, you'll notice lots of massive, relatively flat boulders. There will be trail markers on some nearby trees, but you'll find most of them painted directly on the rocks themselves where there aren't any trees.
The pink granite rocks are truly a sight to behold against the twinkling deep blue waters. The rocks can be quite barren at times, though we did see some delicate flowers peeking through the spaces between the boulders now and again.
Hiking by the Chikanishing Creek
We hiked the Chikanishing Trail in a counter-clockwise direction. The two of us started by walking along and up above the Chikanishing Creek with pretty views along the way. The first half of the hiking trail isn't shaded at all, so be sure to wear sunscreen and a hat.
There are a few scenic viewpoints along the way. For the first half of the hike along the waterfront, there are also many interpretive plaques offering information about the history of the area. It's nice to learn something about the lands and its people. For instance, one of the signs states that Indigenous Peoples have lived in this region for over 10,000 years.
This hike isn't as easy as it looks. You'll venture up and down a series of ridges and rocks. While there aren't any difficult climbs (like at the Crack trail), you will have to watch your step across this terrain. At the same time, it's easy to forget that you're exerting any energy at all when you catch glimpses of the rugged coastline and windswept pines.
Reaching Georgian Bay
You'll reach a point in the trail where you can continue on the loop back towards the forest or you can walk across a short bridge. Be sure to choose the bridge option if you'd like to admire some of the most beautiful scenery of the hike. This is where the trail reaches a dead-end at Georgian Bay.
While you'll see pink granite rocks and windswept trees throughout the trek, this is where the views really open up. If you walk as far as you can go, there are panoramic views of one of the most beautiful landscapes in the province. There's an isolated island not too far from the mainland that looks straight out of a Group of Seven painting. This lookout point is not to be missed.
Walking Back Through the Forest
At this point, turn back around, walk back across the little bridge, and venture towards the trees. The loop back to the car park is the least interesting part of the hike. It's a walk through the forest, so you will be shaded from the sun. While that's one positive aspect of walking beneath the trees, this section of the trail tends to have some bugs during the spring and summer months.
If you wear bug spray, it shouldn't be too much of an issue. We didn't find bugs to be a problem at all out by the water where it's breezy. There isn't much of a breeze in the forest, so the bugs definitely make an appearance.
Want to see more photos from Killarney?
Browse our entire travel photography album in one place. You can browse and buy any of our pictures, including prints, gifts and more.
Plan Your Visit to Chikanishing Trail / Killarney Provincial Park
There's a large parking lot for the Chikanishing Trail in Killarney Provincial Park just off highway 637. It's located on the southwest side of the park. If you search "Chikanishing Trail" on Google maps, you'll find it. In 2021, parking is free from Monday to Thursday. From Friday to Sunday, the parking fee is $15 per car.
The Chikanishing Trail is a 3.5km loop trail that takes about two hours to complete. It may take longer if you stop to admire the scenery for a lengthy amount of time. We stopped on several occasions to see the beautiful sights, and we managed to finish our hike in a little under two hours.
I'd rate this one as a moderate hike. It can be difficult at times to navigate across the rocks and boulders as there can be a few steep climbs. It's still an easier hike than The Crack. If you're hiking this one in the rain or after some wet weather, please take care as the rocks can get slippery.
What to Bring When Hiking in Killarney
In June, there were some black flies and mosquitoes in the forest. Once we hiked to a higher elevation, there was a nice breeze and no bugs. For this reason, please wear bug spray and even consider bringing a bug net if it gets to be too bad.
Sunscreen is a good idea, too. You'll be out in the open for the most part here. I also suggest bringing a sun hat, especially one that's breathable with SPF protection.
Make sure you wear appropriate footwear when hiking at Killarney Provincial Park. Hiking shoes or hiking boots with a good tread is necessary. Here are my recommendations for hiking shoes if you're looking to get a pair.
Water, water, and more water! Always bring more water than you think you'll need. You can bring a couple of standard water bottles. The GRAYL Purifier bottle is a favourite of mine because it will purify any water in seconds. You can pack this one bottle and refill it from any lake or stream without getting sick. Bringing some snacks or a packed lunch is a good idea, too!
Where to Stay in Killarney
You are welcome to go camping at Killarney Provincial Park, and this is a popular choice for many visitors. If you are looking to stay somewhere a little more comfortable, Killarney has two main resort hotels: Killarney Mountain Lodge and the Sportsman's Inn.
Justin and I spent two nights at the Killarney Mountain Lodge and it was fantastic. We had a comfortable and spacious room, the property is beautiful, and there's even an additional hiking trail from Killarney Mountain Lodge (the Lighthouse Trail). There's nothing like relaxing on the red Muskoka chairs and gazing out to the Killarney Channel after a day of hiking.
When staying in Killarney, you'll likely end up dining at the on-site restaurants as there aren't too many amenities in town. There's one small general store and another restaurant, but that's about it. If you'd rather stay closer to a city, Sudbury is only about 1 hour and 20 minutes from Killarney. Here are some Sudbury hotels where you can enjoy a relaxing stay. You can also browse nearby hotels on this convenient map:
Join the Ontario Hiking Facebook Group
You are also welcome to join our Ontario Hiking Facebook Group – it's a great way to ask questions about hiking in Ontario, share your Ontario hikes, and get inspired!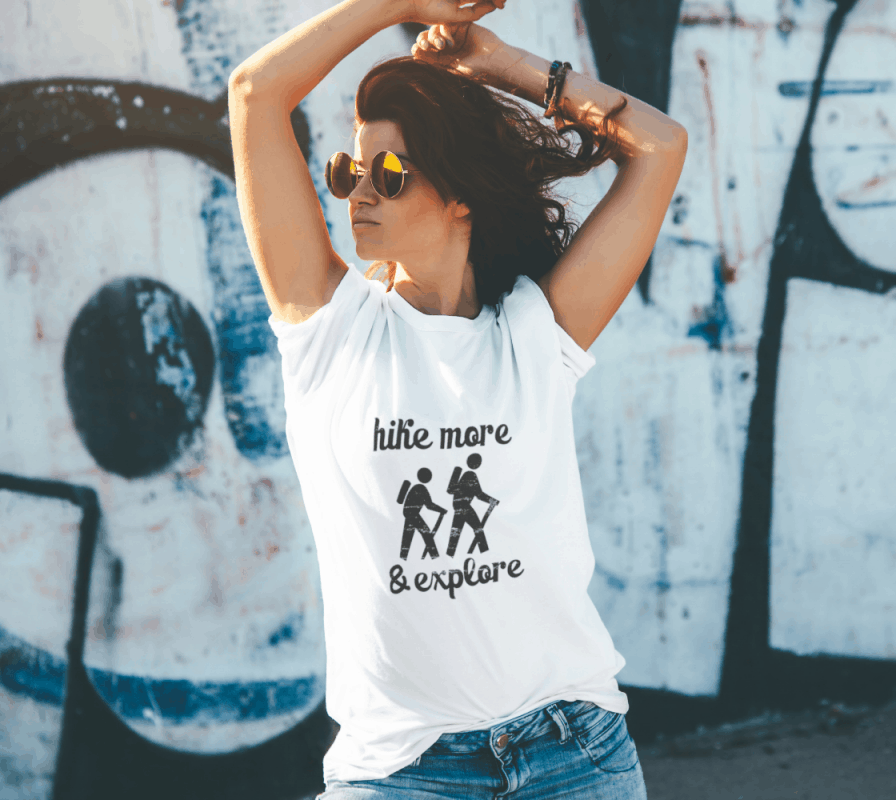 Inspired by adventures and nature. Ontario hiking and Bruce Trail apparel & accessories, designed by me.