Looking for Toronto hiking trails to explore? When Toronto comes to mind, you might envision towering condo buildings, endless concrete roads, and traffic jams for days. That's not all there is to the city. There are beautiful wooded parks, trails through peaceful forests, and wildlife habitats in Toronto.
Posts may be sponsored. Post contains affiliate links. I may be compensated if you make a purchase using my link.
You can find many places to hike in Toronto without leaving the city boundaries. So, explore your own neighbourhood or hop on the TTC to discover the best of your own backyard. Here are the top Toronto hiking trails that you need to explore.
Become an Ontario Hiking Supporter!
Join the Ontario Hiking Patreon and you'll become a VIP member of the Ontario Hiking community! You'll receive ad-free, downloadable hiking guides with new guides added weekly. Plus, there are many more perks! Become an Ontario Hiking Supporter today!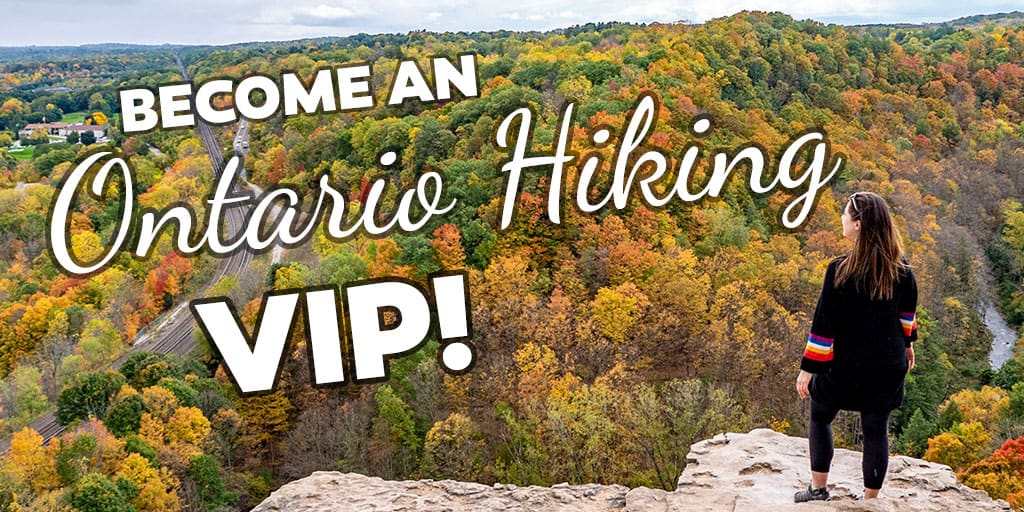 Toronto Hiking Trails: Scarborough Bluffs
The Scarborough Bluffs are one of Toronto's not-so-hidden secrets where the cliffs look straight out of England and the waters are turquoise like the Caribbean. It's one of the best walking trails in Toronto, and the main path runs for 5 to 6km at the base of the cliffs. The Scarborough Bluffs Trail is an easy jaunt between Bluffer's Beach and Bluffer's Park. You'll enjoy scenery of the rugged cliffs, the calm waters, and the occasional seabird flying around. It's even possible to go swimming here at the small sandy beach during the summer.
If you'd like to check out the views from the top of the cliffs, you'll need to drive up to Scarborough Crescent Park (the Scarborough Bluffs Lookout). While you might be able to figure out how to climb up the cliffs to the top, I don't recommend it. It's a very ecologically sensitive area, and portions of the rocks could give out at any moment. To avoid injury to yourself and harming the landscape, please don't forge your own path up to the top. If you're caught trying to hike up to the top of the Bluffs, you could face a $5000 fine.
Walking Trails in Toronto at High Park
High Park is one of the most beautiful places in Toronto, and the city park has some of the best Toronto hiking trails, too. While you might have visited High Park for cherry blossom viewings in the spring, there's so much more to this natural space that covers several city blocks. You might have wandered around Grenadier Pond or the Japanese garden, but have you ever gone hiking at High Park?
Even though it's an easier walk through the park, there are many forests and wooded areas within High Park. You'll come across hardwood forests, wildflowers, and many different species of birds. The High Park Area Trail is a loop trail around the perimetre of the park, spanning about 5km. It's Toronto's "Central Park" on a smaller scale. While these Toronto hiking trails aren't challenging or the lengthiest, it's a lovely outing for a few hours.
Rouge National Urban Park
Rouge National Urban Park is Canada's first national urban park, and it's a unique wilderness setting in the capital city of the province. It combines amazing biodiversity and natural landscapes with history and culture of the area. You'll find Toronto's only campground, vast marshes, a sandy beach, Carolinian forest, and some of Canada's oldest Indigenous sites.
When hiking at Rouge National Urban Park, you'll be truly spoiled for choice. There are numerous trails of various distances and difficulties. Here is a full listing:
Rouge Marsh Trail: A short hike of the largest remaining wetland in Toronto (500 metres)
Mast Trail: Explore Carolinian ecosystems on a 200 year old former logging route (2.5km)
Glen Eagles Vista Trail: Views of the Rouge River and the Little Rouge Creek (600 metres)
Celebration Forest Trail: A commemoration of community leaders that helped protect and create Canada's first urban national park (500 metres)
Vista Trail: Check out the two level viewing platform on this trail (1.5km)
Orchard Trail: Forests, wetlands, and remnants of early European settlements (2km)
Cedar Trail & the Beare Wetlands Loop: Mature forests and wildlife (1.5 – 4.5km)
Woodland Trail: Forests, meadows, and water (4.5km)
Reesor Way / Tanglewood Trail: A loop trail of young and old forests and meadows (3.3km)
Monarch Trail: Gently rolling loop trail across several habitats (7.6km)
Tallgrass Trek: Grasslands, wetlands, and meadows – a loop trail (3.2km)
Sentier Trail: Shaded forests and wetlands, a family friendly trail (5.1km)
Coyote Trail: Pine and cedar forests, wetlands, meadows – a loop trail (2.9km)
There's even an app for the park. Students at the University of Toronto Scarborough's innovation hub worked with Parks Canada to create an app, available for both iPhone and Android devices. You can use the app to navigate the hiking trails and learn about the park's history along the way. It's even possible to take some virtual hikes at Rouge National Urban Park before you hit the trails.
Don Valley Brickworks Park & Moore Park Ravine
The Don Valley Brickworks Park is a 40 acre park on a former quarry featuring hiking trails and scenery of the Toronto skyline. This is one of the best hikes in Toronto because you're not too far from the city, there are wooded trails with potential wildlife sightings, and you can even pop by Evergreen Brickworks, too. There's a small coffee shop on site, a farmer's market on Saturdays, and an artisan market on Sundays.
While the entire loop of the Don Valley Brickworks hiking trail is only about 2.4km, it's easy to extend your hike through the Don Valley from here. Continue on the Beltline Trail north or south, or hike along the Lower Don River Trail. You can even do an entire loop of the Moore Park Ravine continuing on to David Balfour Park. Check out my hiking guide to the Moore Park Ravine.
Hiking in Toronto at Crothers Woods
The trails at Crothers Woods are one of the best places to hike in Toronto that actually link up with the aforementioned Evergreen Brickworks Trail. The Crothers Woods loop trail is 6.6km and runs along the edge of the Don Valley. If you're going to walk on the Crothers Woods loop trail, the hiking path starts at a grocery store with a large parking lot (so you can park there).
Even though there's a shopping centre and a nearby highway, you'll be transported to the middle of serene nature within no time, nearly forgetting that you're in the city at all. However, you might stumble upon some epic city skyline views on the journey that are a happy reminder that you're experiencing the nature of this great city.
Warden Woods (Gus Harris Trail)
Warden Woods features the Gus Harris Trail (named for a former mayor of Scarborough) in the east end of the city. It's a 3.2km out and back trail that's very easy to access. The Gus Harris Trail is one of the best hiking trails in Toronto. It's an easy stroll through the woods, there's a pretty ravine, and a river running through it.
You can easily reach it from the subway stations (Warden or Victoria Park) or there's lots of parking on residential streets. Although you might have to tolerate some city noise on the trail, there's also the peaceful sounds of birds chirping and the gentle flow of the river that makes it all worthwhile.
Tommy Thompson Park (Leslie Street Spit Trail)
The Leslie Street Spit Trail at Tommy Thompson Park is one of the top Toronto hiking trails. While you may notice old construction rubble on parts of the trail, it's a great example of how nature is beginning to reclaim it all. The entire loop trail is about 11km in length, although there are a few different paths to take within Tommy Thompson Park.
First, there's a multi-use trail extending from the mainland and out towards the water. This is a flat, paved surface about 5km in length between the park entrance and the lighthouse at the end. There are two pedestrian trails with a flat or smooth gravel surface, meant for pedestrians only. Then, there's the nature trail (3.3km) featuring a natural surface that runs parallel to the multi-use trail. As this park is a habitat for wildlife (10 species of owls are known to live here), pets are not permitted in the park.
Humber Bay Park East & Humber Bay Park West
Humber Bay Park is a waterfront park in Toronto's west end (Etobicoke) near where the Humber River meets Lake Ontario. Specifically, the parks are right where Mimico Creek flows into the lake. This green space is divided into three parks: Humber Bay Park West, Humber Bay Park East, and Humber Bay Shores Park. There are hiking trails at all three parks and they're some of the best walking trails in Toronto.
The Humber Bay Park West Trail is a 1.9km out and back trail that offers beautiful scenery all around. The Humber Bay Park East Trail is slightly more scenic with some wildlife viewing opportunities, and it also includes gorgeous lake views, too. It's a 2.6km loop trail. If you continue along the Humber Bay Park East Trail, you'll eventually end up at the Humber Bay Shores Park. You'll walk past a small butterfly garden on the way. Eventually, there's an interesting pedestrian bridge called the Humber Bay Arch Bridge with scenic lookouts on either side of it. It's easy to spend an entire day exploring these parks and Toronto trails. You're not too far from the city streets if you'd like to stop for a meal or a coffee, too.
Humber River Recreational Trail
Farther north in Etobicoke on the Humber River lies the Humber River Recreational Trail, an 8.2km out and back trail on a paved path. It meanders along the river from Humber Bay to Old Mill and eventually to Scarlett Woods. The Humber Bay Park East trail connects with the Humber River Recreational Trail, so you can easily explore both in one day for an extended trek. While you'll be sharing the path with cyclists, it's a stunning scenic route in the city that's not to be missed.
Glen Stewart Ravine
The Glen Stewart Ravine is a hidden forest escape in the Beaches neighbourhood of Toronto. On the Glen Stewart Park Trail, there's an expansive boardwalk across a protected forested area where you'll quickly forget that you're walking in Toronto. It's one of my favourite Toronto hiking trails within the city limits.
The path itself is a little over 1km long (1.3km to be exact), so it isn't exactly a long hike. It took me about 20 minutes to hike from one end to the other, and then backtracking my way back to the car. While some of the walk traverses over a dirt path, you'll also venture across elevated boardwalks for most of it. No matter where you go, you'll be surrounded by a lush and picturesque forest with a canopy of red oak and red maple trees overhead.
Toronto Island
Lastly, I had to include the Toronto Islands on my list of the top Toronto hiking trails. While these aren't difficult treks through the forest, you'll find peaceful walking paths on one of the most scenic places in the city. You'll need to take the ferry from the mainland to Centre Island. From there, explore 14km of trails from Hanlan's Point to Ward's Island.
There's a great mix of waterfront boardwalks, beaches, and paths near charming homes. You'll likely need to visit on multiple occasions to discover the island from every angle. You'll witness one of the best city skyline views from the island and on the ferry ride, too. Taking a trip to the Toronto Islands is a must for anyone living here or visiting the city from afar.
Map of Toronto Trails
Here is a handy map of all the Toronto hiking trails so you can view them visually in one place. If you'd like to save this map for future reference, please click the little star beside the title and it will be saved to your Google account.
Looking for More Nearby City Guides?
If you're looking for more hikes near Toronto and looking for more city guides, here are a few other ones that you might be interested to check out:
Where to Stay in Toronto
Are you looking for where to stay in Toronto? There are so many amazing Toronto hotels and Airbnb accommodations so you can be close to the city or close to the trails.
Here's a handy booking tool where you can see all of the Booking.com accommodations and Airbnbs in one place. It's easy to compare prices and find the best rate for your trip to Toronto.
Join the Ontario Hiking Facebook Group
You are also welcome to join our Ontario Hiking Facebook Group – it's a great way to ask questions about hiking in Ontario, share your Ontario hikes, and get inspired!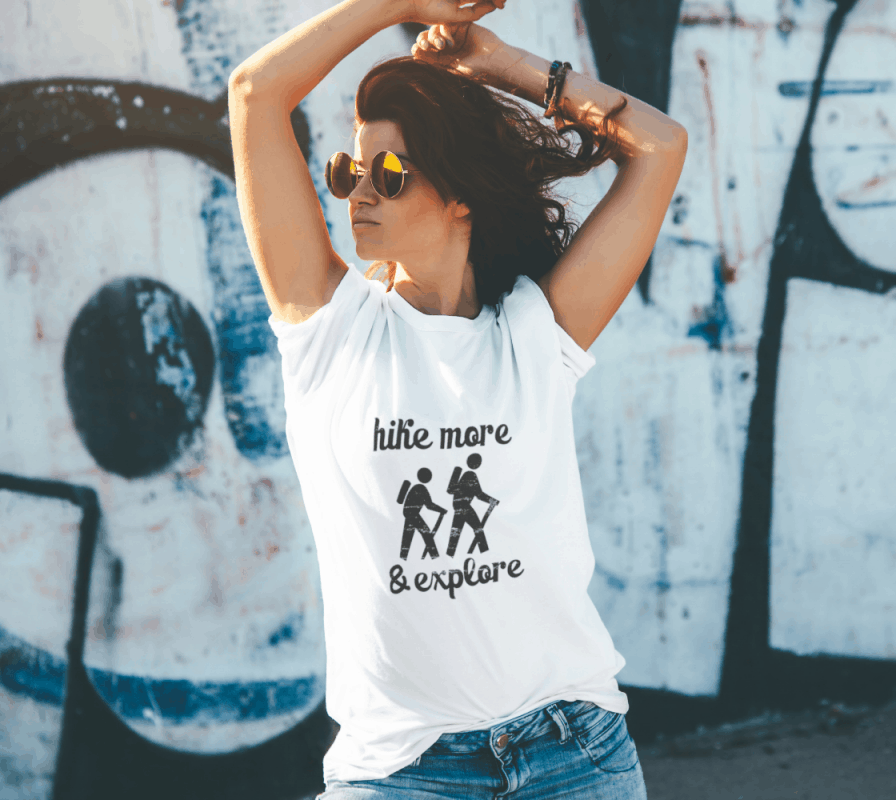 Inspired by adventures and nature. Ontario hiking and Bruce Trail apparel & accessories, designed by me.