The Thousand Islands, Ontario is the perfect destination for outdoor adventures, and there are no shortage of Thousand Islands hiking trails. While it's possible to reach many of the larger islands by kayak or boat to go hiking on the islands themselves, there are lots of mainland properties in the 1000 Islands region to explore.
Posts may be sponsored. Post contains affiliate links. I may be compensated if you make a purchase using my link.
The Thousand Islands region is one of Canada's gems. It's part of the Frontenac Arch Biosphere Reserve, a UNESCO biosphere reserve that is one of the most biodiverse regions in the country. The 1000 Islands are dotted across the St. Lawrence River and shared between Canada and the USA.
While it's only a short jaunt across the border to explore the Thousand Islands, New York, I'm going to focus purely on the Ontario hiking trails. After all, this blog is called Ontario Hiking for a reason!
There are many 1000 Islands hiking trails that range from easy to challenging. Most of them offer spectacular views of the region, whether it's a short climb to the top of a lookout or a more difficult trek with a big payoff.
There are old growth forests, wetland marshes, and the rocky terrain of the Canadian Shield. Here are some of my favorite places to go hiking in the Thousand Islands, Ontario, Canada.
Become an Ontario Hiking Supporter!
Join the Ontario Hiking Patreon and you'll become a VIP member of the Ontario Hiking community! You'll receive ad-free, downloadable hiking guides with new guides added weekly. Plus, there are many more perks! Become an Ontario Hiking Supporter today!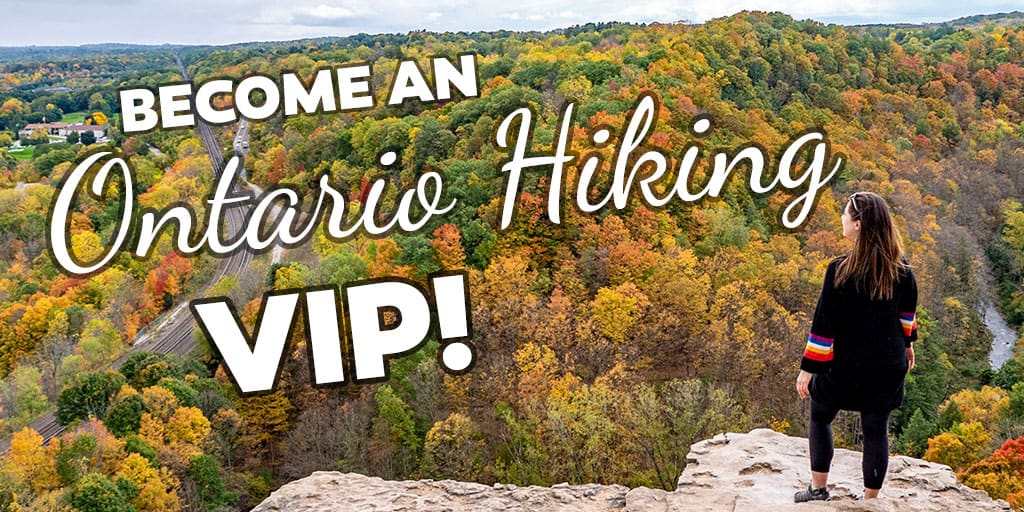 Thousand Islands National Park
There are six national parks in Ontario, including the Thousand Islands National Park. These include: Bruce Peninsula National Park, Georgian Bay Islands National Park, Point Pelee National Park, Pukaskwa National Park, and the Rouge National Urban Park in Toronto. The 1000 Islands National Park is one of the smallest national parks in Canada, but it's one of the most beautiful places in the country.
Established in 1904, the Thousand Islands National Park is spread across 20 islands and three mainland properties. Usually you tend to find national parks across only one or two areas of land, so this one is truly unique in that regard. There is also a visitor's center at Mallorytown Landing where you can discuss your treks with the park staff and view the maps. These are the three mainland properties where you can hike:
And these are the islands of the Thousand Islands National Park that offer short hikes, and you'll only be able to get there by kayak or small boat:
Kingston Islands
Admiralty Islands
Lake Fleet Islands
Navy Islands
Middle Islands
Grenadier Island
East Islands
Before you decide which Thousand Islands hiking trail to tackle, read through the descriptions offered in this blog post to choose which hike is right for you. Maybe you want to hike all of them, which is definitely doable over a few days. In addition to the descriptions and photos here, you can visit the official national park website for some maps.
Landon Bay
Landon Bay is one of the largest bays in the Thousand Islands region. Its shallow waters are a perfect home for wildlife, like turtles and fish. The bay can be thought of as "fjord-like" due to its tall, rocky cliffs. Landon Bay is the most popular area to go hiking at the Thousand Islands National Park. It's a pretty easy trek with a lookout that offers a big reward for little work.
There are seven hiking trails at the Landon Bay section of the 1000 Islands National Park. Even if you only have a short time to go hiking, this is the perfect place. If you choose to hike the two main trails, the Donevan Trail and the Lookout Trail, your trip will be under an hour. If you have more time, definitely walk around all of the paths at Landon Bay. Just a few brief details about the other side trails:
The Garden Trail (green) is an easy stretch of forest beside Halstead Creek with a beaver dam
The Bay Trail (orange) is a moderate trail beside Landon Bay
Halstead Creek Trail (orange) is a forest trail that has an osprey nesting box
The Riverview Trail (red) is a very short trail with picnic tables by the river
Moran Trail (red) is a short trail around several beaver ponds
If you'd like to read more specific details about Landon Bay, take a look at my blog post devoted to the Landon Bay trails. To reach the Landon Bay section of the Thousand Islands National Park, take exit 647 from Highway 401. The actual address is: 302 Thousand Islands Parkway, Lansdowne, Ontario, K0E 1L0. You can also search for "Landon Bay" on Google Maps or use the map I've provided below to find every hike.
Jones Creek
More great Thousand Islands hiking trails can be found at the Jones Creek section of the park. It's a fabulous example of several ecosystems co-existing through one enjoyable hike: old growth forest, wetlands, and marshes. You can soak up spectacular views across the surrounding waterways. Plus, these hiking trails aren't too difficult to navigate. They are relatively flat and great for the whole family. I hiked a big loop of the lower section of the Jones Creek Trails:
Bear Loop (0.9km / 20 minutes)
Turtle Loop (0.6km / 20 minutes)
Heron Loop (1km / 25 minutes)
Eel Loop (0.7km / 20 minutes)
I hiked all of these trails and was there for a little over an hour. You could easily combine a hike to Landon Bay, Jones Creek, and even Mallorytown all in one day (potentially in one afternoon!). It's also wonderful if you only want to take a short hiking trip. You'll get your daily does of nature in a short period of time, and you'll also get some great exercise in the outdoors, too.
While there are trail maps online, you won't need one here. The trails are very well marked by various coloured markers, and there are maps posted along the way. I recommend hiking around the Bear Loop and the Heron Loop for the most scenic views and peaceful forest treks. It isn't too much effort to add on the other loops, so you may as well hike them all.
To find the Jones Creek Trails of the Thousand Islands National Park, it's just off the Thousand Islands Parkway north of Mallorytown Landing. The actual address is: 1231-1241 Thousand Islands Pkwy, Mallorytown, ON K0E 1R0. You can search for "Jones Creek Trails" on Google Maps or use the map I've provided below to find every hike.
Mallorytown Landing
The hiking trails at Mallorytown Landing venture through the forest and wetlands, and it's a very easy hike. You will find the visitor centre at Mallorytown Landing, as well as lots of picnic areas and oTENTik cabins where you can spend the night. It's right on the river, so feel free to savour the scenery at the waterfront with a picnic lunch.
There are two hiking trails at Mallorytown Landing: the Smoky Fire Trail and the Six Nations Trail. The Six Nations Trail is a loop trail, while the Smoky Fire Trail is an out and back path. It's a relatively short hike at about 3.5km in length. The trail is pretty flat and some of it traverses across a boardwalk. It's not the most interesting hike compared to the other two mainland properties of the Thousand Islands National Park, but it's great if you're looking to get out in nature for a short amount of time.
To find the Mallorytown Landing trails of the Thousand Islands National Park, it's just off the Thousand Islands Parkway.. The actual address is: 1121 Thousand Islands Pkwy, Mallorytown, ON K0E 1R0. You can search for "Thousand Islands National Park Visitor Centre" on Google Maps or use the map I've provided below to find every hike.
Marble Rock Conservation Area
Often overshadowed by the Thousand Islands National Park, Marble Rock Conservation Area offers some of the best hiking in the region. If you're a hiker who loves a bit of a challenge, this is the place for you. These trails are certainly more intense than the ones you'll find at the 1000 Islands National Park. They're rated as moderate to difficult, especially depending on the time of year that you visit. I went there in the middle of the summer, and my main obstacles were the heat and the bugs. If you hike there in the winter or the spring, you'll need to navigate through icy patches and water.
The main reason why the trails at Marble Rock Conservation Area are challenging is due to the sheer amount of boulders and rocks that you'll encounter. Watch your every step across this jagged terrain. While there are some hills, the rocks are the main obstacle. I hiked Marble Rock Conservation Area in a counter-clockwise loop. It doesn't really matter which way you tackle the trails. There are several lookouts on the way, and you'll want to stop to admire them all. One of the prettiest ones is about halfway through the hike, overlooking a deep blue reflective lake.
Expect to spend at least a few hours here. The South Loop Trail is 7.2km and it took me about three hours (although I'd say that I'm a slower hiker who stops to take photos). There's also a North Loop if you feel like an extra challenge. I hiked on a really hot day, and I felt like the South Loop alone was a bit of a challenge.
Rock Dunder Hiking Trail
I didn't have the opportunity to visit Rock Dunder this time around, but it's on my list for a return trip. Rock Dunder is open between May 15th and November 15th (no winter or early spring hiking here). The property is under the ownership of the Rideau Waterway Land Trust, and it costs $10 for a day pass (or $50 for the season).
There are three hiking trails at Rock Dunder:
The Cabin Trail (1.3km), an easy walk past a beaver pond
Morton Bay Loop (2km) through mixed forest and a couple of moderately steep sections
Summit Loop (3.9km), a climb to the summit with amazing panoramic views of the Rideau Waterway
Have you gone hiking at Rock Dunder? I hope to venture to this one in the future. I'll update this article once I do!
Gananoque Trail System
If you're looking for an easy walk through local parks and streets, the town of Gananoque has its own trail system. While I wouldn't consider these to be hiking trails, they're a great place to go for a walk if you're staying in Gananoque (known as the "Canadian Gateway to the Thousand Islands").
There are three walking paths on the Gananoque Trail System: the Lions Trail (4.3km loop), the Rogers Trail (5.9km loop), and the River Trail (5.0km). Start your journey at Confederation Park in the middle of town. There are pretty views over the Gananoque River as it flows towards the St. Lawrence River. Confederation Park is the largest outdoor contemporary art sculpture collection in Canada, and you'll be able to admire lots of public art and beautiful scenery.
Thousand Islands Hiking Map
Here is a helpful map to show all of the Thousand Islands hiking trails. They aren't terribly far apart from one another (the 1000 Islands isn't a massive region), and you can easily tackle one or more hike in a day if you choose.
Do you want to save this map for future reference? If you click the star beside the map title, it will be saved to your Google Maps account. Then, you can access it while hiking from your own Google Maps app (it will be listed under "your places" and then "maps").
Want to see more photos of the 1000 Islands?
Browse our entire travel photography album in one place. You can browse and buy any of our pictures, including prints, gifts and more.
Plan Your Visit
The mainland properties of the Thousand Islands National Park have ample parking and restrooms on site. Marble Rock Conservation Area only has a small parking lot, but it usually isn't full because it isn't as popular as the other sites. There isn't any admission charge to visit the national park or the conservation area. Rock Dunder has a parking lot available and it costs $10 for a day pass to hike the trails. Don't forget to pack some bug spray because there were lots of bugs on all of the trails and your hike will be far less enjoyable without it. It's also a good idea to bring sunscreen and lots of water, too.
If you're planning to spend a weekend or a few days in the 1000 Islands, I recommend making Gananoque your home base. There are lots of great restaurants and a cute downtown to explore. It's a fantastic central location where you can tour around, too. My article on Ontario Hiking's sister site, Justin Plus Lauren, has a fabulous overview of all the places to visit in the Thousand Islands.
Interested in more important protected natural spaces in Ontario? Check out more national parks within Ontario, as well as our stunning provincial parks and conservation areas.
I suggest staying at the Colonial Resort & Spa. It's a comfortable and cozy place to rest your head at night. I spent two nights there and found it was the perfect spot to rest between hiking trips. Feel free to check out more reviews of the Colonial Resort & Spa, and be sure to book your stay today.
Rather stay at an Airbnb apartment rental or cottage in the area? Take a look at these Airbnb properties in Gananoque for waterfront tiny homes and cottage rentals.
Join the Ontario Hiking Facebook Group
You are also welcome to join our Ontario Hiking Facebook Group – it's a great way to ask questions about hiking in Ontario, share your Ontario hikes, and get inspired!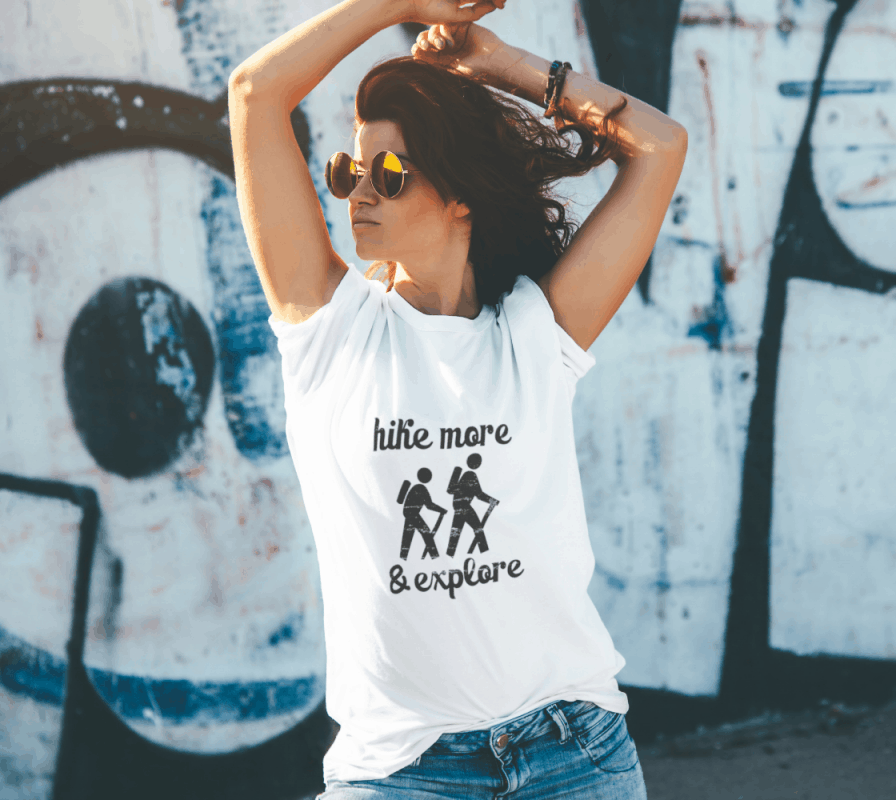 Inspired by adventures and nature. Ontario hiking and Bruce Trail apparel & accessories, designed by me.