Choosing the best hiking boots is no easy feat. There are endless choices for hiking shoes on the market. Finding the best pair of hiking boots is really important. After all, you're going to walk for miles and miles on your own two feet. A great pair of hiking boots will keep you comfortable, sturdy, and safe as you navigate those uneven forest trails.
Posts may be sponsored. Post contains affiliate links. I may be compensated if you make a purchase using my link.
Become an Ontario Hiking Supporter!
Join the Ontario Hiking Patreon and you'll become a VIP member of the Ontario Hiking community! You'll receive ad-free, downloadable hiking guides with new guides added weekly. Plus, there are many more perks! Become an Ontario Hiking Supporter today!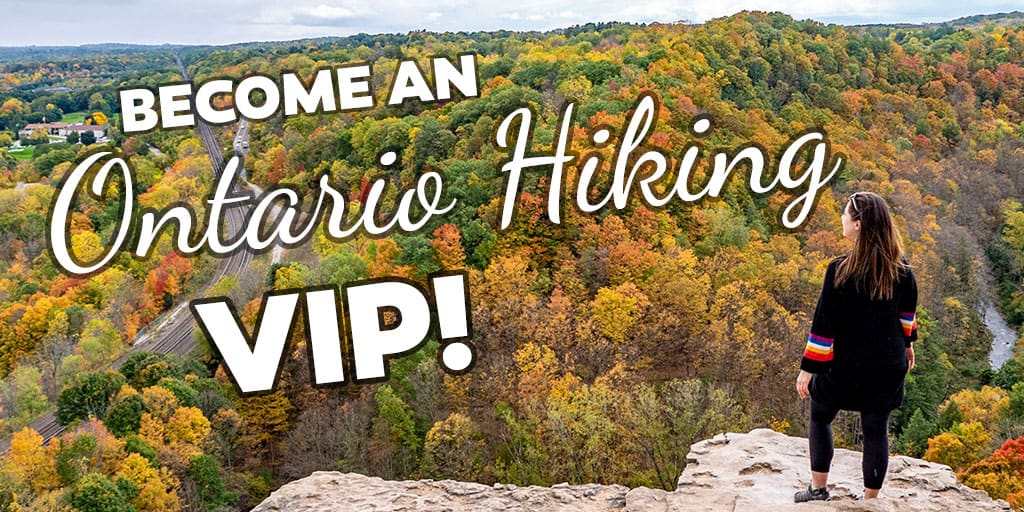 What to Look For in the Best Hiking Boots
I recommend choosing a pair of hiking shoes from a renowned outdoors brand that's proven many years of successful products. These might include, but are not limited to, Columbia hiking boots, Merrell hiking boots, Keen hiking boots, the North Face, Timberland, and Salomon. You might even consider some lesser known brands like Vasque, Oboz, Ariat, La Sportiva, and others.
You don't necessarily need to choose a trusted name that has a huge marketing budget. However, I've had fantastic experiences with Merrell, Keen, and Columbia, and those are the best hiking shoes that I'll recommend to you in this article. No matter the brand name, here are a few things to consider when buying a pair of hiking boots:
Support, grip and traction
Waterproof or water resistant (you might hike in the mud, rain, through puddles or across shallow streams)
Weight of the hiking boot (lightweight vs heavier boots)
Durability and longevity
Overall comfort
Cost of the hiking boot (inexpensive vs expensive)
Vegan Hiking Boots
Personally, I follow a vegan lifestyle, which means no animal products in my food, clothing, or footwear. This makes finding an appropriate pair of hiking boots a little more challenging as many of them are made with leather. In my list of top hiking boots, these ones are made purely with synthetic materials and do not contain any leather or animal products. However, this doesn't mean that they lack in durability or quality – quite the opposite, actually!
Without further ado, here are my favourite hiking boots that I personally wear on my hikes and adventures. I've had some of these hiking shoes for many years, and I continue to wear them to this date.
Best Waterproof Hiking Boots
If you're looking for the best waterproof hiking boots for men or women, I've relied on a pair of Merrell hiking boots for many years. I've worn these boots while volunteering in Kenya (which involved running for my life from a wild buffalo), adventuring in Iceland, and hiking in New Zealand. I also wear them regularly on my hikes around Ontario, naturally.
The specific pair of Merrell hiking boots that I own are the Merrell Women's Capra Mid Sport Gore-Tex Hiking Shoe. As these are a number of years old, they don't make this specific shoe anymore. However, I've found one that is comparable for you: the Merrell MQM Flex 2 Mid Gore-Tex Hiking Shoe.
These mid-rise hiking shoes have so many amazing features. They're flexible, tear-resistant, and flexible. They have a Gore-Tex waterproof membrane for lightweight and invisible protection against the elements. Even though they're waterproof, they fit and function like a regular hiking boot. The mesh upper component is waterproof, so your feet will stay nice and dry.
These Merrell hiking boots have a special air cushion in the heel for shock absorption and added stability. There's a cushioned midsole and a mountain-grade outsole. They combine all the best features of a trail runner and a hiking boot into one awesome shoe. If these specific boots are anything like the ones I own, you'll own them for many, many years to come (and maybe you'll bring them around the world with you, too!).
Shop Mens Merrell Hiking Boots | Shop Womens Merrell Hiking Boots
Best Lightweight Hiking Boots
My newest acquired pair of hiking boots are among the most stylish ones that I own, and they also happen to be super lightweight and durable, too! I've been raving about my Columbia Facet 15 hiking shoes ever since I got them. Mine are the "berry jam/deep purple" colour, and they also come in a more neutral shade of black/gray as well. For men, they come in a few different colours like orange, blue, white, and black.
When I picked up the package for these hiking boots in the mail, I was shocked at just how light the box was…and I was even more shocked when I handled the shoes themselves. These are ultralight and super versatile for hitting the trails. They're great for walking, running, and overall comfort. They also have great traction for various terrains that you'll encounter on the way.
These Columbia hiking boots are made with their "Omni-Shield" water and stain resistant technology, meaning that they'll keep your feet dry and you can clean your shoes easily. This shoe also comes equipped with a heel stabilizing system, a lightweight midsole for superior cushioning, and foam that offers great mid foot support.
This is the most functional and fashionable hiking shoe that I've ever owned. It's also the lightest shoe I think that I've ever owned, hiking or non-hiking! Prepare to be wowed by the Columbia Facet 15 hiking shoe.
Shop Mens Columbia Hiking Boots | Shop Womens Columbia Hiking Boots
Best All Around Hiking Shoes
Similar to my Merrells, I've had my pair of Keen hiking boots for a few years now. I'll usually bring my Merrell mid hiking boots in more treacherous weather conditions, and I'll wear these Keen hiking shoes when hiking more casually around Ontario trails. With that said, my pair of Keens are fabulous for all hiking trails and weather conditions. They're my favourite pair of all around best hiking boots.
Since I've had mine for a while and they don't make them anymore, I've found their equivalent for this year: the Keen's Women's Terradora II Waterproof Hiking Shoes. When compared to the pair that I own (which I already adore), they've got added performance, improved comfort, and more traction. They're lightweight and don't feel bulky, so you can easily throw them into your bag or suitcase if you're travelling afar. At the same time, they'll keep you safe and comfortable on the trails. The "KonnectFit" heel-capture system gives you a supportive, locked-in feel.
I couldn't find the exact equivalent in men's hiking shoes, but I did find a hiking boot that's rather comparable. It's also an awesome all around hiking shoe that's durable, waterproof, and perfect for your next adventure.
Shop Mens Keen Hiking Shoes | Shop Womens Keen Hiking Shoes
Important Tips When Buying New Hiking Shoes
If you're unsure of your size, it's worth going into a sporting goods store near you to get properly fitted for a pair of hiking boots. You might be able to use sizing charts online to purchase your shoes. I've bought my last few pairs of hiking boots online without any difficulty because I know my size and it seems to be pretty consistent across brands.
Wear an appropriate pair of socks when trying on shoes for the first time to see how they feel. I've also heard that trying hiking boots on at the end of the day is helpful because your feet swell throughout the day. If the hiking shoes fit your feet at the end of the day, chances are that they're the optimal size for you.
Insoles and Shoe Inserts for Hiking
If you need extra support, you may want to consider buying insoles or shoe inserts. These offer extra support and stability when hitting the trails. Insoles and shoe inserts for hiking shoes are different from the cushioning insoles that you'll find at the drugstore.
Also, if you have the following conditions, you will want to consider a pair of insoles: plantar fasciitis, supination (excessive rolling out) or overpronation (excessive rolling in), or structural misalignment that can lead to pain in the feet, ankles, knees, hips, or back.
Breaking in a New Pair of Hiking Boots
When you buy a brand new pair of hiking boots, it isn't a good idea to immediately embark on a long distance hike in them. Instead, you'll want to break them in slowly to ensure that you don't end up with aching feet and a ton of blisters.
You'll first want to wear your new hiking shoes in the house. Wear them with the pair of socks that you intend to wear while hiking, and make sure that these socks aren't too thin. Next, take these new hiking shoes on a spin around the neighbourhood. Walk around your local park or streets for a short jaunt.
Once you've worn them on a few short occasions, wear your new hiking boots on a shorter hike first. When it comes to breaking in new hiking boots, slow and steady wins the race! If you're still having some issues, you may want to try lacing your hiking shoes up differently. Here are a few different methods and techniques for lacing hiking boots.
More Hiking Tips and Guides
Looking for more great hiking trips beyond the best hiking shoes? Here are some more informative articles to check out.
Join the Ontario Hiking Facebook Group
You are also welcome to join our Ontario Hiking Facebook Group – it's a great way to ask questions about hiking in Ontario, share your Ontario hikes, and get inspired!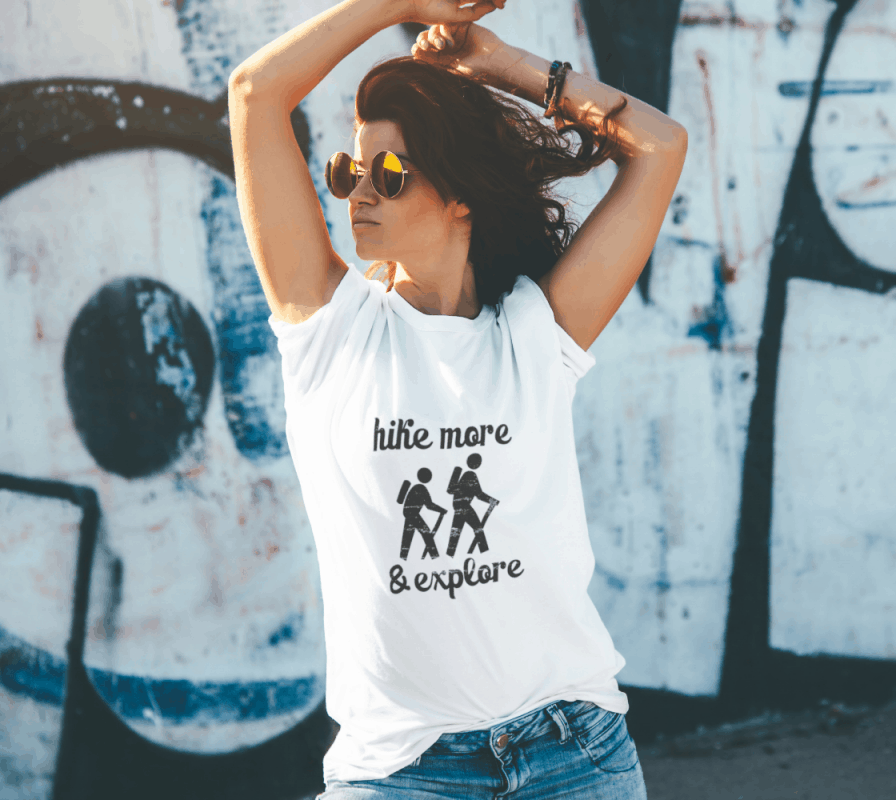 Inspired by adventures and nature. Ontario hiking and Bruce Trail apparel & accessories, designed by me.