Ferris Provincial Park is an awesome place to go hiking for a few reasons. While the hiking trails themselves aren't the most remarkable or interesting, it's the scenery all around that you'll truly enjoy. First, there's an amazing suspension bridge that leads into and out of the park with astounding views. Next, there's a small waterfall you can see. Plus, the hiking trail that follows the gorge provides beautiful lookouts across the Trent River along the way.
Posts may be sponsored. Post contains affiliate links. I may be compensated if you make a purchase using my link.
Many people visit Ferris Provincial Park to go camping, hiking, mountain biking, and enjoying the great outdoors. I visited the park for a couple of hours to go for a hike and I wasn't disappointed. On this adventure, I headed out to the Bay of Quinte region to go hiking at several parks. I visited Ferris Provincial Park and the Ranney Gorge Suspension Bridge on my way home, and it was a worthwhile detour.
Become an Ontario Hiking Supporter!
Join the Ontario Hiking Patreon and you'll become a VIP member of the Ontario Hiking community! You'll receive ad-free, downloadable hiking guides with new guides added weekly. Plus, there are many more perks! Become an Ontario Hiking Supporter today!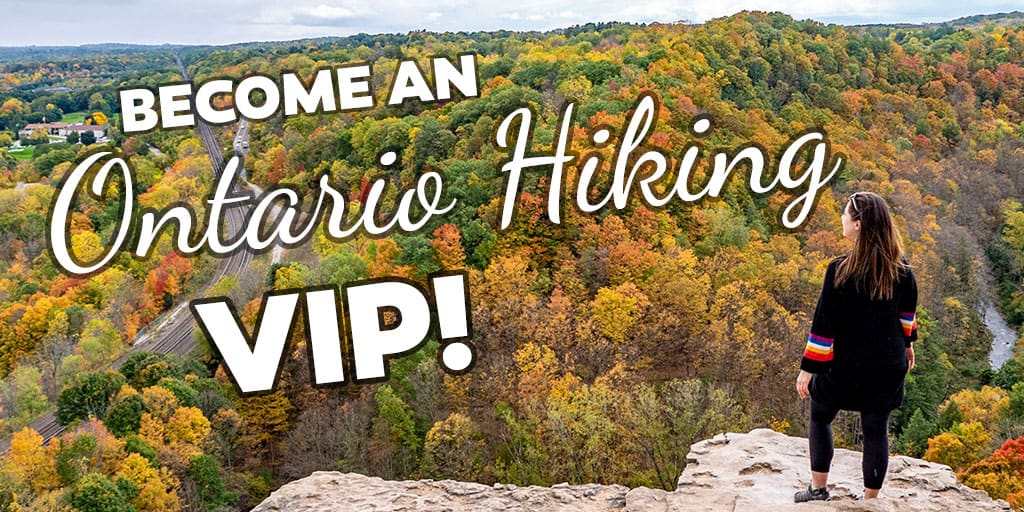 Ferris Provincial Park Map
Here is an overview of all the hiking trails at Ferris Provincial Park. This includes the River Gorge Trail, the Ranney Falls Trail, and the hiking paths of the Drumlin Trail System. You'll see signs posted at each trail or set of trails on the way.
I began my hike at the Ranney Gorge Suspension Bridge on the other side of the Trent River. From there, I hiked the River Gorge Trail, as seen in yellow. Then, I walked around the short Ranney Falls Trail for glimpses of the cascading Ranney Falls and the river. I didn't get the chance to walk the Drumlin Trail System, but these easy treks are there if you'd like to keep walking.
Ranney Gorge Suspension Bridge
Depending on how you plan your trip, you can either begin or end your hike at the Ranney Gorge Suspension Bridge. I parked my car across the Trent River in a small parking lot on Trent Drive. If you choose to park your car inside the provincial park, you'll likely visit the bridge at the end of your journey.
The Ranney Gorge Suspension Bridge is open all year long. It's a 300 foot long bridge that extends 30 feet above the Ranney Gorge and the Trent River. You'll enjoy incredible gorge views on both sides, and you're just down the river from Ranney Falls. The Ranney Gorge Suspension Bridge is part of The Great Trail and it's a really fun adventure simply to walk across it. It's the only pedestrian bridge of its kind in Ontario, so you're going to want to experience this one in person.
Once you cross the bridge, you'll reach the entrance of Ferris Provincial Park. Facing east into the provincial park, head right to walk along the River Gorge Trail and head left to check out Ranney Falls and the Drumlin Trail System.
Ferris Provincial Park Hiking Trails
Ferris Provincial Park has 10km of hiking trails to explore that should keep you busy for hours. I visited in the autumn and the fall colours here are vibrant and beautiful. To give you some idea, I visited Ferris Park during the third weekend of October, and the fall colours were still pretty vibrant.
If you only have an hour or two for hiking at Ferris Provincial Park, I suggest walking the River Gorge Trail and the Ranney Falls Trail. That's exactly what I did. If you have some more time, venture along the Drumlin Trail System. You don't want to miss the pretty river views from the River Gorge Trail, and you also need to see the lookout over Ranney Falls.
All of the hikes at Ferris Provincial Park are relatively easy jaunts. These are family friendly trails for kids of all ages. The River Gorge Trail can get a bit muddy and slippery, especially in the spring or after a rainfall. I always recommend carrying hiking poles and wearing proper hiking shoes with a good tread.
River Gorge Trail
The River Gorge Trail is a 3.5km loop trail that follows the Trent River and the gorge (hence the name!). Starting at Ranney Falls Suspension Bridge, follow the yellow trail blazes beside a fence that extends along the gorge.
At first, the scenery will be obscured by the fence and the trees. You won't have too much of a view at the start. Don't worry, it gets better. As the trail twists, turns, and slowly descends, you'll eventually end up walking right beside the waterfront. There are really pretty views of the Trent River, the gorge, and the trees (which were such pretty shades of red and orange on my visit).
You'll eventually hit a park and a parking lot, so you'll turn around and make your way back. At this point, things got a little bit confusing and I felt like I got off the trail by mistake. There are some interesting old, stone walls. These were originally built by a Scottish caretaker between 1873 and 1892 back when this land was part of a family farm. Some of these are original and some of them are restored.
After walking along a road for a short while, I spotted a yellow trail blaze and hiked on the River Gorge Trail until I reached the Ranney Gorge Suspension Bridge once again.
Ranney Falls Trail
Walk past the Ranney Suspension Bridge and continue hiking north until you reach the Ranney Falls Trail. The Ranney Falls Trail is a 1km loop trail that is denoted by orange trail blazes. There is an open space with picnic tables on the way, perfect to stop and have a picnic lunch. You might be able to spot a few regionally rare Chinquapin Oak trees on the way.
If you continue beyond the grassy picnic area, you'll see a small staircase heading down towards the river. This lookout point offers spectacular views of the Ranney Gorge Suspension Bridge and Ranney Falls. If you follow along the fence heading back towards the bridge, you'll discover another spot that provides an even better view of Ranney Falls.
The Ranney Falls Generating Station is located at Ranney Falls, one of 11 Ontario Power Generation Green Power facilities on the Trent-Severn waterway. The power generation company works cooperatively with the Parks Canada Trent Severn Waterway to create a green source of power for the community. It has operated since 1922 and provides power for 4400 households.
Drumlin Trail System
The Drumlin Trail System has three interconnected loop trails: the Blue trail (1.2km), White trail (2.5km), and Red trail (2.5km). In the spring, there are lots of wildflowers that grow on the Drumlin Trail System, making them even more worthy of a trip.
Walk through a mature forest and alongside wetlands. There are seasonal creeks here that formed on two long hills called drumlins, created thousands of years ago by glaciers. These three hiking trails meander around the location where the old Ferris family farm once stood, although there isn't much remaining evidence of it.
Want to see more photos of Ferris Provincial Park?
Browse our entire travel photography album in one place. You can browse and buy any of our pictures, including prints, gifts and more.
Where to Stay in Campbellford
Are you looking for where to stay in the Campbellford area? If you're not camping, you might want to stay at an accommodation in the area. There are so many amazing hotels near Campbellford and vacation rentals so you can be close to the trails.
Here's a handy booking tool where you can see all of the Booking.com accommodations and Airbnbs in one place. It's easy to compare prices and find the best rate for your trip to Campbellford.
Plan Your Visit to Ferris Provincial Park
Ferris Provincial Park is open all year long for day use, so you are free to hike the trails anytime. Keep in mind that the operating dates for camping and facility use are between the middle of May and the middle of October. I visited the park just after the operation dates had ended in late October, and there weren't any washroom facilities open. Even the garbage cans were locked shut.
If you park your car inside Ferris Provincial Park, there is a parking fee that includes admission for everyone in your car. I own an annual day pass for Ontario Parks, which includes parking and day use for you and everyone in your car all year long. If you're going to visit a handful or more parks in a year, it's totally worth getting the pass.
In this instance, I parked my car for free on the other side of the Trent River across the Ranney Gorge Suspension Bridge on Trent Drive. There's ample parking right across the suspension bridge and on Trent Drive by the river. On a weekday morning in the fall, I had the whole place to myself and there was no issue finding parking. I'm sure it's a lot busier on the weekends. Arriving early is always a good idea.
What to Bring on a Hike
A proper pair of hiking shoes is an absolute must. It's also a good idea to bring sunscreen and lots of water, too. My water bottle of choice is the GRAYL Purifier because you can drink ANY water from any source, no matter what. Water from lakes, streams, rivers, public restrooms, you name it. It's the world's fastest portable purifier. Get your hands on one ASAP!
Don't forget to pack some bug spray because there can be biting bugs depending on the time of year. Even if there aren't any signs, it's safe to assume that ticks are all over Ontario hiking trails. Protect yourself against ticks by reading our guide to avoiding ticks on the trails.
More Hiking in Kawarthas Northumberland
Looking for more hiking in the Kawarthas Northumberland region? Here are some more nearby hiking trails:
Join the Ontario Hiking Facebook Group
You are also welcome to join our Ontario Hiking Facebook Group – it's a great way to ask questions about hiking in Ontario, share your Ontario hikes, and get inspired!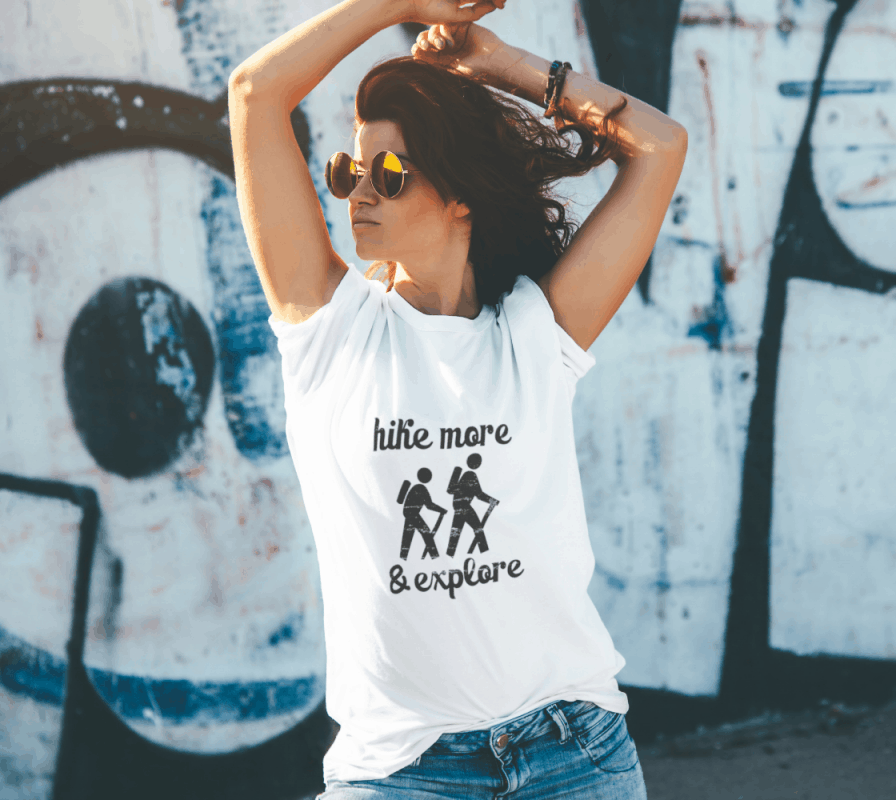 Inspired by adventures and nature. Ontario hiking and Bruce Trail apparel & accessories, designed by me.