When it comes to hiking in Ontario, my heart belongs to the Bruce Trail. While I'm on a journey to eventually hike the entire trail, I find myself stumbling upon those white blazes more often than I intend to.
Posts may be sponsored. Post contains affiliate links. I may be compensated if you make a purchase using my link.
In southern Ontario, we owe a lot of our favourite places to hike to the Bruce Trail and its side trails. If you've ever gone hiking throughout Niagara, Hamilton, the GTA, York Durham or the Bruce Peninsula, chances are that you've hiked on this massive trail…perhaps without even realizing it!
Become an Ontario Hiking Supporter!
Join the Ontario Hiking Patreon and you'll become a VIP member of the Ontario Hiking community! You'll receive ad-free, downloadable hiking guides with new guides added weekly. Plus, there are many more perks! Become an Ontario Hiking Supporter today!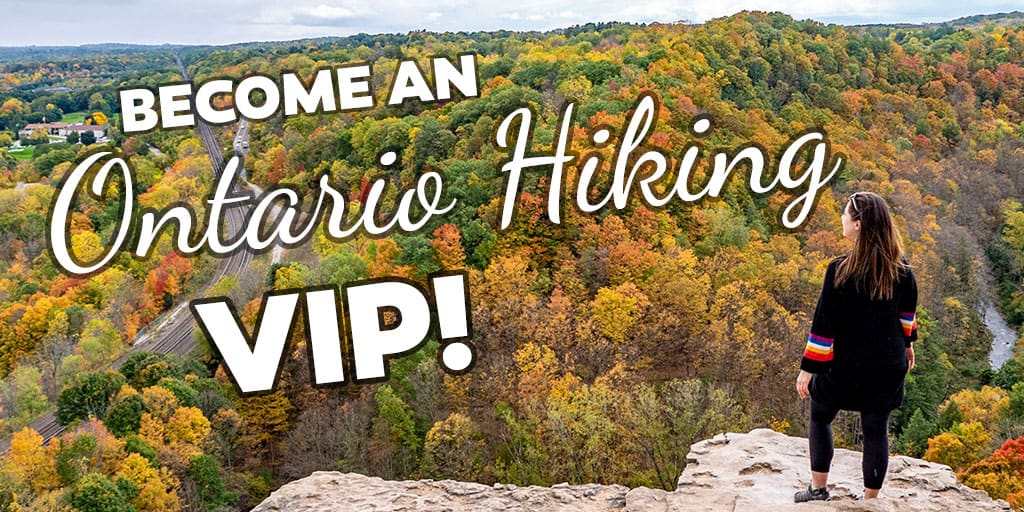 What is the Bruce Trail?
The Bruce Trail is the oldest and longest continuous marked hiking trail in Canada. It runs along the Niagara escarpment in southern Ontario between Niagara and Tobermory. How long is the Bruce Trail? It's just about 900km in length with over 400km of side trails. The Bruce Trail Conservancy (BTC) is responsible for protecting 16,000 acres of land.
The Trail runs through both public and privately owned property. In order to establish one continuous trail, the BTC has established handshake agreements with around 700 landowners. The landowners will allow hikers to pass through their privately owned land, just as long as those visiting are respectful to their property and keep moving along the path. It is very generous of the landowners to allow hikers to set foot on their property. However, it is a handshake agreement that can be revoked by the landowner at any time.
Every year, over 400,000 people visit the Bruce Trail, whether they're hiking, taking pictures, snowshoeing, or admiring the wildlife and scenery. The Niagara Escarpment is a UNESCO World Biosphere Reserve, only one of 16 in Canada.
A Short History of the Bruce Trail
Back in 1959, a man named Ray Lowes envisioned a public trail that spanned the entire Niagara escarpment. He told his friend, Robert Bateman, at a meeting of the Federation of Ontario Naturalists. On September 23rd, 1960, the first BTC meeting was held with four founding members who helped build the Trail.
Starting back in 1962, the Trail Director, Philip Gosling, went to major towns to discuss the proposed hiking route. He and his team of volunteers went door to door to discuss this vision with private landowners where they received great support. The regional clubs were established between 1962 and 1966, each responsible for their section of the Trail. On March 13, 1963, the Bruce Trail Association was formed (later renamed The Bruce Trail Conservancy), and membership grew to over 200. The first Bruce Trail Guide was published in 1965.
As it matched Canada's Centennial Year, the association decided to official open the trail in 1967. In June 1967, the association revealed the northern terminus of the Bruce Trail in Tobermory. The Trail recently turned 50 years old, and it's not without the dedication, hard work, and determination of members of the BTC.
Geology of the Niagara Escarpment
As I mentioned previously the Niagara Escarpment is recognized as a UNESCO World Biosphere Reserve. It's the largest continuous stretch of forest in south-central Ontario. There are a range of habitats for plants and animals alike, such as the Great Lakes, wetlands, woodlands, coastlines, cliffs, savannas, swamps, and more. Therefore, there's a high diversity of species, including 300 different birds, 90 fish, 55 mammals, 36 amphibians and reptiles, and 100 plants.
You'll have an opportunity to see many soaring birds as you hike, like turkey vultures. I've seen quite a few on my walks. In the spring and the fall, there are thousands of migrating hawks, as well as migrating songbirds. In the winter, you might catch a glimpse of a snowy owl, arctic waterfowl, and animal tracks in the snow.
There might be snakes on the trail, although you'll mostly only see the harmless common garter snake. The endangered Massasauga rattlesnake lives in the northern sections of the Trail. It's usually not aggressive, but might strike if it feels threatened. It's possible that you might come across bears once you hike north of Owen Sound. Although it is very uncommon to encounter a bear, remember to stand quietly at a distance and do not approach the bear.
All About the Bruce Trail Clubs
The Bruce Trail Conservancy has nine member clubs connected to nine sections of the Trail: Niagara, Iroquoia, Toronto, Caledon Hills, Dufferin Hi-Land, Blue Mountains, Beaver Valley, Sydenham, and Peninsula. Each club has the responsibility of taking care of the route, maintaining relationships with the landowners, and rerouting the Trail when necessary. Many clubs will organize group hikes, educational lectures, and other events for members and the public.
Section and End to End Hikes
Every Club has its own badge to reward members who hike from one end to the other. You don't have to tackle it all in one shot. Just keep a log of your hikes and you can apply for the badge once you finish your end to end. Some of the Clubs organize their own End to End hikes on certain weekends of the year where they'll help with transportation for participants.
A full End to End hike means that you've hiked the entire 900km of the Trail. This adventure can be done over a month or years. I'm on a journey to hike the entire Trail, although it will take many, many years as I'm hiking it very slowly (I started back in 2013!).
A Guide to Hiking the Bruce Trail
There are a few things to know before you set out on your first Bruce Trail hike. First, it's a public footpath and only foot traffic is allowed on many sections of the trail (unless it's a section of the trail that is a road). Don't ride your bike on the Trail. Also, don't venture off the Trail and into the forest. Many areas are environmentally sensitive, and some sections are privately owned where the landowner only allows hikers to set foot on the marked trail. You may only camp at designated campsites at some conservation areas and parks near the Trail. Follow the Bruce Trail Users' Code that I posted above.
Following the Trail (the Blazes)
Follow the white blazes! Blazes are white rectangles that help guide you along the Trail. These can be painted on trees, rocks, fence posts, and other spots along the way. The Bruce Trail is fairly well marked, so it's easy to follow the path. You can also use the Bruce Trail App or the Bruce Trail Guide for more assistance. Blue blazes denote a side trail.
One white blaze means to keep hiking straight ahead. Two blazes indicates a turn. If the blaze farther to the left is on top, turn left; if the blaze further to the right is on top, turn right.
Get the Bruce Trail App (or Guide)
Hop on over to your favourite app store to download the Bruce Trail App. I have a copy on my phone and it's really handy. However, I also have a copy of the printed Bruce Trail Guide. I really love flipping through this guide for information about the trail. The app and the guide will have detailed maps for the entire trail. It's also handy because it will show you where all of the parking lots are located. I use it as a reference on every hike that I take. It's very valuable; if you're serious about hiking the Trail, get your copy of the app or the guide today!
Please note that small changes occur on the Trail continuously. These are updated in the app and on the BTC website. For instance, I own a copy of the 27th edition of the guide, which might be outdated in some places. I reference the website before I head out to make sure there aren't any changes in my specific hike for the day.
Safety on the Trail
For the most part, it's safe to hike on the Bruce Trail if you follow the rules and stick to the path. It never gets terribly difficult, and a person who is reasonably in shape can conquer most sections of the trail. Make sure you pay attention to the changing weather conditions, and don't get stuck out on the Trail in poor weather or reduced visibility. Don't start your hikes too late in the day because you don't want to be stuck on the Trail in the dark.
If you decide to hike alone, make sure that you tell a loved one where you'll be specifically and when you're expected to return. Carry certain essential items with you when hiking for the day, and make sure you're wearing the proper footwear and clothing for the conditions.
What to Pack on a Day Hike
Here are a few things that you should always bring with you on a day hike of the Bruce Trail:
Proper footwear and socks
Hat and sunglasses
Water bottle with filtered water
Energy bar or snacks
A sweater or a rain jacket, depending on the weather
A whistle
A compass, Bruce Trail app or guide book for directions
A head lamp or small flashlight
My Bruce Trail Hikes
I've tracked my Bruce Trail hikes since 2013 on my travel blog, and you can see a full listing of my hikes there. As you can see, I've VERY slowly hiked the Bruce Trail. I'm almost halfway through the Niagara Club. I will continue to share my Trail hikes over on my travel blog, although I will share many of the trails here, too.
Over the years, I've received some questions from readers about hiking the Bruce Trail. First, I've had questions about transportation. Yes, I will drive myself to the part of the Trail where I left off. When I first started hiking, I'd hike to a certain point and then backtrack and hike all the way back to the car. Nowadays, I'll make sure there's Uber in the area and hike twice as far, taking an Uber back to my car. There isn't always Uber in every area (especially the remote areas in the country), so be prepared just in case this isn't an option. Also, I'd always end my hike where I knew there'd be a suitable place to park my car for the next hike, if that makes sense.
On my first few hikes, I always brought someone with me: Justin, my sister, or friends. On the last couple of hikes, I have ventured out to the Trail alone. As a female, I am comfortable hiking by myself because I am familiar with the area. I can see why you might not be comfortable hiking alone. That's a personal choice and completely up to you. I had an instance once where I slipped in the mud – thankfully, I wasn't injured or hurt, but I was pretty glad to have my sister there so I could laugh it off with her!
Bruce Trail Map
Here's a map of the Trail in its entirety with the Club sections marked.
Become a Member of the Bruce Trail Conservancy
The Bruce Trail Conservancy is one of Ontario's largest land trusts, and more than 3,000 hectares of nature space is protected by the BTC. They're continually preserving escarpment waterways, dense forests, and habitats for plants and wildlife.
Your donations help the BTC to acquire new land along the Bruce Trail to secure permanent conservation along this corridor. Around 50% of the Bruce Trail is not permanently secure from future development. The Bruce Trail Conservancy is a registered charity, and you'll receive tax receipts for memberships and donations.
Becoming a member is easy and you can join at the Bruce Trail website. A membership for your household is $50/year (or $140 for 3 years / $1000 for a lifetime membership). You'll get to join one Club when you register. Membership benefits include:
A charitable tax receipt for your membership (and any additional donation)
Invitations to special events and organized hikes
The Bruce Trail Magazine, mailed to you 4 times per year
Discounts on BTC products and some retail partners
Access to online members community
A membership badge and card
How to Volunteer with the Bruce Trail Conservancy
You can become a volunteer at the Bruce Trail Conservancy. BTC members help care for this preserved land, and you can help support the Bruce Trail in a variety of ways. We all have unique skill sets to offer and you can choose from various levels of commitment. Volunteers typically help out from 4 to 16 hours a month.
It's a great chance to share your experiences, learn new skills, and make new friends as part of a team of like-minded people. Whether you're helping to clear branches and overgrowth from the trail, helping with website design, or assisting on a marketing campaign, there are so many opportunities for volunteers at the BTC.
Want to see more Bruce Trail photos?
Browse our entire travel photography album in one place. You can browse and buy any of our pictures, including prints, gifts and more.
I'd love to know if you've hiked any sections of the Bruce Trail. What are your favourite spots along the way? Would you like to attempt an End to End hike? Share your ideas and comments below!
Join the Ontario Hiking Facebook Group
You are also welcome to join our Ontario Hiking Facebook Group – it's a great way to ask questions about hiking in Ontario, share your Ontario hikes, and get inspired!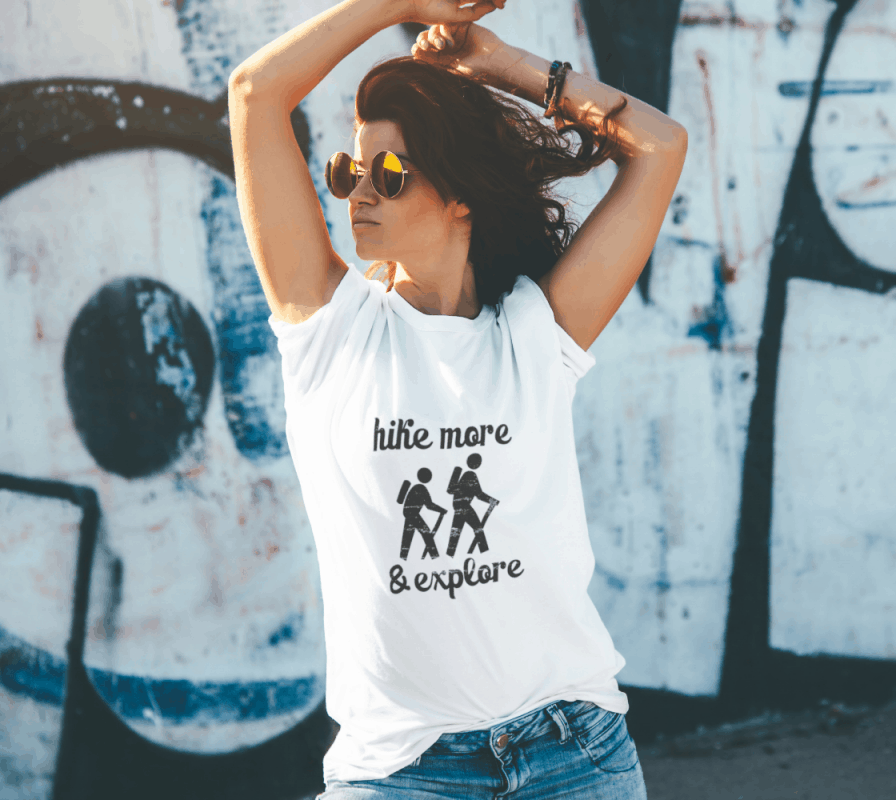 Inspired by adventures and nature. Ontario hiking and Bruce Trail apparel & accessories, designed by me.