For those who enjoy taking their hiking trips underground, there are lots of caves in Ontario to explore. I don't know about you, but I find caves to be quite fascinating. They're all totally unique from one another, and I'm always so interested in their back stories
Posts may be sponsored. Post contains affiliate links. I may be compensated if you make a purchase using my link.
. How did someone discover the cave initially? How difficult and dangerous was it to explore at first? Out of all the caves in Canada, Ontario has so many intriguing ones to uncover. Here are my top 10 favorite caves in Ontario for those adventure seekers in the crowd.
Become an Ontario Hiking Supporter!
Join the Ontario Hiking Patreon and you'll become a VIP member of the Ontario Hiking community! You'll receive ad-free, downloadable hiking guides with new guides added weekly. Plus, there are many more perks! Become an Ontario Hiking Supporter today!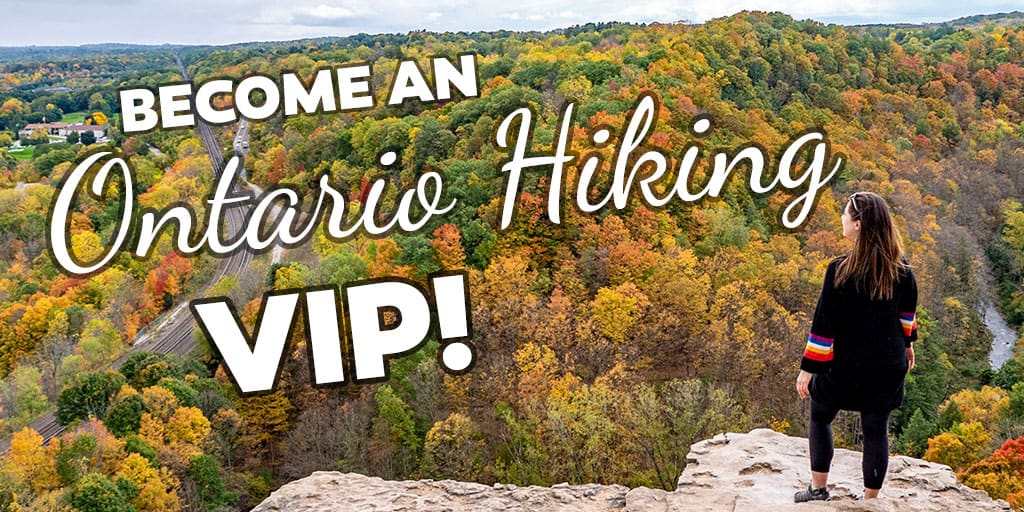 Caves in Ontario: Bonnechere Caves
One of the top caves in Ontario is Bonnechere Caves in the Ottawa Valley. Located near the town of Eganville, it's possible to take a tour of Bonnechere Caves throughout the summer months (from May 24th weekend to Thanksgiving weekend). The small group tour begins with an exploration of the region's history and its fossils. Next, you'll descend into the caves themselves, witnessing interesting rock formations and fossils in the underground walls. While there are some short hiking trails through the lush forests around the caves, I recommend heading over to the nearby Bonnechere Provincial Park if you're looking to do some hiking in the area.
Eramosa Karst
Eramosa Karst Conservation Area is a significant Area of Scientific Interest in Ontario, and it's featured as one of my top 10 hiking trails in Hamilton. It has one of the greatest instances of karst topography in Ontario, including 16 different karstic features.
Karsts are geological creations that include caves and underground passageways caused by dissolving limestone rock formations. At one of the sinkholes, there's a natural limestone bridge. Eramosa Karst also has a 335 metre long cave, the tenth longest in the province. There are 7km of Hamilton hiking trails at Eramosa Karst, and you can explore the caves freely on your own.
Another fantastic example of karsts can be found at Limehouse Conservation Area. You'll find some of the most accessible caves in Ontario there.
Greig's Caves
Grieg's Caves are a collection of 10 limestone caverns at Lion's Head on the Bruce Peninsula. There's a $10 fee and a waiver you'll need to sign before entering. Once you're on the property, you can explore Grieg's Caves at your own leisurely pace. You'll hike along a main trail at Grieg's Caves that will lead from cavern to cavern. There are massive holes in the caves that formed in the last ice age. There's an additional path on the top of the caves with beautiful views about 300 feet above the waters of Georgian Bay. Bring a flashlight for a better look inside these Ontario caves, and be sure to wear proper hiking shoes to navigate the trails.
Scenic Caves
There are several adventures to encounter at Scenic Caves in Collingwood, Ontario: treetop trekking, zip lining, and naturally, exploring the caves. You gain access to the caves and caverns with a general admission ticket, and it takes up to two hours to complete the self-guided trails. You can also take an Eco Adventure Tour at Scenic Caves that includes a little bit of everything. The caves here were formed 450 million years ago in the ice age, and the "Refrigerator Cave" descends 70 feet into the ground. You'll also have the opportunity to maneuver your body through "Fat Man's Misery", a space in the rocks that's just 36cm wide.
Tyendinaga Caverns and Caves
Tyendinaga Cavens and Caves just outside of Belleville are the largest caves in Ontario. You can explore them with a guided tour underground. Similar to Bonnechere Caves, the caves are open between May 24th long weekend and the Thanksgiving weekend. The tours run every 20 minutes and last between 45 minutes to an hour in length. You'll learn about how the caves were formed by water flows, and discover fossils that are 450 million years old. It's possible to even see bats or other creatures. One of the most unique features is an underground wishing well where you'll have the opportunity to toss a coin and make a wish.
Duncan Escarpment Provincial Park
Duncan Escarpment Provincial Park near Owen Sound has many highlights, including its caves and the Bruce Trail. Through extreme temperature changes over time, massive rocks broke away from the Niagara Escarpment, forming the crevice caves that you'll find here. The Duncan Caves trail features many amazing caves to climb and incredible scenery. Be sure to bring a sweater or layers of clothing as it gets chilly inside the caves. There are several microclimates along the trail that supports a variety of vegetation on the cliff faces. The trail is a little under 11km, so you'll likely spend 4-5 hours hiking around the caves here.
Hell Hole Caves
The Hell Holes Nature Trail has an intimidating name, but don't let that scare you off. It features some of the best caves in Ontario. Once you pay a small entrance fee, you can wander around the trails at your own pace. Be sure to bring a flashlight for descending down into the Hell Hole cave, and pack lots of bug spray, too. The first cave you'll encounter is the Devil's Horses Stable Cave, which you'll be able to admire from the exterior but won't be able to enter (it collapsed in the early 1900s). The main attraction is the Hell Holes cave. You'll climb down a ladder 7.5 metres into the ground straight down. There are a couple of rooms down there, but not much space for more than a few people. I love how there's a thermometer down there to show you just how chilly the cave gets compared to the temperature above.
Warsaw Caves Conservation Area
Warsaw Caves Conservation Area are about half an hour outside of Peterborough, and these Ontario caves are open from April 16th until the end of November. There are a series of seven caves along the trail, and you can explore them at your own pace. Bring a flashlight or a headlamp to discover the caves. You can easily spend a couple of hours at the caves or extend your stay for the entire day. There are 15km of hiking trails to enjoy, and there are even more opportunities for canoeing/kayaking, swimming, camping or picnicking.
Mono Cliffs
Mono Cliffs Provincial Park has 20km of trails, including a portion of the Bruce Trail. Venture out to the Cliff Top Trail to experience a gorgeous canyon, staircases, boardwalks, and caves carved out by ancient glaciers. You'll be able to walk on top of the limestone cliffs to savour breathtaking views from the top. You can explore Mono Cliffs all year long, and it will take you about an hour and a half to hike the Cliff Top Trail. If you have some extra time, tackle another fabulous hiking trail at the park.
Bruce Peninsula National Park
The Bruce Peninsula National Park has tons of brilliant hiking trails. If you want to explore caves and rock formations, take the popular Georgian Bay Trail to Indian Head Cove, the natural arch, and the Grotto. Walk down from the rugged cliffs to the beautiful, turquoise waters. It's a popular place to swim in the summer months, even if it might be a little bit cold! The Grotto is a natural sea cave that you can swim inside (if you're brave enough to face those temperatures). For an extra bonus, take a boat tour to nearby Flowerpot Island to witness its unique flowerpot rock formations (part of Fathom Five National Marine Park). There are some caves to explore on Flowerpot Island, too!
Join the Ontario Hiking Facebook Group
You are also welcome to join our Ontario Hiking Facebook Group – it's a great way to ask questions about hiking in Ontario, share your Ontario hikes, and get inspired!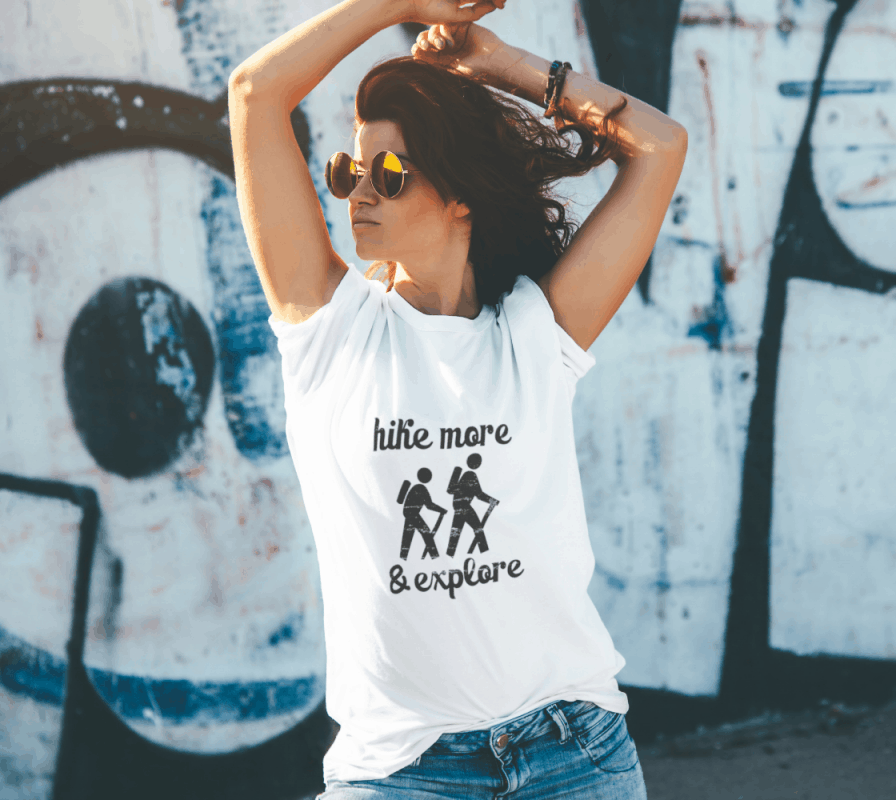 Inspired by adventures and nature. Ontario hiking and Bruce Trail apparel & accessories, designed by me.