The Cheltenham Badlands are one of the most unique natural features in Ontario. While this was once a little known gem of the region, it's now one of the most instantly recognizable landscapes in the province. This exposed red Queenston shale terrain is like no other in the region.
Posts may be sponsored. Post contains affiliate links. I may be compensated if you make a purchase using my link.
It's likely a bit of a drive for most visitors. This fascinating site in the middle of the country in Caledon, about an hour away from Toronto and Mississauga (and north of Brampton). I truly feel that these badlands in Ontario are well worth the drive to witness a sight that you won't see anywhere else.
Join the Ontario Hiking Facebook Group
You are also welcome to join our Ontario Hiking Facebook Group – it's a great way to ask questions about hiking in Ontario, share your Ontario hikes, and get inspired!

Cheltenham Badlands History
The history of the Cheltenham Badlands topography is fascinating. First, the bedrock of the badlands formed 450 million years ago when much of the North America was beneath a shallow tropical sea. At the edge of the tropical sea, there was a tall mountain range that carried red, iron-rich mud and deposited it into the sea. Over the years, the red mud and coral reef was compacted and created the red Queenston Shale at this site today.
You might notice lighter coloured streaks in the red clay. The green-gray streaks formed when groundwater circulated through openings in the shale. This acidic groundwater made these sections of the red iron-oxide turn green.
250 million years ago, the tropical sea began to dry up. Layers of stone and sediment were exposed to the elements, like wind, rain, and sun. Fast forward head to over 10,000 years ago. Glaciers retreated and left behind a nutrient rich soil in the forests.
For thousands of years, Indigenous Peoples lived in this region to fish, hunt, forage, and establish agricultural communities. 400 years ago, European settlers arrived and established themselves on the land, creating homesteads and farms. Between the late 1800s and early 1900s, these settlers mostly used the land to grow crops and graze cattle. However, these early farming practices combined with tree removal caused the shallow topsoil to erode, exposing the shale. Then, the Queenston shale began to rapidly erode away when it was exposed to rain, snow, freezing and thawing, leaving behind the unique badlands topography that you see today.
Why Is There a Fence?
Many years ago when I first visited these Ontario badlands, there wasn't a parking lot. There were no fences. You'd drive down Olde Base Line Road and all of a sudden, out of nowhere, you'd come across these amazing red rolling hills. There was also a good chance that you wouldn't encounter another person in sight, especially if you visited on a weekday. There was always a small sign requesting visitors to keep off the terrain to preserve this fragile environment.
Flash forward years later and the Cheltenham Badlands is an incredibly popular place. People refused to obey the signs and tramped all over the landscape. I remember going there once and watching families with small children playing tag and other games, running all over them. Normally, it's wonderful to see so many people enjoying the great outdoors, but it was going to come at a price. No one was obeying the signs to keep off the Cheltenham Badlands. In order to properly preserve this fragile area, the site was completely closed to the public until a plan was put in place.
The Cheltenham Badlands have reopened and there is now a fence around the property to ensure that people stay off it. Sadly, it's the only way to make sure that people are responsible here. There's a boardwalk with signage about the property so you can learn a thing or two while you're there. The boardwalk and the fence do not block the scenery at all. While it was better back in the day where you could visit the site without any obstructions, this is the best solution to ensure that we take care of this precious environment.
Cheltenham Badlands Map
Here's a small map from Credit Valley Conservation. You can only park your car where the "P" is marked on the map. There's also a couple of places for accessible parking that's right beside the badlands. The parking lot is a short walk from the formations themselves.
If you want to go directly to the Cheltenham Badlands without hiking, walk on the sidewalk along Olde Base Line Road until you reach the boardwalk. However, I suggest that you hike through the forest to reach the formations because it's way more scenic. If you walk down the blue trail on the map (the Bruce Trail), you'll reach the one-way orange trail (Badlands Trail). You will reach the boardwalk and the formations this way.
Hiking at Cheltenham Badlands
The Cheltenham Badlands trails aren't particularly long, but you can combine your visit to these intriguing formations with a hike. There are two hiking trails here: the Badlands Trail and the Bruce Trail.
Badlands Trail
The Badlands Trail is the orange trail on the map above. It's a short, one-way hiking trail that's 0.32km in length. You will get to the Badlands Trail from the Bruce Trail. Walk along the Badlands Trail until you reach the wooden viewing platform to see the formation. Then, you'll walk to the road and make a right on the sidewalk to walk back to the car.
Bruce Trail
The Bruce Trail is a 900km hiking trail that stretches between Niagara and Tobermory. There's a section of the Bruce Trail through the Cheltenham Badlands property. It's 1.33km in length. You can start hiking on the Bruce Trail from the parking lot and continue beyond the Badlands Trail. Even when the Badlands are closed for the season, the Bruce Trail is always open if you're hiking sections of the trail or working on an end-to-end hike.
Do Not Walk on the Badlands Formations!
I am sure this goes without saying, but do not hop the fence and walk on the Cheltenham Badlands. It's damaging to the site and there's a fence here for a reason. Please be a responsible hiker and human being. Keep off these geologic formations.
Want to see more photos?
Browse our entire travel photography album in one place. You can browse and buy any of our pictures, including prints, gifts and more.
Plan Your Visit to Cheltenham Badlands
Set aside an hour or two to visit the Cheltenham Badlands. The hiking trails here are quite short and easy to hike, especially if you only plan to visit the badlands themselves. You can also continue on the Bruce Trail, the amazing 900km hiking trail that extends from Niagara to Tobermory.
Please note that the Cheltenham Badlands are closed during the winter months. They closed on October 26th, 2020 and will reopen in May 2021. The main parking lot will remain closed while these badlands in Ontario are closed.
If you want to go hiking at the Cheltenham Badlands trail, the Bruce Trail is open all year long to Bruce Trail thru-hikers. You can hike on the Bruce Trail whenever you like without making a reservation, and you can go hiking here even when the Cheltenham Badlands are officially closed. You'll simply need to park elsewhere at a different point along the Bruce Trail.
When the Cheltenham Badlands are open, there are port-o-lets in the main parking lot. The official address for this property is: 1739 Olde Base Line Road, Caledon, ON L7C 0K6.
Cheltenham Badlands Parking and Fees
As of Fall 2020, you must make a reservation in advance at the Credit Valley Conservation website to visit the Cheltenham Badlands. Your $10.00 fee includes two hours of parking, and you will need to choose a designated time. You can book your visit up to two weeks in advance. The Cheltenham Badlands are open between 8:00am and 7:00pm.
You can no longer stop or park anywhere on the road. The accessible parking spaces beside the formations are for valid permit holders only.
What to Bring on a Hike
A proper pair of hiking shoes is an absolute must. It's also a good idea to bring sunscreen and lots of water, too. My water bottle of choice is the GRAYL Purifier because you can drink ANY water from any source, no matter what. Water from lakes, streams, rivers, public restrooms, you name it. It's the world's fastest portable purifier. Get your hands on one ASAP!
Don't forget to pack some bug spray because there can be biting bugs depending on the time of year. Even if there aren't any signs, it's safe to assume that ticks are all over Ontario hiking trails. Protect yourself against ticks by reading our guide to avoiding ticks on the trails.
More Credit Valley Conservation Hikes
There are several Credit Valley Conservation Areas in Mississauga, Halton Hills, Caledon, and beyond. Here are all of the Credit Valley Conservation Areas:
Terra Cotta Conservation Area
Cheltenham Badlands
Belfountain Conservation Area
Ken Whillans Resource Management Area
Elora Cataract Trailway
Upper Credit Conservation Area
Riverwood Conservancy (owned by CVC & City of Mississauga)
Where to Stay in Caledon
Looking to stay in Caledon? I suggest spending a night or two in the area, especially if you're from out of town. There are lots of hiking trails in the area to explore, like the Bruce Trail and Credit Valley Conservation properties.
Here are a few of my favourite cozy cabins and vacation rentals in Caledon that have great ratings and look delightful: this Belfountain Riverside Cabin, this Romantic Village Retreat, and The Carriage House. Browse the handy Airbnb map below to find a fantastic place to stay right in town.
Cheltenham Badlands Frequently Asked Questions
Do you still have some questions about visiting the Cheltenham Badlands? To my knowledge, these are the only Ontario badlands and one of the most unique landscapes in the province. I'll try my best to answer all of your questions about these Caledon red clay hills. If you have any more that I haven't addressed, please feel free to ask them in the comments section of this blog post.
Where are the Cheltenham Badlands?
The Cheltenham Badlands is a natural feature that's located on 1739 Olde Base Line Road, Caledon, ON L7C 0K6 (between Hurontario and Mississauga Rd).
Where is Cheltenham Badlands parking located? What are the fees?
There's a small parking lot on Olde Base Line Road, and this is the only place to park for Cheltenham Badlands. It costs $6.50 for one hour and $10 for two hours (two hour maximum). As of Fall 2020, you must make your reservation in advance on the Credit Valley Conservation website. There are also a couple of accessible parking spaces near the badlands formations for permit holders only.
When are the Cheltenham Badlands open?
The Cheltenham Badlands reopened in the fall of 2020, but they will remain closed again until May 2021. The Bruce Trail remains open all year long for thru-hikers only. You cannot park at the Cheltenham Badlands lots if you want to go hiking here, so please make other arrangements.
How much time should I spend at Cheltenham Badlands?
I'd set aside one hour to view these Ontario badlands and hike the Bruce Trail. Two hours is the maximum for parking. You probably only need the maximum of about an hour here. If you plan to only visit the Cheltenham Badlands and hike back to the car, give yourself at least 30 minutes.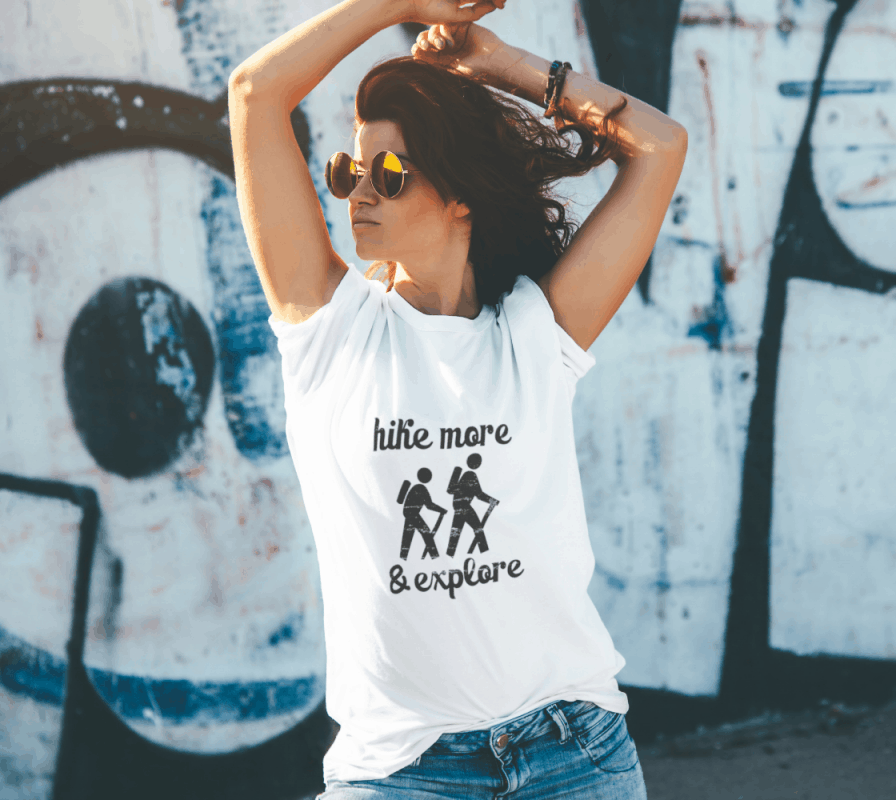 Inspired by adventures and nature. Ontario hiking and Bruce Trail apparel & accessories, designed by me.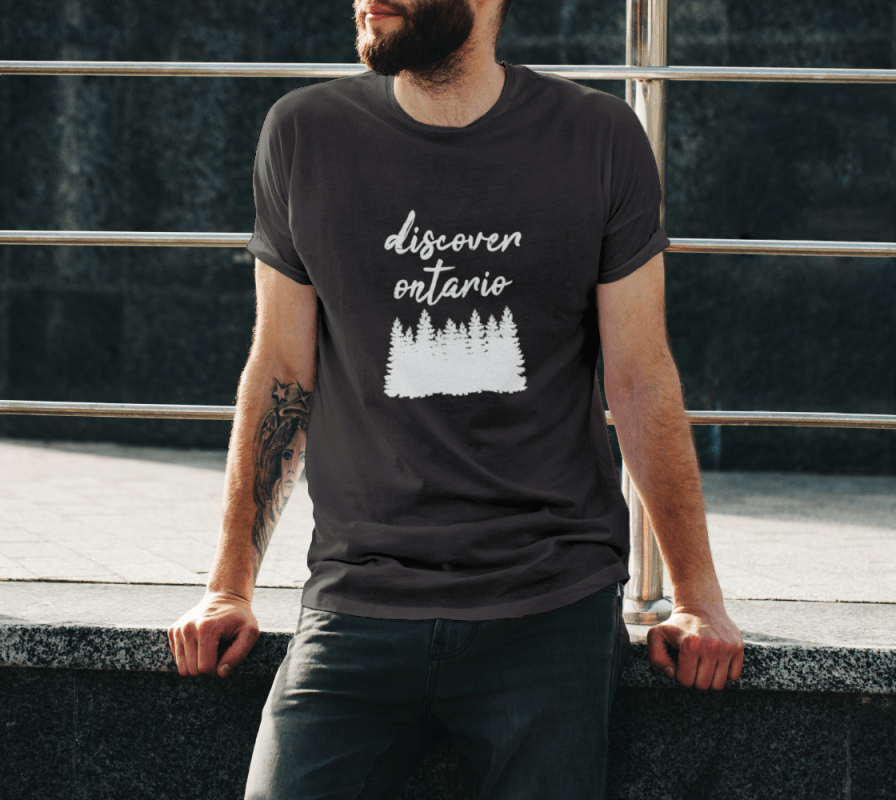 Join the Ontario Hiking Facebook Group
You are also welcome to join our Ontario Hiking Facebook Group – it's a great way to ask questions about hiking in Ontario, share your Ontario hikes, and get inspired!