The best hiking apps can make your hiking trip a lot easier, safer, and more fun. There's nothing wrong with bringing some technology with you into the great outdoors. While a good old fashioned map and compass are always the top choices for safety purposes, these top trekking apps will have you planning and navigating your hiking trips with ease.
Posts may be sponsored. Post contains affiliate links. I may be compensated if you make a purchase using my link.
Many of us already bring our phones with us when hiking. After all, we often take photos with our smartphones on the trails and have our phones in case of an emergency. Why not use our devices for even more practical and fun reasons, too? These are the best hiking apps that can make your journey even more enjoyable.
Become an Ontario Hiking Supporter!
Join the Ontario Hiking Patreon and you'll become a VIP member of the Ontario Hiking community! You'll receive ad-free, downloadable hiking guides with new guides added weekly. Plus, there are many more perks! Become an Ontario Hiking Supporter today!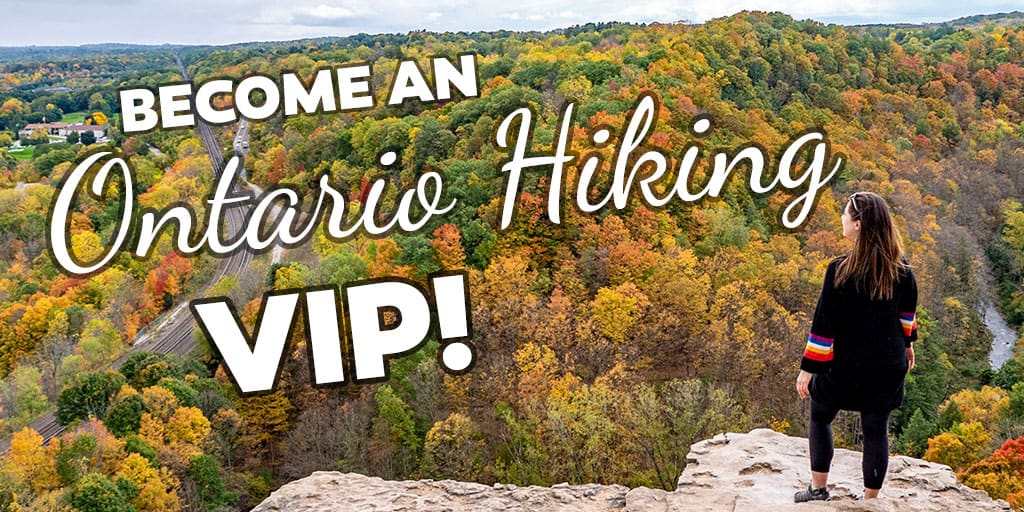 Best Hiking Apps: AllTrails
AllTrails is the most popular hiking app and one of the best hiking apps for discovering new hiking trails. You can search for hiking trails in your area or do research for places that you plan to visit. You'll find information about each hiking trail, such as the length, difficulty rating, dog-friendly trails, kid-friendly trails, and user ratings. Then, you can add hikes to lists on the app so you can embark on these hiking trips in the future.
AllTrails is fantastic for tracking your hikes. You can save your hikes along with a map of your route to track your treks. If you have cell reception, it can be great to ensure that you stick to the designated trail in the app so you won't get lost. I don't recommend relying on this method. Following trail blazes on the way and using a paper map is always a great idea in case your phone dies (which is pretty common in the winter).
The hiking trails are comprised of user generated content from AllTrails community members. There are pros and cons to this. First, you'll be able to see photos taken by people who have hiked this same trail. You can read reviews written by fellow hikers, along with updated information about trail conditions. Is the trail icy in the winter? Is it really buggy in the summer? There are lots of great details, especially for the more popular trails.
However, there are downsides to this. First, the trails are all user generated so they might be out of date or inaccurate. Some trails have several intertwining paths. You'll be following one person's hike, but you could miss out on some interesting things along the way. Perhaps if you take a different path on the same trail system, you could see a waterfall or a pretty stream.
There can be outdated information on there. And despite its name, it won't list all of the trails…unless someone has added their hike to the app. Plus, there are sometimes duplicates of very similar hikes. It can all get a tad confusing at times.
All things considered, AllTrails is still one of the best hiking apps out there in terms of discovering new hiking trails, tracking your hike, and reviewing your trips. If you decide to upgrade to AllTrails Pro, you can download offline maps ahead of time (very handy if you lose cell reception!), get notifications if you go off-route, you can print out custom maps, and more.
Availability: Android / iOS / Website
Cost: Free or $29.99 USD per year for AllTrails Pro
Best Hiking App: Gaia GPS
Gaia GPS is another one of the best hiking apps out there, and one that's worth exploring if you're looking for alternative to AllTrails. I actually enjoy using both AllTrails and Gaia GPS as they both have their advantages. Sometimes I will use Alltrails to find some new places to go hiking, and then I'll search for the same area on Gaia GPS to find even more trails and features to explore that AllTrails has missed!
First, I noticed that Gaia GPS has far fewer trails listed in Ontario than AllTrails. AllTrails has a great advantage here by being the most popular hiking app. However, it is much easier to use the Gaia GPS map to find existing hiking trails and create your own routes. Any dotted line on the map is a potential path hiking trail. If it is a known hiking trail, you'll be able to see the name and full route of that trail when you tap or click on it. Use these trails to create your own hikes.
You can also add and edit waypoints. Waypoints can be your current location or anywhere on the map. By using Waypoints, you can make it easier to find your way back to your starting point or where you parked your car. I also enjoy that Gaia GPS has a built in small compass at the very top of the map. (AllTrails also has a waypoints feature if you create your own map).
By default, it comes with the Gaia topography map (based on data from OpenStreetMap), which shows many hiking trails and interesting features, like lookouts and waterfalls. For this reason, I enjoy Gaia GPS better than AllTrails. If you only use AllTrails, you'll only see that one particular trail with no other information. But, if you take a look on Gaia GPS, you might be able to see other lookout spots, waterfalls, or landmarks nearby that would be worth a change in direction or a short detour.
There are two upgrades from the free version of Gaia GPS. The membership version allows you to download any hiking maps for offline use, plus you can alternate between kinds of maps (topography, road maps, satellite maps). The premium version includes the membership rate features, but gives you a full catalog of maps (NatGeo Illustrated, weather maps, backpacking maps, backcountry ski maps, mountain biking maps, and more) and allows you to customize maps even more.
Availability: Android / iOS / Website
Cost: Free / $16 per year for membership rate / $32 per year for premium rate (exclusive discounts for Ontario Hiking readers!)
Bruce Trail App and Ontario Hiking Trails Apps
Did you know that there are specific hiking trail apps for trail systems and parks in Ontario? The Bruce Trail has a print guidebook and an app specifically for hiking the Bruce Trail. The Bruce Trail app will function without cell service as it can work with solely GPS functionality. Any changes to the trail will also be changed within the app itself.
Unfortunately, the Bruce trail app is currently undergoing some big changes. It is currently unavailable for download, and a new version will be released at some point in 2021. There will be a new pricing structure as well. Stay tuned.
Ondago App
Ondago offers a series of downloadable maps for hiking trails around the world, but primarily in Ontario and Quebec. These maps use the GPS functionality on your phone so you'll know exactly where you are on the trail. There might also be some fun photos, descriptions, and guides for your trail, too. Ondago is one of the best hiking apps in Ontario if you're considering hiking the following trails:
Avon Trail
Credit Valley Trail
Grand Valley Trails
Ganaraska Trail
You can download full free maps of those four lengthy trail systems in Ontario and track your hike as you go with Ondago.
Availability: Android / iOS
Cost: Free
Rouge Urban National Park App
Rouge Urban National Park has its very own app! It was created by students at the University of Toronto, in partnership with Parks Canada. You'll be able to view a full map of all of Rouge Park's hiking trails on the app. But, the app offers so much more than that. It's such a valuable resource for learning every detail about the park's points of interest.
As you explore the park, your phone will act as a virtual tour guide by sharing interesting facts and information. You can report wildlife sightings to Parks Canada for a little bit of citizen science work. You'll get notifications about happenings and news within the park. It's a great way to discover new hiking routes at Rouge Park and learn some intriguing details on the way.
Availability: Android / iOS
Cost: Free
Best GPS App for Hiking: Spyglass
Spyglass is an advanced GPS navigation device and compass. It's is a fantastic safety device, as well as the best GPS app for hiking. It has loads of useful tools and features: a hi-tech viewfinder, milspec compass, gyrocompass, maps, tactical GPS, waypoint tracker, coordinate converter, and so many more.
With 3D augmented reality navigation, you won't get lost out on the trails. You can gather your bearings and track multiple locations in real time. Spyglass supports tons of varying coordinate systems, and it's perfect to add to your arsenal of hiking apps. It's one of the top free hiking apps, although there is a one time small fee to unlock the pro version.
Availability: Android / iOS
Cost: Free / Unlock pro features for $8.49
Seek by iNaturalist
If you're a nature lover, Seek by iNaturalist is the hiking app for you. Use this app and your phone to learn more about the nature that surrounds you. Point your phone's camera at living things, whether it's a plant, fungi, bird, or other wildlife. The app will identify the flora and fauna and tell you some interesting things about them.
Definitely bring this app on your next hike, and I'm sure you'll be totally amazed by the nature that you encounter throughout your trek. This is one of the best free hiking apps, and it's great for children and curious people of all ages. There are even some fun challenges where you can earn badges for identifying different species.
Availability: Android / iOS
Cost: Free
Fun Hiking Apps: Geocaching
This isn't specifically a hiking app, but it's an app and activity that you can do while hiking. Have you tried geocaching before? I have to admit that I've stumbled upon some geocaches accidentally on my hikes before, but I haven't ever really tried it myself. Just in case you aren't aware, geocaching is the world's biggest treasure hunt!
Essentially, you'll use a GPS or GPS enabled device to locate geocaches. They can be found all over the world, whether it's in a local park or along the hiking trail. There are different types of geocaches, too! Downloading the app is the best way to start this new adventure, and it will certainly add a new element of fun to your hiking trips.
Availability: Android / iOS
Cost: Free
Hiking Safety Apps: Cairn
Cairn is one of the best hiking apps for safety. You can use Cairn to follow hiking trails, and it also includes offline maps. Download your maps in advance in case you lose reception on your trip. Cairn has a couple of awesome and unique features. First, it has a cell coverage map so you can avoid dead zones on your trek as much as possible.
Next, you're able to set up a safety network of family and friends. Set it up before you head out, and you can set a time that you will be back. If you're overdue, even if you are out of a cell coverage zone, your network will be notified with your real time location. If a loved one is overdue and you can't get in touch, you can send these details to a search and rescue team. Most of these safety features are only available with premium paid access to the app.
Availability: Android / iOS
Cost: Free / Access to premium features is $26.99 per year
Hiking Safety Apps: What3Words
People have raved about the What3words app lately when some local hikers were rescued after sending their details to authorities. Basically, What3words assigns 3 words to every 3 square meters in the world. You can find and share any location by using only three words.
This app has tons of uses: if you're hiking on the trail and you get lost, you can tell your loved ones or rescue teams your three words so they can find you. If your car breaks down on the road and you don't know where you are, you can tell emergency services how to find you.
However, the What3words app will not be useful at all if you don't have cell reception. It will only work if you're actually able to access your cell phone data and actually call for help. If you're in a region where there isn't much cell coverage, What3words will not be able to help you at all. I think it's really important to have a backup in this case, like the Cairn app that I mentioned above or have a satellite communications device for emergency situations.
Availability: Android / iOS
Cost: Free
More Hiking Tips and Guides
Looking for more great hiking trips beyond the best hiking apps? Here are some more informative articles to check out.
Join the Ontario Hiking Facebook Group
You are also welcome to join our Ontario Hiking Facebook Group – it's a great way to ask questions about hiking in Ontario, share your Ontario hikes, and get inspired!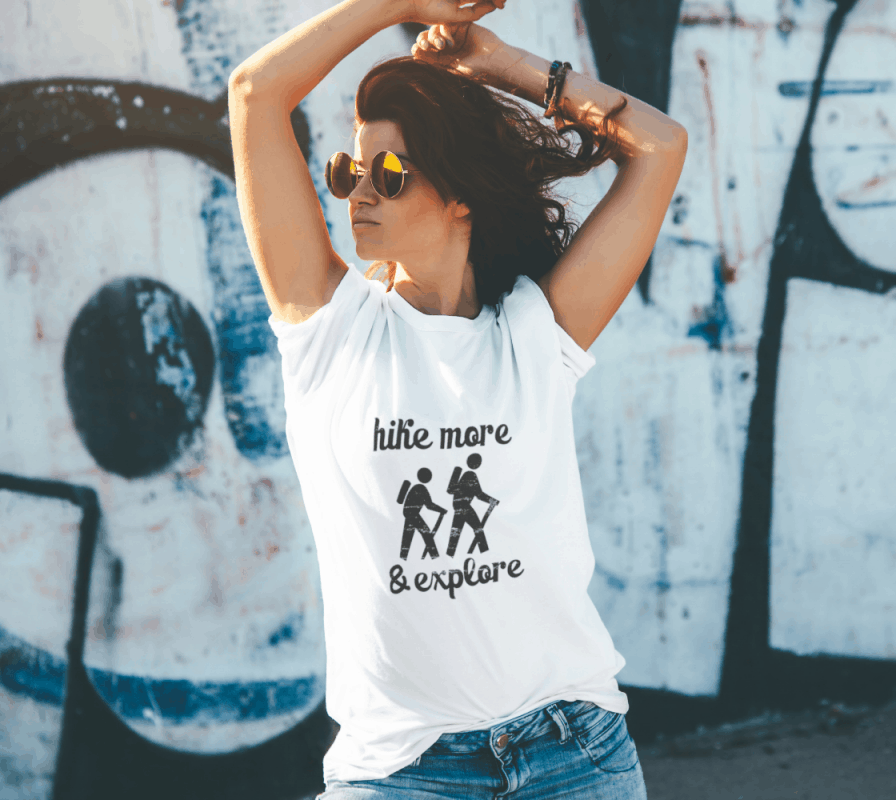 Inspired by adventures and nature. Ontario hiking and Bruce Trail apparel & accessories, designed by me.