Hiking in the winter is a completely different beast when compared to the other seasons in Ontario, so there are lots of important winter hiking tips to keep in mind. Taking a day trip to go hiking in the snow isn't a massive challenge. But, there are lots of concerns and risks to keep in mind if you're taking a winter hiking trip, especially if you're new to the activity.
Posts may be sponsored. Post contains affiliate links. I may be compensated if you make a purchase using my link.
I've prepared this list of winter hiking tips as they pertain to hiking in Ontario, Canada, but you can use them for any cold weather hikes. There are certain risks that we don't have here in Ontario (ie. avalanches and a lot of dangers associated with climbing high mountains). However, hiking in the cold weather poses a set of universal risks that I'll go into some detail here.
If you're looking for ideas about where to go hiking in the winter, I've prepared this list of the best winter hikes in Ontario.
Become an Ontario Hiking Supporter!
Join the Ontario Hiking Patreon and you'll become a VIP member of the Ontario Hiking community! You'll receive ad-free, downloadable hiking guides with new guides added weekly. Plus, there are many more perks! Become an Ontario Hiking Supporter today!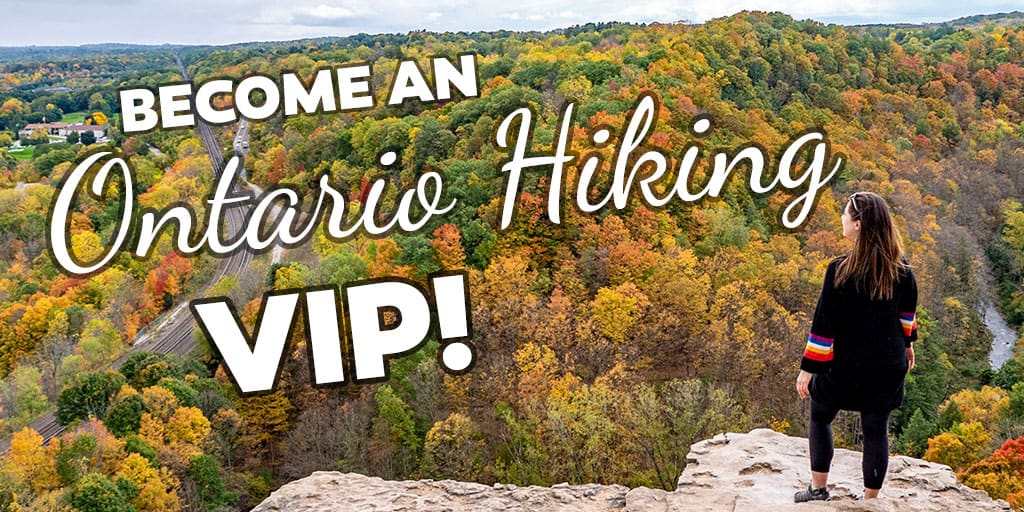 What to Wear Hiking in the Winter
When you're going hiking in the winter, it's all about the layers. One common mistake is to pile on all of your layers at the start of your hike. Then, as you generate heat while hiking, you'll start to sweat. If you end up soaked in sweat and then you stop hiking, you're going to freeze! I suggest starting out with a minimum amount of layers, but bring the other articles of clothing with you. If you're still too cold after hiking for a short while, add more layers on top.
Hikers will generally add and remove clothing during winter hikes as they see fit. If you're still too cold with all of your layers on, add another pair of socks, a winter hat, or a face mask. Even though you'll feel really cold at the start of your hike, you will get warmer as your body moves (and it's something you'll want to take into account).
You'll want to dress in a series of three layers. The first and closest to your skin is a base layer that wicks away perspiration from your skin. The second layer is a midweight layer designed to insulte you from the cold. And last is a shell layer that will protect you from the wind and keep out the moisture.
Thermal Base Layers
When choosing a base layer, it's important not to choose anything made of cotton. Wearing a cotton t-shirt as your base layer isn't a great idea. Cotton easily gets wet from sweat and it takes a really long time to dry. You're likely to feel uncomfortable and even downright miserable if hiking for a long time in a cotton shirt. One of the best winter hiking tips when it comes to clothing involves choosing appropriate base layers.
Base Layer Tights
The Columbia Omni-Heat Base Layer provides thermal reflective heat to keep you warm on the mountains or around the neighbourhood. These tights have moisture-wicking properties and breathable warmth without any added bulk. Here are the Columbia Base Layer Tights for Women and Columbia Base Layer Tights for Men.
Base Layer Tops
Base layer tops are an excellent idea for hiking in the winter. They have moisture-wicking properties and they'll keep you warm without adding weight or bulk under your coat. Here is the Columbia Base Layer Crew Top for Women and the Columbia Base Layer Crew Top for Men.
Midweight Layers (Fleece)
A fleece top is a great midweight layer to wear over top of your base layer. They're comfortable and will let you move with ease while providing an insulating layer of warmth. These fleece pullovers are also very versatile. They can be worn in the spring and the fall when the weather is a little bit chillier but you don't quite need a jacket.
Take a look at this Columbia Women's Half Zip Fleece or this Columbia Men's Half Zip Fleece Pullover for some great midweight layer suggestions. Remember that the idea behind what to wear hiking in winter involves the ability to add or remove layers throughout the day. You can easily throw on a fleece pullover or take it off if you get too warm.
Warm Winter Jacket
When you're looking for what to wear hiking in the winter, a high quality jacket is really important. This men's 3-in-1 winter jacket is perfect for hiking, skiing, and all kinds of outdoor fun! It has a waterproof shell, a thermal insulated liner, and you can wear them separately or together.
Here's the women's version of the same winter coat. One of the best winter hiking tips is wearing appropriate outdoor winter gear, and these jackets will keep you comfortable on all of your winter hikes.
Winter Hiking Pants or Snow Pants
Now that you've got your top half covered, what about your legs? I've made the mistake of hiking in the winter wearing a pair of yoga tights and freezing my bum off. I suggest that you start with a pair of base layer tights (as suggested above) or long underwear.
Next, I suggest a waterproof and wind proof outer pant layer. If you're going for a casual hike down a well worn path, you might not need to wear anything other than regular pants. If you'll be hiking in the snow or going snowshoeing, I suggest wearing some winter hiking pants. These insulated pants for women are quick drying, waterproof, and breathable. The same goes for these insulated pants for men.
Gaiters
If you aren't wearing any kind of winter hiking pants or snow pants, I suggest wearing gaiters that go over your pants and boots. Make sure the pair you buy goes up over your calves. They will keep the snow out of your boots, even if you're breaking your way through high snow banks. They'll also help to keep your legs warm. Here are a great pair of gaiters that are perfect for winter hiking.
Winter Wear: Hats, Scarf, Gloves
Don't forget to wear the basics: a warm hat, scarf, and gloves. For hats and scarves, anything that isn't cotton is a perfect extra layer for your head and around your neck. I actually have an online shop featuring hats and scarves that I've knit by hand. I still wear the same one that I hand knit over 15 years ago and it's still going strong!
As for gloves, these Burton gloves for women are insulted, waterproof, and tech-compatible. You won't need to sacrifice your warmth to use your phone or other touchscreen devices. These Burton gloves for men offer the same advantages: convenience and warmth.
Bring a Fast Mask on all of your hikes, whether you're hiking in the winter or the summer. You can use it to shield yourself from the wind, the sun, dust, or all kinds of conditions on the trails. They're inexpensive and you can tie it around your wrist when you're not wearing it. You can wear a Fast Mask in numerous ways, and they're pretty stylish, too!
Warm Socks (Bring an Extra Pair or Two)
The best hiking socks are ones that are moisture wicking and keep your feet warm. I recommend wearing one pair of socks and bring an extra pair or two in case your feet get cold. Toe warmers are also fabulous to stash inside your hiking boots. They'll keep your toes warm for at least eight hours!
Winter Hiking Boots and Footwear
Some of the best winter hiking tips relate to the proper footwear. It's important to understand when to go hiking in regular winter boots, when to wear a pair of spikes, and when to wear snowshoes. And then there are differences between nano spikes, microspikes, and crampons. Don't worry, I'm going to break it all down and make it easy to understand!
Winter Hiking Boots
A good pair of quality hiking boots is one of the best investments for hiking in the winter. I wrote an article about the best hiking boots, but I'll make a few different recommendations for winter hikes. You'll want boots that have a sturdy grip, boots that are waterproof, and boots that will keep your feet warm.
If it isn't terribly cold, I find that my Merrell hiking boots (here's where you'll find Merrell hiking boots for women and Merrell hiking boots for men) do the trick. They're a mid-rise boot, they have a Gore-Tex waterproof membrane, and they offer a lot of support. If my feet are cold, I'll toss in some toe warmers and wear an extra pair of socks.
You can also find a winter specific hiking boot that are not only waterproof, but have added warmth. These Kamik Baltimore winter boots for women are perfect for outdoor winter adventures. Likewise, these Kamik Green Bay winter boots for men are also ideal for snowy conditions.
Crampons / Icers / Microspikes
Icers or spikes are a must if you're hiking on icy trails. We've experienced a lot of this in Ontario recently. There might be snow or freezing rain…it melts…then freezes again….and you end up with an icy path.
You don't need to wear crampons or spikes if there's a light dusting of snow. It might actually increase the likelihood that you trip or injure yourself. But, it's a good idea to toss a pair of crampons into your bag should you encounter an icy path or an icy hill.
Nanospikes
So, when should you wear nanospikes vs microspikes vs crampons? Here's a quick guide when it comes to spikes. Nanospikes aren't used as much for hiking. They're used mostly for walking on icy sidewalks, going for a jog in the winter on paved paths, or walking your dog. You likely won't want to get nanospikes if you're hitting the trails.
Microspikes
Microspikes are likely what you'll be looking for when hiking in the winter. Kahtoola Microspikes are highly recommended by many hiking experts and casual hikers for winter hiking. They slip over your shoes or boots and have metal spikes on the bottom that will help you navigate across slippery surfaces. Then, when you're back to hiking on regular ground, just pop them back into your bag.
Yaktrax is another popular brand of spikes, although the Kahtoola ones are a bit higher quality. They are more economical to buy than the Kahtoola, however. The Yaktrax provide extra traction across snow and ice. The Kahtoola Microspikes provide extra traction on ice and when navigating icy hills on the trails as the spikes will dig into the ground a little better.
I wasn't able to find the Kahtoola Microspikes in my size this year, so I ended up purchasing these EnergeticSky traction spikes that look pretty similar to the Kahtoola ones. I will report back with how they last this winter season, but they look really promising.
Crampons
As for crampons, they have larger spikes that grip into the ice even better. These are ideal if you're going to be hiking on steep and slick surfaces. They aren't normally comfortable to walk on, so you'll be able to slip them on and off. Don't use crampons on fresh snow. Only use them on hard packed snow and ice.
If you're hiking on mostly flat terrain with the odd hill here and there, I'd go with the microspikes. If you'll be hiking on a mountain or a continuously steep surface, go with the crampons.
Snowshoes
If you're going to go hiking in the winter, chances are that you'll come across some snow in Ontario. When the snow gets a little too deep for regular hiking, you'll want to sport a pair of snowshoes. Use snowshoes when the snow is not packed down. They will help distribute your weight across a wider area, meaning that you won't sink down into the snow when you walk on it.
A good pair of snowshoes generally costs anywhere between $100-200, and they come in a variety of sizes for men and women. Don't wear snowshoes if there isn't a good amount of snow. If you find there is a lot of snow on the trail, they're perfect to keep you above the snowy surface and they'll help you from sliding a bit, too.
Check out the snowshoeing category on the blog if you're looking for potential snowshoe trails in Ontario.
Essential Winter Hiking Gear
Now that we've covered what to wear on your body and what to wear on your feet when hiking in the winter, here's some more essential winter hiking gear. While you won't need too much additional winter hiking gear as compared to other months of the year, there are a few things to take into consideration.
Hiking Poles
Hiking poles are one of the most underrated things to bring on a day hike. They'll help you hike for longer distances and across more challenging terrains. Hiking poles will help keep you upright in the winter. I went for a long time without using hiking poles, and I can see how valuable they are now.
These hiking poles are made with aircraft grade aluminum, they're fully adjustable, and they have a comfortable cork grip. They're relatively inexpensive and they're a great addition to your winter hiking gear. I really recommend using hiking poles when you go snowshoeing as it's a little easier to fall over than usual.
Bring Extra Batteries and a Power Bank
Electronic devices can really struggle to work in the cold weather. Your phone battery will drain more quickly. Some devices might not even power on properly if it's too cold. Bringing a portable charger for your devices is one of the best winter hiking tips.
I remember trying to take video with my GoPro on a snowshoeing trip at Algonquin Park a few years ago. The GoPro powered on only for a minute before the battery died completely. However, once I put the GoPro in my mitten fitted with handwarmers, it started working again.
Many of us rely on our smartphones for directions, a trail map, GPS, or even tracking our hikes on AllTrails. If your phone dies and you don't know where you are, this can be really dangerous. I suggest keeping your phone close to your skin when possible, such as tucked into your chest pocket or on an inside pocket of your jacket. Bring a portable charger to keep your phone operational.
Don't rely 100% on your phone for directions or GPS. If your phone dies and you're lost, this can be very dangerous. A good old fashioned compass can work wonders. A GPS watch can be a total lifesaver by helping you navigate your way back to your starting point. If you have a printed or paper map of the trail, this can be helpful to use as a backup to the one on your phone.
Winter Hiking Tips to Keep in Mind
There are lots of winter hiking tips to keep in mind as it pertains to safety aside from the proper gear and clothing. Here are some ideas that will prepare you for hiking in the winter and hiking in the snow.
Check the Weather Conditions Before You Go
Check the weather before you head out. You'll want to know if there's a heavy amount of snow blanketing the trails or if the trails could be icy. Perhaps you'll want to avoid hiking during a snowstorm or on a particularly windy day.
Aside from checking the weather, you can also join the Ontario Hiking Facebook group. Search for the trail you're looking to hike in the group. You can also survey the group members to see if anyone has hiked that trail recently and ask what the conditions are like.
Always Hike With a Buddy (Be Prepared if Hiking Alone)
Hiking alone in the winter can be potentially more dangerous than other seasons. If you're new to hiking, I suggest always hiking with a buddy in the winter. However, you might choose to hike by yourself in the winter. Be aware that the conditions are more treacherous in the winter months. I always recommend letting your loved ones know your exact hiking route and when you plan to return.
The sun goes down much quicker with fewer daylight hours. The days are shorter in the winter. It's a good idea to stick to daylight hours when you're going for a winter hike. I also recommend bringing a head lamp in case you're making your way back as the sun goes down. Sometimes hiking takes longer than you think, especially if you encounter snowy and icy trails.
Stay Hydrated in the Winter
Just because it isn't hot and sunny outside doesn't mean that you won't get dehydrated! If you're freezing cold, drinking a cold beverage isn't ideal. I suggest bringing a thermos of hot water with lemon, tea, or even soup. You can also carry a tumbler of hot chocolate for a little treat on the trail.
Bringing a reusable water bottle with luke warm water is always an idea. If I'm headed out for a couple of hours, I'll bring a water bottle to stay hydrated. If you're going out for several hours, keep in mind that your water could freeze inside your bottle. For this reason alone, bringing a warm beverage might be a better idea.
Also, another great winter hiking tip: I always recommend bringing snacks when you hike. Your body will burn even more calories in the winter as it tries to stay warm. Trail mix, energy bars, and peanut butter are all great ways to get extra nutrients as you go hiking.
Be Smart and Stay Safe
Be prepared to turn around if the conditions aren't ideal. Don't feel like a failure if you don't push ahead and tackle the conditions. If you aren't comfortable continuing ahead or don't feel safe, turn around. If you aren't in a position to break the trail if it's covered in deep snow, turn around.
If you're starting to feel exhausted partway through a hike in the winter, remember that you'll possibly need to hike all the way back to your starting point. Don't overdo it, especially in the winter.
Cold Weather Illnesses and Injuries
These winter hiking tips will help keep you from experiencing cold weather illnesses or injuries. There are many concerns when you're hiking in the cold weather. There are lots of slipping and tripping hazards in this cold and icy terrain. Proper footwear is a must.
I'll mention this first one really briefly because it might not seem obvious: wear sunscreen in the winter. The sun can still be powerful in the cold weather. It can also reflect off the snow and it's possible to get a sun burn in the winter.
It's also a good idea to bring sunglasses if it's really bright, and lip balm will keep your lips from getting chapped from the wind.
Frostbite
Frostbite can occur when your skin is exposed to cold and windy weather. It can also happen on skin covered by gloves and other clothing if it's cold enough. The most common areas on the body for frostbite are the fingers, toes, ears, nose, cheeks and chin.
You can protect yourself from frostbite by wearing suitable winter hiking clothing, hiking in conditions that aren't too frigid, and by not staying out in the cold for too long.
Hypothermia
Hypothermia can be an issue when hiking in the winter. It happens when your body's core temperature decreases to a point where your functions become impaired. Improper clothing, becoming wet in the cold weather, cold temperatures, dehydration, fatigue, hunger, and alcohol consumption can lead to hypothermia. Here are some warning signs of hypothermia:
Drop in body temperature (below 95 degrees Farenheit)
Numb hands or feet
Shivering uncontrollably
Confusion, memory loss, slurred speech
Loss of consciousness
Shallow breathing
Please familiarize yourself with the symptoms and treatment of hypothermia. It's also why hiking with a buddy in the winter is important. You may not be able to detect your own symptoms, but you will likely be able to see the symptoms of hypothermia in others.
By following the above winter hiking tips, you can stay safe and healthy while hiking in the snow and ice. Winter hiking is easy for everyone, just as long as you're prepared for the trek. Happy winter hiking!
More Hiking Tips and Guides
Looking for more great hiking trips beyond these winter hiking tips? Here are some more informative articles to check out.
Join the Ontario Hiking Facebook Group
You are also welcome to join our Ontario Hiking Facebook Group – it's a great way to ask questions about hiking in Ontario, share your Ontario hikes, and get inspired!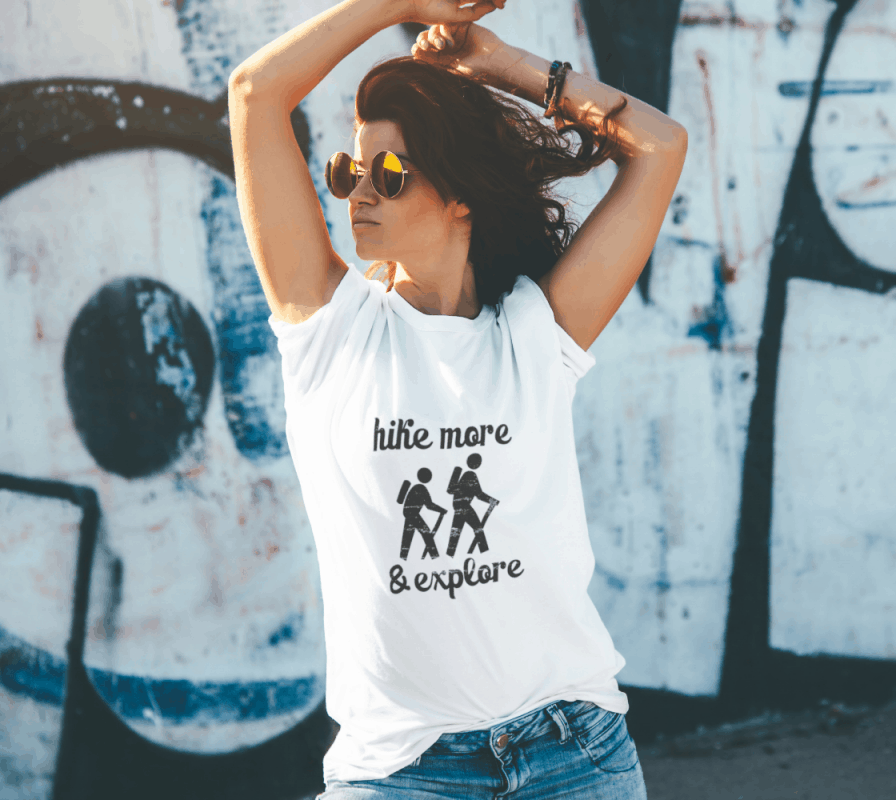 Inspired by adventures and nature. Ontario hiking and Bruce Trail apparel & accessories, designed by me.