The Crack in Killarney Provincial Park is one of the best Ontario hiking trails, hands down. In fact, it's one of my most favourite places to hike of all time! Needless to say, I was really impressed by this hiking trail in Ontario. If you're a hiking enthusiast, you absolutely need to hike The Crack trail in Killarney as soon as possible.
Posts may be sponsored. Post contains affiliate links. I may be compensated if you make a purchase using my link.
First, you're in a beautiful setting even before you begin to hike up the rocks. The hiking trail meanders around a pretty lake with outstanding views. Then, things get better and better as you continue towards the top. It's an adventure to scramble up the boulders at "The Crack". Once you reach the top, you'll be rewarded with some of the most spectacular scenery in the province.
Become an Ontario Hiking Supporter!
Join the Ontario Hiking Patreon and you'll become a VIP member of the Ontario Hiking community! You'll receive ad-free, downloadable hiking guides with new guides added weekly. Plus, there are many more perks! Become an Ontario Hiking Supporter today!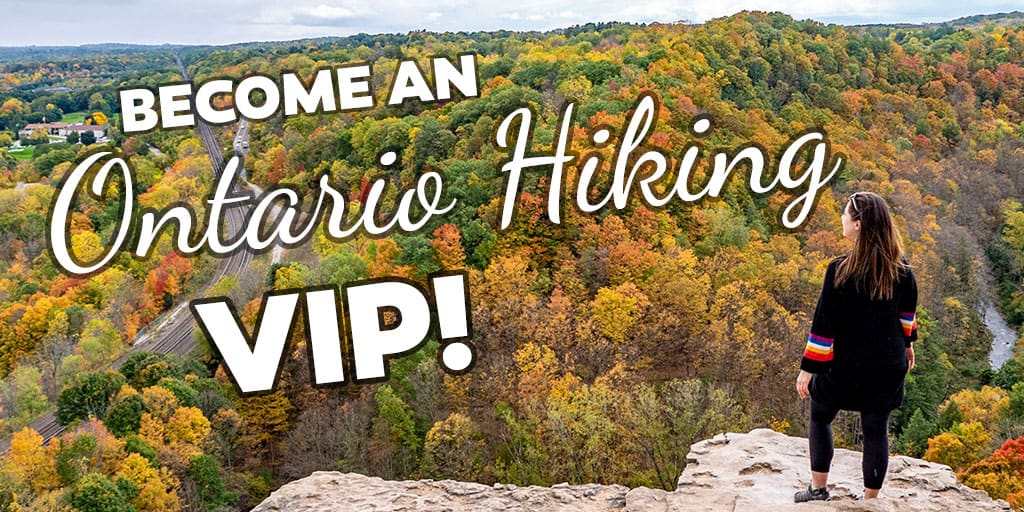 The Crack Killarney Map
Here is The Crack trail map in Killarney Provincial Park. Truth be told, you don't need a map. It's pretty difficult to get lost on this trail, except for maybe when you're climbing up the rocks at the end.
This hiking trail is pretty much one path through the forest until you reach the rocky section to the top. There are plenty of trail blazes on the way, and there's lots of signage along the way.
Once you reach the rocky section, there are some trail blazes on the rocks themselves. In addition, there are little sign markers to show the right way. Just keep an eye out for them, and you'll be following the path to the viewpoint.
Hiking the Crack Killarney
The Crack Killarney is part of the La Cloche Mountains, also known as La Cloche Range. These mountains are approximately 1.88 billion years old, and they're comprised mostly of white Quartzite (metamorphic rock that was originally pure quartz sandstone).
While the highest peak of the La Cloche Mountains only stands at 539 meters today, they were once higher than the Rocky Mountains. These hills are among the highest altitudes in Ontario.
While we won't be hiking to the highest point on The Crack trail at Killarney Provincial Park, we'll be headed to the top of the Killarney Ridge. The Killarney Ridge (top of The Crack Trail) is 355 metres at its highest point. This is also where you can begin hiking the famous La Cloche Silhouette Trail, one of the longest hiking trails in Ontario.
An Easy Walk Through the Forest
From the parking lot, it's an easy stroll through the forest. This Ontario hiking trail starts out looking like every other trail in the books. But, continue hiking along, and you'll soon come across a small boardwalk and a beautiful lake.
You'll keep walking past the Kakakise Lake on the trail. Eventually, the path will begin to ascend up short hills in the forest and you'll come to a clearing. The trail leads up some massive boulders that aren't too difficult to climb.
Surrounded by treetops at a bit of an elevation already, you'll wonder if the views can get better than this. Spoiler alert: they will!
Climbing the Rocks and Navigating the Crack
You'll continue along the rocks, following the trail blazes (both on small sign posts and on the rocks themselves). Then, it's time to hike through The Crack itself. You'll need to climb up and over a series of massive, broken rocks between two huge rock walls.
These large boulders have broken away from the rock walls over the years, and they create a natural staircase up to the top of the Killarney Ridge. I'm using the term "staircase" quote loosely here as it's definitely more challenging than climbing up stairs.
You'll climb from one rock to the next. It isn't terribly difficult to be perfectly honest, but it will require a certain level of fitness, and it probably shouldn't be your first hike ever. Take it slowly and watch your step, and you'll do just fine!
Reaching the Top at Last
At last, we're at the top! The views up here are incredible. You'll be treated to scenery of the deep blue Killarney and O.S.A Lakes, Georgian Bay, and the ridges of neighbouring mountain tops. The most famous view is right when you reach the top, overlooking the lakes.
Once you're at the top, take your time to explore your surroundings. After all, you made it! Soak it all in. There are several vantage points offering nearly panoramic views of the area. Wander over to the other side to catch glimpses of the Kakakise Lake that you hiked past earlier. Wander a little further down from the main ledge for alternate views of Lake Killarney.
Justin and I spent at least an hour at the top, taking photos and absorbing the magnificent scenery. As The Crack Killarney is an out and back trail, this meant that we had to hike the same way back to the car. It takes a little less time to walk back because it's all downhill from here. Be careful on those rocks though – I found it to be a little more challenging on the way down (lots of butt slides!).
Want to see more photos from Killarney?
Browse our entire travel photography album in one place. You can browse and buy any of our pictures, including prints, gifts and more.
Plan Your Visit to The Crack in Killarney Provincial Park
There's a parking lot for The Crack trailhead in Killarney Provincial Park just off highway 637. If you search "The Crack Trailhead" or "The Crack Trail Shortcut Parking Lot" on Google maps, you'll find it. In 2021, parking is free from Monday to Thursday. From Friday to Sunday, the parking fee is $15 per car.
This is a 6km out and back trail (from the parking lot to the viewpoint and back). It will take you about four hours to hike, and it is considered to be a difficult hike. On a sunny day where you aren't hiking in the blistering heat, I'd rate this one as moderate to difficult. I'd rate it as difficult if it's really hot outside (there isn't any shade when climbing the rocks) or if it's raining outside, as the rocks can get slippery.
Justin and I spent four hours hiking the Crack, with about an hour enjoying the scenery from the top. For us, it was about three hours of hiking (two hours to get there, an hour to get back to the car). Be sure to take your time navigating the rocks.
What to Bring When Hiking The Crack
In June, there were some black flies and mosquitoes in the forest. Once we hiked to a higher elevation, there was a nice breeze and no bugs. For this reason, please wear bug spray and even consider bringing a bug net if it gets to be too bad.
Sunscreen is a good idea, too. You'll be out in the open when climbing the rocks and sitting at the top. While it's a shaded hike through the forest, you will have the sun beating down on you for the last half of the hike. I also suggest bringing a sun hat, especially one that's breathable with SPF protection.
Make sure you wear appropriate footwear to hike The Crack Killarney. Hiking shoes or hiking boots with a good tread is necessary. Here are my recommendations for hiking shoes if you're looking to get a pair.
Water, water, and more water! Always bring more water than you think you'll need. You can bring a couple of standard water bottles. The GRAYL Purifier bottle is a favourite of mine because it will purify any water in seconds. You can pack this one bottle and refill it from any lake or stream without getting sick. Bringing some snacks or a packed lunch is a good idea, too!
Where to Stay in Killarney
You are welcome to go camping at Killarney Provincial Park, and this is a popular choice for many visitors. If you are looking to stay somewhere a little more comfortable, Killarney has two main resort hotels: Killarney Mountain Lodge and the Sportsman's Inn.
Justin and I spent two nights at the Killarney Mountain Lodge and it was fantastic. We had a comfortable and spacious room, the property is beautiful, and there's even an additional hiking trail from Killarney Mountain Lodge (the Lighthouse Trail). There's nothing like relaxing on the red Muskoka chairs and gazing out to the Killarney Channel after a day of hiking.
When staying in Killarney, you'll likely end up dining at the on-site restaurants as there aren't too many amenities in town. There's one small general store and another restaurant, but that's about it. If you'd rather stay closer to a city, Sudbury is only about 1 hour and 20 minutes from Killarney. Here are some Sudbury hotels where you can enjoy a relaxing stay.
The Crack in Killarney: Frequently Asked Questions
This is one of the best hikes in Ontario, and I'm sure you have a lot of questions. Who can hike the Crack in Killarney Provincial Park? How hard is it to hike? I'll try my best to answer all of the questions here, but be sure to ask any other questions in the comments section below.
Where is The Crack in Killarney?
You'll find The Crack Trail at Killarney Provincial Park, just outside of Killarney, Ontario. It's about a 3-3.5km hike from the trailhead, off Highway 637.
How difficult is it to hike the Crack? Can I do it?
This is rated as a more difficult hike, simply for the fact that you'll be climbing up some boulders to get to the top. The initial hike through the forest is pretty easy. Once you get to the rocks, it's a little bit of a scramble to the top. It isn't super difficult, but you'll need to watch your step.
Can I bring my kids to hike The Crack?
Yes! We saw some children at the viewpoint at the top. They might need some help climbing the rocks, especially on bigger boulders and when coming back down.
Can I bring my dog to hike The Crack?
It's possible, but difficult. If your dog is good at climbing up rocks, they will be fine. For really small dogs, you will probably have to carry them up (but this is a challenge, so it's only for experienced hikers). Bring lots of water for you and your dog.
Can I keep hiking beyond The Crack?
The Crack Trail connects to the La Cloche Silhouette Trail, a 78km overnight backpacking trail. This takes about 8 to 10 days to hike. You're welcome to continue your journey!
How bad are the bugs at The Crack?
The bugs are at their worst from the end of May through July. We hiked there in June and they weren't terrible. Wear lots of bug spray. Once you're out of the forest and hiking to the top, there aren't any bugs at all (it's quite breezy!).
Join the Ontario Hiking Facebook Group
You are also welcome to join our Ontario Hiking Facebook Group – it's a great way to ask questions about hiking in Ontario, share your Ontario hikes, and get inspired!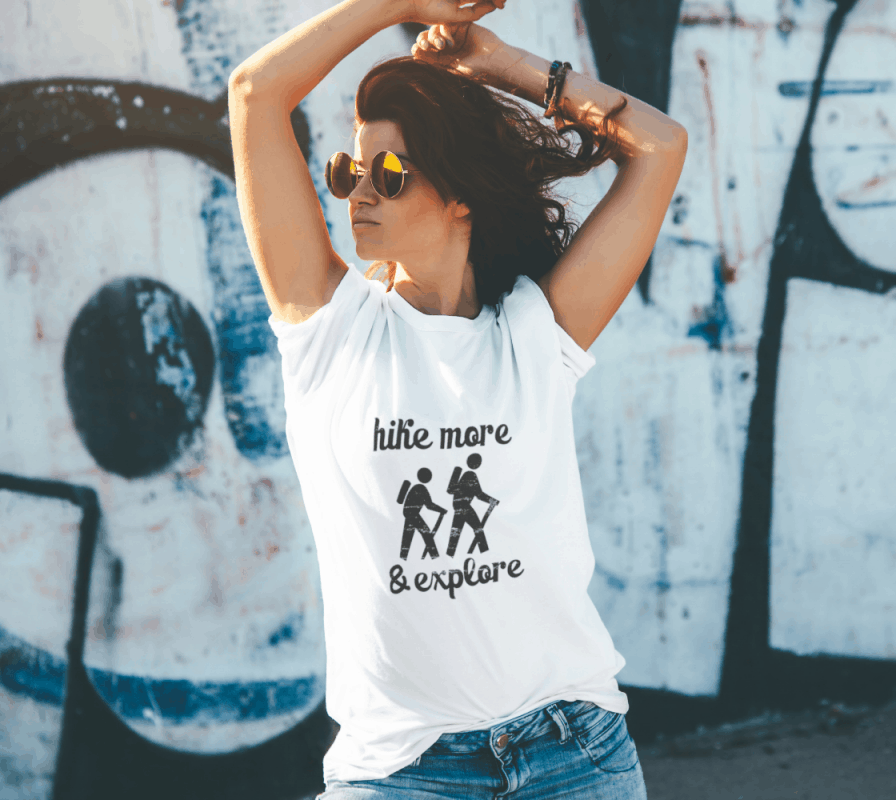 Inspired by adventures and nature. Ontario hiking and Bruce Trail apparel & accessories, designed by me.