Landon Bay is one of the best places to go hiking at the 1000 Islands National Park. The Thousand Islands region is a magical place to explore in southeastern Ontario. Although it's one of the smallest national parks in Canada, it packs a punch. It's a UNESCO Biosphere Reserve and part of the Frontenac Arch Biosphere Reserve.
Posts may be sponsored. Post contains affiliate links. I may be compensated if you make a purchase using my link.
It has a fascinating geological history and some of the greatest biodiversity in Canada. I loved hiking at Landon Bay because the trails are scenic, quiet, and there's a spectacular lookout that offers a big reward for very little effort.
Become an Ontario Hiking Supporter!
Join the Ontario Hiking Patreon and you'll become a VIP member of the Ontario Hiking community! You'll receive ad-free, downloadable hiking guides with new guides added weekly. Plus, there are many more perks! Become an Ontario Hiking Supporter today!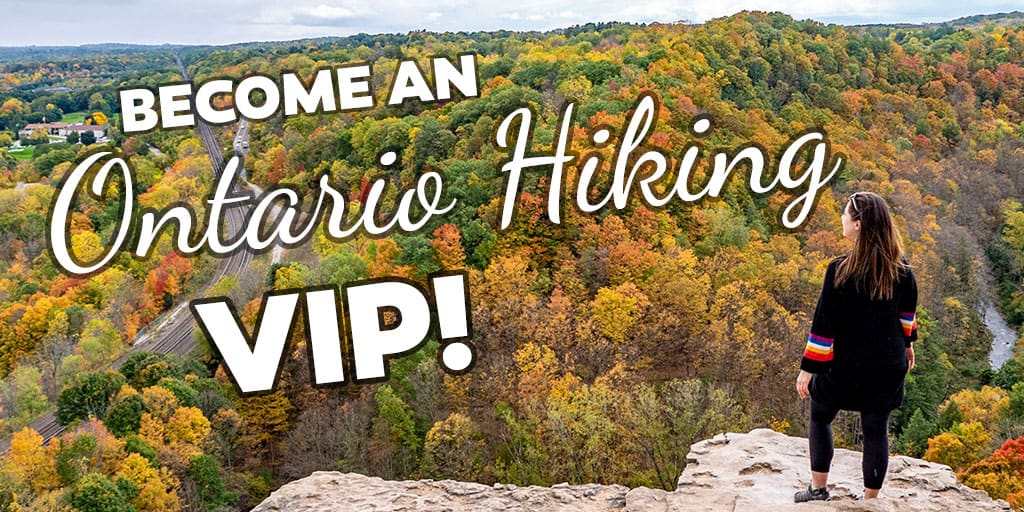 About the Thousand Islands National Park
Thousand Islands National Park of Canada is one of six national parks in Ontario. The others are: Bruce Peninsula National Park, Georgian Bay Islands National Park, Pukaskwa National Park, Point Pelee National Park, and the Rouge National Urban Park. It is one of the smallest national parks in Canada, but one of the most unique as it's spread across three mainland properties and 20 islands.
The Thousand Islands in Ontario are a UNESCO Biosphere Reserve with one of the highest regions of biodiversity in the country. It's also part of the part of the Frontenac Arch Biosphere Reserve. To describe the region briefly, the Thousand Islands formed where The Frontenac Arch (an ancient granite ridge) intersects with the Saint Lawrence River. You'll find alluring pine forests, craggy shorelines, and quite literally, thousands of islands that are the tops of ancient mountains.
When you're hiking at the 1000 Islands, it's possible to spot some animals. You might see deer, beavers, rabbits or turkey vultures. It's actually home to a variety of creatures, including coyotes, foxes, porcupines, and raccoons. More notably, many threatened species live there, including the osprey, blue heron, and the black rat snake.
Thousand Islands Hiking
When hiking the 1000 islands, you're spoiled for choice. There are three mainland properties with opportunities for hiking: Mallorytown Landing, Jones Creek, and Landon Bay. There are also seven collections of islands where you can hike: Kingston Islands, Admiralty Islands, Lake Fleet Islands, Navy Islands, Middle Islands, East Islands, and Grenadier Island. Here are maps of all the places to go hiking at the Thousand Islands, Canada.
Obviously, to reach the islands of the national park, you'll need to travel by boat, kayak or canoe. You'll need to take one of those modes of transport to hike around some of the bigger islands. Some of the islands even offer camping or oTENTik cabins for a more comfortable experience. If you're planning a short day hike, it's easiest to tackle one of the mainland properties. The islands are best explored on a full day hiking/kayaking trip or across several days if you plan to camp.
The hiking trails around the park are open year round. I visited in the fall because it's one of the most picturesque times of year to visit. As the leaves change colour, you'll be dazzled by shades of red, orange, and yellow dotting the landscapes. No matter when you plan your trip, the 1000 Islands are a peaceful and delightful place to go hiking.
Landon Bay Hiking Trails
Landon Bay is one of the largest bays in the 1000 Islands. Its shallow waters are a perfect home for many fish and turtles. The bay is often described as "fjord-like" due to its dramatic, high granite cliffs.
There are seven Landon Bay hiking trails, although there are two main trails that you'll want to tackle: the Donevan Trail and the Lookout Trail. If you have more time, feel free to wander around all of the trails at Landon Bay. Just a few brief details about the other side trails:
The Garden Trail (green) is an easy stretch of forest beside Halstead Creek, wetlands, and a beaver dam
The Bay Trail (orange) is noted as a moderate trail that meanders alongside Landon Bay
Halstead Creek Trail (orange) is a forest trail that most notably has an osprey nesting box on the way
The Riverview Trail (red) is a very short trail that has picnic tables with views of the river
Moran Trail (red) is another short trail around a series of beaver ponds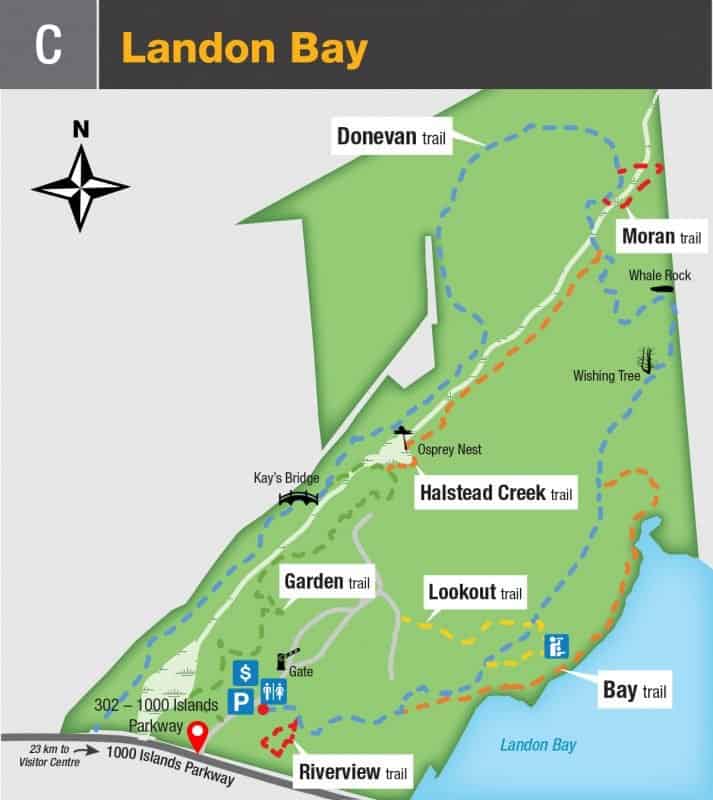 Donevan Trail
Start at the large stone gate that marks the beginning of the Donevan Trail. This is the main trail that wraps around the property (marked in blue), and it totals 5km. The hiking trails here have lots of signs on the way, so you won't get lost. Stick to the main Donevan Trail. It's a relatively easy trail all the way around, but you will encounter some rocks and steps as you go. Be sure to wear proper footwear for hiking.
Once you reach signs for the Lookout Trail, hike in that direction. It's a short detour that's one of the highlights of the entire hike.
Lookout Trail
The Lookout Trail is a short, uphill jaunt that isn't too daunting. The Lookout Trail ends at the very top of the hill. There are massive, flat rocks where you can sit down and have a rest. The panoramic views of Landon Bay, the Saint Lawrence River, and the Thousand Islands is truly spectacular. You can see for miles and miles!
Plan Your Visit
If you go to Landon Bay and the Thousand Islands National Park during the summer, you'll be able to park your car inside the park (beyond the gates). When I traveled there in mid-October, the gates were closed. There's a huge parking lot across the street at Halsteads Bay. The waterfront scenery is really beautiful there, so it's worth checking out regardless of where you park.
Please be careful as you walk across the road – it's a very busy highway. If you're concerned or you are hiking with children, it's possible to park your car just outside of the gates at the park entrance.
The hiking trails are always open, even in the wintertime, so get out there and explore! Here are more details about hiking the Thousand Islands in the fall, and other things to do in the area. If you're looking for more trails, check out this detailed guide to hiking the 1000 Islands.
Interested in more important protected natural spaces in Ontario? Check out more national parks within Ontario, as well as our stunning provincial parks and conservation areas.
Want to see more photos?
Browse our entire travel photography album in one place. You can browse and buy any of our pictures, including prints, gifts and more.
More Hiking Trails in Southeastern Ontario
Looking for more places to go hiking in Southeastern Ontario? Here are more places to visit in the region:
Join the Ontario Hiking Facebook Group
You are also welcome to join our Ontario Hiking Facebook Group – it's a great way to ask questions about hiking in Ontario, share your Ontario hikes, and get inspired!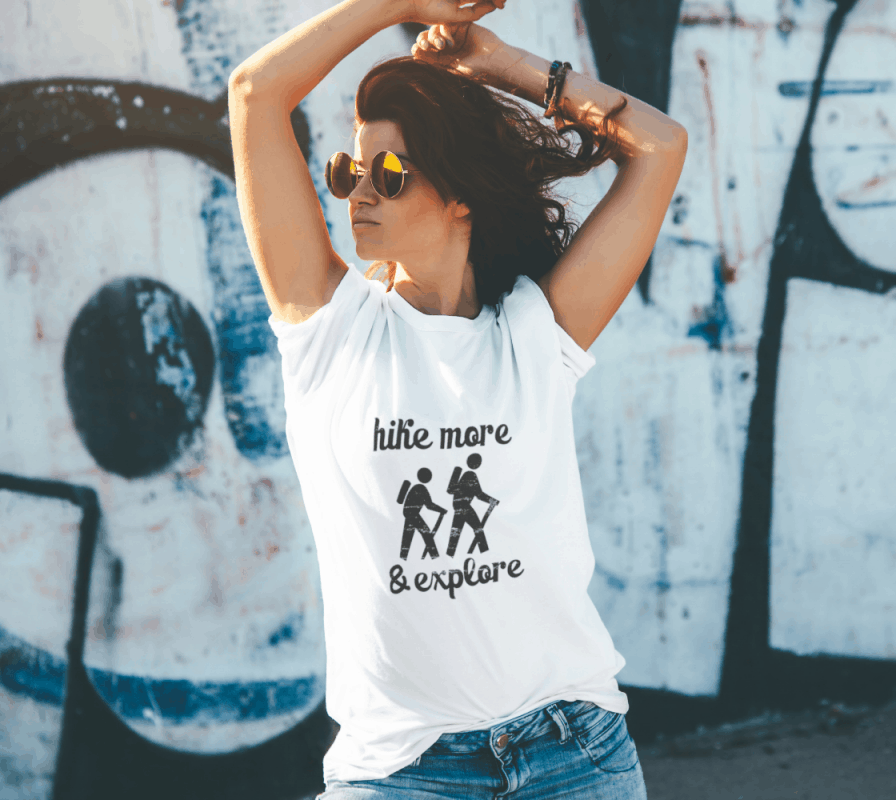 Inspired by adventures and nature. Ontario hiking and Bruce Trail apparel & accessories, designed by me.