Kerncliff Park is one of the top places to go hiking in Burlington, Ontario. It's somewhat of a hidden gem. I hadn't really heard much about Kerncliff Park until learning about it from some members of the Ontario Hiking Facebook group. It looks quite unassuming from the starting point at the parking lot, like there might be a little bit of hiking in a forest. Little did I know that Kerncliff Park would be one of my favourite hikes of the fall season.
Posts may be sponsored. Post contains affiliate links. I may be compensated if you make a purchase using my link.
While Kerncliff Park has its own trail system, the Bruce Trail and one of the Bruce Trail side trails connects to this city park. If the Bruce Trail is part of your hike, you know that you can't go wrong. This is one of the best places to hike the Bruce Trail in Burlington. You'll quickly see why through my photos and descriptions. I embarked on this hike at Kerncliff Park with one of my best friends, Shannon.
Become an Ontario Hiking Supporter!
Join the Ontario Hiking Patreon and you'll become a VIP member of the Ontario Hiking community! You'll receive ad-free, downloadable hiking guides with new guides added weekly. Plus, there are many more perks! Become an Ontario Hiking Supporter today!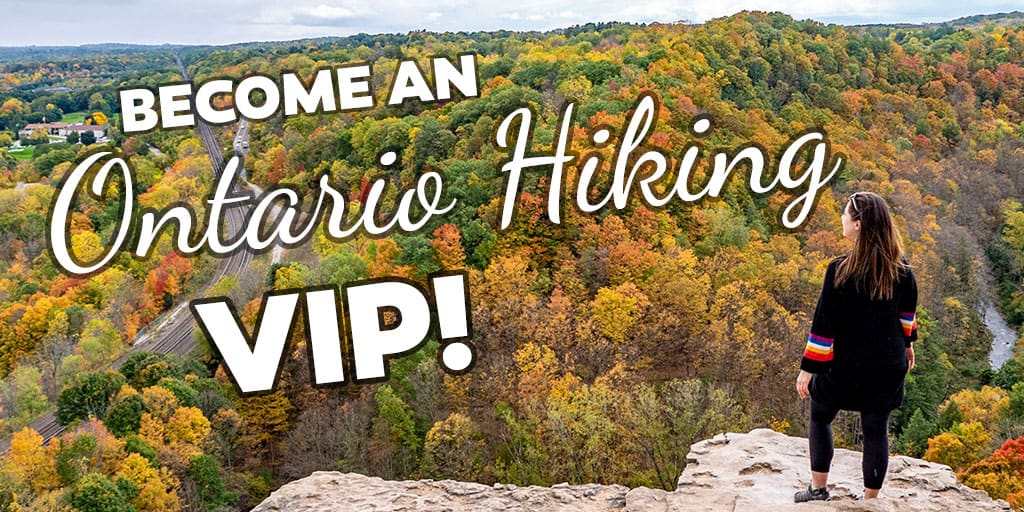 Kerncliff Park Map
The hiking trails at Kerncliff Park are relatively well marked. I'm pretty prone to getting lost in the forest, and I didn't manage to lose my way here. However, I was tracking my hike on AllTrails and I took a photo of the map that was posted in the parking lot. It's always a good idea to have a copy of the trail map on hand before you start your journey. Feel free to bring up this image before you start your hike.
Hiking at Kerncliff Park
There are multiple hiking trails that are part of Kerncliff Park. The park has its own trail system, including the main three trails and a number of side trails. Then, there's the Ian Reid Side Trail (part of the Bruce Trail) and the Bruce Trail itself. There are a number of hiking routes that you can take at Kerncliff Park. It's a bit of a "Choose Your Own Adventure".
As there are so many different trails you can take, you can return here numerous times for new experiences. Plus, I'm sure that the park looks gorgeous in all seasons. I highly recommend coming here in the fall. The fall colours are absolutely brilliant. The trees are so tall, towering overhead. The leaves are vibrant shades of red, orange, yellow, and green. We ended up hiking here for two hours, but you can choose a shorter or even longer hike that we did.
Wetland Trail
Kerncliff Park used to be an old quarry called the Nelson Quarry. Nowadays, it is part of the Cootes to Escarpment Eco System. The landowners and partners are working together to reestablish the natural habitats of the area.
It is easy to imagine the space surrounding the Wetland Trail as an old quarry as it's relatively flat with surrounding rocky cliffs. There's a lengthy boardwalk here so you can walk across these peaceful marshlands without disturbing the habitat.
There are really tall bulrushes all around, some even taller than I am! I am certain there must be lots of frogs and other creatures hidden away in there. What a lovely place to call home.
Kerncliff Park Side Trail
Once you've finished hiking the short boardwalk loop of the Wetland Trail, you can begin to hike into the forest. The Kerncliff Park Side Trail starts at the parking lot and links up with the Woodland Trail and the Red Oak Trail.
Red Oak Trail
The Red Oak Trail is 0.65km in total, and it can take up to a half hour to hike the entire loop. We didn't hike around the entire Red Oak Trail. Once you reach one end of the Red Oak Trail, you can continue hiking on the lengthier Woodland Trail loop. We decided to continue on the Woodland Trail because we wanted to see as much of Kerncliff Park as possible.
One notable find on the Red Oak Trail is a really old Red Oak tree (I'm guessing that the trail was named for this tree). It's pretty fascinating that this one tree produces over 2200 acorns every year! This is great food for deer, raccoons, chipmunks, and more. The Red Oak Trail is marked with orange trail blazes that you'll see posted on many trees on the way.
Woodland Trail
The Woodland Trail is the largest loop trail at Kerncliff Park at about 1.5km. You'll know that you're on the Woodland Trail when you see the yellow trail blazes on the trees. The Red Oak Trail is an inner loop in the park, while the Woodland Trail connects to the Red Oak Trail and also provides a much larger loop around it.
On the Woodland Trail, you'll encounter more dense forest and tall trees. You will feel as though you're far removed from the city.
Ian Reid Side Trail
From the Woodland Trail, you'll have a choice to continue hiking on the Woodland Trail or hike on the Ian Reid Side Trail. This is one of the Bruce Trail side trails, marked by blue blazes. If you choose to hike the Ian Reid Side Trail, you'll continue walking on another loop trail north of the main Kerncliff Park trails.
The Ian Reid Side Trail is a really interesting part of the park. You'll continue to hike between lush and colourful trees. There are also more small hills and one longer hill that eventually leads up to the very top of the escarpment. The Ian Reid Side Trail connects to the Bruce Trail at this point.
Bruce Trail (Main Trail)
On the Bruce Trail (Iroquoia Section), you will enjoy some sweeping panoramic views across the city, from Burlington and out to Lake Ontario on a clear day. From there, we kept walking on the Bruce Trail as we descended back into the forest, surrounded by trees.
At that point, we took one of the smaller links that connects the Bruce Trail to the Kerncliff Park trails. This was a little bit of an adventure as there were many rocks and boulders. It didn't really look like it was part of a hiking trail any more. As we took our time climbing down the rocks, we realized that this was the edge of the quarry that we could view from the Wetland Trail. My friend Shannon and I were on top of the cliffs now.
Once we walked down, we made our way back to the parking lot. There were some sections of the Red Oak Trail and some of the link trails that we didn't get the chance to hike. We'll have to save those for another time.
Plan Your Visit to Kerncliff Park
Kerncliff Park has a medium sized parking lot where you can park your car for free. Even on a weekday, we found that the parking lot was almost full. It can fit about 10 cars, I believe. I suggest visiting on a weekday if you can. The earlier in the day, the better. This spot is a favourite among locals. We chatted to one lady who walks her dog there several times a week.
There is one building with restrooms on site, near the parking lot. I'd rate these trails as a low to moderate difficulty. For the most part, the trails are flat and you'll be hiking on the forest floor. But, there are some small hills here and there, especially if you're hiking on the Ian Reid Trail and the Bruce Trail. The park hours are daily from 8:00am to 11:00pm. The address for Kerncliff Park is: 2198 Kerns Rd, Burlington, ON L7P 1P8.
What to Bring on a Hike
A proper pair of hiking shoes is an absolute must. It's also a good idea to bring sunscreen and lots of water, too. My water bottle of choice is the GRAYL Purifier because you can drink ANY water from any source, no matter what. Water from lakes, streams, rivers, public restrooms, you name it. It's the world's fastest portable purifier. Get your hands on one ASAP!
Don't forget to pack some bug spray because there can be biting bugs depending on the time of year. Even if there aren't any signs, it's safe to assume that ticks are all over Ontario hiking trails. Protect yourself against ticks by reading our guide to avoiding ticks on the trails.
Want to see more photos of Kerncliff Park?
Browse our entire travel photography album in one place. You can browse and buy any of our pictures, including prints, gifts and more.
More Hiking in Burlington, Ontario
There are lots of fantastic hiking trails in Halton and Brant regions. Here are a few of my favourite treks:
Kerncliff Park Frequently Asked Questions
Do you still have some questions about hiking at Kerncliff Park? It's one of the best parks in Burlington, Ontario. I will try my best to answer all of your questions about these hiking trails in Burlington.
Where is Kerncliff Park and how do I get there?
Kerncliff Park is at 2198 Kerns Rd, Burlington, ON L7P 1P8. From the QEW/403 highways, take the Brant Street exit and head north. You'll take a left on North Service Road, then turn right on Kerns Road. You'll see the entrance to the parking lot on Kerns Road.
Is it free to visit Kerncliff Park?
Yes, it is free to visit Kerncliff Park. There are no admission charges, no parking charges, and no reservations required.
How much time should I spend hiking at Kerncliff Park?
Give yourself a couple of hours if you'd like to experience the entire park and the Ian Reid Side Trail loop with the Bruce Trail. You can easily go on a 20 minute to half hour hike if you have less time.
What are the hours of operation at Kerncliff Park?
Kerncliff Park is open from 8:00am to 11:00pm.
Where else can I hike in Burlington, Ontario?
The Royal Botanical Gardens has some amazing hiking trails that I highly recommend. Some of these are in Burlington and some of them are in Hamilton. There are also numerous Halton Conservation Areas near Burlington, and the Sixteen Mile Creek Trail in Oakville is fantastic.
Join the Ontario Hiking Facebook Group
You are also welcome to join our Ontario Hiking Facebook Group – it's a great way to ask questions about hiking in Ontario, share your Ontario hikes, and get inspired!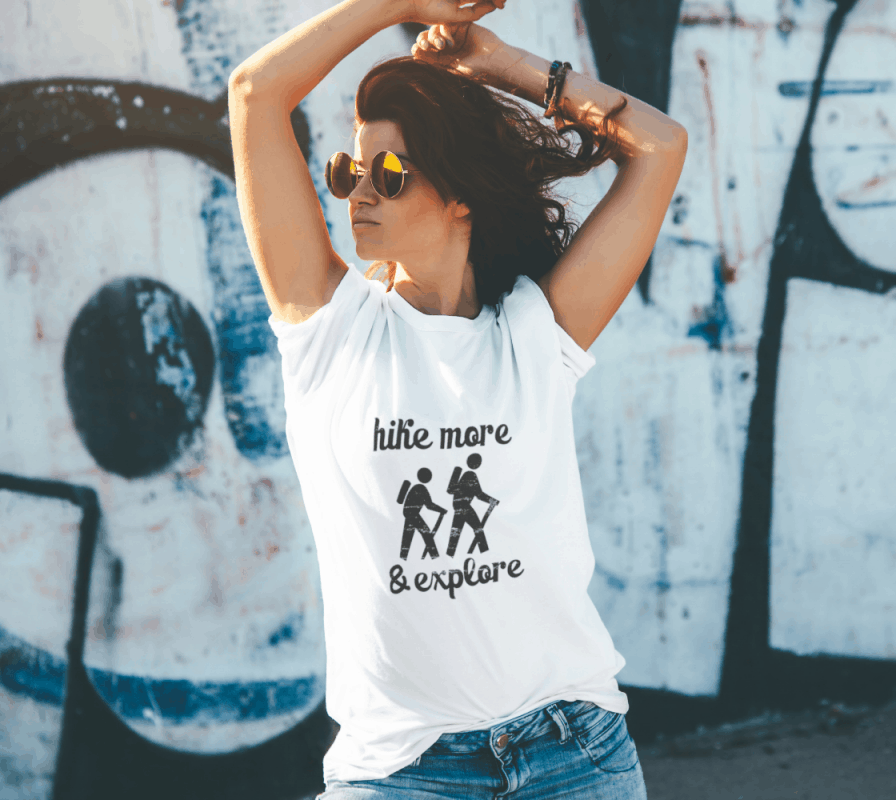 Inspired by adventures and nature. Ontario hiking and Bruce Trail apparel & accessories, designed by me.