The Ranney Gorge Suspension Bridge in Campbellford, Ontario, is one of the most scenic pedestrian bridges in Ontario. You need to add this to your list of outdoor attractions and activities, especially if you're looking for things to do in central Ontario. It's a 300 foot long suspension bridge that hovers 30 feet above the Ranney Gorge. It's one of the best bridges to walk across in Ontario, and it's open all year long.
Posts may be sponsored. Post contains affiliate links. I may be compensated if you make a purchase using my link.
As you walk across the Ranney Gorge Suspension Bridge, you'll be treated to panoramic picturesque views on either side of the bridge. To the north, you'll view picturesque cottages perched at the edge of the Trent River. To the south, you can witness dramatic views of the gorge and the river extending off into the distance.
Become an Ontario Hiking Supporter!
Join the Ontario Hiking Patreon and you'll become a VIP member of the Ontario Hiking community! You'll receive ad-free, downloadable hiking guides with new guides added weekly. Plus, there are many more perks! Become an Ontario Hiking Supporter today!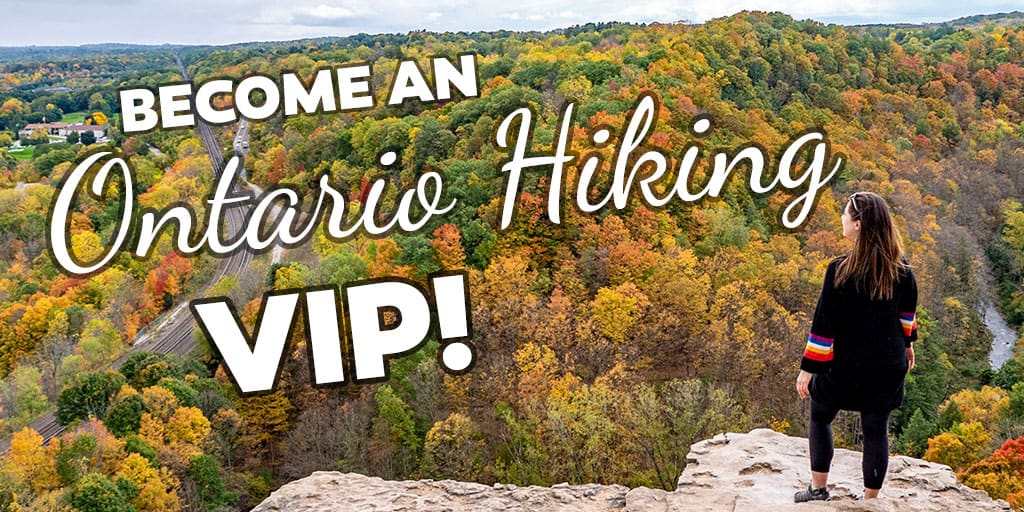 In this blog post about the Ranney Gorge Suspension Bridge, I'm going to share some interesting facts and history about this great structure. Then, I'll share how you can easily plan your visit for a fun outing. It's great to pair your visit to the Ranney Gorge bridge with a hike at Ferris Provincial Park for a fun half day trip. Then, you can wander around the town of Campbellford to fill out the rest of your day, or even plan to go camping at Ferris Provincial Park.
Interesting Facts About Ranney Gorge Suspension Bridge
The Ranney Gorge Suspension Bridge is part of Ferris Provincial Park, and it's also along The Great Trail (formerly the Trans Canada Trail). It is the only pedestrian bridge of its kind in Ontario! This swing bridge is near Locks 11 and 12 of the Trent-Severn Waterway. The bridge was built in 2003 and opened to the public in 2004.
Here are a few more interesting details about this scenic bridge that you need to experience:
The bridge was constructed with 55,000lbs of steel
The total weight that the bridge can hold is 75,000lbs
The bridge was built as a training project by the Engineers of 8 Wing CFB Trenton (Canadian Armed Forces)
It cost $465,115 to construct
You can easily walk across the bridge to reach Ferris Provincial park on one side and the town of Campbellford on the other side
How to Visit Ranney Gorge Suspension Bridge
Planning your visit to the Ranney Gorge Suspension Bridge is easy! The bridge is open daily all year long and it is free to visit. You can easily visit the bridge on its own without making a trip to Ferris Provincial Park at all. However, I do highly recommend that you visit both because they're both fantastic.
You can park your car on the western side of the Trent River Gorge next to the Ranney Gorge bridge, on the side that is located in town (as opposed to Ferris Provincial Park). There's a small parking lot just beside the bridge itself. This lot can fill up quickly. There's more parking along the Trent River just up the street near a park (on Trent Drive). All of this parking is free. Visiting the suspension bridge is also free of charge.
I do advise that you should plan to visit early, especially if you're going there on a weekend. This place closed to the public during the pandemic in the summer of 2020 because it became over-touristed and crowded. It's back open again, but that just shows the popularity of this place. Arrive early and on a weekday if you can to have the bridge all to yourself like I did!
Hiking at Ferris Provincial Park
Once you've walked across the Ranney Gorge Suspension Bridge, you'll find yourself right at the entrance to Ferris Provincial Park. From there, you can continue hiking through the park following a couple of different trails.
There's the River Gorge Trail with yellow trail blazes. This hiking trail follows the edge of the Trent River gorge with some pretty views along the way. In the opposite direction, there's the Ranney Falls Trail, a short path that offers a lookout facing Ranney Falls. If you'd like to extend your hike further, check out the Drumlin Trail System.
You can find all details about hiking at Ferris Provincial Park, as well as visiting the park, in our complete guide to Ferris Provincial Park.
When to Plan Your Visit
The Ranney Gorge Suspension Bridge is open all year long, 365 days a year, in all seasons. If you're visiting during the summer, you might even be able to spot some turtles, basking on the rocks in the sunshine. With the warm weather, you can also plan a picnic lunch or even rent a kayak from Ferris Provincial Park.
I ventured to this Ontario pedestrian bridge in the fall and witnessed some brilliant fall colours. While my visit merely involved walking across the bridge and hiking at the provincial park, it was well worth the trip. No matter when you visit, you'll feel the thrill of crossing this bridge as it sways above the water.
What to Bring on a Hike
A proper pair of hiking shoes is an absolute must. It's also a good idea to bring sunscreen and lots of water, too. My water bottle of choice is the GRAYL Purifier because you can drink ANY water from any source, no matter what. Water from lakes, streams, rivers, public restrooms, you name it. It's the world's fastest portable purifier. Get your hands on one ASAP!
Don't forget to pack some bug spray because there can be biting bugs depending on the time of year. Even if there aren't any signs, it's safe to assume that ticks are all over Ontario hiking trails. Protect yourself against ticks by reading our guide to avoiding ticks on the trails.
For amazing deals on hiking products like backpacks, boots, clothing, and gear, check out the Decathlon Canada shop!
Want to see more photos of Campbellford?
Browse our entire travel photography album in one place. You can browse and buy any of our pictures, including prints, gifts and more.
Where to Stay in Campbellford
Are you looking for where to stay in the Campbellford area? If you're not camping, you might want to stay at an accommodation in the area. There are so many amazing hotels near Campbellford and vacation rentals so you can be close to the trails.
Here's a handy booking tool where you can see all of the Booking.com accommodations and Airbnbs in one place. It's easy to compare prices and find the best rate for your trip to Campbellford.
More Hiking in Kawarthas Northumberland
Looking for more hiking in the Kawarthas Northumberland region? Here are some more nearby hiking trails I've written about on the blog:
Join the Ontario Hiking Facebook Group
You are also welcome to join our Ontario Hiking Facebook Group – it's a great way to ask questions about hiking in Ontario, share your Ontario hikes, and get inspired!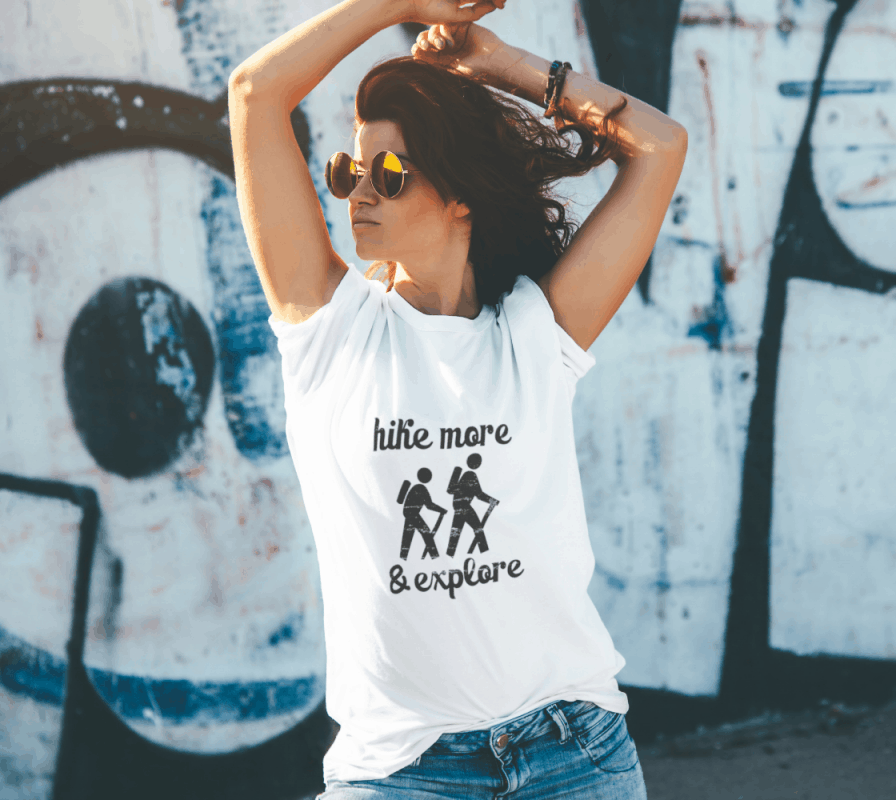 Inspired by adventures and nature. Ontario hiking and Bruce Trail apparel & accessories, designed by me.