The Niagara Glen is one of those amazing natural wonders in Ontario that took me way too long to visit. Don't make the same mistake as I did! Visit the Niagara Glen as soon as possible, and I know you won't be disappointed. The Niagara Glen trail descends deep into the Niagara Gorge where walking paths meander through 4km of Carolinian forest. You'll be treated to impressive ancient rock formations, lush ferns and plants, and jaw-dropping views of the Niagara River's turquoise waters.
Posts may be sponsored. Post contains affiliate links. I may be compensated if you make a purchase using my link.
I recommend a trip to Niagara Glen as one of the best things to do in Niagara Falls when experiencing other attractions. It's also worth a trip to the Niagara Region even if you're just looking to go hiking. It's free and open to the public daily. As it will only take you a couple of hours to hike the Niagara Glen, you can also pair this trek with other Niagara region hikes.
Join the Ontario Hiking Facebook Group
You are also welcome to join our Ontario Hiking Facebook Group – it's a great way to ask questions about hiking in Ontario, share your Ontario hikes, and get inspired!

Niagara Gorge Trail Map
It's always great to familiarize yourself with a trail map at the beginning of your hike. The Niagara Glen hiking trails are very easy to navigate and they are very well marked. As you walk from the Niagara Glen Nature Centre towards the starting point of the trails, you'll notice a huge sign featuring the Niagara Gorge trail map. I took a photo of it so you could take a look ahead of your hike. From there, you'll climb down a multi-story metal staircase to the base of the escarpment where you'll begin your adventure.
Hiking at the Niagara Glen
This Niagara Glen hike will surely find its way to the top of your bucket list hiking adventures in Ontario. It's got it all: interesting hiking trails, unique forest scenery, and breathtaking views of the whirlpool. I'd rate this one as a moderate difficulty due to some of the hills, mostly present at the start and end of the hike. There are some rocky surfaces to navigate, too. All in all, it's not a terribly difficult hike, and I'd still recommend it for beginner hikers. But, the more experienced hikers will enjoy this one, too. Basically, this Niagara Falls hiking trail is great for everyone!
This space was designated as a nature reserve back in 1992. It's a phenomenal place to go hiking with an amazing natural history. You'll pass many gigantic boulders on your journey that are thousands and thousands of years old. Some of these look as though they're flipped on their side, and it makes me wonder how this unique landscape wound up appearing like this. With so many mammoth boulders, it's a great place to go bouldering if you're into rock climbing. Here's some more information about obtaining a bouldering permit.
Niagara Glen Cliffside Trail
From the parking lot, you'll walk towards the escarpment where you'll see a large trail map posted and a metal staircase. Climb down the metal staircase and you'll be on the Cliffside Trail (orange trail). I turned to my right and walked along the Cliffside Trail, which is aptly named because you're right beside the rocky escarpment wall. From the top of the park to the edge of the waterfront, you'll experience an elevation change of 60 metres, or 200 feet.
You'll only walk for a short period of time on the orange Cliffside Trail at the start and end of your hike. I continued on the Cliffside Trail until I reached the option to either continue on this trail or continue in a larger loop on the Eddy Trail (dark blue). For the full experience, I suggest walking as much of these 4km hiking trails as possible in a big loop. Continue on the Eddy Trail, marked in dark blue with a fish design.
Eddy Trail
The Eddy Trail is a really interesting section of the Niagara Glen. You'll descend deeper into the Niagara Gorge, hiking around giant boulders and even through the rocks at one point. You'll notice lush ferns and greenery growing miraculously on the rocks. It will make you feel more like you're in New Zealand than Canada. The Eddy Trail isn't too long at 244 metres.
River Trail
The River Trail (turquoise trail) of the Niagara Glen nature reserve is the main attraction, and it's the lengthier trail of this Ontario hiking adventure. It's 1.6km in total and follows the edge of the Niagara River. For the most part, you'll be hiking at a higher elevation overlooking the Niagara River and the rushing waters of the Niagara whirlpool. At a couple of points, you'll be closer to the edge of the water.
There are many signs all around stating how dangerous these waters are, and they're not joking. These are class six rapids, and if you slip and fall into the water…well, you're pretty much done. Please obey the signs and don't venture off the trail. There are plenty of amazing views of these brilliant waters as you hike the Niagara Glen right from the trail.
I hiked from one end of the River Trail to the other. Eventually, you'll hit a dead end on the River Trail. So, you'll need to turn around and take the Terrace Trail (purple trail) to continue on the loop.
Trillium Trail & Cobblestone Trail
These are two additional hiking trails that provide either a shortcut or a detour, depending on how you look at it. The Trillium Trail (yellow trail) is a short trail that links to some interesting rock formations on the Terrace Trail. The Cobblestone Trail offers a shorter link back to the starting point if you'd like to hike a little less, or it can provide a longer loop for those looking to hike more. There are numerous options at the Niagara Glen, depending on your time constraints and skill levels.
Terrace Trail
The Terrace Trail (purple trail) is 1.2km and this is where you'll find some really intriguing caves and rock formations. I saw quite a few people bouldering on the Terrace Trail and the Bouldering Trail. This is a forested section of the Niagara Glen trail with some inclines as you venture back towards the edge of the escarpment.
If you continue on the Terrace Trail, you'll actually end up closer to the river again as this is an alternate trail that extends from one edge of the property to the other. I got turned around a little bit because I wasn't paying attention. It isn't super clear when you reach the option of either taking the Cliffside Trail back to the start, continuing on the Terrace Trail, or heading south on the Cobblestone Trail to the water. There is a spray painted sign that says "UP" with an arrow. This will take you back up to the Cliffside Trail and loop you back to the metal staircase. Head back up and you're done!
Plan Your Visit to the Niagara Glen
There's a large parking lot at the Niagara Glen Nature Centre. It costs 1.25 per hour (I think I paid for 3 hours just to be on the safe side) or $15 for a Niagara Glen annual parking pass (from May to October). If you plan to visit more than twice in a year, you may as well opt for the annual pass (great for locals!). There is no admission fee to hike at this Niagara Falls gorge trail.
There are restrooms near the main parking lot and the Niagara Glen Nature Centre. At the top of the escarpment near the parking lot, there's a massive greenspace with picnic tables. This is a great spot to pack a picnic lunch to enjoy before or after your hike. Please remember to clean up any trash and leave this beautiful place cleaner than when you arrived.
Niagara Glen Nature Centre
The Niagara Glen Nature Centre has lots of souvenirs and an array of beverages in case you forgot to pack one. If you have any questions about the region, I'm sure you could ask a friendly staff member there. While I didn't enter the Niagara Glen Nature Centre, it's a great spot for visitors to the area. It's also nice to have a spot selling refreshments, especially if it's a hot summer day.
What to Bring
A proper pair of hiking shoes is an absolute must. Don't forget to pack some bug spray because there can be biting bugs depending on the time of year. While I didn't see any signs regarding ticks, it's safe to assume that ticks are all over Ontario hiking trails. Protect yourself against ticks by wearing long pants tucked into high socks. Please wear bug spray with tick protection. Check yourself for ticks after your hike. It's also a good idea to bring sunscreen and lots of water, too.
Want to see more photos from Niagara hikes?
Browse our entire travel photography album in one place. You can browse and buy any of our pictures, including prints, gifts and more.
More Hiking Trails in Niagara Falls
Looking for more places to go hiking in Niagara Falls? Here are a few of my favourite Niagara region and Niagara Falls hikes.
Where to Stay in Niagara Falls
There are many hotels and accommodations in Niagara Falls that will make your stay extra special. I've stayed at several hotels in Niagara Falls and Niagara-on-the-Lake. Right in Niagara Falls itself, Marriott on the Falls is always such a treat with spectacular views of the world famous waterfall. For a fabulous property in Niagara-on-the-Lake, I suggest staying at the Pillar and Post right in town. It has a beautiful spa and outdoor hot tub that's open all year long.
You can also browse Airbnb properties using this handy map:
Niagara Glen Frequently Asked Questions
Have some questions before your hike? Here are some answers to any questions that you might have in one convenient place. It's great to be prepared before your hike!
Is Niagara Glen free?
Yes! It's free and open to the public for a hike. You can walk right up and hike the trails whenever you like. Please note that there is a parking fee if you visit by car.
How much is Niagara Glen parking?
You can pay $1.25 per hour to park in the main parking lot at the Niagara Glen Nature Centre. It also costs $15 for an annual parking pass (from May to October). This is a great option for locals and those who plan to visit multiple times a year.
Where do I park at the Niagara Glen?
There is a large parking lot at the Niagara Glen Nature Centre. You may have trouble parking on a busy summer weekend, so you might need to park at a nearby parking lot off site.
How long are the Niagara Glen hiking trails?
The hiking trails on the Canadian side of the Niagara Gorge are 4km in length, although it's possible to make your hike longer or shorter based on which trails you take. I suggest hiking the River Trail, the Eddy Trail, the Terrace Trail, and the Cliffside Trail in one big loop.
What are other ways to experience nature at Niagara Falls?
I definitely suggest walking along the falls themselves in Niagara Falls! There's a great paved walking path that extends the length of the falls on the Canadian side. You can get right up to the edge of the Horseshoe Falls. I also recommend Journey Behind the Falls as a unique attraction beneath and behind the waterfall. The Hornblower Cruises boat tour gets you as close to the waterfall as you can get. And the White Water Walk is a really fun boardwalk that's right on the edge of the Niagara River rapids.
What are your favourite places to go hiking in Niagara Falls?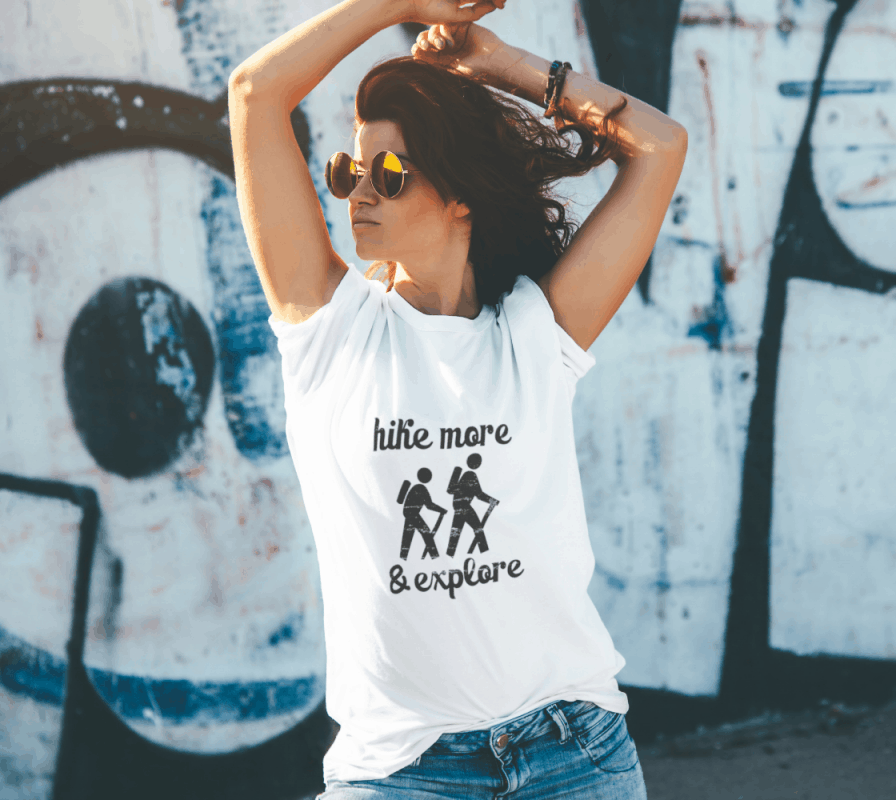 Inspired by adventures and nature. Ontario hiking and Bruce Trail apparel & accessories, designed by me.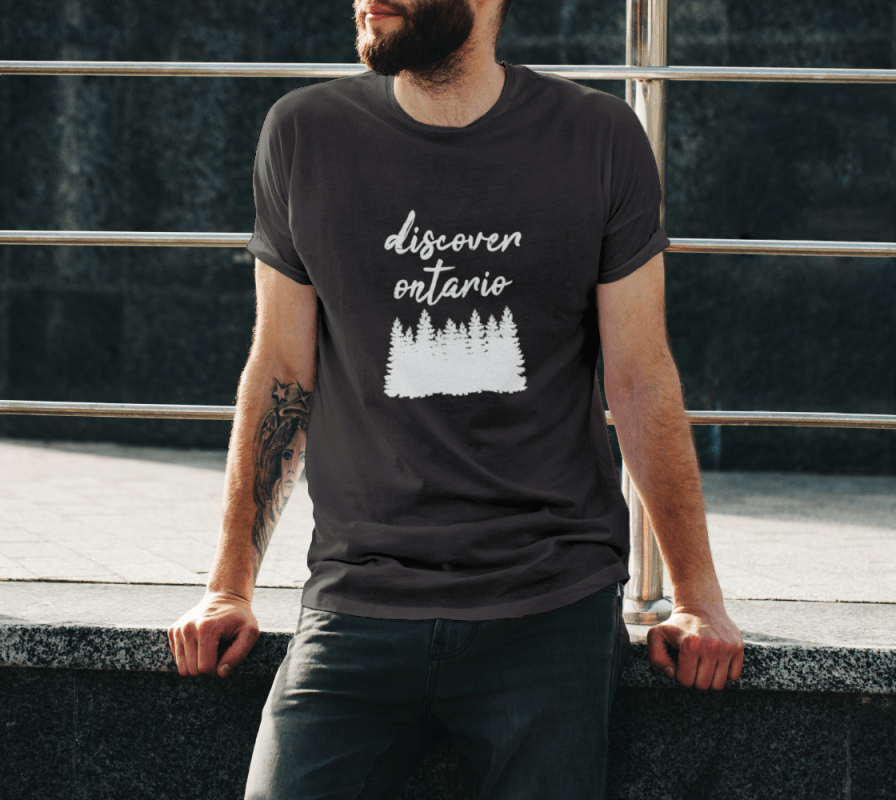 Join the Ontario Hiking Facebook Group
You are also welcome to join our Ontario Hiking Facebook Group – it's a great way to ask questions about hiking in Ontario, share your Ontario hikes, and get inspired!