Marble Rock Conservation Area is a lesser visited park, upstaged by the popular Thousand Islands National Park. It's one of the best places to go hiking in the 1000 Islands. I enjoyed this trail just as much as Landon Bay and the Jones Creek Trails…or dare I say that I enjoyed it a little bit more? While it's a tougher trek than the ones I encountered at the national park, it's still totally appropriate for anyone with a reasonable level of fitness.
Posts may be sponsored. Post contains affiliate links. I may be compensated if you make a purchase using my link.
This conservation area traverses exposed bedrock that's part of the Canadian Shield. There's an impressive array of flora and fauna on the trail. You might come across deer, otter, beavers, frogs, blue heron, snakes, or wild turkeys.
I didn't see much wildlife on my hike, but it was a really hot afternoon so I'm sure that many creatures retreated to cooler, shaded spaces. Speaking of shade, thankfully, much of this hiking trail is beneath a canopy of trees. There are a few open spaces along the way, mostly at the lookout points.
Become an Ontario Hiking Supporter!
Join the Ontario Hiking Patreon and you'll become a VIP member of the Ontario Hiking community! You'll receive ad-free, downloadable hiking guides with new guides added weekly. Plus, there are many more perks! Become an Ontario Hiking Supporter today!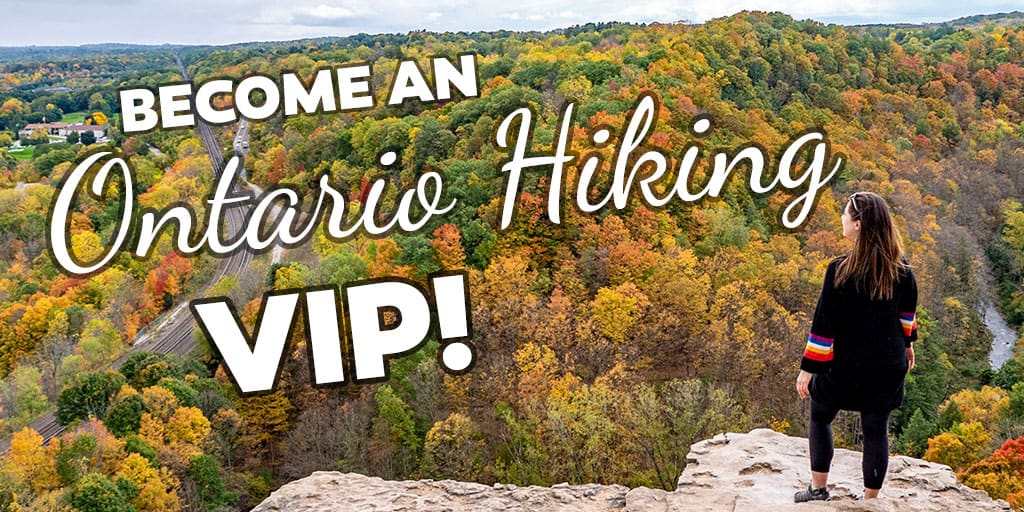 Marble Rock Conservation Area Map
Truth be told, but you won't really need to reference a map during your hike here. The hiking trails are really well marked with blue triangle blazes by the Rideau Trail Association. You'll almost always be able to see another blaze on a tree from wherever you're walking. The red line shows the more difficult parts of the trail, and the yellow line shows the easier portions.
From the parking lot, you'll start walking towards the South Loop Trail. About halfway through the hike, you'll encounter a fork in the road where you can continue on the South Loop Trail or venture onto the North Loop Trail. Eventually, you'll make your way back to the point where you started and back to the parking lot.
Hiking at Marble Rock Conservation Area
When you go hiking at Marble Rock Conservation Area, there are several lookout points as you traverse up and down hills across rocks and boulders. I hiked the South Loop Trail in a counterclockwise fashion. It doesn't really matter if you hike the trail clockwise or counterclockwise. You'll encounter the same amount of hills in either direction. I walked in a counterclockwise direction because I wanted to hike the more difficult sections first while I had the most energy.
Why is it a Challenging Trail?
The rocky terrain is the main reason why Marble Rock Conservation Area is such a challenge. You'll be walking across lots of rocks and boulders that stick out of the ground for portions of the trail, especially on the eastern side. I really had to watch every step I took to make sure that I didn't trip or twist an ankle. It's really important to pay attention while hiking, but especially be mindful on these Thousand Islands trails. There are some hills to climb, mostly when you hike up to a lookout point.
The other main challenge is the length of this trail with the rocks and the hills. The South Loop Trail is 7.2km and the hike is 10.6km if you add the North Loop. It doesn't seem like that far, but it's a bit of a grind with the hills, the rocks, and the hot summer heat. I was completely exhausted upon finishing this hike.
I started accidentally walking towards the North Loop Trail before realizing my mistake and backtracking (oops!). My hike was 8.4km in total and it took me about three hours. Admittedly, I am a fairly slow hiker. You could probably hike the South Loop in about two and a half hours if you don't take any breaks.
A Gentle Reminder
Don't forget to pack some bug spray because there were lots of bugs on all of the trails in August and your hike will be far less enjoyable without it. There are also ticks on all of the trails in the 1000 Islands. Protect yourself against ticks by wearing long pants tucked into high socks. Please wear bug spray with tick protection. There are many areas on this hike where you'll walk through tall grass that covers the path. Check yourself for ticks after your hike. It's also a good idea to bring sunscreen and lots of water, too.
South Loop Trail: Eastern Portion
Walking from the parking lot to the South Loop Trail, you'll spot your very first lookout sign at the start of the loop. It's only a short diversion off the trail to the Leaning Rock Lookout. This is the second prettiest lookout of the day where you'll stand above the treetops of the forest.
After savouring those views, it's time to hit the South Loop Trail. Walking in a counterclockwise direction, this section of trail is not too hilly, but probably the most challenging in terms of the rocks. I hiked slowly on this part of the path to avoid tripping or twisting my ankles. As someone who has broken my ankle in the past, I'm extra cautious around rocks and exposed tree roots. Continuing along, the trail gradually turns into a dirt path and you will soon come to a clearing with a gorgeous deep blue lake.
South Loop Trail: Beautiful Lake & Western Portion
Once you stop at the calm, reflective lake to admire the scenery, continue on the trail and you'll encounter the best lookout of all. In fact, it isn't even marked on the map! This lookout point offers a birds-eye view over this same lake, and it's absolutely stunning.
The South Loop Lookout is a little farther along, but I didn't think that this lookout was really worth diverting off the trail. You'll stand on top of a giant boulder, and most of the view was obscured by trees. Maybe the view is better during the spring or the fall?
The second half of the South Loop Trail wasn't as exciting as the first half, in my opinion. You'll walk across meadows and overgrown trails. Plus, there are a few short hills that you'll hike up and down. There's a section on the map marked "Swamp Floor" that I thought was quite pretty with sweeping views of the marshes.
Towards the end of the hike, I was hoping that the loop was going to end around every turn, and eventually it did. I made a silly mistake and didn't bring enough water on a hot day. The hike was a little more challenging than I anticipated. While I really loved hiking at Marble Rock Conservation Area, I was so tired and thirsty by the end of it. I dragged my heels back towards the car and was grateful to chug a bottle of water that I left in the car.
The North Loop Trail
I didn't attempt the North Loop Trail this time around because by the time I reached the option, I was already really tired (and I still had half of the trail to tackle). As I mentioned above, I accidentally walked towards the North Loop for about 10 minutes adding extra time and distance to my hike. I'm not sure how this happened. The trails are so clearly marked with big signs!
If it weren't so hot and humid outside, I may have had the energy to hike the North Loop Trail. Unfortunately, it wasn't in the cards during this summer day, but I'd love to return to give it a go. Be sure to let me know if you've hiked the North Loop Trail in the comments section!
Why Choose Marble Rock Over 1000 Islands National Park?
There are a few reasons why you might decide to hike at Marble Rock Conservation Area instead of the Thousand Islands National Park. I suggest that you go hiking at both because the national park is so stunning. The hiking trails at the 1000 Islands National Park are pretty easy, and offer a big payoff for little effort. There's a lookout trail at Landon Bay where it doesn't take long to hike to the top. The Jones Creek Trails offer beautiful scenery, and the paths are relatively flat through the forest.
The Marble Rock hiking trails offer a greater challenge for hiking enthusiasts. There are multiple lookouts during the trek. Some of them are impressive and some are underwhelming. It really depends what you seek. If you want to go on a quick hike or shorter walk, the trails at the Thousand Islands National Park are ideal. If you want a longer walk that I'd rate as a moderate or difficult hike, Marble Rock is the one for you.
Want to see more photos of the 1000 Islands?
Browse our entire travel photography album in one place. You can browse and buy any of our pictures, including prints, gifts and more.
Plan Your Visit
Marble Rock Conservation Area is pretty wild, and there isn't much in the way of facilities. The parking lot is very small, and it only fits a few cars. I didn't have any trouble finding parking because there weren't many people hiking this trail. In fact, I saw one family with younger kids that hiked only to the first lookout and back. Then, I came across one older couple and one other man on the trail over the course of three hours. It might get busier on the weekends. I'd hit the trail earlier on weekends to avoid disappointment.
The parking lot is a little bit hidden, off Marble Rock Rd. If you blink, you'll drive past it. Here's a map to help you find the parking lot.
Where to Stay in the 1000 Islands
If you're planning to spend a weekend or a few days in the 1000 Islands, I recommend making Gananoque your home base. There are lots of great restaurants and a cute downtown to explore. It's a fantastic central location where you can tour around, too. My article on Ontario Hiking's sister site, Justin Plus Lauren, has a fabulous overview of all the places to visit in the Thousand Islands.
I suggest staying at the Colonial Resort & Spa. It's a comfortable and cozy place to rest your head at night. I spent two nights there and found it was the perfect spot to rest between hiking trips. Feel free to check out more reviews of the Colonial Resort & Spa, and be sure to book your stay today.
Rather stay at an Airbnb apartment rental or cottage in the area? Take a look at these Airbnb properties in Gananoque for waterfront tiny homes and cottage rentals.
Join the Ontario Hiking Facebook Group
You are also welcome to join our Ontario Hiking Facebook Group – it's a great way to ask questions about hiking in Ontario, share your Ontario hikes, and get inspired!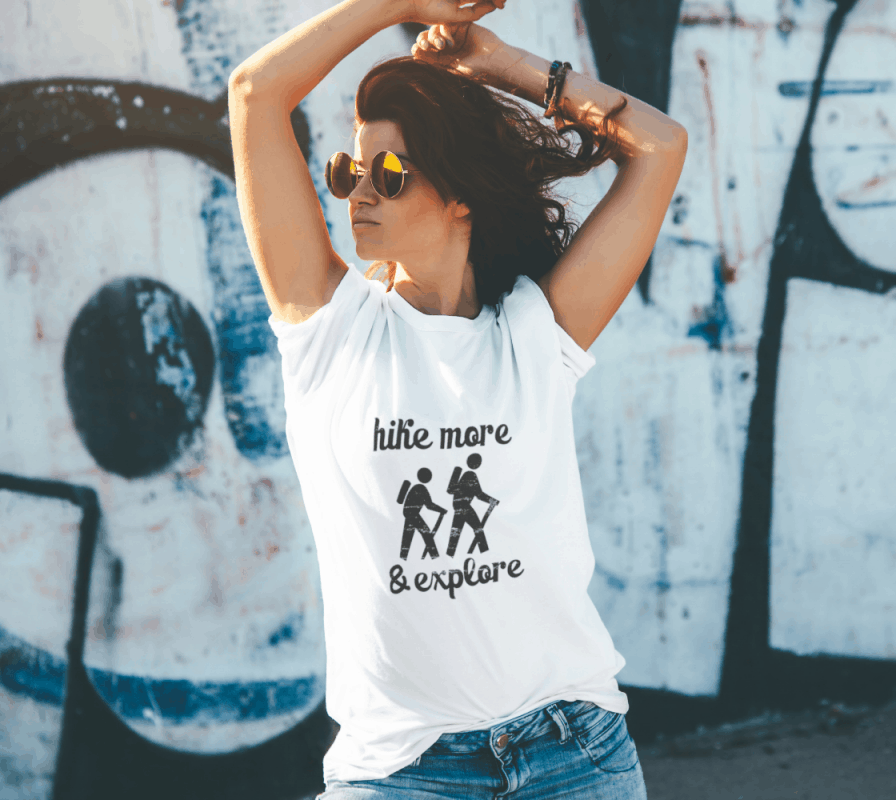 Inspired by adventures and nature. Ontario hiking and Bruce Trail apparel & accessories, designed by me.