Can you believe that I've lived in Mississauga for years and didn't know that Riverwood Conservancy existed? Perhaps you also live in the GTA and haven't heard of it before. It's a peaceful sanctuary in the heart of the city where you can easily get a dose of nature without having to travel very far. There are so many great reasons to visit Riverwood Conservancy, whether it's for the hiking trails or botanical gardens in Mississauga.
Posts may be sponsored. Post contains affiliate links. I may be compensated if you make a purchase using my link.
Riverwood Conservancy is a volunteer and member-based charity that focuses on conservation and the environment, as well as horticulture and gardening. It started as the Mississauga Garden Council back in 1985. Nowadays, it's an 150 acre nature preserve on the Credit River that allows families and members of the community to discover and connect with nature.
There are opportunities to admire the gorgeous plants and flowers of the gardens. In addition, there are educational components for people of all ages that stress the importance of preserving nature for generations to come.
Become an Ontario Hiking Supporter!
Join the Ontario Hiking Patreon and you'll become a VIP member of the Ontario Hiking community! You'll receive ad-free, downloadable hiking guides with new guides added weekly. Plus, there are many more perks! Become an Ontario Hiking Supporter today!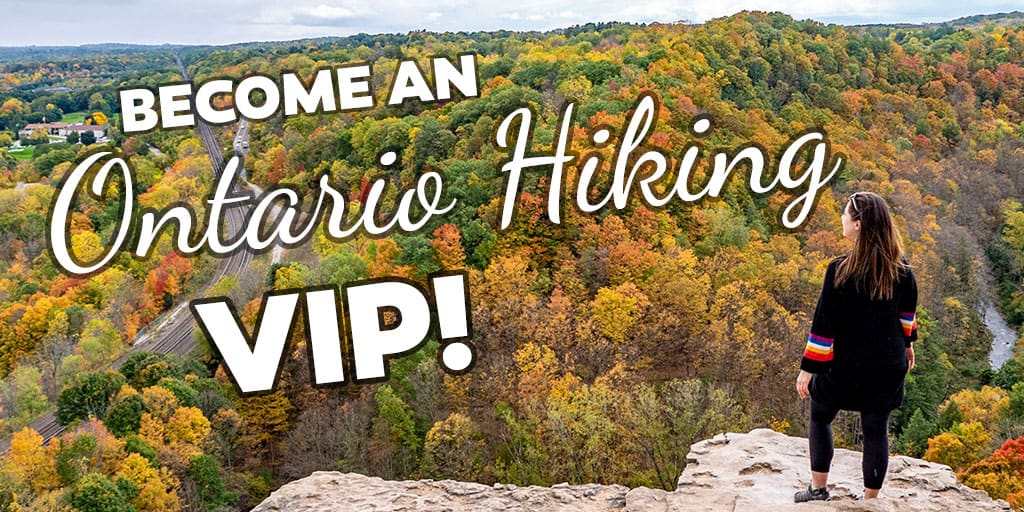 Riverwood Conservancy Trails
As this is a hiking blog, let's start with the hiking trails. The property of Riverwood is co-owned by the City of Mississauga and Credit Valley Conservation. There are hiking trails within the property of Riverwood and ones that extend farther across Mississauga, such as the Culham Trail and the Burnhamthorpe Trail. Some of the best hiking trails in Mississauga are right here waiting for you. I suggest starting your day at the main parking lot, exploring the gardens before venturing onto the Yellow Trail.
Yellow Trail
The Yellow Trail is the shortest of the trails at Riverwood Conservancy. It starts at the main entrance to the park, and continues at the edge of the MacEwan Gardens. The entire Yellow Trail is only .23km in length. From the gardens, embark on the Yellow Trail as you descend down into the forest. At the end of the Yellow Trail, you'll come across the Red Trail where you can choose to go left or right.
Red Trail
I turned right (or north) onto the Red Trail because it meant that I'd hike for a longer distance. The entire Red Trail is .725km. Before long, I stumbled upon a lengthy wooden boardwalk over some marshy land. They pass over two small creeks that flow into the Credit River (MacEwan Creek and Chappell Creek).
There are bird houses and bird feeders on the Red Trail as Riverwood Conservancy is home to many migrating and resident birds. While I didn't manage to spot any birds in the feeders, I did see a very cute and pudgy squirrel chomping on some seeds. He didn't seem to mind my presence as he was thoroughly invested in eating his lunch.
Beyond the boardwalk, there are trees all around and you really feel like you're no longer in the city. This is one of the most peaceful and green areas in Mississauga. It's certainly among the best hiking trails in Mississauga. On this hike in early June, I spotted many colourful wildflowers dotting the path and into the forest.
Culham Trail
The Red Trail comes to an end where it meets the Culham Trail. The Culham Trail is nearly 18km in total, but broken into three sections in Mississauga. One section starts at Erindale Park, continues north past Burnhamthorpe and through Riverwood Conservancy, and through Hewick Meadows to Barbertown Road. It picks back up again at Streetsville Memorial Park, past Britannia Road and through Riverview Park and ending at Pine Cliff Park. The last section travels through Meadowvale Conservation Area and leads into Brampton. Here is a Culham Trail map:
The section of the Culham Trail that meanders through Riverwood Conservancy is approximately 1.7km. I headed south on the Culham Trail towards Burnhamthorpe Road. This forms a loop within the park. The Culham Trail sometimes floods in the spring when water levels rise in the Credit River and the snow melts. There was still some evidence of flooding, although the water receded from the path and it was passable.
Eventually, you can choose to keep hiking on the Culham Trail or head back to Riverwood Conservancy. I walked back to the parking lot, which involved walking on the Burnhamthorpe Trail, past the entrance to Riverwood (there's a very interesting work of public art called "Pine Sanctuary"), back on the Yellow Trail and to the gardens.
Birding and Bird Hikes at Riverwood Conservancy
Did you know that Riverwood Conservancy is home to 150 resident and migratory birds? If you're lucky, you might see a variety of birds like mallards, great blue herons, spotted sandpipers, ospreys, turkey vultures, great horned owls, blue jays, cardinals, mourning doves, woodpeckers and hummingbirds. There are bird hikes with expert birders available at Riverwood Conservancy and J.C. Saddington Park in Port Credit.
The best times of year to view birds are late fall, winter and early spring. There are bird feeders on the Red Trail (where I saw the squirrel!) that make it easier to spot the birds. I didn't see any birds, but it was a very hot day in June. The birds don't rely as much on bird feeders in the summer.
MacEwan Terrace Garden
The MacEwan Terrace Garden at Riverwood Conservancy is one of the most beautiful Mississauga gardens. It's open all year long to the public at no cost. Over 7000 plants grow at the MacEwan Terrace Garden, including shrubs, trees, perennials, and ornamental grasses. Much of the gardening is done by volunteers. You can even apply to become a volunteer gardener to lend a hand. This garden is a gateway to the nature that awaits you on the hiking trails.
Another interesting space within the gardens that I haven't seen elsewhere is the Sensory Path. The Sensory Path allows those with vision loss to experience nature through touch. Many components of nature aren't only visible to the eye. There are samples of tree bark, animal tracks, artifacts, and much more. The text on the signs is available in English, Anishinaabemowin (the language of the indigenous people from this area), and Braille.
There are a few buildings at Riverwood Conservancy. The MacEwan Barn dates back to 1840 and recently renovated as a classroom for school trips. The MacEwan House was built in the mid-1800s. It contains Visual Arts Mississauga's Great-West Heritage Studio, as well as a field station for Riverwood Conservancy.
As many of the regular events at Riverwood Conservancy are postponed for the time being, there are some educational videos available on their YouTube channel.
Want to see more photos?
Browse our entire travel photography album in one place. You can browse and buy any of our pictures, including prints, gifts and more.
Plan Your Visit
Every day, the park is open between 7:00am and 11:00pm. The address is 4300 Riverwood Park Ln, and the main entrance is at Burnhamthorpe Rd West (between Mississauga Rd and Creditview Rd).
What to Bring on a Hike
A proper pair of hiking shoes is an absolute must. It's also a good idea to bring sunscreen and lots of water, too. My water bottle of choice is the GRAYL Purifier because you can drink ANY water from any source, no matter what. Water from lakes, streams, rivers, public restrooms, you name it. It's the world's fastest portable purifier. Get your hands on one ASAP!
Don't forget to pack some bug spray because there can be biting bugs depending on the time of year. Even if there aren't any signs, it's safe to assume that ticks are all over Ontario hiking trails. Protect yourself against ticks by reading our guide to avoiding ticks on the trails.
Credit Valley Conservation Areas
While this natural space is technically a park owned by Credit Valley Conservation and the City of Mississauga, here are more Credit Valley Conservation Areas and parks to explore:
Terra Cotta Conservation Area
Belfountain Conservation Area
Ken Whillans Resource Management Area
Elora Cataract Trailway
Upper Credit Conservation Area
Join the Ontario Hiking Facebook Group
You are also welcome to join our Ontario Hiking Facebook Group – it's a great way to ask questions about hiking in Ontario, share your Ontario hikes, and get inspired!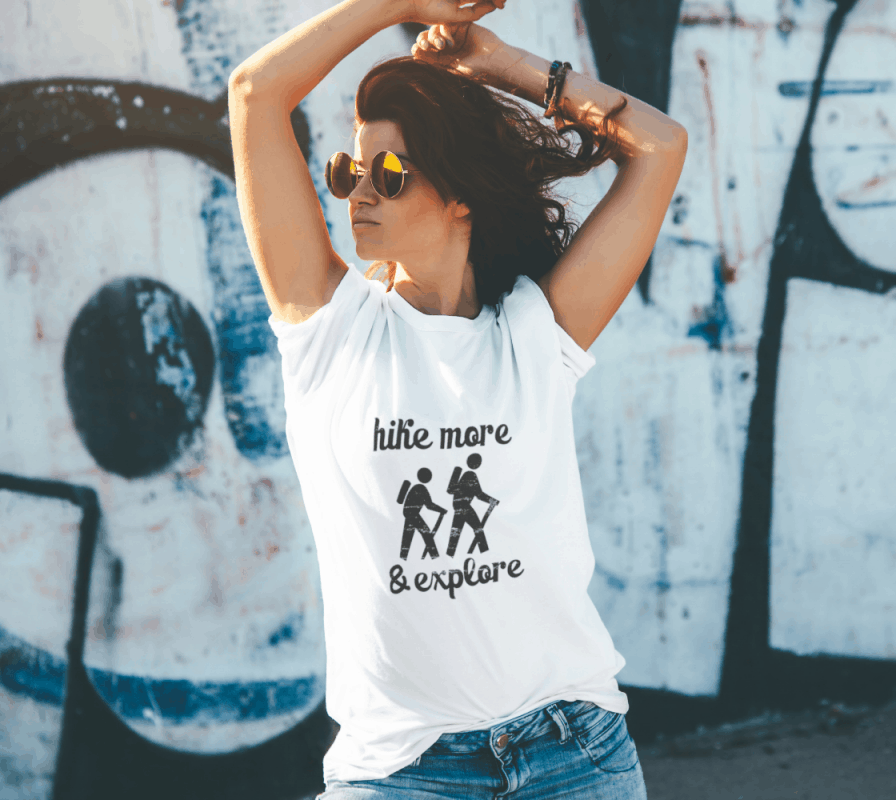 Inspired by adventures and nature. Ontario hiking and Bruce Trail apparel & accessories, designed by me.