Did you know that there are some incredible Mississauga hiking trails to visit that don't involve leaving the city at all? There are so many lists online that talk about the best hikes in Mississauga. And then…the hikes aren't even in Mississauga! I don't want to write about hiking in Burlington, Milton, Campbellville, or anywhere else (well, I will…but we'll save it for another blog post). These are all hiking trails in Mississauga.
Posts may be sponsored. Post contains affiliate links. I may be compensated if you make a purchase using my link.
I'd probably classify some of these as walking paths in Mississauga more than hiking trails. Some of these places go through forested areas and some are actual conservation areas. However, some of these walking paths in Mississauga are paved, making them suitable for walking and biking.
There will be some outstanding features about the paths, whether they meander past rivers or lakes or include some beautiful scenery. They're all worth your while, I promise.
These are the best hiking trails near Toronto in the city of Mississauga. Don't worry, if you're looking for the best hiking in Toronto, I've got you covered. Looking for Hamilton hiking trails? I've got a list of those, too. Right in the middle, you'll find these amazing trails in Mississauga. Here are the top 10 places to go hiking in Mississauga, in no particular order.
Become an Ontario Hiking Supporter!
Join the Ontario Hiking Patreon and you'll become a VIP member of the Ontario Hiking community! You'll receive ad-free, downloadable hiking guides with new guides added weekly. Plus, there are many more perks! Become an Ontario Hiking Supporter today!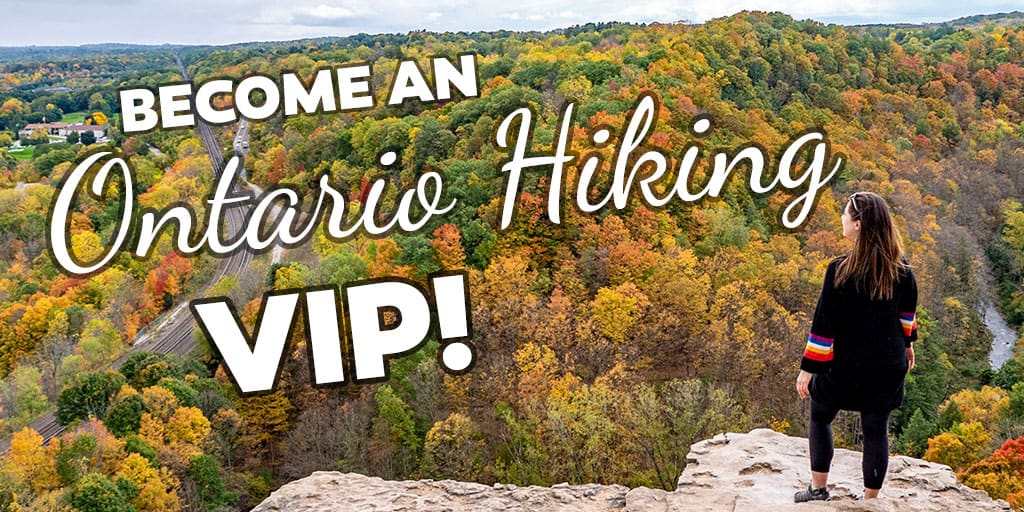 Riverwood Conservancy / Culham Trail
Riverwood Conservancy is a magical natural space in the middle of the city, and it's got some of the best hiking trails in Mississauga. There are several Mississauga hiking trails within the property of the park (the Yellow Trail and the Red Trail) and ones that extend beyond the perimeters of the park (the Culham Trail and the Burnhamthorpe Trail). The Red Trail is a popular place for birding as you can find up to 150 species of migratory and resident birds in the area.
In addition to opportunities for hiking and birding in Mississauga, there are also stunning gardens to check out. The MacEwan Terrace Garden features over 7000 plants, like shrubs, trees, perennials, and ornamental grasses. There's also a short Sensory Path, which incorporates components of nature that aren't only visible to the eye. Overall, Riverwood Conservancy is a tranquil oasis in the city for botanical gardens and Mississauga walking trails.
BONUS HIKE: From Riverwood Conservancy, continue walking down Burnhamthorpe Road West until you reach Mississauga Road. Head north on Mississauga Road and you'll find a trailhead. Walk on the path and you'll be able to see one of Mississauga's hidden gems, Wahoosh Falls. Yes, there's a waterfall in Mississauga! Read my article about Wahoosh Falls for more details.
Meadowvale Conservation Area
Meadowvale Conservation Area is a seriously underrated place to go hiking in Mississauga. Even though there's just one main trail that runs through it – the Culham Trail (yes, the same Culham Trail that you'll find at Riverwood Conservancy!) – it's a lovely place to spend an afternoon in the sunshine.
The hiking trail passes over the Credit River on a wooden bridge and takes you through a peaceful forest. There's one well worn path that leads down to the river where you can walk along the edge of it, past fields of wildflowers. Back on the main trail, it splits into two at one point. This secondary trail leads through another part of the forest before it eventually hits a dead end. The Culham Trail is one of the best Mississauga hiking trails, so why not explore the section that runs through Meadowvale Conservation Area?
Waterfront Trail
The Great Lakes Waterfront Trail is over 3000km in length, connecting 140 communities and First Nations. It travels through 4 UNESCO World Biospheres, 42 provincial parks, 23 National Historic sites, 83 conservation areas, and three Great Lakes.
While the Waterfront Trail stretches several Great Lakes, you can find a great portion of it in Mississauga. Head down to Port Credit and Lakeview, and walk along Lake Ontario. This is the Waterfront Trail. It's a great chance to explore some Port Credit parks, like the Brueckner Rhododendron Gardens, Adamson Estate, and JC Saddington Park.
Rattray Marsh Conservation Area
Rattray Marsh Conservation Area is an ecologically significant area down by Lake Ontario, between Port Credit and Clarkson in Mississauga. The wetlands provide a diverse habitat for over 200 species of migratory and resident birds. It's also one of the last shingle bar marshes on Lake Ontario. These walking trails in Mississauga are an easy stroll for anyone looking to get outdoors.
There's one short loop trail around the "Knoll", a geologic feature where an ancient stream created unique conditions for many plant species in different microclimates. There are raised boardwalks throughout the park to protect the wetlands, and there are also several scenic lookouts, too. At one point, a secondary trail diverts towards Lake Ontario to a very rocky beach. It's one of the top walking trails in Mississauga for the spectacular lake scenery right off the main path.
Lake Aquitaine Trail
The Lake Aquitaine Trail is about 3.5km in total, with the majority of it extending around Lake Aquitaine and continuing through suburbs to the north. Lake Aquitaine Park is a scenic look around a man-made lake, developed to manage storm water. There are many pedestrian walkways that connect nearby neighbourhoods.
Lake Aquitaine has pretty viewpoints at several points around the lake. There are also six stations with various outdoor exercise equipment that you can use as you walk the loop. It's a good way to incorporate a workout into your walk. It's one of my favorite Mississauga walking trails because there are many friendly squirrels that won't be afraid to approach you, just in case you might have a peanut. There are also families of Canadian Geese and you'll be able to see their babies in the spring and summer months.
Lake Wabukayne Trail
The Lake Wabukayne Trail is a little over 4km and it is centered around Lake Wabukayne. From there, it continues in a couple of different directions through neighbourhoods in Mississauga. Much like Lake Aquitaine, Lake Wabukayne is also a man-made, storm management lake. The lake has transformed into a naturalized space for flora and fauna to live and flourish.
Over 100 species of birds migrate through Lake Wabukayne, and there's also a small butterfly garden here, too. You'll likely see ducks and geese here, too. It's important to remember that we should not feed ducks or geese, and we should never feed bread to them.
Bread has no nutritional value for ducks and geese. They'll feel full and won't search for other food, which can lead to malnutrition and starvation. Large pieces of bread can get stuck in the bird's "crop" (an area where food is stored before digestion) and can cause death by starvation. Most waterfowl deaths are attributed to humans feeding them.
Erindale Park & the Sawmill Creek Trail
Erindale Park is a beautiful park in Mississauga, Ontario with many hiking trails along the Credit River. From the starting point of Erindale Park, you can start walking on the Culham Trail or the UTM (University of Toronto Mississauga) Nature Trail. Other hiking trails just across the street from Erindale Park are Sawmill Creek Trail and Glen Erin Trail.
The Sawmill Creek Trail, also known as the Sawmill Trail, is a 9km trail that follows the Sawmill Creek. It's a multi-use dirt trail where you'll encounter some urban areas, as well as wetlands and forests. You might be able to catch glimpses of white trilliums in the spring, and maybe a white-tailed deer or two if you're lucky. It's one of the lesser frequented Mississauga hiking trails, if you're looking for some solitude in the city.
Etobicoke Creek Trail
The Etobicoke Creek Trail is a 36km paved path that's ideal for walking and cycling. Even though it's a very easy, flat road, there are scenic views of the creek along the way. There are two sections of the Etobicoke Creek Trail: one starts at Marie Curtis Park on Lake Ontario and extends to the QEW. The other section starts north of Dundas Street (east of Dixie Rd) and continues north beyond the airport and far into Brampton.
If you're looking for hiking trails through the forest, you won't be too impressed with the Etobicoke Creek Trail. However, if you love walking over wooden bridges with beautiful views of the waterways, you'll appreciate this trail that's split into two hiking trails in Mississauga. It's also a great place to go biking, and it won't be too tricky to hike if you have little kids.
Lisgar Meadow Brook Trail & Osprey Marsh
The Lisgar Meadow Brook Trail is a fully paved 5km trail through neighbourhoods in northwest Mississauga. It's part of the 16 Mile Creek tributary greenbelt. While some of the trail goes through residential neighbourhoods, there are notable sections that wrap around marshes and forests.
This is one of the best places to hike in Mississauga because it wraps around Osprey Marsh. This is a paved, narrow hiking path that wraps around the marsh where I was able to spot blue herons on multiple occasions. There are also nesting boxes along the trail to reestablish populations of eastern bluebird and purple martin.
Applewood Trail
The Applewood Trail is a 6.5km path, and one of the top hiking trails near Toronto. It's an easy jaunt that is fully paved and well maintained. It's great for families, cyclists, and anyone looking to get some fresh air on Mississauga walking trails.
The path follows a creek and winds through Applewood Park, spanning several city blocks. There isn't an official parking area for this one, but the trail starts at a shopping centre on the corner of Dixie Rd and Dundas St E. I suggest parking your car there.
Want to see more photos of Mississauga trails?
Browse our entire travel photography album in one place. You can browse and buy any of our pictures, including prints, gifts and more.
What to Bring on a Hike
A proper pair of hiking shoes is an absolute must. It's also a good idea to bring sunscreen and lots of water, too. My water bottle of choice is the GRAYL Purifier because you can drink ANY water from any source, no matter what. Water from lakes, streams, rivers, public restrooms, you name it. It's the world's fastest portable purifier. Get your hands on one ASAP!
Don't forget to pack some bug spray because there can be biting bugs depending on the time of year. Even if there aren't any signs, it's safe to assume that ticks are all over Ontario hiking trails. Protect yourself against ticks by wearing long pants tucked into high socks (and wear bug spray). Check yourself for ticks after your hike.
Mississauga Hiking Trails Map
Here's a map of the top places to hike in Mississauga, as listed above. You'll see all of the trails displayed for your reference in one place. Feel free to use this map as a guide to planning your walks in Mississauga.
Where to Stay in Mississauga
Are you looking for where to stay in Toronto? There are so many amazing Mississauga hotels and Airbnb accommodations so you can be close to the city or close to the trails.
Here's a handy booking tool where you can see all of the Booking.com accommodations and Airbnbs in one place. It's easy to compare prices and find the best rate for your trip to Mississauga.
Join the Ontario Hiking Facebook Group
You are also welcome to join our Ontario Hiking Facebook Group – it's a great way to ask questions about hiking in Ontario, share your Ontario hikes, and get inspired!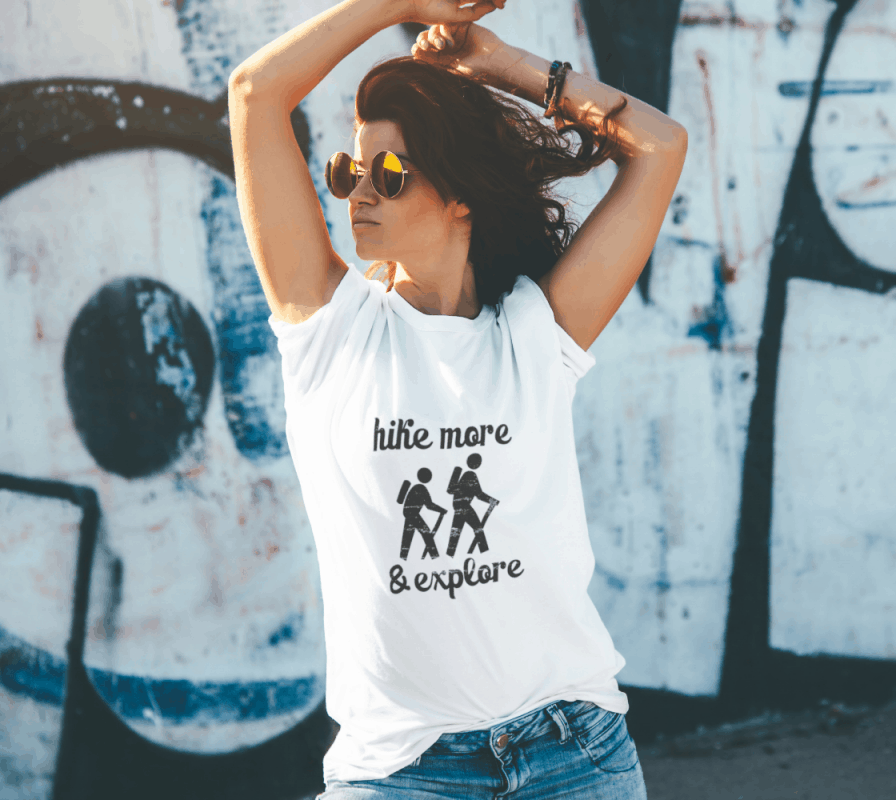 Inspired by adventures and nature. Ontario hiking and Bruce Trail apparel & accessories, designed by me.