Justin and I are fortunate enough to call Port Credit our home, and we love exploring our local Port Credit parks and trails. We've lived here for several years, and we love so many things about this vibrant little village in the city.
Posts may be sponsored. Post contains affiliate links. I may be compensated if you make a purchase using my link.
First, Port Credit is part of the city of Mississauga, but it has its own small town vibes. Second, there's a main street (Lakeshore Rd) that has lots of shops, restaurants, and cafes. There's always something happening in town, especially throughout the summer months.
Festivals, celebrations, you name it! Last, there's lots of green space in Port Credit. Within moments, we can walk from our apartment to Lake Ontario and there are so many Port Credit parks to explore.
For those living or staying in Mississauga, Toronto, or anywhere in southern Ontario, it's worth planning a day trip to Port Credit. Take a walk through several parks or conservation areas as they all connect seamlessly to one another. Stop for a coffee, enjoy a drink on the patio, or choose from a variety of cuisines at the local restaurants.
As this is a hiking and walking blog, I'm going to go into some detail about the best Port Credit trails and paths around town. These are some of the best walking trails in Mississauga.
Become an Ontario Hiking Supporter!
Join the Ontario Hiking Patreon and you'll become a VIP member of the Ontario Hiking community! You'll receive ad-free, downloadable hiking guides with new guides added weekly. Plus, there are many more perks! Become an Ontario Hiking Supporter today!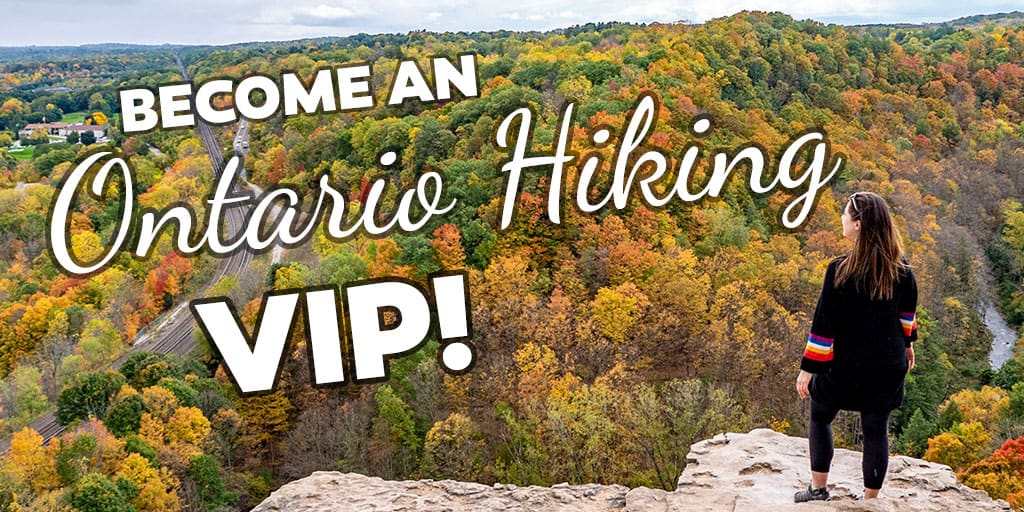 Where to Stay in Mississauga
Are you looking for where to stay in Toronto? There are so many amazing Mississauga hotels so you can be close to the city or close to the trails.
Here's a handy booking tool where you can see all of the accommodations in one place. It's easy to compare prices and find the best rate for your trip to Mississauga.
Lakefront Promenade Park
Lakefront Promenade Park is one of the largest Port Credit parks, although it's technically in Lakeview (a neighbourhood in Mississauga that borders Port Credit). Due to its close proximity to Port Credit and the fact that it's along the Waterfront Trail, I'll include Lakefront Promenade Park in this article. The park features both outdoor recreation and areas of wildlife protection.
The north end of the park has volleyball courts, a playground, a splash pad, and picnic areas. For lovely walks around these Port Credit trails, I suggest wandering around the Lakefront Promenade Marina to catch some glimpses of the boats and yachts on the boardwalk. Then, venture over to the nearby R.K. McMillian Park, a protected space for trees, grasses, and flowers that create habitats for wildlife and birds. Be sure to walk to the farthest side of the park to see the Lakefront Promenade Lighthouse.
Adamson Estate
Continue south on the Waterfront Trail from Lakefront Promenade Park to link up with Adamson Estate. It's the remnants of the 300 acre summer property of the Cawthra family. There used to be a manor dating to 1860 on the property, but it was replaced with this 1920's two story manor. The gatehouse (or folly) from 1904 is only one of three gatehouses designed in this fashion in Canada. The other two are at the residences of the Prime Minister and the Governor General in Ottawa.
Feel free to walk around the property, including the home, the gardens, and even a small pet cemetery. There are beautiful views of Lake Ontario all around, and it's a peaceful place to spend some time. Adamson Estate is free to the public as one of the most historic parks in Mississauga.
Tall Oaks Park
To reach Tall Oaks Park, you'll continue south down the Waterfront Trail, which doesn't actually stick to the waterfront here. You'll follow Cumberland Drive, Wanita Road, and Elmwood Avenue South until you're back by the lake again. There are lots of visible signs denoting the Waterfront Trail as it winds through residential neighbourhoods.
Tall Oaks Park is one of the smallest Port Credit parks with a little viewing area by the lake. You'll most likely notice lots of ducks, geese, and swans floating around this shallow part of Lake Ontario. It's never terribly busy at Tall Oaks Park, and it's a great spot to have a little picnic lunch.
St. Lawrence Park
Right next to Tall Oaks Park, you'll find St. Lawrence Park. There's a wide paved path that follows the lake, and there's a small playground for the little ones. This is one of the most iconic Port Credit parks for its gorgeous gazebo overlooking Lake Ontario. It's possible to rent out the gazebo through the city for photo shoots. I've seen some engagement and wedding photo shoots at this exact spot before.
Another interesting detail about St. Lawrence Park is the collection of historic artifacts on display, paying tribute to the region's industrial heritage. Feel free to walk on the main path, walk on a lower path right next to the water, and take a gander at the industrial artifacts before you venture on.
Port Credit Memorial Park
Port Credit Memorial Park is the only park on this list not on Lake Ontario. However, it's still along a stretch of water, the Credit River. Port Credit Memorial Park has all the makings of a great family outing. The Port Credit Library greets you at the entrance of the park. There's a playground, a skate park, and there's almost always an ice cream truck in the parking lot. It's also the home of Port Credit Memorial Arena.
This is one of the most popular Port Credit parks as many local festivals take place within the park grounds. You might stumble upon one of several Port Credit community events that take place in the park. The festivities in the park include the Mississauga Waterfront Festival, Mississauga VegFest, the Southside Shuffle Jazz & Blues Festival, and Port Credit Busker Fest. On any average day, you can walk in a big loop around Port Credit Memorial Park, and there's another lovely gazebo in the middle of the park. For those of you who played Pokemon Go, we loved walking around Port Credit Memorial Park as there are a ton of Pokestops!
JJ Plaus Park and Credit Village Marina
The Credit Village Marina is always the place to be in the heart of Port Credit. It's right next to the main area of downtown with all of the cafes and restaurants. Grab a coffee at one of several nearby coffee shops (my favourite is Archtop Cafe!) and walk around the marina. You'll see the Port Credit Lighthouse, a number of boats, and the Snug Harbour restaurant. Keep walking past the restaurant to enter JJ Plaus Park, a park and pathway that leads right up to the edge of the water.
If you go there on a summer weekend, there's a good chance that there will be people playing guitar and singing, and there's just an overall positive atmosphere. The lighthouse is the most photographed building in Mississauga, and it's one of the best parks in Mississauga for spectacular scenery of the Credit River.
JC Saddington Park
JC Saddington Park is also one of the more popular Port Credit parks, especially for gathering with families and groups. As there are picnic facilities and barbecues with spaces seating up to 75 people, you can reserve a space ahead of time for a family get together. There are also lots of trees, open green spaces, winding paths for joggers and bikers, a small pond, and wonderful scenery of the lake.
JC Saddington Park is only a short distance away from the harbour marina, and many visitors will explore this section of Port Credit trails. If you look off into the distance from the edge of the park, it's possible to see the CN Tower and the Toronto city skyline. All of the paths at JC Saddington Park are part of the Waterfront Trail.
Brueckner Rhododendron Gardens
The Brueckner Rhododendron Gardens are a lesser visited place in Port Credit because they're just on the outskirts of town. It's such a quiet place with very little foot traffic, and the scenery here is equally as beautiful as anywhere else. It's also a stunning garden with hundreds of flowering plants from the spring through the fall.
Rhododendrons start to bloom in June, so I highly recommend that you visit in June to enjoy one of the most beautiful Port Credit parks to its fullest. It's one of Canada's largest public collections of rhododendrons and it's free for all to enjoy. Dr. Brueckner donated 800 of his rhododendrons and azaleas to the garden, including rare hybrid species. His prized hybrids appear in many gardens across North America and Europe, including England's Exbury Gardens. Even if you don't visit in June, this park is pretty all year long with lots of greenery and scenic views.
Richard's Memorial Park
Richard's Memorial Park is farther south down Lakeshore Rd. W, just as you're leaving Port Credit. There are trails through the forest, places to have a picnic, and even a small beach (one of three in Peel region). The park commemmorates Richard Wolniewicz, a 14 year old boy who donated his heart to Mayor Robert Speck in 1971. There's also a monument in the park with the inscription, "Planet Earth is our Home, Humanity is our Family".
Jack Darling Memorial Park
Jack Darling Park is one of the biggest Port Credit parks, straddling the neighbourhoods of Port Credit and Clarkson. The Waterfront Trail weaves through Jack Darling Park down to the lake, and there's another small sandy beach here. Feel free to have a picnic here or you can even launch your canoe or kayak into the lake from this point.
In addition to the facilities I mentioned above, there's also a large off leash dog park, two fenced tennis courts, and lots of green space for a multitude of activities. The walking trails at Jack Darling Park lead right up to the next place on this list, Rattray Marsh.
Rattray Marsh Conservation Area
Okay, to say that Rattray Marsh is located in Port Credit is a bit of a stretch (it's technically in neighbouring Clarkson Village), but we'll claim it all the same for now. It's connected to the Waterfront Trail, except there are no bikes allowed here (you'll have to cycle through the surrounding neighbourhoods). Rattray Marsh Conservation Area is a significant wetland on Lake Ontario and it's one of the most interesting Port Credit trails. There's a boardwalk that extends over much of the conservation area, protecting the marsh beneath it. It's a leisurely stroll through wetlands and woodlands with glimpses of the waterfront on the way.
The Waterfront Trail
The Great Lakes Waterfront Trail is over 3000km in length, connecting 140 communities and First Nations. It travels through 4 UNESCO World Biospheres, 42 provincial parks, 23 National Historic sites, 83 conservation areas, and three Great Lakes. Much of the Port Credit trails that I mentioned above are part of the Waterfront Trail that stretches along Lake Ontario. It's a great way to experience the world's largest group of freshwater lakes, and one of the most epic hikes in Canada. Discover a small portion of the Waterfront Trail in Port Credit!
Port Credit Parks and Trails Map
It's hard to picture how all of these Port Credit parks connect to one another, so here's a park map so you can imagine it clearer. If you zoom into the map, you'll be able to follow the Waterfront Trail as it meanders through town along the lake.
Recommended Nearby Hiking Trails
Looking for more hiking trails near Port Credit? Take a look at the hiking trails page for inspiration. Here are our recommendations:
Join the Ontario Hiking Facebook Group
You are also welcome to join our Ontario Hiking Facebook Group – it's a great way to ask questions about hiking in Ontario, share your Ontario hikes, and get inspired!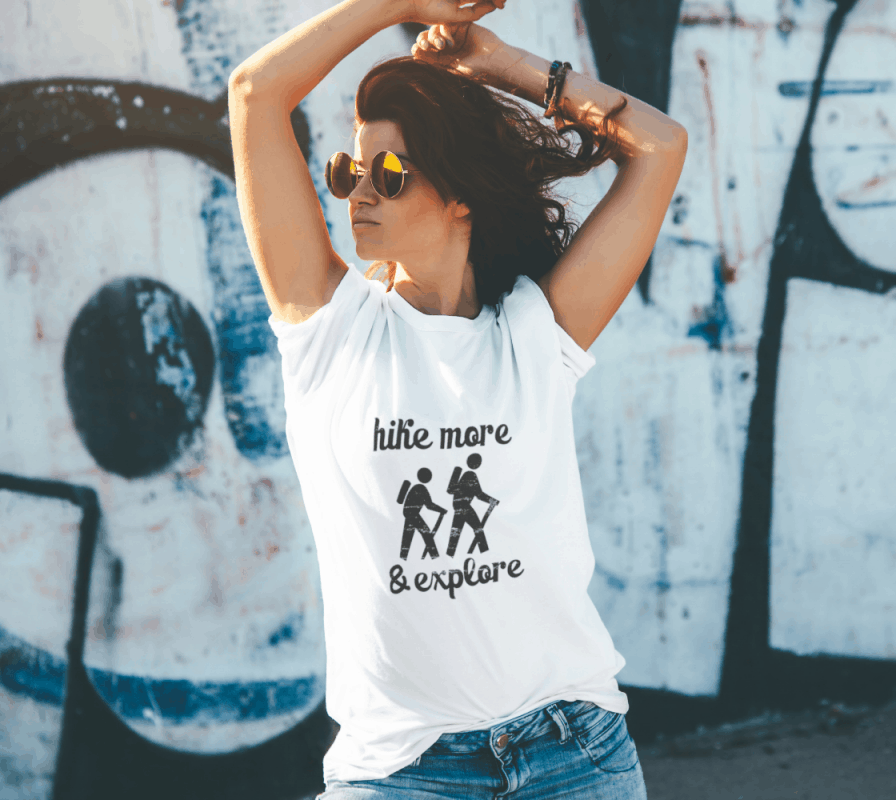 Inspired by adventures and nature. Ontario hiking and Bruce Trail apparel & accessories, designed by me.