Erindale Park is a beautiful park in Mississauga, Ontario with many hiking trails along the Credit River. As one of Mississauga's most popular parks, I was surprised to find that there's not much clear information about the Erindale Park trails online. As the park is only a short drive from my home, I set out to discover the hiking trails at Erindale Park and beyond.
Posts may be sponsored. Post contains affiliate links. I may be compensated if you make a purchase using my link.
Become an Ontario Hiking Supporter!
Join the Ontario Hiking Patreon and you'll become a VIP member of the Ontario Hiking community! You'll receive ad-free, downloadable hiking guides with new guides added weekly. Plus, there are many more perks! Become an Ontario Hiking Supporter today!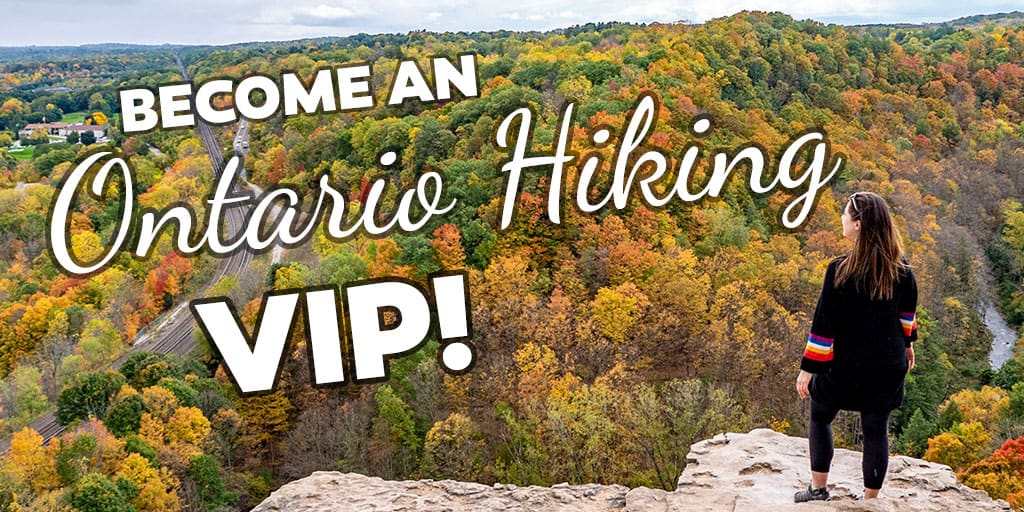 Erindale Park Trail Map
I couldn't find a trail map for Erindale Park anywhere online, so I decided to create one of my own. There are several hiking trails within the boundaries of Erindale Park and just outside of the park. You can go on a hiking adventure on several of these trails and even return to Erindale Park as a starting point for several hiking trips.
From the starting point of Erindale Park, you can start walking on the Culham Trail or the UTM (University of Toronto Mississauga) Nature Trail. Other hiking trails just across the street from Erindale Park are Sawmill Creek Trail and Glen Erin Trail. You'll be able to see all of these on the colour coded map above.
The Culham Trail is marked in red. The UTM Nature Trail is marked in yellow. And the Sawmill Creek Trail is the pink path, and the Glen Erin Trail is the purple path.
Hiking at Erindale Park
Erindale Park is one of the best parks in Mississauga, but the magic really happens as soon as you hit the trails. Whether you follow the Culham Trail on the Credit River, head up above the river on the UTM Nature Trail, or seek solitude on the Sawmill Creek Trail, you're in for a treat. Here are some highlights from the Erin Park trails.
The Culham Trail
The Culham Trail is nearly 18km in total, but broken into three sections in Mississauga. One section starts at Erindale Park, continues north past Burnhamthorpe and through Riverwood Conservancy, and through Hewick Meadows to Barbertown Road.
It picks back up again at Streetsville Memorial Park, past Britannia Road and through Riverview Park and ending at Pine Cliff Park. The last section travels through Meadowvale Conservation Area and leads into Brampton.
At Erindale Park, you can walk on the Culham Trail right on the Credit River. You'll be treated to brilliant river views for your entire hike. Then, you can walk beneath Burnhamthorpe Road and into Riverwood Conservancy. Another option is to walk on the Burnhamthorpe Trail from the Culham Trail, although this is more like a flat bike path than a scenic trail.
UTM Nature Trail
The UTM Nature Trail is the second hiking path that you can choose to walk directly from Erindale Park. When you enter Erindale Park from the parking lot, you can either choose to walk along the river (Culham Trail) or walk across a bridge.
Once you cross the bridge and reach the other side of the river, there are two paths: one follows the Credit River, and the other will take you towards Mississauga Road (where you can hike on the Sawmill Creek Trail or Glen Erin Trail). The one that follows the Credit River will lead to the entrance of the UTM Nature Trail.
Before you reach the entrance sign for the UTM Nature Trail, you'll walk up a hill. While it isn't a massive hill by any means, it can be really icy in the winter. Take care when you walk up this hill. If it's icy, you'll likely need to wear your microspikes or crampons (more details on this below!).
The UTM Nature Trail is on the property of the University of Toronto Mississauga. The university doesn't maintain the trail and it's pretty wild and free. This means that it will likely be icy or snowy in the winter. The path meanders through an area with lots of tall trees.
In the winter, you'll also be able to have a pretty clear view of the Credit River from high up above. This might be obscured by tree leaves in the other months of the year.
Once you reach the UTM Nature Trail, you can either turn around and head back to Erindale Park or walk onto the UTM campus. Then, you'll get back to the city streets and can loop back around to Erindale Park. I ended up continuing my walk on Sawmill Creek Trail.
Sawmill Creek Trail
The Sawmill Creek Trail, also known as the Sawmill Trail, is a 9km trail that follows the Sawmill Creek. It's one of the lesser frequented Mississauga hiking trails, if you're looking for some solitude in the city.
You can link onto the Sawmill Creek Trail on the northwest corner of Mississauga Rd and The Collegeway. You'll see a sign marking the entrance of the trail, as well as a few other paths in the area.
It's a multi-use dirt trail where you'll encounter some urban areas, as well as wetlands and forests. You might be able to catch glimpses of white trilliums in the spring, and maybe a white-tailed deer or two if you're lucky.
I loved hiking on the Sawmill Creek Trail and it was definitely my highlight of the day. I barely saw another person on the path, and I really felt like I was in the middle of nature. Even though you can see the backs of some houses, it really didn't impact the journey. I was pretty distracted by the beautiful and gentle cascades of the Sawmill Creek that ran parallel to the trail.
I didn't hike the entire 9km of the Sawmill Creek Trail. At Burnhamthorpe Rd, I chose to turn back around and venture back to the car at Erindale Park.
Glen Erin Trail
Another option is to walk on the Glen Erin Trail. The entrance to this trail is just off The Collegeway, relatively close to the Sawmill Creek Trail. I didn't end up hiking on the Glen Erin Trail at all, but I'll head back sometime to check out. You'll have to let me know in the comments section if you've ever been!
Want to see more photos of Erindale Park?
Browse our entire travel photography album in one place. You can browse and buy any of our pictures, including prints, gifts and more.
Plan Your Visit
Erindale Park is located at 1695 Dundas St W, Mississauga, Ontario. It's open from 9:00am to 9:00pm. There's lots of free parking once you pull into the driveway for the park. There is also a large picnic area with picnic tables and grills (better suited for summer months!). In the winter, you'll find a popular toboggan hill that's likely the best place to go tobogganing in Mississauga.
It is free to visit and park at Erindale Park. There are also restrooms at the park that are free to use. Please note that the park gets very busy, especially on weekends in the summer months, and the parking lot may be full.
In the winter months (like when I visited at the end of December), the trails can become icy. There is a hill from the bottom of Erindale Park to the entrance of the UTM Nature Trail. In the winter, this can freeze over and become difficult to navigate without spikes. Please proceed with caution and wear the appropriate footwear. Take a look at these winter clothing and gear recommendations for more details.
What to Bring on a Hike
A proper pair of hiking shoes is an absolute must. It's also a good idea to bring sunscreen and lots of water, too. My water bottle of choice is the GRAYL Purifier because you can drink ANY water from any source, no matter what. Water from lakes, streams, rivers, public restrooms, you name it. It's the world's fastest portable purifier. Get your hands on one ASAP!
Don't forget to pack some bug spray because there can be biting bugs depending on the time of year. Even if there aren't any signs, it's safe to assume that ticks are all over Ontario hiking trails. Protect yourself against ticks by reading our guide to avoiding ticks on the trails.
For amazing deals on hiking products like backpacks, boots, clothing, and gear, check out the Decathlon Canada shop!
What to Bring on a Winter Hiking Trip
Your packing list for a winter hiking trip will look much different than one in the summer! Here are some important things to consider bringing with you on a winter day hike.
Looking for More Hiking in Mississauga?
To start, I recommend taking a look at these Top 10 Hiking Trails in Mississauga for an in-depth guide. Here are some reviews of great spots in Mississauga to check out:
If you're also hiking in the winter time and looking for ideas, check out these top winter hiking trails in Ontario.
Join the Ontario Hiking Facebook Group
You are also welcome to join our Ontario Hiking Facebook Group – it's a great way to ask questions about hiking in Ontario, share your Ontario hikes, and get inspired!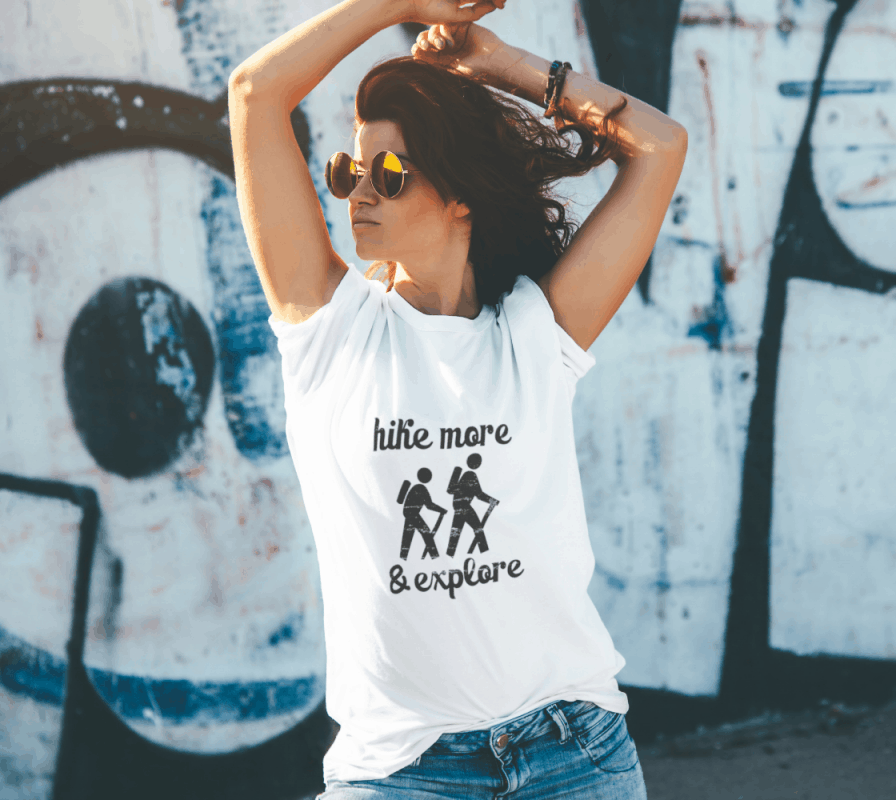 Inspired by adventures and nature. Ontario hiking and Bruce Trail apparel & accessories, designed by me.