Sixteen Mile Creek Trail was such a pleasant surprise. While I live in the nearby village of Port Credit in Mississauga, I didn't know if there were any good opportunities to hike "next door" in Oakville. Sure, there are lots of Conservation Halton Parks in Burlington and Milton. Credit Valley Conservation has great places to hike in Mississauga, Georgetown, and Halton Hills. But, what about hiking trails in Oakville?
Posts may be sponsored. Post contains affiliate links. I may be compensated if you make a purchase using my link.
Sixteen Mile Creek Trail is right in the middle of the city, and I didn't even know it was there. I am sure I've driven past this natural oasis so many times without knowing the beautiful hiking trails that lie beyond the city streets. It's tucked away at the edge of many residential neighbourhoods, but don't let that deter you. This place is pretty magical and makes you feel like you're nowhere near the city.
Become an Ontario Hiking Supporter!
Join the Ontario Hiking Patreon and you'll become a VIP member of the Ontario Hiking community! You'll receive ad-free, downloadable hiking guides with new guides added weekly. Plus, there are many more perks! Become an Ontario Hiking Supporter today!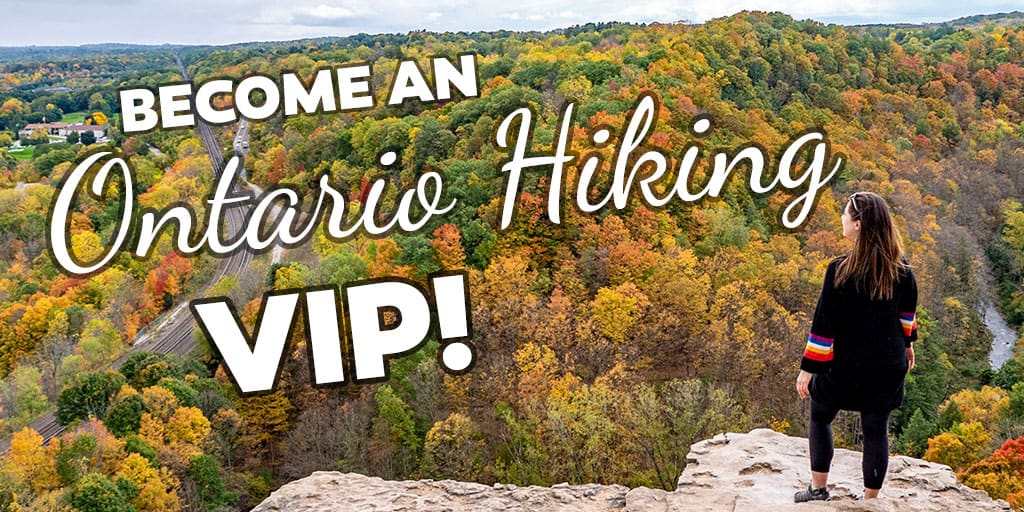 Sixteen Mile Creek Trail Map
Here is a Sixteen Mile Creek Trail map that shows the overall layout of the hiking trail. It's not a difficult one to navigate. There are lots of signs along the trails, and it connects in one giant loop. Due to the current pandemic, there are a couple of spaces where it doesn't connect in a loop like it normally does.
The main parking lot at Lions Valley Park is closed, and there's a bridge across the creek at this point that's also roped off. This was almost at the end of our hike, so we walked up the hill to Dundas Street and walked back to our car. Normally, this isn't a concern and it will loop right around.
UPDATE: The main parking lot at Lions Valley Park is back open! But, feel free to park at the spot that I recommended, too.
Hiking at Sixteen Mile Creek Trail
The main loop trail at Sixteen Mile Creek Trail is a little over 6km, and the path crosses both sides of the creek. It's mostly a paved path that's pretty easy for all skill levels. There are some sections that travel up and down large hills, but it's nothing that's unmanageable. This Oakville hiking trail really has it all: it's easy to reach (and close to home if you're in the GTA), it's not terribly busy, the paths are fairly even and easy to walk, there are various lookout points, you might spot some wildlife, and the forest is so beautiful.
Beautiful Natural Spaces and Wildlife Sightings
As you walk along the 16 Mile Creek Trail, you'll encounter a few different landscapes. At some points, you'll be pretty close to houses and residential areas where short paths connect the trail to these neighbourhoods. For the most part, you'll be right in the middle of a peaceful forest, surrounded by trees.
Eventually, you'll cross Sixteen Mile Creek and you can view the creek from both sides of the bridge. When we looked out into the distance, we spotted a deer drinking some water. Later, at another point of the trail by the creek, we spotted another deer! It might have been the same exact deer that we saw twice, but we'll count it as two deer sightings.
The Lookout at Sixteen Mile Creek Trail
Once you're across the river, you'll keep walking through the forest until you encounter a large hill to climb. It's not too difficult of a hill climb, and the path is a fairly even terrain. Once you reach the top, there is a small deck with a lookout point with amazing scenery of Sixteen Mile Creek from above.
Once you've fully absorbed the gorgeous view, keep walking along the path until you reach a set of stairs. This staircase leads back down into the valley below where you'll end up hiking right along the side of the creek.
The Moccasin Trail
As we looped back around towards the northeast side of the Sixteen Mile Creek Trail (the Inner Valley Trail), we noticed some interesting plaques marking the Moccasin Trail. These are part of the heritage trails in Oakville that explore this land from an Indigenous perspective. Overall, there are a series of 13 plaques that share Indigenous stories and provide a deeper understanding of Indigenous culture. There are two Moccasin Trails in Oakville, and you'll find the other one at the Bronte Creek Heritage Trail.
Painted Rocks on the Trail
When Justin and I went hiking at Sixteen Mile Creek Trail, we immediately noticed tons and tons of painted rocks on either side of the path. They were mostly clustered at points at the beginning of our hike on the northwest side of the hiking trail. It looks like many neighborhood kids (or adults, who knows!) painted tons of inspirational messages and images on rocks for everyone to enjoy. They were all so pretty and these artists are seriously talented!
No guarantees that you'll stumble upon these rocks when you go hiking there, but you might. It was fun to stop and discover bright bursts of colour as we walked along the path.
Want to see more photos?
Browse our entire travel photography album in one place. You can browse and buy any of our pictures, including prints, gifts and more.
Plan Your Visit
Here is a map of where you'll find the Sixteen Mile Creek Trail in Oakville, Ontario. While I'm sure that you could park in numerous places and neighbourhoods around the trail, the Lions Valley Park is the best place to leave your car. However, when we visited the Lions Valley Park was closed. We parked our car on Fourth Line just off Dundas Street West.
Please note that there are no facilities or restrooms on these Oakville hiking trails. There aren't many spaces to sit or have a picnic, and it is free to visit. It's an urban hiking trail through a natural area of the city that I am sure that you'll love.
Looking For More Hikes?
Did you enjoy hiking at Sixteen Mile Creek Trail in Oakville? Here are a few other nearby hikes that you might enjoy:
Join the Ontario Hiking Facebook Group
You are also welcome to join our Ontario Hiking Facebook Group – it's a great way to ask questions about hiking in Ontario, share your Ontario hikes, and get inspired!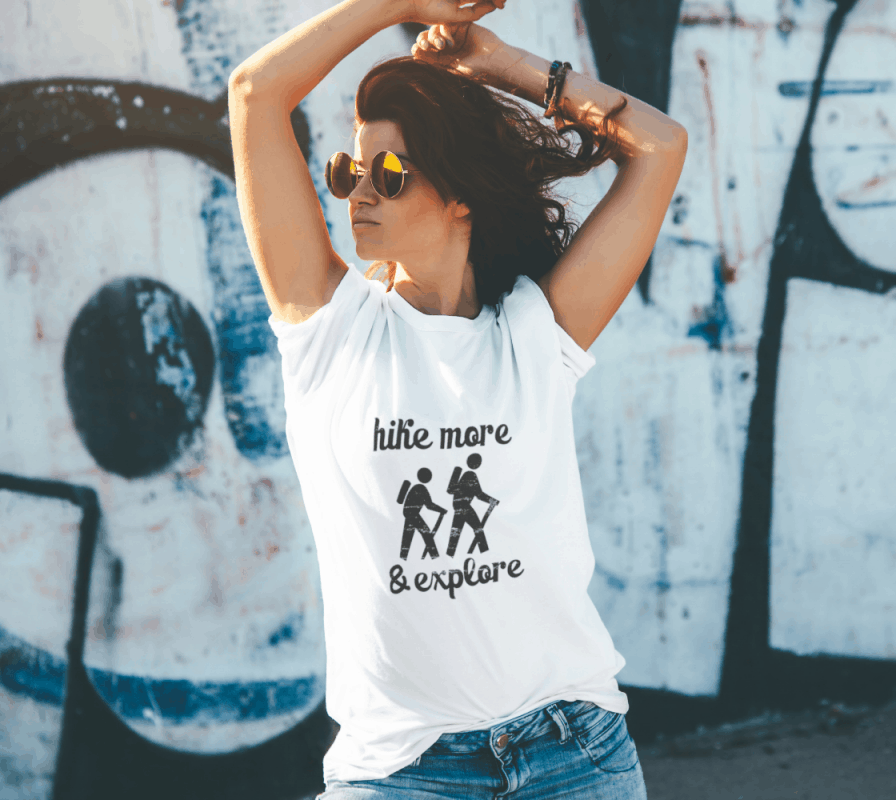 Inspired by adventures and nature. Ontario hiking and Bruce Trail apparel & accessories, designed by me.