You don't need to go very far from Toronto to hike through nature, and the Moore Park Ravine Trail is an excellent example of that. I've highlighted some of my favourite Toronto hiking trails on this hiking blog and I'm proud that these midtown Toronto trails in this article have made the cut.
Posts may be sponsored. Post contains affiliate links. I may be compensated if you make a purchase using my link.
Not only did we hike through Moore Park Ravine (which is a section of the lengthier Beltline Trail), but we made a big loop trek that includes the Park Drive Reservation Lands Trail and the David Balfour Park Trail.
Become an Ontario Hiking Supporter!
Join the Ontario Hiking Patreon and you'll become a VIP member of the Ontario Hiking community! You'll receive ad-free, downloadable hiking guides with new guides added weekly. Plus, there are many more perks! Become an Ontario Hiking Supporter today!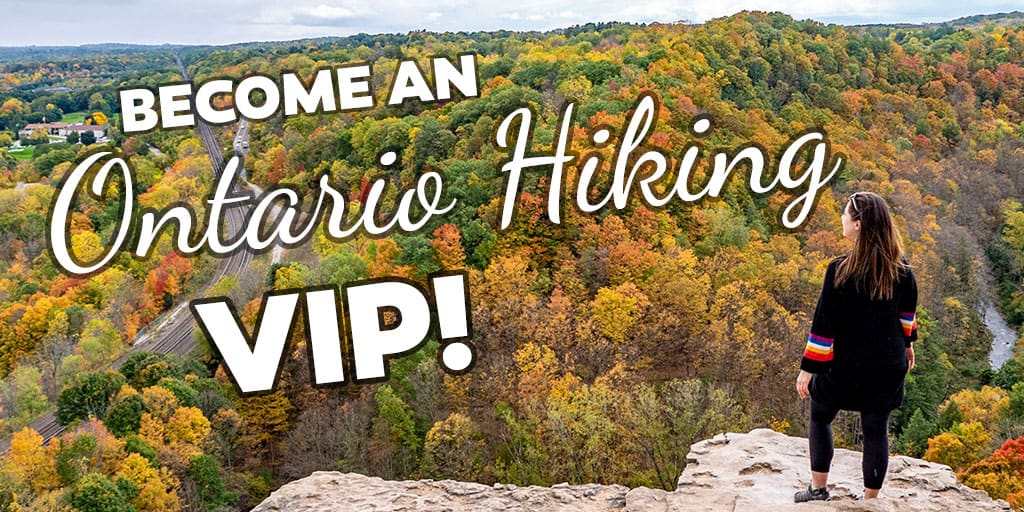 Moore Park Ravine Trail Map
While there are multiple routes around Moore Park Ravine and this hike through the Don Valley, Justin and I walked in a big loop. Starting at the point just off Moore Avenue, you'll walk south on a portion of the Beltline Trail, past the Evergreen Brick Works. Then, you'll continue through the Park Drive Reservation Lands past Craigleigh Gardens. Crossing Mt Pleasant Rd, the hike continues on the David Balfour Park Trail until you hit a dead end at the Mt Pleasant Cemetery.
Do you want to save this map for future reference? If you click the star beside the map title, it will be saved to your Google Maps account. Then, you can access it while hiking from your own Google Maps app (it will be listed under "your places" and then "maps").
Hiking at Moore Park Ravine
The hiking trails at Moore Park Ravine are mostly flat and it's a pretty easy hike. The entire loop is around 6km in length. It took us a couple of hours to hike as we walked pretty leisurely and took photos on the way. The first section is very flat and it's a wide, gravel path that you'll likely share with cyclists and dog walkers. As the trail continues across Mount Pleasant Road and into David A. Balfour Park, it turns into a narrow, dirt path in the woods that isn't suitable for cyclists (too narrow and many tree roots across the path).
The Beltline Trail
There are three sections of the Beltline Trail in Toronto: the York Beltline Trail (west of Allen Road), the Kay Gardner Beltline Park (from the Allen to Mount Pleasant Road), and the Ravine Beltline Trail (south of Mount Pleasant Cemetery through the Moore Park Ravine). This is the third section and most eastern part of the Beltline Trail.
In total, the Beltline Trail is a 9km path and built on the old Toronto Belt Line Railway tracks. The city of Toronto removed the tracks and established this space as a park for pedestrians and cyclists. The sections of the Beltline Trail aren't completely connected to one another. You'll have to venture through some residential neighbourhoods to connect the trail.
The Beltline Trail through Moore Park Ravine follows Mud Creek, and it's a very scenic area of Toronto. There are massive tall trees all around and overhead, so it's a lovely shady walk on a hot day. You'll stroll beneath the towering Governors Road bridge where you'll certainly want to stop and admire the sheer size of the concrete that extend up to the sky. It was constructed in 1923 and restored in 2000. It has some serious post-apocalyptic vibes, covered in graffiti and greenery.
Continuing south on the Beltline Trail, you'll have the opportunity to veer to the left towards Don Valley Brick Works Park or continue on the Beltline Trail. We decided to stick to Moore Park Ravine and complete the full loop. We'll leave the Evergreen Brick Works for another day. Eventually, you'll start to hear the sound of traffic and cars. You'll be reminded that you are in the middle of the city of Toronto, especially when you end up walking alongside busy Bayview Avenue by the on-ramp to the Don Valley Parkway.
Park Drive Reservation Lands Trail
This section of the loop trail connects the Moore Park Ravine to the David Balfour Park Trail. You will have to cross a very busy Mount Pleasant Road to continue on the trail. Take great care when crossing this road as there isn't a crosswalk. If you'd like another little detour from the trail before crossing Mount Pleasant Road, head over to nearby Craigleigh Gardens.
David Balfour Park Trail
The Beltline Trail and Moore Park Ravine was relatively busy, even on a weekday afternoon. However, the David Balfour Park Trail was completely the opposite. We rarely encountered anyone else on this section of the trail and it was very quiet. You'll walk past David A. Balfour Park where you'll wander into the ravine along the Yellow River. I actually found that this section of the trail, partially gravel and partially dirt, felt more like I was in the middle of nature than the Moore Park Ravine segment of the hike.
Towards the end of the hike, we walked beneath two more huge bridges. One of them was another section of the Governors Road bridge, marked by more gigantic concrete structures. Hiking beneath two sections of this bridge served as memorable bookends during our walk.
Now, here's where things got a little bit interesting. First, we definitely got a little off track and missed the point where we should have hiked on the western side of Yellow Creek rather than the eastern side. The trail got a little dicey with some fallen chainlink fence on part of it, and it was a little overgrown. However, no matter which side of the creek you end up hiking along, you'll wind up at the end of the trail in the same place.
Our maps showed that the hiking trail connected with the residential areas. Unfortunately, these exits were completely blocked off. We had no choice but to walk through Mount Pleasant Cemetery to find our way back to the car. This added a lot of extra time and distance to our walk, but it was rather cool to see this centuries-old cemetery for the first time. There are some really interesting monuments and mausoleums there. Maybe when you hike here, you'll be able to walk through the neighbourhoods to return to your car. Be prepared to discover that the only way out is the cemetery!
Want to see more photos from Toronto hiking trails?
Browse our entire travel photography album in one place. You can browse and buy any of our pictures, including prints, gifts and more.
Plan Your Visit
There's plenty of free street parking around Moore Road and the start of the Moore Park Ravine Trail loop. We parked on Heath Street East at Welland Ave, just south of Moore Road. You can also join the trail from a little path off Heath Street East at Hudson Drive.
There aren't any restroom facilities along this Toronto hiking trail, but it's possible that you can find some at Evergreen Brick Works if you walk off the Beltline Trail to Don Valley Brick Works Park.
Looking for more Hiking in Toronto?
Did you enjoy hiking around the Don Valley in midtown Toronto? Here are a few other nearby hiking trails around Toronto that you should visit:
Where to Stay in Toronto
Are you looking for where to stay in Toronto? There are so many amazing Toronto hotels and Airbnb accommodations so you can be close to the city or close to the trails.
Here's a handy booking tool where you can see all of the Booking.com accommodations and Airbnbs in one place. It's easy to compare prices and find the best rate for your trip to Toronto.
Join the Ontario Hiking Facebook Group
You are also welcome to join our Ontario Hiking Facebook Group – it's a great way to ask questions about hiking in Ontario, share your Ontario hikes, and get inspired!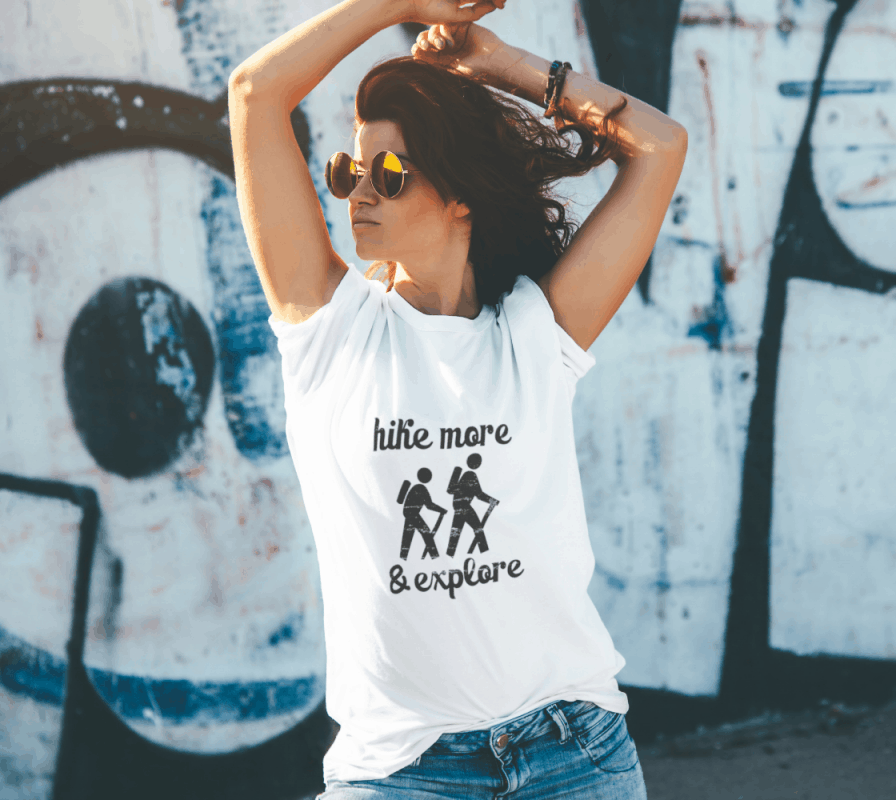 Inspired by adventures and nature. Ontario hiking and Bruce Trail apparel & accessories, designed by me.