Mount Nemo Conservation Area is a protected natural space where you can enjoy some fresh air relatively close to the city. On the outskirts of Burlington, Ontario, it's a wonderful place to go for a hike for an hour or two on your own or bringing the whole family. It's definitely a kid-friendly hike in Ontario that's fun for everyone.
Posts may be sponsored. Post contains affiliate links. I may be compensated if you make a purchase using my link.
Although there are a few slightly steeper sections here and there, it's an easy hike. There are big rewards for very little effort. The trails have a few inclines and declines here and there, but many sections are relatively flat.
Become an Ontario Hiking Supporter!
Join the Ontario Hiking Patreon and you'll become a VIP member of the Ontario Hiking community! You'll receive ad-free, downloadable hiking guides with new guides added weekly. Plus, there are many more perks! Become an Ontario Hiking Supporter today!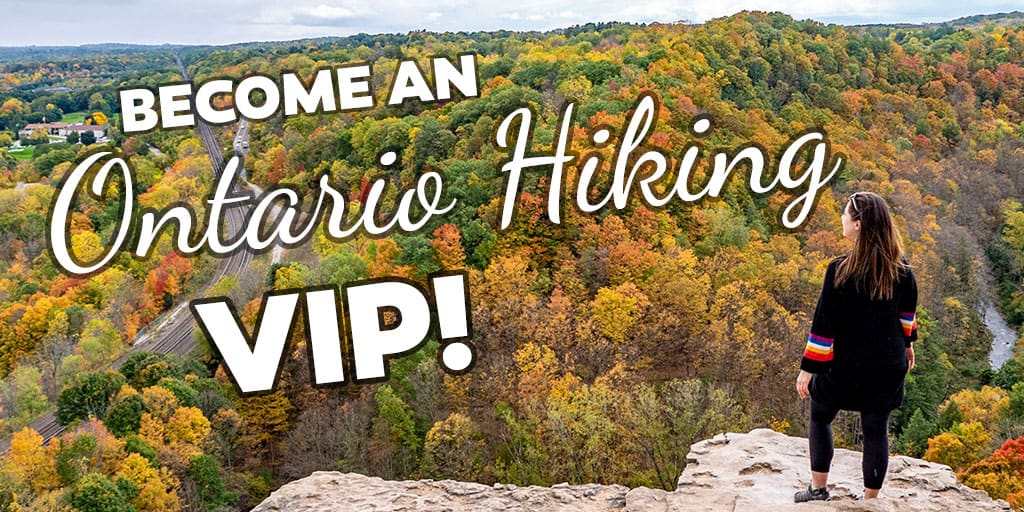 Why is Mount Nemo a Special Place to Hike?
While Mount Nemo is a smaller park when compared to other nearby conservation areas, like Rattlesnake Point and Kelso Conservation Area, it's a little more peaceful and less busy. Mount Nemo Conservation Area has a unique cliff edge ecosystem, and it's one of the best examples of one in the province.
Lots of plants and animals live along the edge of the cliff, including chipmunks, warblers, indigenous ferns and ancient cedar trees. There's a good chance that you'll be able to observe turkey vultures soaring above the escarpment.
The Brock Harris Lookout
When you depart from the parking lot, you'll walk down a long, wide path through the forest. Once you hike all the way to the end of it, you'll arrive at the Brock Harris Lookout. It's one of the most beautiful views at Mount Nemo Conservation Area.
You'll be at the edge of the escarpment, 295 metres (968 feet) above sea level, overlooking the picturesque countryside. On a clear day, you might even be able to spot the CN Tower off in the distance.
Hiking Trails at Mount Nemo Conservation Area
There are over 5km of trails to explore at Mount Nemo Conservation Area. To experience the park, you don't need to hike all 5km of the Mount Nemo trails. Take it as easy as you like. There are two main loop trails (North Loop and South Loop) and the Escarpment Edge Trail.
Here's a copy of the Mount Nemo trail map so you can plan your hiking trip ahead of time. However, it's not too necessary to plan very much. There's a map posted near the parking lot and lots of signage, so you can figure out your hikes as you go.
Mount Nemo trails are very kid friendly and dog friendly. Feel free to bring your four legged friend for the day. We also saw lots of families when we visited Mount Nemo. The shorter South Loop Trail is perfect for younger kids, and the adventurous ones will love checking out the caves. Just make sure to keep your distance from the edge of the escarpment. As you'll be hiking through the forest for most of the journey, it's relatively shaded and comfortable for summer hiking trips.
North Loop and South Loop Trails
Once you reach the Brock Harris Lookout, you'll need to make a decision whether to hike on the South Loop or the North Loop Trails. We decided to start with the South Loop, and eventually connected back around and continued along the North Loop.
The South Loop Trail (1.8km) winds through the forest along the edge of the escarpment. There are several spots along the way to stop and enjoy the sweeping pastoral views as far as you can see. Before long, you'll come across some interesting rock formations that descend into the ground. It's possible to climb into some of these narrow caves to explore.
If you'd like to continue hiking on the Escarpment Edge Trail, this is a portion of the Bruce Trail that doesn't continue in a loop. At some point, you'll have to turn back around and hike back to the conservation area.
The North Loop Trail (3.3km) also has scenic lookout points along the way. This hike is slightly more strenuous than the South Loop Trail. There are some sections where you'll need to navigate down a hill, but there are either steps, rocks, or tree roots that help ease your descent. The North Loop Trail is a bit longer than the South Loop Trail, but we didn't have any problem hiking both of them within a couple of hours.
The Bruce Trail
The Bruce Trail travels through a large portion of Mount Nemo Conservation Area (for 725 metres of it). It doubles up with the Escarpment Edge Trail, and portions of both the South Loop and North Loop Trails. Once you see the white trail blazes, you'll know that you're on the Bruce Trail. That means that you can hike through Mount Nemo as part of a lengthier Bruce Trail hike.
Other Activities at Mount Nemo Conservation Area
Mount Nemo is also renowned for its rock climbing. There are more than 200 routes for scaling the cliffs of the escarpment there. The ecosystem at Mount Nemo is fragile, so its important to use environmentally friendly practices while climbing. Please visit the Conservation Halton website for more details on the rules and regulations to rock climbing here.
In the winter, feel free to bring your snowshoes for a hike at Mount Nemo. The conservation area is open all year long. Depending on how much snow there is, you might want to strap on your snowshoes for the day. However, you'll likely be able to get away with a sturdy pair of winter boots.
Want to see more photos?
Browse our entire travel photography album in one place. You can browse and buy any of our pictures, including prints, gifts and more.
Plan Your Visit
The daily park entrance fee is $7.00 for an adult ($6.00 for seniors, $5.25 for children, kids four and under are free). You can also buy an annual family membership to all of the Conservation Halton parks for $135.50. An individual annual pass is $62.00. This is a great option if you plan to visit often.
All of the Conservation Halton parks have parking lots where you can leave your car before hitting the trails. There are also restroom facilities and places to have a picnic in the park.
What to Bring on a Hike
A proper pair of hiking shoes is an absolute must. It's also a good idea to bring sunscreen and lots of water, too. My water bottle of choice is the GRAYL Purifier because you can drink ANY water from any source, no matter what. Water from lakes, streams, rivers, public restrooms, you name it. It's the world's fastest portable purifier. Get your hands on one ASAP!
Don't forget to pack some bug spray because there can be biting bugs depending on the time of year. Even if there aren't any signs, it's safe to assume that ticks are all over Ontario hiking trails. Protect yourself against ticks by reading our guide to avoiding ticks on the trails.
Explore More Halton Parks
There are several parks under the umbrella of Conservation Halton. Spend one day each weekend exploring a new one. Or you can keep going back to your favorite trails again and again. There are numerous Halton hiking trails within these Conservation Halton parks:
Rattlesnake Point
Mountsberg
Kelso
Glen Eden
Mount Nemo
Join the Ontario Hiking Facebook Group
You are also welcome to join our Ontario Hiking Facebook Group – it's a great way to ask questions about hiking in Ontario, share your Ontario hikes, and get inspired!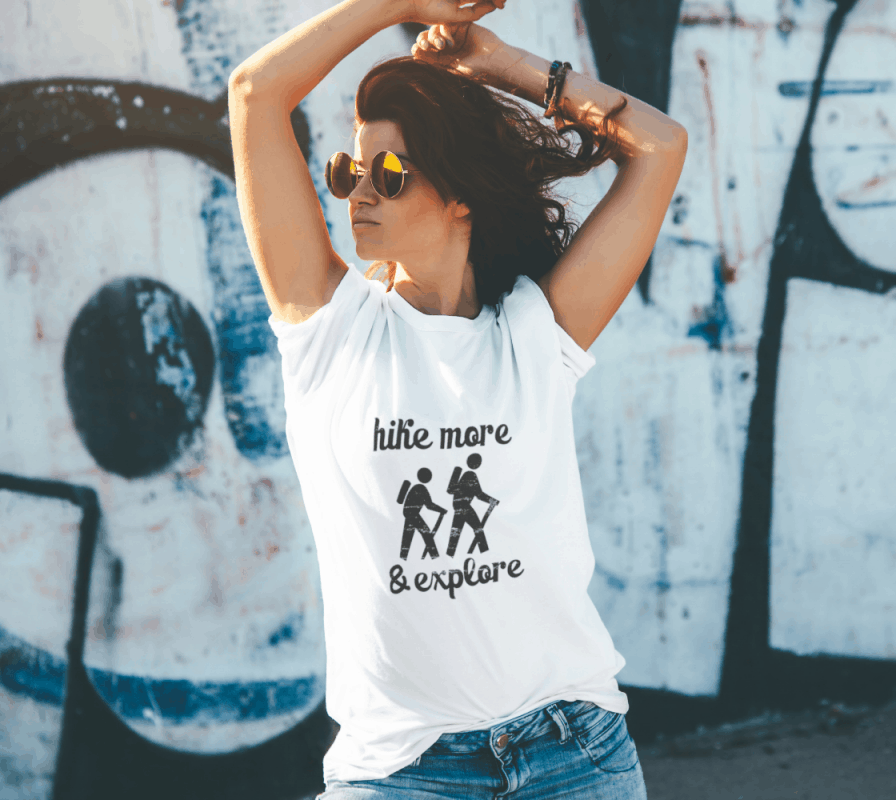 Inspired by adventures and nature. Ontario hiking and Bruce Trail apparel & accessories, designed by me.