When Justin and I visited Hilton Falls Conservation Area on a weekday afternoon, it was really crowded in one place and one place only. Hilton Falls, this beautiful waterfall in Milton, happened to be swarmed with people and families.
Posts may be sponsored. Post contains affiliate links. I may be compensated if you make a purchase using my link.
Don't get me wrong, it's a pretty waterfall, even if it's only a trickle of water in the summer. The little rocky cliffs there are really picturesque, too. But, don't make the mistake of visiting Hilton Falls and nothing else. There's so much more to Hilton Falls Conservation Area than the waterfall itself.
Become an Ontario Hiking Supporter!
Join the Ontario Hiking Patreon and you'll become a VIP member of the Ontario Hiking community! You'll receive ad-free, downloadable hiking guides with new guides added weekly. Plus, there are many more perks! Become an Ontario Hiking Supporter today!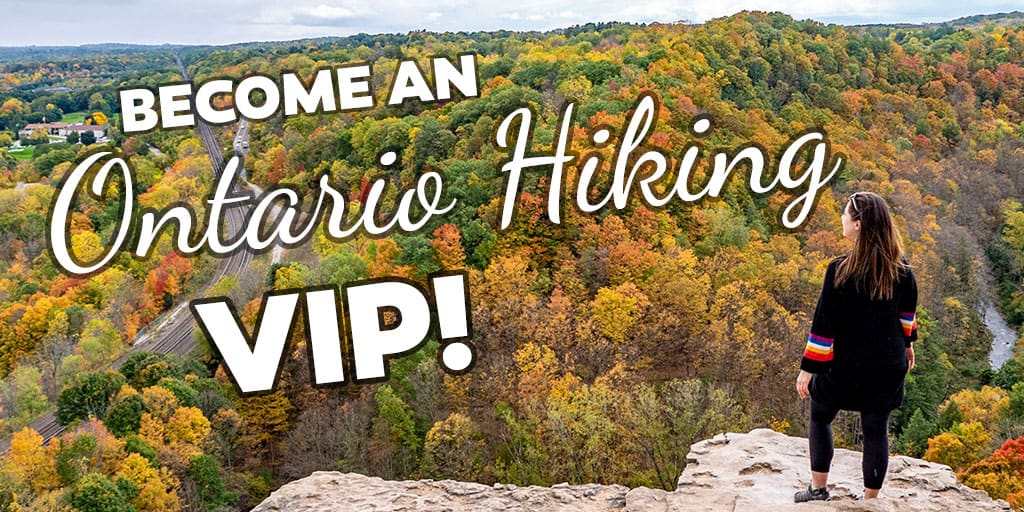 Hilton Falls Map
Here's a map of Hilton Falls Conservation Area. There are three main hiking trails: the Hilton Falls Trail, the Red Oak Trail, and the Beaver Dam Trail. The Bruce Trail also makes an appearance at Hilton Falls Conservation Area.
As you go hiking in Milton, Ontario around this park, the trail directions can be a little confusing. We managed to get turned around a couple of times while navigating the Red Oak Trail. The trails aren't particularly well marked, but there are sign posts with arrows marking the trails every so often. I suggest keeping an image of the map on your phone so you can reference it.
Hiking at Hilton Falls Conservation Area
There are three hiking trails at Hilton Falls Conservation Area, and the park connects to the Bruce Trail. It's easy to spend a few hours at Hilton Falls Conservation Area, making your way around each hiking trail.
During the pandemic, you have to reserve a time slot to visit all Conservation Halton parks and you'll be limited to just two hours at the park. In this case, I recommend hiking the Hilton Falls Trail and the Red Oak Trail.
Hilton Falls Trail
The Hilton Falls Trail is the primary hiking trail that leads you out of the main parking lot and directly to the waterfall. Part of the trail isn't shaded, but it's mostly beneath a canopy of trees. The path itself is very wide and mostly flat, making it an easy trek for families and people of all ages. The Hilton Falls Trail is 3km (in total, both ways), and it's an out and back trail. It starts at the parking lot and ends at Hilton Falls.
On your way to Hilton Falls, there's a small wooden platform overlooking the Vernal Pools. There's a plaque that shares more information about this natural habitat that's a temporary wetland for many creatures. While these wetlands dry up by the middle of the summer, there was still some water present when we visited at the end of June.
Hilton Falls is the reward at the end of the trail. It's a beautiful, nature waterfall that flows over the edge of a small cliff. At the end of June, the waterfall was just a tiny trickle over the edge. Depending on the time of year and when it rained last, you'll be able to see varying levels of water flows at this one.
At the base of Hilton Falls, there are the ruins of an old mill. There was once three saw mills here back in the 19th century, and these stones are all that remains. There was once a dam and a mill building, along with a 40 foot water wheel. While two of the mills burned down, the third was abandoned in 1967.
There are lots of chipmunks on the Hilton Falls trail, especially right before you descend down the staircase towards the waterfall. They are very used to humans and aren't scared of people at all. Be very careful here because you could easily step on one by mistake.
Red Oak Trail
Justin and I enjoyed the Red Oak Trail more than the Hilton Falls Trail. It's a 4km loop trail, and there were hardly any other people hiking on it. Don't miss walking on the Red Oak Trail when you visit. The path winds through the forest, and you'll be surrounded by super tall trees in a very peaceful environment.
There's a scenic lookout point on the Red Oak Trail where water flows down a little creek and into the Hilton Falls Reservoir. You'll be able to enjoy an amazing view from up above the reservoir. There's a sign on the Red Oak Trail marking the scenic lookout, so you can't miss it.
There are also wonderful views overlooking the reservoir itself. The hiking trail opens up and you'll end up walking past the body of water. There aren't any trees to obstruct your view here, so you can enjoy the deep blue waters in all their glory. While Hilton Falls might be the main attraction, I think that the Hilton Falls Reservoir is even more beautiful than the waterfall!
Beaver Dam Trail
Unfortunately, we didn't get the opportunity to hike on the Beaver Dam Trail due to the two hour time limit at the park during the pandemic. We'd love to return to Hilton Falls Conservation Area just to hike on the Beaver Dam Trail. It's 8km roundtrip, and it's an out and back trail marked with purple arrows.
Mountain Biking at Hilton Falls
Biking enthusiasts will love Hilton Falls! There are three biking trails: the Bent Rim Trail (5km), Single Track Bike Trails (7km), and the Wandering Lynx Backcountry Trail System (6.5km). These trails are strictly for mountain biking only. You are also to ride your bike on all of the hiking trails, too.
Want to see more photos?
Browse our entire travel photography album in one place. You can browse and buy any of our pictures, including prints, gifts and more.
Plan Your Visit
It's usually not a problem to show up at Hilton Falls Conservation Area when you like. However, during the pandemic, all Conservation Halton parks require a reservation in advance to keep the numbers at safe levels. It's really easy to make a reservation online. Choose the park that you'd like to visit and the time slot. You'll pay online and provide the license plate number of your car. Then, you'll receive an email confirming your visit.
There are usually restrooms available at the visitor center, but it may not be open. Don't fret, there are vault toilets on the trail. You will have two hours to explore the park. Admission rates are as follows: $6.50 for adults, $5.00 for seniors and children, and kids aged four and under are free.
What to Bring on a Hike
A proper pair of hiking shoes is an absolute must. It's also a good idea to bring sunscreen and lots of water, too. My water bottle of choice is the GRAYL Purifier because you can drink ANY water from any source, no matter what. Water from lakes, streams, rivers, public restrooms, you name it. It's the world's fastest portable purifier. Get your hands on one ASAP!
Don't forget to pack some bug spray because there can be biting bugs depending on the time of year. Even if there aren't any signs, it's safe to assume that ticks are all over Ontario hiking trails. Protect yourself against ticks by reading our guide to avoiding ticks on the trails.
Explore More Halton Parks
There are several parks under the umbrella of Conservation Halton. Spend one day each weekend exploring a new one. Or you can keep going back to your favorite trails again and again. There are numerous Halton hiking trails within these Conservation Halton parks:
Rattlesnake Point
Hilton Falls
Mountsberg
Kelso
Glen Eden
Join the Ontario Hiking Facebook Group
You are also welcome to join our Ontario Hiking Facebook Group – it's a great way to ask questions about hiking in Ontario, share your Ontario hikes, and get inspired!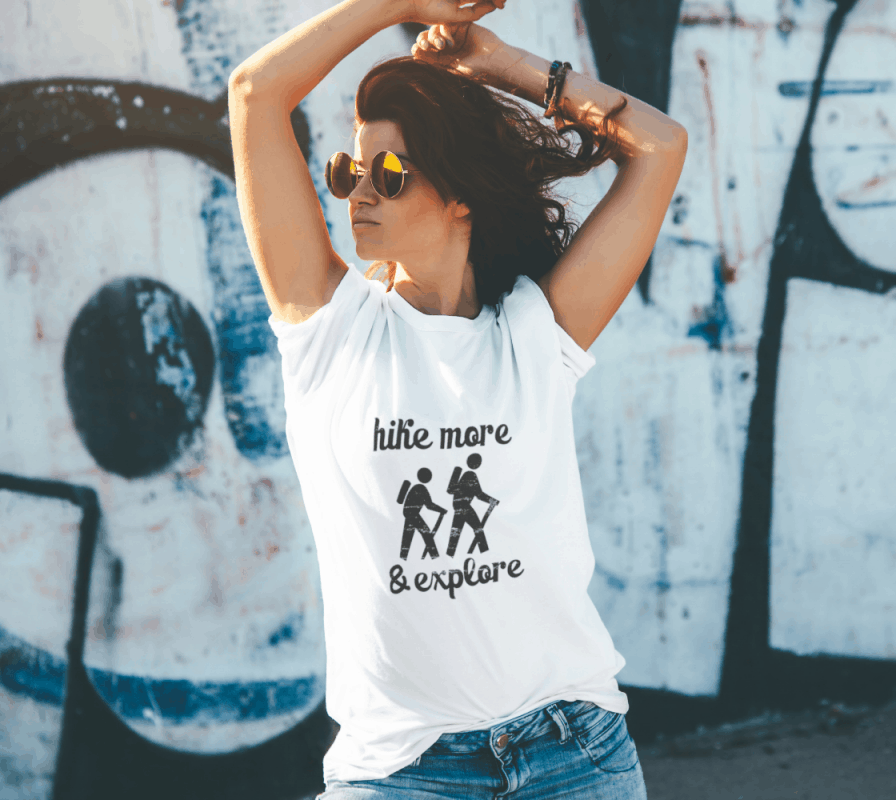 Inspired by adventures and nature. Ontario hiking and Bruce Trail apparel & accessories, designed by me.