There are so many amazing Sudbury hiking trails to explore. While you might know Sudbury as the "Nickel City", it's also frequently called the "City of Lakes". With all of those lakes, there are many hiking trails and walking paths in Sudbury, too.
Posts may be sponsored. Post contains affiliate links. I may be compensated if you make a purchase using my link.
It could easily take weeks to explore all of the hiking trails in Sudbury, so I've listed the top 10 hikes to get you started. Plus, I've added more hiking trails near Sudbury at the end of this article because there are even more fantastic natural spaces within an hour's drive of the city. So, make sure your laces are tied tight and grab those hiking poles – we're going hiking in Sudbury!
Join the Ontario Hiking Facebook Group
You are also welcome to join our Ontario Hiking Facebook Group – it's a great way to ask questions about hiking in Ontario, share your Ontario hikes, and get inspired!

Best Hikes in Sudbury: Lake Laurentian Conservation Area
Lake Laurentian Conservation Area is one of the best places to go hiking in Sudbury. There are numerous trails and it will take days to explore all of them. This peaceful, natural environment is only a 10 minute drive from downtown Sudbury, so you don't need to travel far to experience the wilderness.
This Ontario conservation area has 2400 acres of protected green space and over 23km of hiking trails. There's a variety of scenic views and habitats to discover, like a lake, a pond, wetlands, hiking and nature trails, and birding opportunities.
When I visited, I started at the main parking lot (P1) and hiked the Beaver Pond Loop and the Mount Ramsey Trail on the northeast side of the park. I spent a few hours hiking around these trails and admiring the scenery from multiple lookout points. I also encountered surprisingly few people on the trails, even on a weekend, so it's easy to feel like you have the whole place to yourself.
Onaping Falls and the A.Y. Jackson Lookout
The A.Y. Jackson Lookout offers spectacular views of stunning Onaping Falls. This waterfall is like several waterfalls in one, as there are several cascades to see as you walk. Starting at the A.Y. Jackson Welcome Centre, admire the falls from the first lookout point.
Then, continue hiking to a second lookout point. Next, you'll climb down a series of rocks to walk along the edge of the water. There's only one trail and it's very well marked. As you hike, you'll be able to see Onaping Falls from many different vantage points.
Eventually, there's a bridge directly above the falls where you can admire 360 degree panoramic views of the waterfall. The trail continues beyond the bridge in a loop, and then you'll continue back to the parking lot. The entire trail is around 2km, but it will take a little longer than usual because you will need to navigate across some rocky surfaces and short inclines.
Sudbury Hiking Trails: Kivi Park
Kivi Park is an all-season destination in Sudbury that's a favourite among locals and visitors alike. You can go hiking, biking, skiing, and snowshoeing, depending on the season. During the spring, summer, and fall, there are several hiking trails at Kivi Park of varying lengths.
For a longer, scenic trail, follow the red trail (5km). At the southern end of the red trail, you'll be able to witness amazing lookout points. There's also a parking lot not too far from the lookouts, if you're not up to hiking the entire trail.
The yellow trail is an easier jaunt at Kivi park, sitting at around 1km. It's also a storybook trail where pages from a storybook are posted sequentially along the trail for children to enjoy. In total, there are five hiking trails at Kivi Park, so you can visit again and again for new experiences. Here's a map of the trails at Kivi Park:
Please note that there is a day pass to use the trails at Kivi Park. You can buy it online ahead of time if you'd like. It costs $9 for an adult or $25 for the whole family. The day pass allows you to hike, bike, or ski at Kivi Park. You can also rent canoes, kayaks, and standup paddleboards at Crowley Lake with Ramakko's Source for Adventure for an additional fee.
Walking Trails in Sudbury: Bell Park Walkway
The Bell Park Walkway is a paved and boardwalk path that's barrier free and accessible. It follows the edge of Ramsey Lake, and you'll be able to see landmarks like gazebos and beaches. You can start at Science North or Elizabeth Street on the north side of the trail. It's easy to combine a day at the beach with a walk. Plus, it is a Blue Flag Beach, meaning that the water is clean and the beach meets high environmental standards.
The Bell Park Walkway is also part of the Trans Canada Trail and the Waterfront Trail, both among the longest hiking trails in Ontario. This trail is a 2km linear path, so it's 4km if you need to walk back to your car. It's also easy to add on the shorter Lily Creek Boardwalk Trail if you continue beyond Science North.
Jane Goodall Reclamation Trail
The Jane Goodall Reclamation Trail is a 1km nature walk from the Coniston Welcome Centre. Logging and smelting of nickel ore caused soil erosion and depletion of vegetation. Thankfully, through the City of Greater Sudbury's Regreening Program, this area is now a beautiful nature trail for all to enjoy.
This is a space where Sudbury started restoration projects in 1979 through liming and tree planting. Over 9.7 million trees have been planted here. In 2002, the walking path was named after Jane Goodall, the world renowned environmentalist, and she was the guest of honour at the event to officially open the trail. There are numerous plaques along the way to learn about the environmental restoration efforts in Sudbury.
Lily Creek Boardwalk
Looking for a shorter Sudbury hiking trail? The Lily Creek Boardwalk is a little under 1km, and it's a lovely little walk on Ramsey Lake around the Science North property. The path starts at the James Jerome Sports Complex. Then, continue your walk as you pass Science North, Lake Ramsey, and pretty little gardens.
Once you've walked the Lily Creek Boardwalk, you can continue to walk north on the Bell Park Walkway as these two paths are connected to one another. If you're going to add the Bell Park Walkway to your trip, it's approximately 2km to the other end of the trail (4km round trip).
Kelly Lake Trail
The Kelly Lake Trail offers spectacular views of Kelly Lake and great birdwatching opportunities. The first kilometre of the trail is barrier free as it's a wooden boardwalk. You can continue on Kelly Lake for much farther if you'd like. You can walk for a 4-6km loop, or keep walking for 8 or 9km if you'd like.
Start your adventure at Fielding Memorial Park where there's ample free parking. Then, hike on the south side of Kelly Lake. It's one of the most amazing Sudbury hiking trails where it's easy to get immersed with nature.
Rotary Park Trail (New Sudbury Conservation Area)
The Rotary Park Trail in Sudbury is a 3km walking path through Rotary Park, also known as the New Sudbury Conservation Area. You'll find free parking at the Adanac Ski Hill off Beatrice Street. This is an easy walk on a gravel path, and there's also a boardwalk trail here, too.
This is one of the best Sudbury hiking trails because there's a gorgeous lookout from the main hiking trail. It's labeled as the "New Sudbury Lookout" on Google Maps. There are also some surrounding marsh lands where you could spot some wildlife.
Robinson Lake Trail
The Robinson Lake Trail is a short, 1.3km out and back trail that offers pretty scenery of Robinson Lake and the wetlands. It's an easy jaunt on paved paths, wooden boardwalks, and grassy terrain. There are multiple entrances from Cranbrook Cr, Arnold St and Nova Dr, and the path connects all three streets.
This is a short, scenic trail, although you won't feel as though you're completely in nature as you will see the homes from nearby neighbourhoods. Nevertheless, it's a lovely spot in Sudbury that's great to explore. Here is a trail map of the Robinson Lake Trail from the Rainbow Routes website.
Hiking in Sudbury: Blueberry Hill Trail
The Blueberry Hill Trail is not only a great hiking trail in Sudbury, but it's also a popular place for locals to pick blueberries. Just off Bancroft Drive, you can park for free at the Carmichael Arena and begin your uphill walk.
You'll eventually make your way to the top, enjoying two scenic lookout points along the way. The first lookout point also has a gazebo. Soak up beautiful scenery of Minnow Lake and Ramsey Lake. This is a loop trail that's approximately 1km long, and here is a trail map for the Blueberry Hill Trail.
Want to see more photos from Sudbury?
Browse our entire travel photography album in one place. You can browse and buy any of our pictures, including prints, gifts and more.
Hiking Trails Near Sudbury
After visiting the best Sudbury hiking trails, it's time to venture a little farther outside of the city for even more beautiful places. Not only are there great hiking trails in Sudbury, but the surrounding areas are equally as enchanting.
Halfway Lake Provincial Park
Halfway Lake Provincial Park is perfect for day hikes, multiday hiking trips, and canoeing. There are also two beaches with great swimming opportunities for families. There are four hiking trails at Halfway Lake Provincial Park and two canoeing routes.
The Moose Ridge Trail is an easier 2km trek that follows Raven Lake, offering outstanding vistas. The Echo Pond Trail is a 6km hike that includes the Moose Ridge Trail and extends beyond it. You might even be able to spot some moose from the path!
The lengthiest and most difficult trail in the park is the 15km Hawk Ridge Trail, and there's a spectacular lookout over Three Island Lake along the journey. Finally, the Osprey Heights Trail is a 6km trail at the north side of the park. The Osprey Heights Lookout offers majestic views over Antrim Lake.
Killarney Provincial Park
Killarney Provincial Park is one of the best places to go hiking in Ontario, most famous for its stunning scenery. Soak up views of the La Cloche Mountains, coastlines dripping in pink granite, and over 50 crystal clear sapphire lakes.
For hikers looking for a lengthy journey, there's the 80km La Cloche Silhouette Trail that could take up to a week to hike. If you're going to Killarney Provincial Park, you absolutely need to hike the Crack trail. It's a little bit of a scramble up those rocks, but the panoramic viewpoint at the top is well worth it.
The Chikanishing Trail is another popular path at Killarney Provincial Park. It's a little less difficult than hiking the Crack, and the scenery along the coastline is gorgeous. There are even more trails within the boundaries of Killarney Provincial Park if you have more time, but I'd at least start with the Crack trail and the Chikanishing Trail.
For an easier coastal path that's within the town of Killarney and just outside the boundaries of Killarney Provincial Park, try the Killarney Lighthouse Trail. You'll walk along the waterfront across pink rocks until you reach a pretty lighthouse. The starting point of the Killarney Lighthouse Trail is right on the edge of the Killarney Mountain Lodge.
Where to Stay in Sudbury
When I visited Sudbury, I stayed at the new Hilton Garden Inn Sudbury. The hotel is centrally located near many shops and restaurants, plus it's only a short drive to many of the Sudbury hiking trails on this list. If you're looking for a modern, clean, and comfortable hotel, this is the place you need to stay.
I received an accessible room, so it was extra spacious! There's a super cozy bed with extra plush pillows, a large bathroom, and other additions like a mini fridge, microwave, and Keurig coffee maker. There's also a seating area, a roomy closet for your clothing, complimentary Wi-Fi, and loads of cable channels on the flatscreen TV.
The Hilton Garden Inn Sudbury has free parking, friendly and helpful staff members, an indoor swimming pool, and lots of other great amenities. I'd love to stay at this hotel again on a return visit to Sudbury, and I highly recommend that you check it out.
More Hotels in Sudbury
Looking for more great accommodations in Sudbury? Here are all of the hotels and vacation rentals in Sudbury, placed on a convenient map. Browse the map below. Click on any hotels that you'd like to see in more detail to find the best place to stay.
What to Bring on a Hike
A proper pair of hiking shoes is an absolute must. It's also a good idea to bring sunscreen and lots of water, too. My water bottle of choice is the GRAYL Purifier because you can drink ANY water from any source, no matter what. Water from lakes, streams, rivers, public restrooms, you name it. It's the world's fastest portable purifier. Get your hands on one ASAP!
Don't forget to pack some bug spray because there can be biting bugs depending on the time of year. Even if there aren't any signs, it's safe to assume that ticks are all over Ontario hiking trails. Protect yourself against ticks by reading our guide to avoiding ticks on the trails.
Become an Ontario Hiking Supporter!
Join the Ontario Hiking Patreon and you'll become a VIP member of the Ontario Hiking community! You'll receive ad-free, downloadable hiking guides with new guides added weekly. Plus, there are many more perks! Become an Ontario Hiking Supporter today!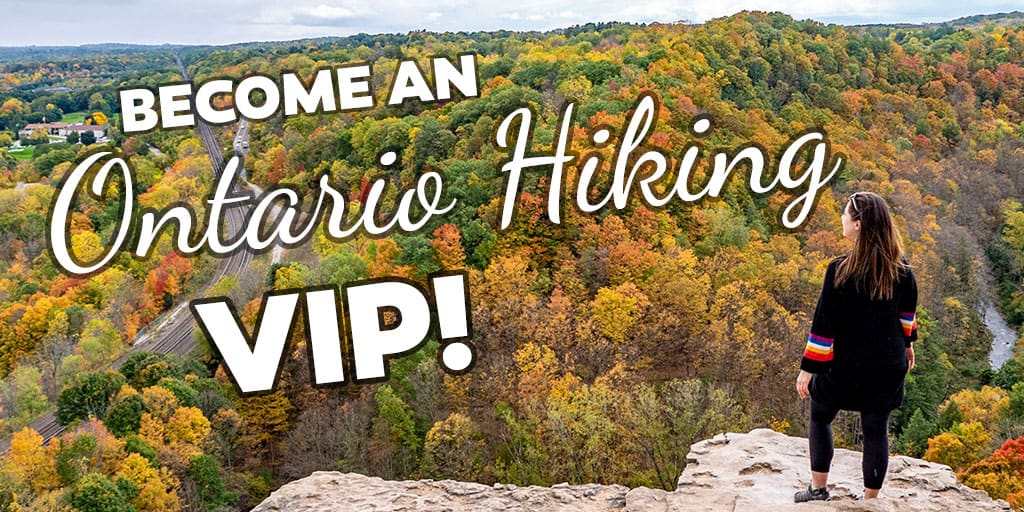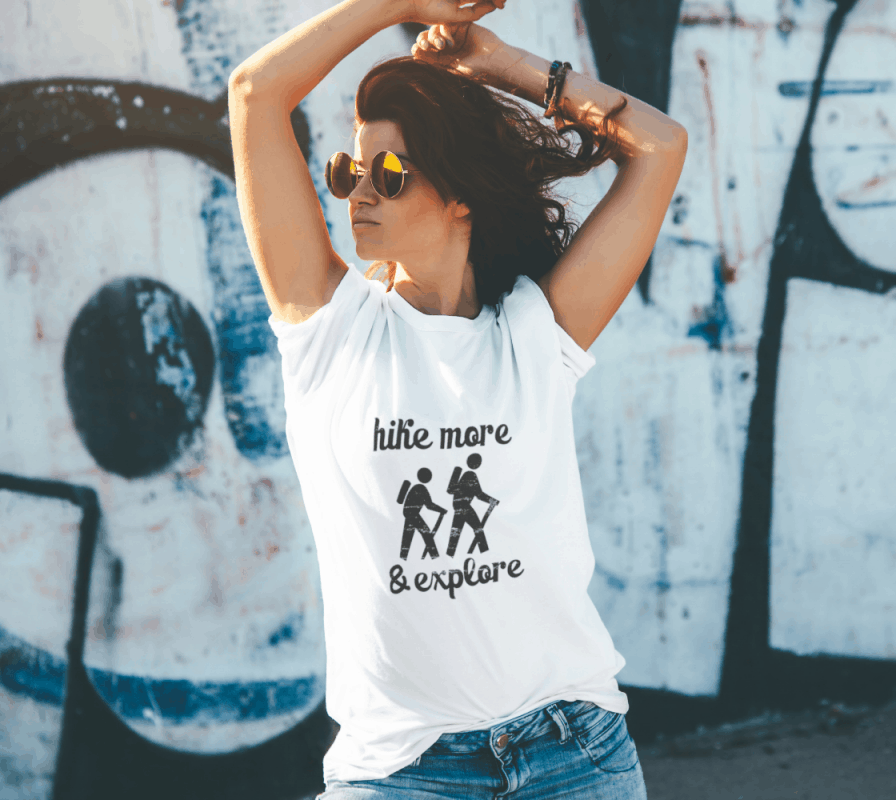 Inspired by adventures and nature. Ontario hiking and Bruce Trail apparel & accessories, designed by me.