Scotsdale Farm is one of the prettiest places to immerse yourself in nature near Georgetown, Ontario. It's a heritage farm that's home to some of the best Halton hiking trails. These Halton trails are also managed by the Bruce Trail Conservancy. The trails at Scotsdale Farm consist of the main Bruce Trail and several side trails.
Posts may be sponsored. Post contains affiliate links. I may be compensated if you make a purchase using my link.
If you decide to go hiking in Halton Hills, you're truly spoiled for choice. From Scotsdale Farm, you can keep hiking right into Silver Creek Conservation Area. From there, it connects to Terra Cotta Conservation Area, and Forks of the Credit Provincial Park and Cheltenham Badlands aren't too far away. You're also not too far from Limehouse Conservation Area either.
Become an Ontario Hiking Supporter!
Join the Ontario Hiking Patreon and you'll become a VIP member of the Ontario Hiking community! You'll receive ad-free, downloadable hiking guides with new guides added weekly. Plus, there are many more perks! Become an Ontario Hiking Supporter today!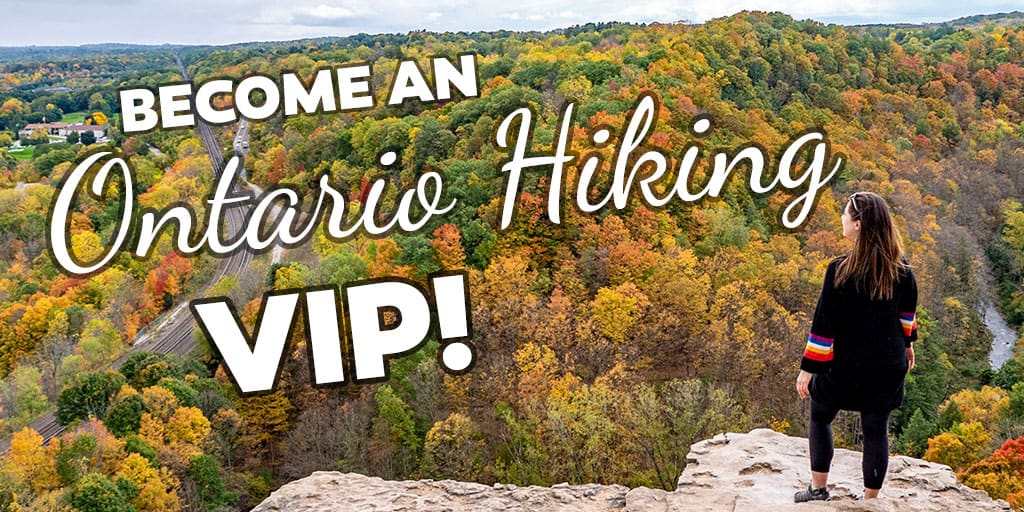 Scotsdale Farm History: Heritage Farms Ontario
Scotsdale Farm is an Ontario Heritage Trust site, bequeathed to the people of Ontario by Violet and Stewart Bennett. It's 531 acres of countryside, woodlands, and heritage farm property in Ontario. This region is part of the Niagara Escarpment, a UNESCO World Biosphere Reserve. There are a number of buildings on the property, including the Bennetts' home, a guest house, and barns for cattle and horses.
Did you know that Scotsdale Farm is home to some of Ontario's oldest trees? In some of the surrounding woodlands, you'll hike past trees that are part of an old growth forest. There are Sugar Maple, Eastern White Cedar and Eastern Hemlock. Many trees are 150-200 years old and some are even over 250 years old!
Scotsdale Heritage Farm is a popular film location for many popular TV shows and movies. These include: Handmaid's Tale, Fahrenheit 451, Taken, The Recruit, and Mrs. America.
Scotsdale Farm Trail Map
There are multiple hiking trails at Scotsdale Farm, and you'll either be hiking on the Bruce Trail or one of the Bruce Trail side trails. As a quick reminder, the main Bruce Trail will have white blazes lining the trail and the Bruce Trail side trails have blue blazes.
The "P" spots on the map are free parking lots. The main parking lot is at Scotsdale Farm, just off Trafalgar Road (13807 Trafalgar Road North, Halton Hills). Here is a legend for the map above that I created to help you navigate the hiking trails.
Blue Trail: The Bruce Trail
Red Trail: Bennett Heritage Trail
Yellow Trail: Maureen Smith Side Trail
Pink Trail: Great Esker Side Trail
Orange Trail: Duff Pit Side Trail
Please note that the colours are ones that I chose for this map and don't correspond with any colours on the trail. The Bruce Trail is mark with white blazes and the side trails are all marked with blue blazes.
Hiking Trails at Scotsdale Farm
There are several trails at Scotsdale Farm where you'll find some of the best hiking in Halton Hills. As we were hiking in the winter, it takes a little bit longer and more energy to navigate the snowy and icy trails. We found that microspikes/crampons were completely necessary in the icier sections of the forest.
For our hiking route, we started at the main entrance to Scotsdale Farm and hiked as far as we could go on the Bennett Heritage Trail. Then, we looped around on the Bruce Trail until we hit Eighth Line. We crossed the road and took a short detour on 27th Side Road to hook back up with the Bruce Trail and the Maureen Smith Side Trail. Eventually, we walked back to the car back on the Bennett Heritage Trail.
That hiking route took us between 2.5 and 3 hours in the snow, and was about a 6.5km hike. Justin and I were pretty tired by the end of it, and it was beginning to get dark outside. We're glad we headed back when we did. Always estimate that things will take more time in the winter, and definitely allow yourself enough time to get back before day turns to night.
Bennett Heritage Trail
The Bennett Heritage Trail is a 3.9km path that stretches along the northwest edge of the property, connecting at two parts of the Bruce Trail. It helps to form a loop trail with the linear Bruce Trail.
You'll start at the heritage farm, past the main house, guesthouse, and barns. There's a little wishing well by a pond. The pond was completely frozen over and covered with a dusting of snow. I'd love to see how it looks during the summer months.
The Bennett Heritage Trail is a relatively wide path that continues in a mostly straight direction for some time. You'll be surrounded by trees and pastoral countryside for the most part. The Bennett Heritage Trail crosses Snow's Creek at one point. Then, you'll cross Eighth Line and after a little while, you'll enter back into the forest.
In 1984, there was an archaeological dig around this area of Scotsdale Farm. Researchers discovered that this was once part of an Iroquoian village over 500 years ago. Initially, they found lots of artifacts, like stone tool fragments. Further studies were conducted throughout the 90s and 2000s, and there was evidence that there was once an Indigenous longhouse at this site.
Just about at the end of the Bennett Heritage Trail, the path continues at the other side of 27th Side Road. If you look beneath the road, you'll spot Owl Creek and a very pretty little cascade.
The Bruce Trail
This section of the Bruce Trail is really interesting in the winter, and I'm sure it's lovely in all seasons. You'll slowly descend down into the valley and hike back up, but there aren't any big hills. There are some stream crossings with bridges and boardwalks in the forest.
We hiked for about 1.2km on this part of the Bruce Trail. Then, we walked on a little stretch of Eighth Line and 27 Sideroad to head back to the car as the sun was beginning to set. We reconnected with the Bruce Trail closer to Scotsdale Farm.
Maureen Smith Side Trail
From there, we took the shortcut back to the Bennett Heritage Trail by way of the Maureen Smith Side Trail. This is a 720 metre trail dedicated to a long time member of the Toronto Bruce Trail Club. This trail emerges from the forest and past an open field.
The two side trails that we didn't have the chance to hike are the Great Esker Side Trail and the Duff Pitt Side Trail. I'll outline these briefly and hopefully I can return soon to provide some more details and photos.
Great Esker Side Trail
The Great Esker Side Trail is a 3.6km loop that connects with the Bruce Trail. You can connect to this side trail from a small parking lot on Eighth Line via the tiny Eighth Line Side Trail (370 metres).
This side trail meanders up and down some hills and eventually descends to a gravel track. There is a stream crossing and it eventually connects back with the Bruce Trail. In combination with the Eighth Line Side Trail, this hiking trail at Scotsdale Farm is a 4.7km loop.
Duff Pit Side Trail
The Duff Pitt Side Trail is a 2.4km loop trail. It starts and ends at the main Bruce Trail at Hwy 7. In combination with the walk from the Bruce Trail, the total hiking trip is 4km. You'll walk along the remains of a gravel quarry and hike through mature woodlands. There's also a small waterfall, a reservoir dam, a pond, and a spring bubbling out from the trail. It sounds lovely and I want to see it for myself!
Want to see more photos of Scotsdale Farm?
Browse our entire travel photography album in one place. You can browse and buy any of our pictures, including prints, gifts and more.
Plan Your Visit to Scotsdale Farm
There are multiple parking lots around Scotsdale Farm and it's free to park your car at them. The main entrance is located on Trafalgar Road. Please reference the map above for the parking locations. I don't believe that there are any restrooms or facilities on site, so plan accordingly.
The hours of operation of Scotsdale Farm are 6:00am to 8:00pm. There is a note on the website that dogs are to be kept on leashes throughout the hiking trails.
What to Bring on a Winter Hiking Trip
Your packing list for a winter hiking trip will look much different than one in the summer! Here are some important things to consider bringing with you on a winter day hike.
More Hikes in Halton Region
Looking for more Halton hiking trails? You'll want to check these ones out for sure:
If you're seeking winter hiking ideas around the province, you should take a look at these 20+ best winter hiking trails in Ontario.
Join the Ontario Hiking Facebook Group
You are also welcome to join our Ontario Hiking Facebook Group – it's a great way to ask questions about hiking in Ontario, share your Ontario hikes, and get inspired!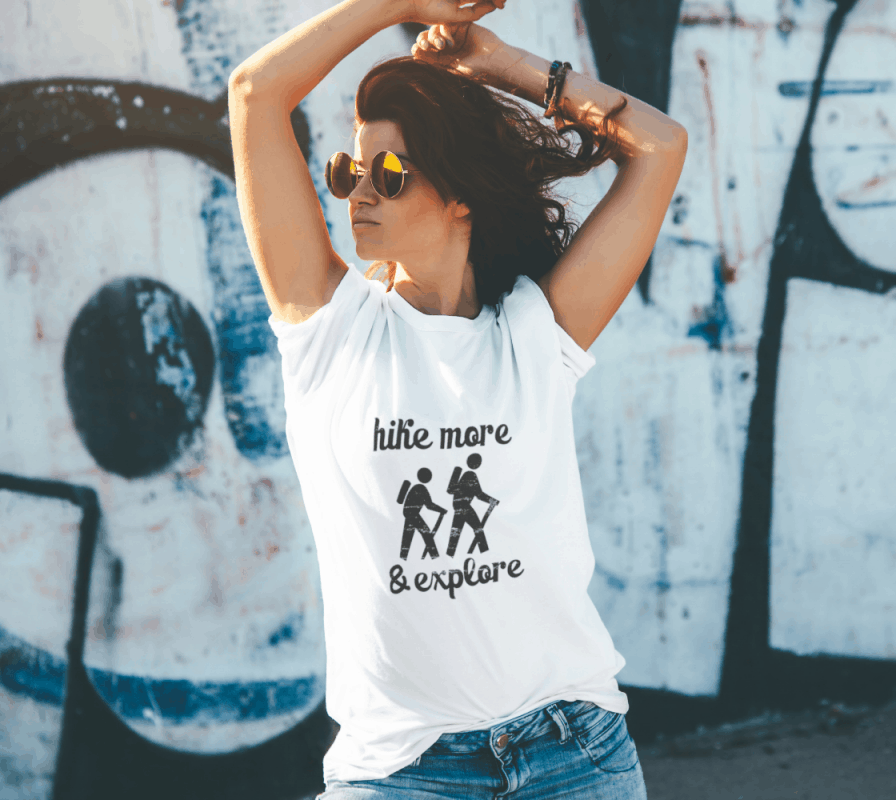 Inspired by adventures and nature. Ontario hiking and Bruce Trail apparel & accessories, designed by me.