Presqu'ile Provincial Park is a beautiful park with some of the best hiking trails in the Bay of Quinte. The park is only five minutes from the town of Brighton, and it's a great place to go hiking from Cobourg, Belleville, Prince Edward County, or even Peterborough and Kingston. After reading this hiking blog post, you'll want to add it to your list of great hikes in the Kawarthas Northumberland region.
Posts may be sponsored. Post contains affiliate links. I may be compensated if you make a purchase using my link.
Hiking is one of the main attractions at Presquile Provincial Park. There are 16 kilometres of trails in total, so it's easy to spend an entire day exploring each trail and path. Presqu'ile Provincial Park is right on the north shore of Lake Ontario, making it the perfect spot to combine a hiking trip with a beach day. Camping is also really popular at Presqu'ile, too!
Become an Ontario Hiking Supporter!
Join the Ontario Hiking Patreon and you'll become a VIP member of the Ontario Hiking community! You'll receive ad-free, downloadable hiking guides with new guides added weekly. Plus, there are many more perks! Become an Ontario Hiking Supporter today!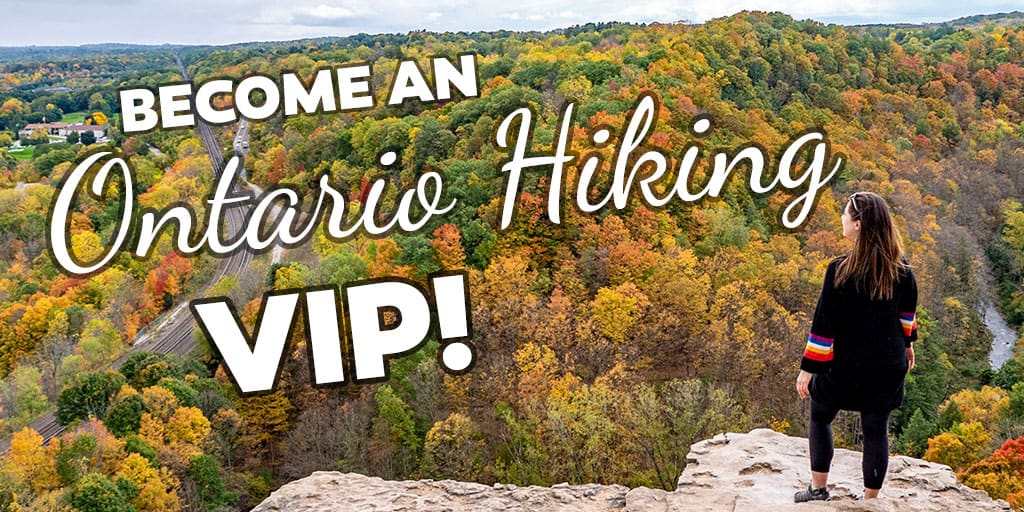 Presqu'ile Provincial Park Map
Here is an overall map of Presqu'ile Provincial Park. As you can see, there are lots of great activities at the park like hiking trails, camping, picnicking, swimming, beaches, kiteboarding and boardsailing, and more. It's possible to wade through the waters from Owen Point to Gull Island anytime after September 10th while the weather is still warm for an added adventure.
If you're planning to go hiking at Presqu'ile Provincial Park, you'll be spending the majority of your time at the eastern side of the park. You'll find the majority of the beaches on the western side of the park, and the campgrounds are on the southern edge. The hiking trails themselves have their own separate trail maps at the trailheads. I'll post images of those along with the details of each trail below.
Presqu'ile Provincial Park Hiking Trails
Presqu'ile Provincial Park is a truly ideal place to go hiking for beginners and all hiking enthusiasts in Ontario. There are 16km of paths to explore. While one trail is the paved path that encircles the park, 12km of these are footpaths completely removed from the roadway.
The hiking trails that run through the forest are only open to hikers. If you're biking or in-line skating, you should use the paved shoulder of the roadways that wind through the park. The five walking trails at Presqu'ile Provincial Park are:
Newcastle Trail: 4.3km loop / 2 hours
Pioneer Trail: 3.8km loop / 2.5 hours
Jobes Woods Trail: 1km wheelchair accessible loop / 45 minutes
Owen Point Trail: 1.6km loop / 1 hour
Marsh Boardwalk: 1.2km wheelchair accessible loop / 45 minutes
Newcastle Trail
The Newcastle Trail is one of the main hiking trails at Presqu'ile Provincial Park. You can leave your car at one of the main parking lots for hiking, which is opposite the Group Camp entrance on Lighthouse Lane. Park at this lot to access the Newcastle Trail and the Pioneer Trail, as well as the Jobes Woods Trail if you feel like walking to it instead of driving.
This trail is a 4.3km loop, the longest trail in the park. It should take around 2 hours to complete, although it might take longer if you decide to take a detour to see the lighthouse. Follow the orange arrows as you'll wander through the forest, plantations, and old fields. You might catch glimpses of white-tailed deer (I did!), songbirds, woodpeckers, frogs, and salamanders.
There are many wooden boardwalks that meander through the forest, which help keep your feet dry and less muddy on the journey. I found that the boardwalks got a little slippery when wet and covered with leaves, so take care on them.
The Lighthouse at Presqu'ile Point
As a short detour from the Newcastle Trail, I suggest visiting the lighthouse. After hiking through the forest for some time, you'll eventually reach one of the main roads in the park. Head south on that road to the small parking lot before the lighthouse.
The Presqu'ile Point Lighthouse is the second oldest continuously operating lighthouse on the north shore of Lake Ontario. Constructed from limestone in 1840, its double-curved roof is unique to the lighthouses of Ontario.
Pioneer Trail
The Pioneer Trail is a 3.8km loop trail that's opposite the Newcastle Trail. When you walk from the parking lot, you'll have the option to venture one way for the Newcastle Trail (orange blazes) or the other way for the Pioneer Trail (yellow blazes). I decided to hike the Newcastle Trail instead of the Pioneer Trail, but you could definitely hike both if you're spending all day at the park.
Follow the yellow blazes and arrows through the forest and fields that you'll encounter on the trail. Some of the fields are reforested with White Pine, Red Pine, and Norway Spruce trees. Others are left as meadows full of wildflowers, which makes for great habitats for butterflies.
Jobes Woods Trail
I also went for a walk on the Jobes Woods Trail on my visit to Presqu'ile. After completing the Newcastle Trail loop, I hiked a portion of the Pioneer Trail (yellow blazes). From there, you can reach the Jobes Woods Trail. There's also a small parking lot right across the way if you'd rather drive over. The Jobes Woods Trail is one of the most picturesque trails in the park.
It's likely that you'll hear the melodic chirps of songbirds in the spring and early summer. Be on the lookout for dragonflies, waterfowl, turtles, frogs, and muskrats.
It's a 1km wheelchair accessible loop trail that's mostly covered in boardwalks with a few sections of forest floor. This is an old growth forest with tall Sugar Maple trees throughout. You'll also venture across a Black Ash swamp, an old field, and a conifer tree plantation. The park pamphlet says that it will take 45 minutes to walk this trail, but I finished it in 20-25 minutes.
Owen Point Trail
The Owen Point Trail is a 1.6km loop trail that should take about an hour to complete. You'll find parking for this trail west of Presqu'ile Parkway, between Beach 3 and the Park Store. You'll find that this path winds through tall grass and young trees. It keeps close to the beach and waterfront, and there are shorter side trails that lead to lookout stations.
From Owen Point, you can view Gull Island and High Bluff Island. Access to these islands isn't permitted between March 10th and September 10th as it's nesting season for gulls, terns, herons, and cormorants. After September 10th, you can wade through the waters to make your way over to Gull Island for an extra adventure.
I haven't done this before because it was far too cold when I visited in the fall. If you're at Presqu'ile Provincial Park during a warmer part of September, you might want to add it to your itinerary. Let me know how it goes!
Marsh Boardwalk
The Marsh Boardwalk is a 1.2km wooden boardwalk loop trail that's completely wheelchair accessible. The park pamphlet estimates that it can take up to 45 minutes to walk, but I feel like it would take less time. There are two observation towers and 16 interpretive panels on the way. It's the best way to see the marshland at Presqu'ile, which is the largest protected wetland on the north shore of Lake Ontario.
Some wildlife that you might experience on the Marsh Boardwalk trail includes various songbirds, turtles, frogs, dragonflies, muskrats, and waterfowl. Unfortunately, I wasn't able to visit the Marsh Boardwalk because it was closed when I went to Presqu'ile Provincial Park. The boardwalk is prone to flooding and does close down from time to time.
Want to see more photos from the Bay of Quinte?
Browse our entire travel photography album in one place. You can browse and buy any of our pictures, including prints, gifts and more.
Plan Your Visit to Presquile Provincial Park
If you're planning to visit Presqu'ile Provincial Park for the day, you can access the trails, the beach, the lighthouse, the picnic areas, and the visitor centres. There are always restrooms and comfort stations available for day use throughout the park. It costs $15.50 per car for a day permit (includes admission for everyone in your car) or you can enter for free with your Ontario Parks annual pass.
Visitor Centres at the Park
There are two visitor centres at Presqu'ile Provincial Park: the Lighthouse Interpretive Centre and the Nature Centre. You can learn all about the cultural history of the park and the region at the Lighthouse Interpretive Centre. There is a model of the lighthouse, video presentations, schooner displays, and a small gift shop. The Lighthouse Interpretive Centre is open from 10:00am to 4:00pm daily in the summer and on weekends in the spring and fall.
The Nature Centre is all about the natural history of the park, and it's open daily from 10:00am to 4:00pm in the summer. You'll be able to see live frogs, snakes, fish and turtles that are native to the park.
Things to Do at Presqu'ile Provincial Park: Birding
Aside from hiking, there are lots of things to do at Presquile Provincial Park, including birding. The park is a major stopover point for birds and monarch butterflies. It's one of the best places to go birdwatching in Ontario.
Ideal for birding enthusiasts, there are 130 known species of birds that nest at Presqu'ile Provincial Park. There have been at least 338 species of birds spotted in the park at one time or another. In March, you're likely to see waterfowl. May is the best season for songbirds and shorebirds. September is another great time of year to watch shorebirds.
Picnics at Presqu'ile
Presqu'ile Provincial Park is the perfect place to have a picnic, especially if you're looking to refuel between hikes or after a lengthier hike. There are two main picnic areas along the shores of Lake Ontario. There's also one large picnic shelter that you can reserve in advance online or by phone.
You might find some more random picnic tables scattered throughout the park. For instance, I found a picnic table about halfway through my Jobes Woods Trail trek. It's a great place to stop for a break or enjoy some lunch in the forest. Remember to bring out any trash that you bring in. Leave no trace.
Best Beaches in Brighton Ontario
Presqu'ile Provincial Park is home to some of the best beaches in Brighton, Ontario. There's a long, safe, sandy beach with calm waters, perfect for the whole family. Beach area 2 has a large designated swimming area. The adjacent beach area 1 is the perfect place to go kiteboarding and boardsailing. There isn't a lifeguard on duty at the beach, and dogs are not permitted on the beach at any time.
Unfortunately, I didn't get to visit the beach since I was there at the end of October, which is far too cold for swimming at Presqu'ile Provincial Park. I actually really loved visiting at this time of year. The fall colours are so beautiful and the park is very quiet as there isn't anyone camping there (it's open for day use only).
Presqu'ile Provincial Park Camping
There are eight campgrounds at the park (High Bluff Campground, Pines Campground, Maples Campground, Lakeside Campground, Trails End Campground, Craigs Campground, Hidden Valley Campground, and Elmvale Campground) with nearly 400 campsites.
There's also one roofed accommodation, the Clarke-Denson Cottage, a traditional 1930s lakeside cottage. There are also three soft-sided shelters, the Minka Tent and two Exploration Tents. You can reserve all campsites and accommodations online at the Ontario Parks website.
Presqu'ile Provincial Park in the Winter
Presquile Provincial Park is an amazing park to visit all year long. While the camping season at Presqu'ile ends after the Thanksgiving long weekend, the park is open for day use only throughout the winter season.
The Pioneer Trail, Newcastle Trail, and Jobes Woods Trail turn into snowshoeing and cross-country skiing trails in the winter months (provided that there's enough snow). So, be sure to try your hand at winter hiking, snowshoeing, or skiing at the park in the winter.
Depending on the weather, it might be possible to view ice cliffs or ice volcanoes at Presqu'ile Provincial Park in the winter. There's also an entirely new season for birdwatching: over-wintering ducks (the Long-tailed Duck), Bald Eagles, Snow Buntings, and Snowy Owls.
Things to Do in Brighton, Ontario
I highly recommend planning a trip to Presqu'ile Provincial Park during a weekend getaway to Brighton and the Bay of Quinte. There are so many things to do in Brighton that you'll love. For hikers, you can also check out Proctor Park Conservation Area and several other hikes in the Bay of Quinte region.
Brighton is also a great place to walk around the town, go shopping, pick your own produce (I loved picking apples and pumpkins in the fall!), visit farm stands and shops, and have delicious meals at local restaurants and cafes.
Where to Stay in Brighton
There are lots of great hotels and accommodations in Brighton, Ontario for every interest and budget. Of course, you can go camping at Presqu'ile Provincial Park. But, if you'd rather stay in a motel or hotel, here are my top picks:
More Hikes in Northumberland & Kawarthas
Looking for more hiking in the Kawarthas Northumberland region? Here are some more nearby hiking trails and places I've written about on the blog:
Join the Ontario Hiking Facebook Group
You are also welcome to join our Ontario Hiking Facebook Group – it's a great way to ask questions about hiking in Ontario, share your Ontario hikes, and get inspired!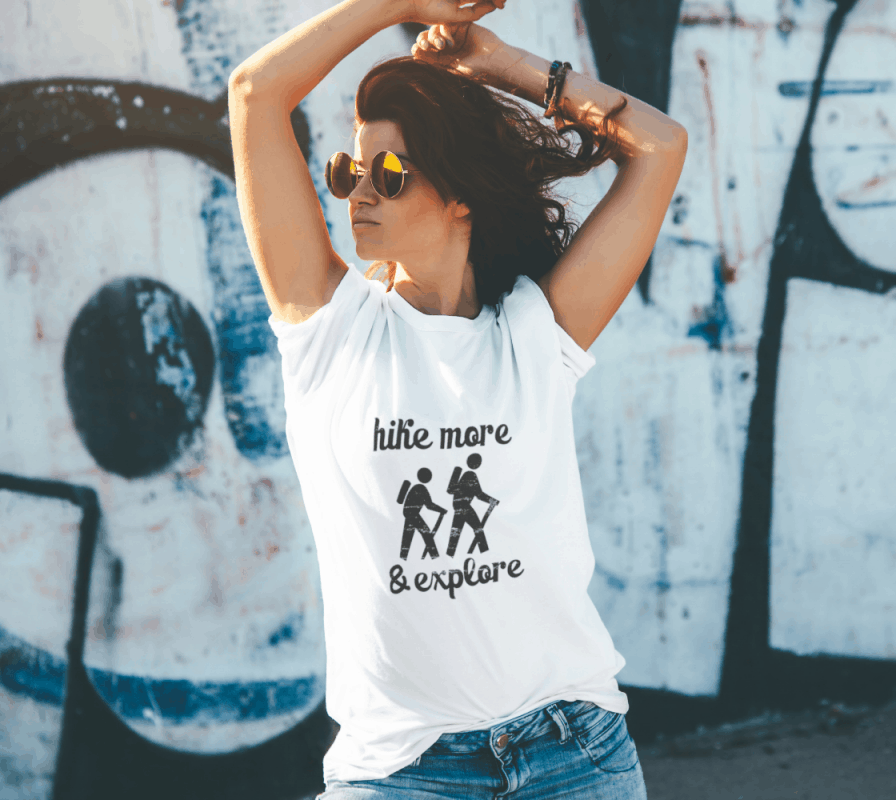 Inspired by adventures and nature. Ontario hiking and Bruce Trail apparel & accessories, designed by me.