When you first arrive at Proctor Park Conservation Area, you might not think that there's much to it. You'll see a parking lot, a few trees, and a wide open space with a couple of picnic tables. For those in the know, this conservation area is a hidden gem for hikers and nature enthusiasts alike.
Posts may be sponsored. Post contains affiliate links. I may be compensated if you make a purchase using my link.
Proctor Park Conservation Area is within the town of Brighton, Ontario, and it's free to park your car and visit when you like. When I visited the Bay of Quinte region, it was one of my favourite places to go hiking and I'm sure you'll love it, too.
Become an Ontario Hiking Supporter!
Join the Ontario Hiking Patreon and you'll become a VIP member of the Ontario Hiking community! You'll receive ad-free, downloadable hiking guides with new guides added weekly. Plus, there are many more perks! Become an Ontario Hiking Supporter today!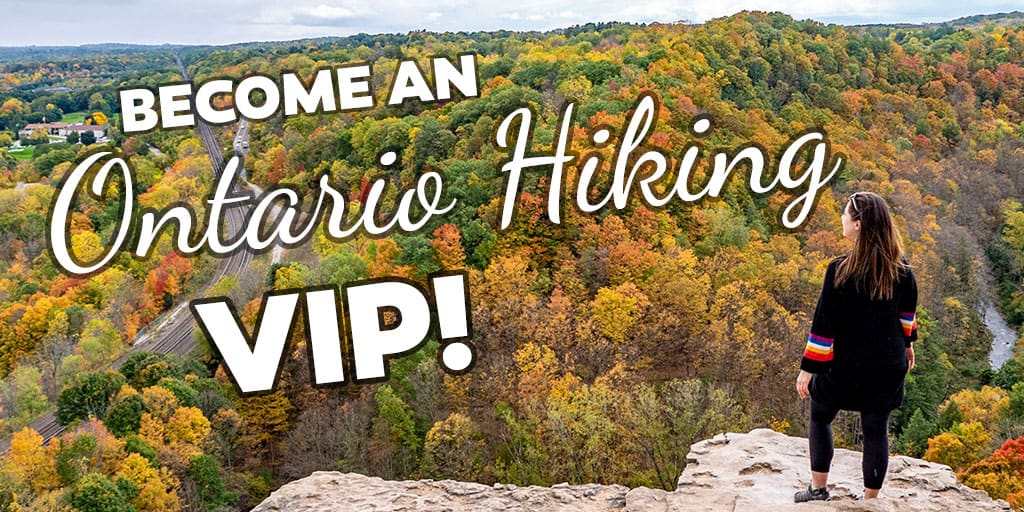 Proctor Park Conservation Area Map
There is a trail map for Proctor Park Conservation Area once you reach the trails themselves, just beyond the parking lot and the picnic tables. There are two trails at Proctor Park Conservation Area: the Cedar Loop Trail and the Hardwood Hill Trail. You start and finish on the Cedar Loop Trail, and you'll spend most of the hike on the Hardwood Hill Trail.
The Cedar Loop Trail provides a shortcut for those looking for a shorter hike, but I suggest walking the entire Hardwood Hill Trail. The entire hike will take you about an hour. Walking the bigger loop of the park is about 3km in length.
Hiking at Proctor Park Conservation Area
When you first start hiking at Proctor Park Conservation Area, you'll descend down a small hill into the forest. There are arrows guiding the way. Almost immediately, there is a little bridge across the ravine with tranquil views of the Butler Creek.
Cedar Loop
Once you cross the creek, you'll enter the Cedar Trail. The Cedar Trail is a smaller loop within the park that also joins with the larger Hardwood Hill Trail. It's aptly named as you're completely surrounded by cedar trees!
You can choose to venture to the right or the left, meaning that you'll make a clockwise loop or a counter-clockwise loop. It's up to you. I headed to the left to hike in a clockwise direction.
Hardwood Hill Trail
While you can make a much smaller loop hike by just walking the Cedar Loop Trail, it will be very short (probably a 15 minute walk at most). I suggest that you continue hiking the main loop trail at Proctor Park Conservation Area, the Hardwood Hill Trail. The Cedar Loop continues straight into the Hardwood Hill Trail.
The Hardwood Hill Trail, along with the Cedar Loop, makes for about a 3km walk. You can hike at Proctor Park Conservation Area in about 45 minutes, even if you stop and take photos now and again like I did. It's a fantastic shorter hike in Brighton that I'm certain it must be a favourite among the locals.
When I hiked at Proctor Park Conservation Area, it was the third week of October and we were still enjoying the fall colours. The leaves had completely changed and many had fallen to the ground. Hiking here in October is so beautiful as the fall colours dazzle and put on a show. I'm sure that hiking here any time of the year would be equally as lovely.
At one point, you'll come across a larger wooden bridge that allows you to hike across the Butler Creek Valley. There is a little bit of elevation up and down some small hills to keep things interesting throughout the trek. Before you know it, you'll be back on the Cedar Loop and eventually back where you started.
Want to see more photos from the Bay of Quinte?
Browse our entire travel photography album in one place. You can browse and buy any of our pictures, including prints, gifts and more.
Plan Your Visit
Planning your visit is easy, and this is a must visit hiking trail in Brighton, Ontario. It's free to visit and park your car. There are free public restrooms near the parking lot. The park is 37 hectares in size and the main loop trail is just about 3km long.
While I didn't have a chance to check it out (it's only open in July and August), the conservation area is also home to the Proctor House Museum. This is a historic home dating back to 1840-1880. It's supported by the Save Our Heritage Organization and The Lower Trent Region Conservation Authority.
If you're visiting during July and August, you might have the opportunity to check out the Proctor House Museum. The museum is right at the entrance to the park, and it's open for tours in July and August from 1:00 to 4:00pm (closed Mondays).
The Brighton Barn Theatre operates out of the Proctor-Simpson Barn, also on the conservation area property. They typically put on one play in the spring and one in the fall. Sometimes there is a summer production, often a musical written by a local author.
What to Bring on a Hike
A proper pair of hiking shoes is an absolute must. It's also a good idea to bring sunscreen and lots of water, too. My water bottle of choice is the GRAYL Purifier because you can drink ANY water from any source, no matter what. Water from lakes, streams, rivers, public restrooms, you name it. It's the world's fastest portable purifier. Get your hands on one ASAP!
Don't forget to pack some bug spray because there can be biting bugs depending on the time of year. Even if there aren't any signs, it's safe to assume that ticks are all over Ontario hiking trails. Protect yourself against ticks by reading our guide to avoiding ticks on the trails.
For amazing deals on hiking products like backpacks, boots, clothing, and gear, check out the Decathlon Canada shop!
Where to Stay in Brighton
Are you looking for where to stay in the Brighton area? If you're not camping, you might want to stay at an accommodation in the area. There are so many amazing hotels in Brighton and vacation rentals, too. Here are some recommended places to stay in Brighton:
More Hiking in Kawarthas Northumberland
Looking for more hiking in the Kawarthas Northumberland region? Here are some more nearby hiking trails:
Join the Ontario Hiking Facebook Group
You are also welcome to join our Ontario Hiking Facebook Group – it's a great way to ask questions about hiking in Ontario, share your Ontario hikes, and get inspired!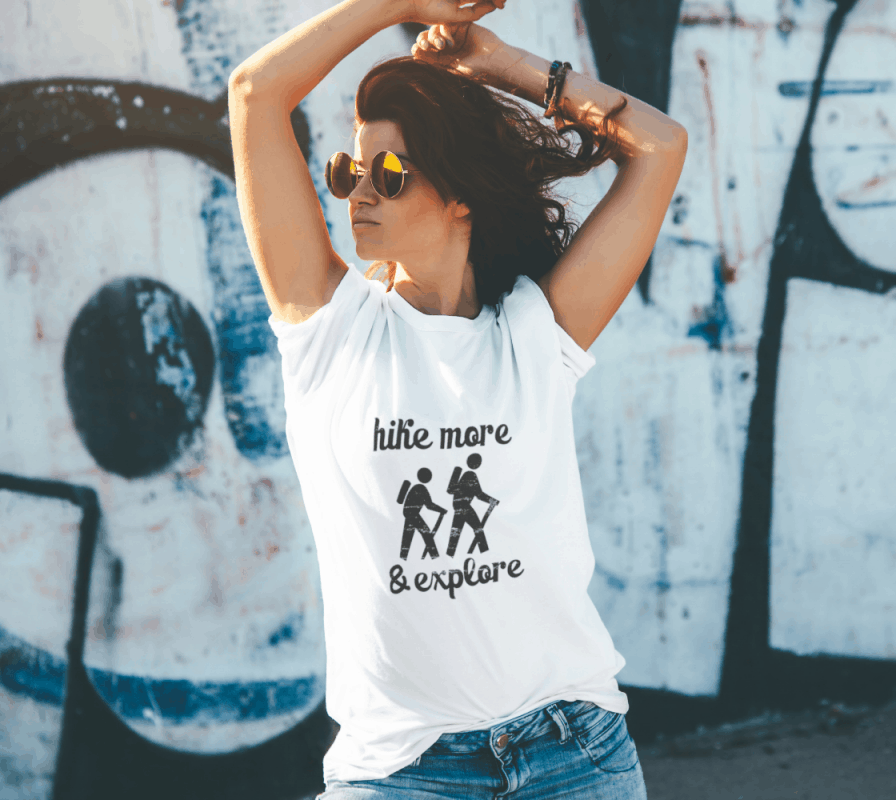 Inspired by adventures and nature. Ontario hiking and Bruce Trail apparel & accessories, designed by me.