Did you know that you can view five Bracebridge waterfalls in a day along the Trans Canada Trail? It's easy to take a stroll on this one hiking trail in Bracebridge and witness so much beauty. Plus, you'll be able to explore the cute small town of Bracebridge while you're at it.
Posts may be sponsored. Post contains affiliate links. I may be compensated if you make a purchase using my link.
There are three places to view waterfalls in Bracebridge: High Falls, Wilson's Falls Trail, and Bracebridge Bay Park. High Falls (as well as Potts Falls and Little High Falls), Wilson's Falls, and Bracebridge Falls are all located on the Trans Canada Trail. I'm going to show you how you can easily view all of these waterfalls in one hiking trip to Bracebridge.
Join the Ontario Hiking Facebook Group
You are also welcome to join our Ontario Hiking Facebook Group – it's a great way to ask questions about hiking in Ontario, share your Ontario hikes, and get inspired!

Bracebridge Waterfalls on the Trans Canada Trail
Here's a guide to viewing Bracebridge Waterfalls on the Trans Canada Trail. The Trans Canada Trail (formerly known as The Great Trail) is a walking path that extends throughout the town of Bracebridge.
I've taken screenshots of the Trans Canada Trail in Bracebridge. I suggest viewing the interactive map on the Trans Canada Trail website if you're thinking about hiking the whole trail in Bracebridge.
Bracebridge Waterfalls: High Falls
Make your first stop at High Falls, north of Bracebridge's downtown. While High Falls is the main natural attraction at High Falls Park, there are also two other waterfalls just downstream from High Falls: Little High Falls and Potts Falls.
From the parking lot, there's a bridge that will take you above High Falls. However, the best view of High Falls isn't from across the bridge. Stay on the side with the parking lot and venture down to the rocks beside the waterfall.
If you continue on the Trans Canada Trail, you'll first reach Little High Falls. Continue walking and you'll soon see Potts Falls.
Please note that if you're looking for the waterfalls on Google Maps, Little High Falls and Potts Falls are incorrectly labeled. Potts Falls is the waterfall beneath the walking bridge, and Little High Falls is the smaller cascade near Big High Falls.
Waterfalls in Bracebridge: Wilson's Falls
As you drive into downtown Bracebridge, make a turn onto Wilson's Falls Road. Drive to the end of the road, following the Muskoka River, and you'll reach a parking lot. There is a sign for Wilson's Falls Trail, which is another section of the Trans Canada Trail.
Walk on this flat, easy path through the forest, and across a metal bridge (at the dam). After a quick walk through the forest on the other side of the Muskoka River, you'll be able to see Wilson's Falls. It's where "falls" are labeled on the above map.
Witnessing the perfect view of Wilson's Falls is no easy feat. You'll need to walk across some massive rocks on the river to capture the best photo. These rocks are quite sharp and sitting on difficult angles. At one point, I had to wade through the river a little bit, and I left my shoes and socks back on a rock.
Please don't attempt walking across the rocks unless you feel comfortable. It can be very difficult and dangerous. The view of the waterfall is amazing if you're able to make the trek. Otherwise, stay at the top of the rocks where it's a bit safer as the view is really nice anywhere you go. Wilson's Falls is one of the best Bracebridge waterfalls, so don't miss it.
Bracebridge Falls: One of the Best Muskoka Waterfalls
Lastly, Bracebridge Falls is right in the middle of downtown Bracebridge. I went for a wander around town, stopping for an iced coffee on the way. Bracebridge is such an adorable town, and I really loved going for a walk here. The map above shows a proposed walking route through Bracebridge. There are several historic plaques on the way, so you can learn a little more about the history of the area.
Parking is plentiful in town, but park at the "P" on the map for easiest access to the falls. Bracebridge Falls is the most iconic sight in Bracebridge, so you don't want to miss it. The water from the Muskoka River flows down into a larger basin, Bracebridge Bay.
This waterfall in Bracebridge is powerful. I can see why a water power generating plant was established here. I won't go into many of the details here, but here's where you can find a great timeline of Bracebridge's history of waterpower.
From Bracebridge Bay Park and Bracebridge Falls, continue walking south to keep hiking on the Trans Canada Trail. I love that the trail connects all of these amazing Muskoka waterfalls and takes you right through the town of Bracebridge.
Want to see more photos from Bracebridge?
Browse our entire travel photography album in one place. You can browse and buy any of our pictures, including prints, gifts and more.
Bracebridge Hiking Trails: Plan Your Visit
From High Falls to Bracebridge Falls (and Wilson's Falls in the middle), you can walk on the Trans Canada Trail for approximately 8km one way (it would be 16km out and back). According to the Trans Canada Trail website, the entire section of trail in Bracebridge is 26.91km.
If you would like to see the waterfalls and not as interested in hiking the entire 8km (or 16km out and back), you can easily drive from one waterfall to the next. Start at High Falls, then travel south to Wilson's Falls, and visit Bracebridge Falls at the end.
When you see Bracebridge Falls, you'll also have an opportunity to check out downtown Bracebridge. Stop for a coffee or a meal, or perhaps even poke your head into a few shops.
There's ample parking in all three spots, and the waterfalls are close to the parking lot. There isn't too much hiking or walking involved when you visit High Falls and Bracebridge Falls. You'll need to follow the short (less than 1km) path, Wilson's Falls Trail, to see Wilson's Falls.
Where to Stay in Bracebridge
There are lots of great hotels and accommodations if you're looking to stay in the Muskoka region. Take a look at the following places to stay in Bracebridge and browse using the handy map below.
What to Bring on a Hike
A proper pair of hiking shoes is an absolute must. It's also a good idea to bring sunscreen and lots of water, too. My water bottle of choice is the GRAYL Purifier because you can drink ANY water from any source, no matter what. Water from lakes, streams, rivers, public restrooms, you name it. It's the world's fastest portable purifier. Get your hands on one ASAP!
Don't forget to pack some bug spray because there can be biting bugs depending on the time of year. Even if there aren't any signs, it's safe to assume that ticks are all over Ontario hiking trails. Protect yourself against ticks by reading our guide to avoiding ticks on the trails.
For amazing deals on hiking products like backpacks, boots, clothing, and gear, check out the Decathlon Canada shop!
More Hiking in Muskoka, Parry Sound, Algonquin Region
Looking for more Muskoka hikes? Here are some other nearby hiking trails in the Muskoka region:
Become an Ontario Hiking Supporter!
Join the Ontario Hiking Patreon and you'll become a VIP member of the Ontario Hiking community! You'll receive ad-free, downloadable hiking guides with new guides added weekly. Plus, there are many more perks! Become an Ontario Hiking Supporter today!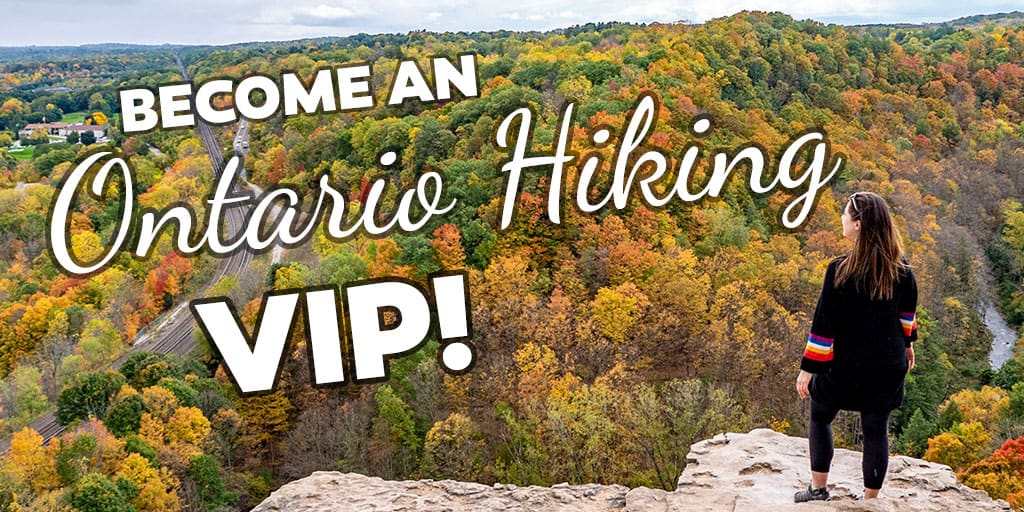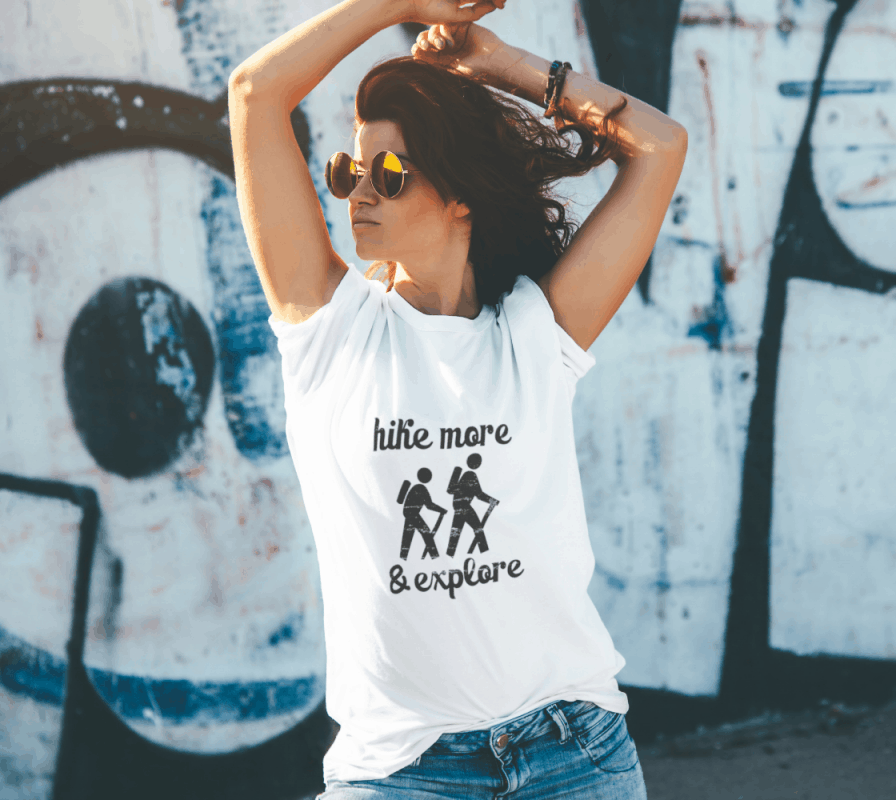 Inspired by adventures and nature. Ontario hiking and Bruce Trail apparel & accessories, designed by me.