Booths Rock Trail at Algonquin Provincial Park is one of the most amazing hikes at the park. In fact, it offers one of the prettiest places to view the fall colours in Ontario.
Posts may be sponsored. Post contains affiliate links. I may be compensated if you make a purchase using my link.
There are quite a few brilliant hikes at Algonquin where you can experience gorgeous lookout points, like the Centennial Ridges Trail and the Track and Tower Trail. Booth's Rock Trail gets a little less attention than those trails, but it offers a big reward for less work.
The Centennial Ridges Trail is arguably the best hike at Algonquin, but it's a 10.4km strenuous trek that can take 4-6 hours to complete. The Track and Tower Trail is a moderate/difficult hike with a lookout point that's 7.7km in length (around 3 hours to hike). Booths Rock Trail clocks in at around 5.1km (about a 2 hour long hike) and the lookout point is arguably just as beautiful as the ones you'll see on the lengthier journeys.
Join the Ontario Hiking Facebook Group
You are also welcome to join our Ontario Hiking Facebook Group – it's a great way to ask questions about hiking in Ontario, share your Ontario hikes, and get inspired!

Booths Rock Trail Map
Here is a trail map of Booth's Rock Trail. This is on display at the trailhead near the parking lot. I suggest hiking the trail in a clockwise direction. You'll walk along the path towards Rosepond Lake. Then, you'll take a sharp turn near Gordon Lake and start hiking up towards the lookout point.
By hiking in a clockwise direction, you'll avoid hiking up a big staircase. It's much easier to gradually hike up the side of the cliff. Plus, when I visited, the southern side of the trail was completely washed out and I really had no option but to hike in a clockwise manner. More on that later in the article!
Hiking Booth's Rock Trail at Algonquin Provincial Park
Booth's Rock Trail offers one of the most spectacular views at Algonquin Provincial Park. From the top of the cliff known as Booth's Rock, you'll be able to admire stunning scenery of Rock Lake and beyond. These views are the most beautiful in the fall where you'll be able to enjoy some bright bursts of orange, yellow, and red. However, I feel as though this scenery would look amazing all year long.
Start your trek at the parking lot and hike in a clockwise direction. It's a relatively flat path for the first little bit. In the fall, there were a few muddy spots, even at the start of the hike. But, this was nothing compared to the amount of mud that I encountered later that day.
Rosepond Lake
Keep following the blue trail blazes through the forest. You don't really need to pay too much attention to the blazes as keeping to the trail is fairly obvious. The trail rarely splits off into more than one path, and you essentially keep walking in a giant loop until you get back to the start.
After walking through the forest for a short while, you'll come upon Rosepond Lake. This is a really peaceful lake surrounded by Black spruce trees. This is a good spot to take a little break to soak up the pretty views before continuing to the more difficult portion of the hike.
Hiking up to the Lookout
You'll reach a point where you will take a sharp right turn on the path to continue on the trail. If you decide to hike straight instead of turning right, you'll reach a dead end at Gordon Lake. Go and check out this lake if you're looking for more pretty lake scenery before hiking to the top of the cliff. I was concerned that I would eventually run out of daylight, so I continued on my way.
There aren't too many steep inclines to the top, and I wouldn't say that the climb is tricky by any means. When I went hiking at Booths Rock Trail, there was a huge amount of mud. The mud really made the trip more treacherous than usual, and I would have been in worse shape if I didn't have a good pair of hiking shoes or my hiking poles on hand.
Lookout Point: Rock Lake and the Surroundings
Eventually, I made it to the top! There are a few spots at the top of Booth's Rock where you can enjoy the scenery. Feel free to stop at each one before making your way up to the very top. These impressive, sweeping views allow you to see Rock Lake from high up above. You can also see the campground and Whitefish Lake off in the distance.
This is a great place to stop for a snack or a picnic lunch (just make sure you pack out what you bring in, it's important to leave our trails better than we found them and free of litter). Be sure to bring a reusable water bottle or two so you have enough water for the trip (without creating any waste).
Hike the Full Loop (If You Can!)
Depending on the weather conditions, you can keep hiking to create a full loop at Booth's Rock Trail. You'll continue to a staircase and hike back down from the top of the cliff. When I visited this Algonquin Park hiking trail, the full loop was not accessible.
I heard a couple of stories as to why I couldn't hike the full loop. Some said that it was way too muddy due to some past rainy weather. Others said that some beavers caused the issue. Whatever it was, the second half of the trail was completely flooded and washed away.
Most hikers at Booth's Rock Trail will walk in a clockwise direction on the trail. They'll start at the parking lot, walk to the main red sign, and continue following the blue trail blazes. If you see a lot of people hiking back down the hill towards you, it might be worth approaching your fellow hikers. Ask them if they're hiking back down the way they came or if they're hiking the full loop.
In my case, I saw many people hiking in a clockwise manner the way I was going…and I saw a lot of people coming back down the trail in a counter-clockwise direction. Thankfully, quite a few people informed me that the rest of the trail was inaccessible before I attempted to hike it!
Plan Your Visit to Booths Rock Trail
Despite the fact that there are other hikes at Algonquin Provincial Park that are way more popular than this one, the parking lot for Booths Rock Trail fills up quickly. Located near the Rock Lake Campground, you'll turn onto Rock Lake Road from Highway 60 to reach the trailhead.
As it's nearly a 15 minute drive to the Booth's Rock Trail parking lot from Highway 60, there's often a sign posted right when you turn off the highway. This sign will state whether or not the parking lot is full. During the prime fall hiking season, the parking lot will fill up early. I suggest arriving as early as possible.
However, I arrived at Algonquin Provincial Park at around 1:00pm and the sign stated that the parking lot was full. Fear not! I decided to check out the Spruce Bog Boardwalk first, followed up by the Lookout Trail. Then, around 2:30pm, I decided to drive down to Rock Lake to see if the parking lot was full (despite the sign saying that it was). By that point in time, several cars had left and there were a few parking spaces available.
Making a Reservation at Algonquin Provincial Park
As you need to make reservations to enter several popular provincial parks in Ontario, you'll need to reserve your place at Algonquin in advance through the Ontario Parks website. There are several options to book at Algonquin Provincial Park as the park is so big. Select "Day Use", and make sure you choose "Algonquin – Hwy 60 Corridor".
You can enter Highway 60 from either the East Gate or the West Gate. The West Gate tends to be more popular (as it's closer to Toronto and the GTA) and the traffic will be slower from this side of the park during the peak season. Ontario Parks recommends that you enter from the East Gate during these times to avoid being stuck in traffic.
What to Bring on a Hike
A proper pair of hiking shoes is an absolute must. It's also a good idea to bring sunscreen and lots of water, too. My water bottle of choice is the GRAYL Purifier because you can drink ANY water from any source, no matter what. Water from lakes, streams, rivers, public restrooms, you name it. It's the world's fastest portable purifier. Get your hands on one ASAP!
Don't forget to pack some bug spray because there can be biting bugs depending on the time of year. Even if there aren't any signs, it's safe to assume that ticks are all over Ontario hiking trails. Protect yourself against ticks by reading our guide to avoiding ticks on the trails.
For amazing deals on hiking products like backpacks, boots, clothing, and gear, check out the Decathlon Canada shop!
More Hiking Trails in Muskoka, Parry Sound, Algonquin Region
Looking for more places to go hiking in the Muskoka/Algonquin area? Here are more trails that you'll love:
Become an Ontario Hiking Supporter!
Join the Ontario Hiking Patreon and you'll become a VIP member of the Ontario Hiking community! You'll receive ad-free, downloadable hiking guides with new guides added weekly. Plus, there are many more perks! Become an Ontario Hiking Supporter today!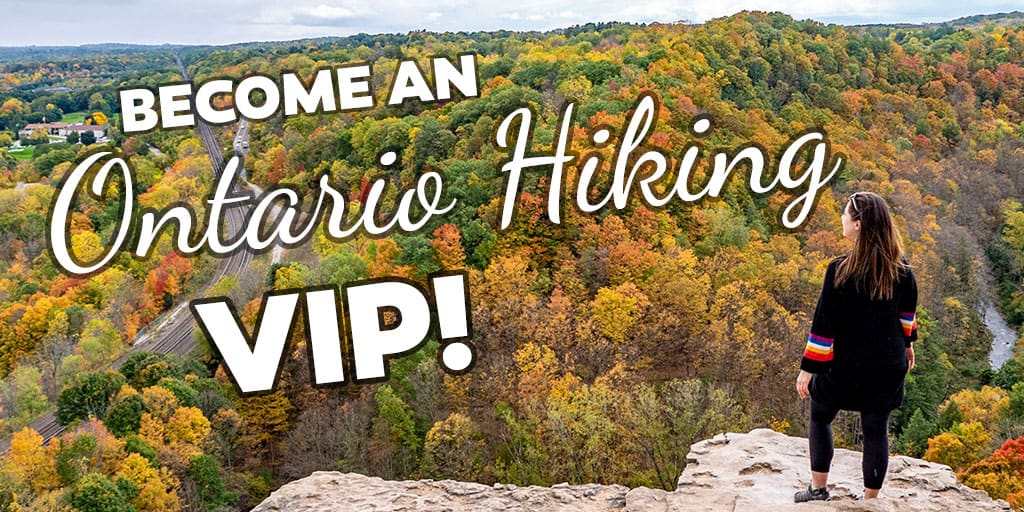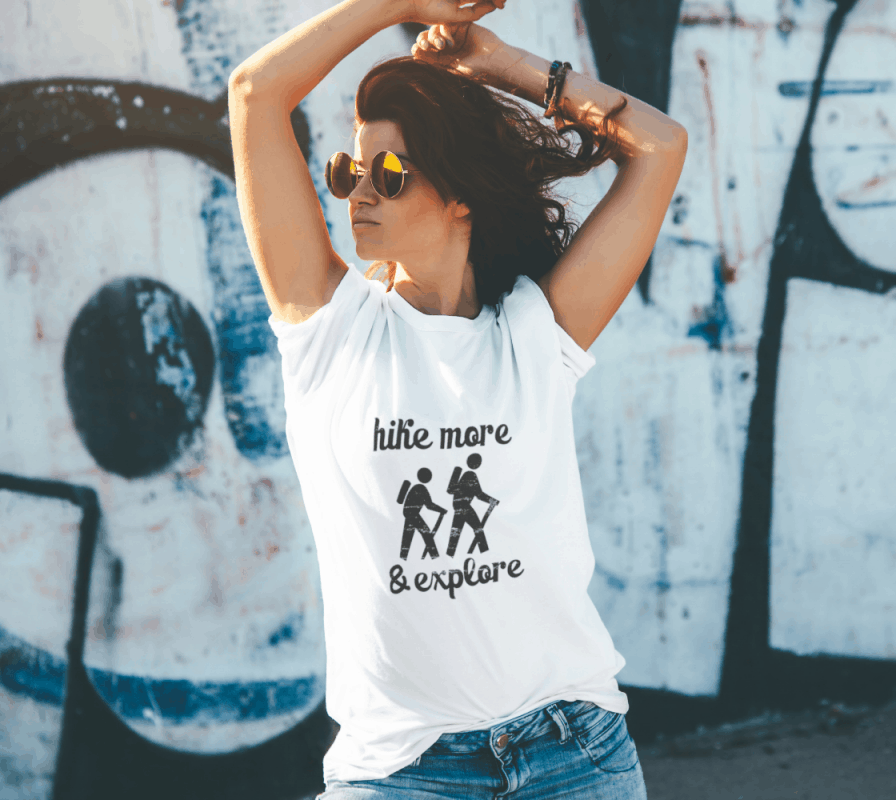 Inspired by adventures and nature. Ontario hiking and Bruce Trail apparel & accessories, designed by me.