Woodend Conservation Area is one of the best places to go hiking in Niagara Falls. Technically, Woodend Conservation Area is located in Niagara-on-the-Lake. On a map, it's wedged right in the middle of Niagara Falls and St. Catharines, so it's a great option for hiking if you're anywhere close to the Niagara Region.
Posts may be sponsored. Post contains affiliate links. I may be compensated if you make a purchase using my link.
The main trail at Woodend Conservation Area is part of the Bruce Trail, which is one of the best trail systems in Ontario. So, you know that you're in for an amazing trek!
My first time hiking at Woodend Conservation Area was on a previous Bruce Trail adventure. I hiked a stretch of the Bruce Trail between Niagara Falls and St. Catharines, which included Woodend. We crossed the QEW, ventured through the Screaming Tunnel, hiked through wine country and past the shoe tree, and descended into the beautiful forest at Woodend.
Read more about this Bruce Trail hike in my series over on my sister site, Justin Plus Lauren. [All Bruce Trail hikes are listed here].
I returned to Woodend Conservation Area to hike it for a second time recently on a day trip to the Niagara region. I hiked at two different spots: Woodend Conservation Area and St. John's Conservation Area. On a return trip later that week, I visited the Niagara Glen. All of these amazing hiking trails are within a short driving distance from Niagara Falls and St. Catharines.
Become an Ontario Hiking Supporter!
Join the Ontario Hiking Patreon and you'll become a VIP member of the Ontario Hiking community! You'll receive ad-free, downloadable hiking guides with new guides added weekly. Plus, there are many more perks! Become an Ontario Hiking Supporter today!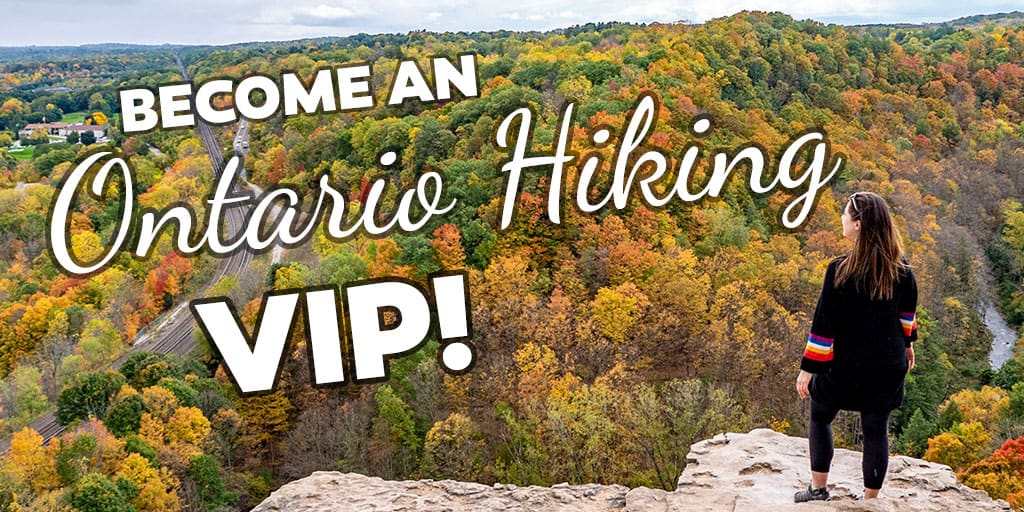 Woodend Conservation Area Hiking Trails
The land at Woodend Conservation Area was once owned by the United Empire Loyalist family of Peter Lampman. Back in 1779, he established a homestead and farmed the land at the top of a hill called St. Anthony's Nose. During the War of 1812, the land was used as an observation point for both armies. Several battles of the War of 1812 happened surrounding this land, so it was a main strategic point.
In 1974, the Niagara Peninsula Conservation Area took ownership of the land and called it Woodend Conservation Area. The first conservation education centre was built in 1979, and was made possible by the support of the Richard Ivey Foundation, the Nature Conservancy of Canada, and the province of Ontario.
It's the prime example of a Carolinian forest with species of trees like Black Cherry, Black Oak and Sugar Maple. Woodend Conservation Area is part of the Niagara Escarpment UNESCO World Biosphere. The Bruce Trail, the oldest and longest marked hiking trail in Canada, is the main hiking trail at Woodend Conservation Area.
The Bruce Trail
For the most part, you'll follow the well marked white blazes of the Bruce Trail throughout your hike. You'll walk through dense forests and along the edge of the escarpment. There are many interesting rock formations on the way. This loop trail is about 3.5km in length. You can use the Woodend Side Trail to loop back to where you started.
Partway through your hike, you'll come across a clearing and the DSBN Walker Living Campus. This is an education centre that provides full day nature programs to students from K-12. Some of these courses include outdoor survival skills, orienteering, pond studies, team building classes, snowshoeing, and cross-country skiing in the winter. The DSBN (District School Board of Niagara) Walker Living Campus is the transformation of an older, run down education centre into a vibrant and innovative space for students to learn about the great outdoors.
After walking past the Walker Living Campus, I continued the hike across a short wooden boardwalk. All in all, the hike isn't terribly challenging, and there are some short uphill and downhill sections of the path. I spent a little under an hour hiking at Woodend Conservation Area. This trail is great for families and people of all ages, as well as beginner hikers. It's a dog-friendly hiking trail, too, provided that you keep your dog on a leash.
Woodend Side Trail
The Woodend Side Trail is a very short trail that functions as a short cut back to the start of the Bruce Trail at Woodend Conservation Area. You don't necessarily need to hike on the Woodend Side Trail at this conservation area. If you choose to take the Woodend Side Trail, follow the signs and the blue blazes until you reach the white blazes of the Bruce Trail once again.
You'll also notice that this section of the trail is part of the Laura Secord Legacy Trail, a 32km hiking trail in Niagara region. Laura Secord is a hero of the War of 1812. She walked for 32km out of American occupied territory to warn the British of an impending attack. The Laura Secord Legacy Trail follows approximately the journey that she traveled back in the day. It starts at the Laura Secord Homestead in Queenston and ends at the Decew House Heritage Park in Thorold.
Wetland Ridge Side Trail
The Wetland Ridge Side Trail is an out and back trail in the far southwest side of the park. It's 1.1km one way. You can reach the Wetland Ridge Side Trail off the main Bruce Trail, and it's relatively close to the main parking lot off Taylor Road. It heads down the escarpment near a reclaimed wetland, so it's pretty aptly named if you ask me.
There are some interpretive signs along the trail, as well as some benches for wildlife viewing opportunities. The trail ends at the Niagara College greenhouse. At that point, you'll need to turn around and make your way back up the escarpment to where you originally started.
Plan Your Visit
There are a few places to park your car for free at Woodend Conservation Area, and it is free to visit without any admission charges. I parked by car at the main entrance off Taylor Road, and there was plenty of space for cars. There aren't any facilities at this Niagara park and there aren't any restrooms.
Woodend Conservation Area Map
Here's a Woodend Conservation Area map so you can find exactly where to find these hiking trails. You won't need any kind of a hiking trail map while you're there. It is very straight forward. Follow the white blazes at Woodend Conservation Area to stay on the trail, which is part of the Bruce Trail. If you'd like a little short cut back to the start of the trail, you can follow the blue blazes for the Woodend Side Trail.
More Niagara Peninsula Conservation Authority Parks
Looking to explore more parks operated by the Niagara Peninsula Conservation Authority? There are a lot of them! Here's a complete listing of conservation areas to check out. I will write about more of them as I experience them for myself. You can also view all Niagara region hikes, including Short Hills Provincial Park and the Niagara Glen.
Binbrook Conservation Area
Long Beach Conservation Area
Beamer Memorial Conservation Area
Cave Springs Conservation Area
EC Brown Conservation Area
Gord Harry Conservation Trail
Louth Conservation Area
Morgan's Point Conservation Area
Mountainview Conservation Area
Mud Lake Conservation Area
Rockway Conservation Area
Stevensville Conservation Area
Two Mile Creek Conservation Area
Virgil Dams and Reservoirs Conservation Area
Wainfleet Bog Conservation Area
Wainfleet Wetlands
Woodend Conservation Area
Where to Stay in Niagara Falls
Are you looking for where to stay in Niagara Falls? There are so many amazing Niagara hotels and Airbnb accommodations so you can be close to the city or close to the trails.
As for personal recommendations, Marriott on the Falls is always such a treat with spectacular views of the world famous waterfall. For a fabulous property in Niagara-on-the-Lake, I suggest staying at the Pillar and Post right in town. It has a beautiful spa and outdoor hot tub that's open all year long.
Here's a handy booking tool where you can see all of the Booking.com accommodations and Airbnbs in one place. It's easy to compare prices and find the best rate for your trip to Niagara Falls.
Join the Ontario Hiking Facebook Group
You are also welcome to join our Ontario Hiking Facebook Group – it's a great way to ask questions about hiking in Ontario, share your Ontario hikes, and get inspired!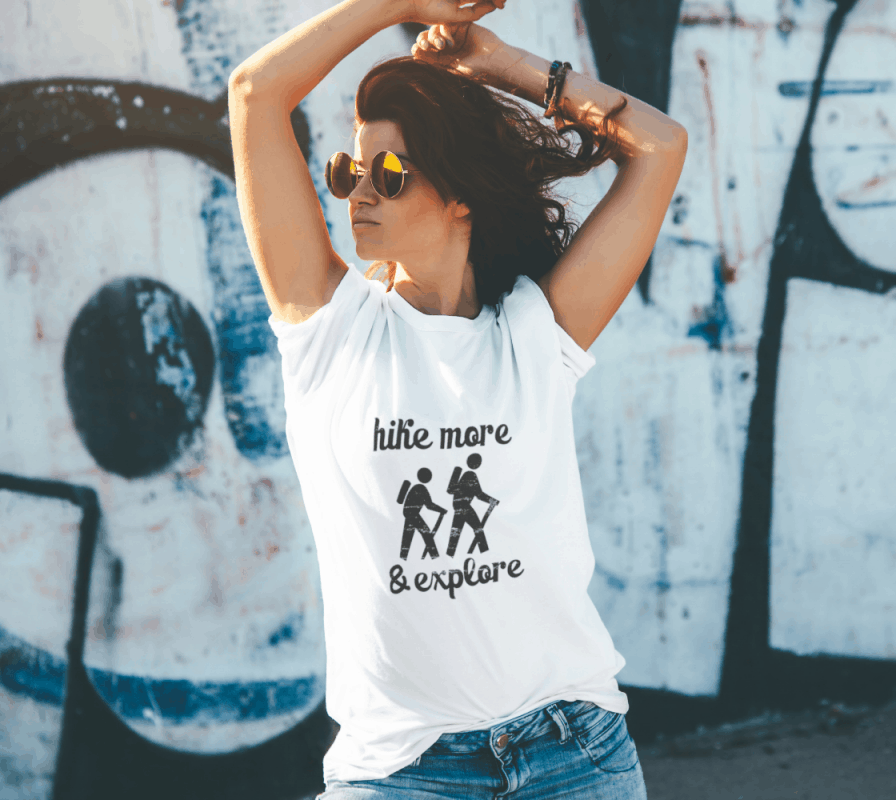 Inspired by adventures and nature. Ontario hiking and Bruce Trail apparel & accessories, designed by me.