St Johns Conservation Area is one of my favorite places to go hiking in the Niagara Region. You'll find this park in Fonthill, Ontario, nestled in a rural setting between Niagara Falls and St. Catharines. There are a number of striking features of this conservation area, including a scenic pond, dense hardwood forests, boardwalks across marshes, and a section of the trail with a little bit of elevation. I hiked St. John's Conservation Area in its entirety in about an hour, although you could certainly spend more or less time here depending on your schedule.
Posts may be sponsored. Post contains affiliate links. I may be compensated if you make a purchase using my link.
St Johns Conservation Area was established in 1963. It originally existed to protect a water source at the headwaters of Twelve Mile Creek, Niagara's only cold water creek notable for its abundance of trout. The conservation area was also created to protect the Carolinian forest, as well as other plant life and wildlife.
Become an Ontario Hiking Supporter!
Join the Ontario Hiking Patreon and you'll become a VIP member of the Ontario Hiking community! You'll receive ad-free, downloadable hiking guides with new guides added weekly. Plus, there are many more perks! Become an Ontario Hiking Supporter today!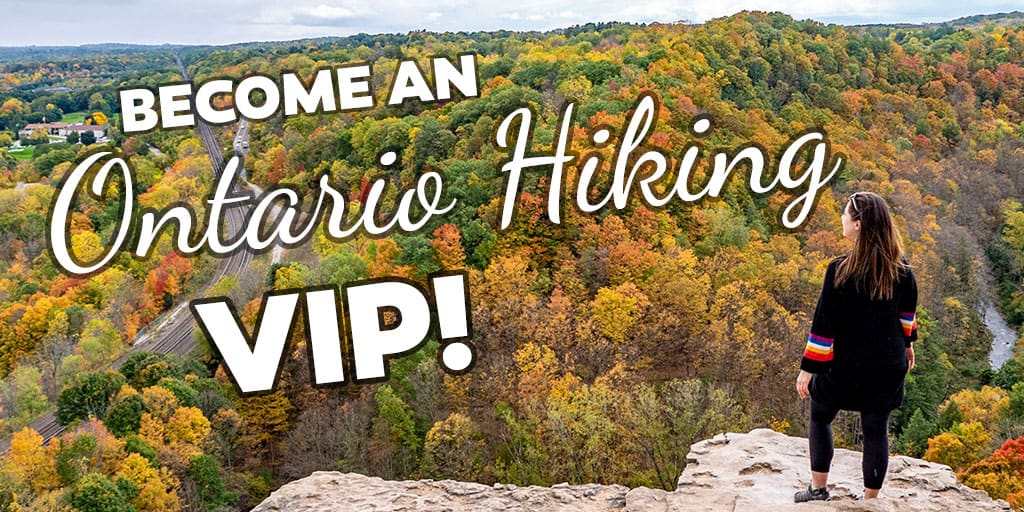 St Johns Conservation Area Trail Map
St Johns Conservation Area is very well marked, and there's a large map at the edge of the parking lot. You can look at the map while you're there to plan your trip around the park. You'll notice that there are four main trails here that are all colour coded. It's really easy to decide in advance which trails you're going to hike. The trail markers continue throughout the conservation area, so there's very little chance that you'll get lost.
Of course, you could just wing it and start hiking! I suggest referring to the images in this blog post during your hike. You can also take a photo of the trail map with your phone at the outset of your trek. It's always good to have a map to refer to while you're venturing around the trails.
Hiking at St Johns Conservation Area
As you hike at St Johns Conservation Area, you'll come across many little hills and valleys. Think about this as you hike: this area was once covered by an ancient sea around 4.5 million years ago. The underlying rock is actually sediment from this ancient sea. As glaciers moved across this land, sand and silt was deposited on top of the rock. Then, water eroded the sand and the silt to create this little hills that you'll experience during the hike.
There are four hiking trails and a trail that encircles the pond at St Johns Conservation Area. The trails are the Sassafras Stroll Trail (red markers), the Tulip Tree Trail (blue markers), the St Johns Ridge Trail (white markers), and the Horseshoe Trail (yellow markers). The time recommendations posted on the sign (photo above) are VERY generous. It did not take me that long to hike these trails, and I am not a fast hiker by any means.
The trails all interconnect and form a loop. If you're looking for a longer hike, you can hike all four trails. These form a loop and you'll eventually end up back where you started. It's also possible to hike only the red trail or the blue trail if you're looking for a shorter hike.
I do recommend tackling the white trail. There's some elevation and it's probably the longest of all the hiking trails at St Johns Conservation Area, but I found it to be the most interesting of them all.
Sassafras Stroll Trail (Red Trail)
The Sassafras Stroll Trail, or the red trail, is where you'll start from the parking lot. As it's a loop, there are two starting points for the trail. It doesn't really matter where you start. I hiked from the north side of the trail first (the area farthest from the pond).
As I started out on the trail, I noticed a tiny pond to my left. This pond is such an interesting shade of blue, turquoise, and green, and it's quite reflective. Continuing along, you'll reach the additional Horseshoe Trail loop, a short loop trail that connects at two points on the Sassafras Stroll Trail.
There are boardwalks to venture across on most of the trails as you'll hike across areas that might fill with water at various points of the year. When I visited during the summer months, there wasn't too much water around, but I could see that these boardwalks help hikers avoid a little bit of mud.
Tulip Tree Trail (Blue Trail)
The Tulip Tree Trail, or Blue Trail, continues through the lush, Carolinian forest. This forest contains broadleaf plants that are typically found in the southeastern United States. There are many old growth trees, Notably, this is the largest collection of tulip trees that you'll find anywhere in the Niagara Peninsula.
Along with the plant life at St Johns Conservation Area, there's also an abundance of wildlife. You'll hear many songbirds, and you might even see a deer. The pond and the streams are home to many fish, frogs, turtles, and waterfowl. Please don't remove any plants or animals (tadpoles, frogs, etc) from the park. I hope that this goes without saying, but a helpful reminder doesn't hurt!
St Johns Ridge Trail (White Trail)
Once you reach the end of the Tulip Tree Trail (if you hiked in a counter-clockwise direction like I did), you'll come across a sign that reads "Long Trail Entrance" and "Parking Lot" with arrows. Of course, I followed the "Long Trail Entrance", otherwise known as the St Johns Ridge Trail! You'll follow the white markers on this path.
The St Johns Ridge Trail is a little less travelled than the other trails because it does add an extra lengthier loop. However, I truly enjoyed this trail the most. You'll walk past wildflowers (depending on the time of year) and past some overgrown plants that are beginning to creep onto the path. After another wooden boardwalk, you'll eventually reach some wooden planks leading up a hill.
This is the highest point of elevation throughout the hike. It really doesn't take too much effort to make your way to the top. I loved looking over the treetops in the distance at a couple of vantage points as I hiked along the path.
You'll eventually make your way back down. While it might seem like this adds some difficulty to the hike, I'd barely rate this one as a "moderate" hike. I'd say that it's still somewhere between easy and moderate.
Horseshoe Trail (Yellow Trail)
The Horseshoe Trail, or Yellow Trail, is an additional short hiking trail that creates an additional smaller loop off the Red Trail. Feel free to hike this one…or don't! Whatever makes your day on the trails more enjoyable. It's just a short detour through the forest if you want to keep hiking.
Pond Trail
The Pond Trail isn't too much of a hiking trail, but a path that wraps around the circumference of the Twelve Mile Creek Pond. This is actually a man-made trout pond that is stocked with trout every year for fishing. At least one family of Canada geese also lives at this pond. The boardwalk around the pond is wheelchair accessible and stroller friendly. There are also two wheelchair accessible fishing piers.
You can walk around the Pond Trail to catch glimpses of this pretty pond, and there are many benches where you can sit and relax. I found the views of the pond to be quite beautiful, even if it's man-made.
Plan Your Visit to St Johns Conservation Area
Once you arrive at St Johns Conservation Area, there's a sizable parking lot where you can park your car for free. There is also no admission charge to go hiking here. The hiking trails all form one giant loop that eventually will lead you back to the parking lot. The restroom facilities are currently not available, so please plan your trip accordingly.
There are lots of benches around the huge pond at the conservation area, which could function as a place to have a picnic. Otherwise, the park has opportunities for hiking and birdwatching. The Pond Trail is wheelchair accessible and stroller accessible. This is also a dog-friendly park. I saw quite a few visitors walking their dogs here, keeping them on their leashes, of course. No biking is allowed on the hiking trails. Here's a map of the conservation area so you can plan your trip.
The park is open all year long from 8:00am to 8:00pm. Please note that between October 1st and December 31st, the park is only open on the weekends.
What to Bring
A proper pair of hiking shoes is an absolute must. Don't forget to pack some bug spray because there can be biting bugs depending on the time of year. While I didn't see any signs regarding ticks, it's safe to assume that ticks are all over Ontario hiking trails. Protect yourself against ticks by wearing long pants tucked into high socks. Please wear bug spray with tick protection. There are many areas on this hike where you'll walk through tall grass that covers the path. Check yourself for ticks after your hike. It's also a good idea to bring sunscreen and lots of water, too.
Want to see more photos from Niagara hikes?
Browse our entire travel photography album in one place. You can browse and buy any of our pictures, including prints, gifts and more.
More Niagara Peninsula Conservation Authority Parks
Looking to explore more parks operated by the Niagara Peninsula Conservation Authority? There are a lot of them! Here's a complete listing of conservation areas to check out. I will write about more of them as I experience them for myself. You can also view all Niagara region hikes, including Short Hills Provincial Park and the Niagara Glen.
Binbrook Conservation Area
Long Beach Conservation Area
Beamer Memorial Conservation Area
Cave Springs Conservation Area
EC Brown Conservation Area
Gord Harry Conservation Trail
Louth Conservation Area
Morgan's Point Conservation Area
Mountainview Conservation Area
Mud Lake Conservation Area
Rockway Conservation Area
St. Johns Conservation Area
Stevensville Conservation Area
Two Mile Creek Conservation Area
Virgil Dams and Reservoirs Conservation Area
Wainfleet Bog Conservation Area
Wainfleet Wetlands
Where to Stay in Niagara Falls
Are you looking for where to stay in Niagara Falls? There are so many amazing Niagara hotels and Airbnb accommodations so you can be close to the city or close to the trails.
As for personal recommendations, Marriott on the Falls is always such a treat with spectacular views of the world famous waterfall. For a fabulous property in Niagara-on-the-Lake, I suggest staying at the Pillar and Post right in town. It has a beautiful spa and outdoor hot tub that's open all year long.
Here's a handy booking tool where you can see all of the Booking.com accommodations and Airbnbs in one place. It's easy to compare prices and find the best rate for your trip to Niagara Falls.
St Johns Conservation Area FAQ
Have some questions before your hike at St Johns Conservation Area? Here are some answers to any questions that you might have in one convenient place. It's great to be prepared before your hike!
Where is St Johns Conservation Area?
The address for St Johns Conservation Area is 3101 Barron Road in Fonthill Ontario. You'll drive through the country for a little while and will come across the parking lot at the end of the road. It's a quiet, rural area that's very scenic and lovely.
Is it free to visit St Johns Conservation Area?
Yes. It is free to visit. There is no fee to enter the conservation area and there is no parking fee.
How much time should I spend hiking at St Johns Conservation Area?
It will take you around an hour to hike all of the trails. I am not a quick hiker and I stopped to take photos along the way. I completed all of the hiking trails in an hour. It's easy to spend less or more time there, too.
Where else should I hike in the Niagara region?
Some of my favourite Niagara region hikes include Balls Falls Conservation Area, Woodend Conservation Area, Short Hills Provincial Park, the Niagara Glen, and the Bruce Trail.
What are the hours of operation at St Johns Conservation Area?
The conservation area is open from 8:00am to 8:00pm daily all year long with one exception. From October 1st to December 31st, St. Johns Conservation Area is only open on weekends.
Join the Ontario Hiking Facebook Group
You are also welcome to join our Ontario Hiking Facebook Group – it's a great way to ask questions about hiking in Ontario, share your Ontario hikes, and get inspired!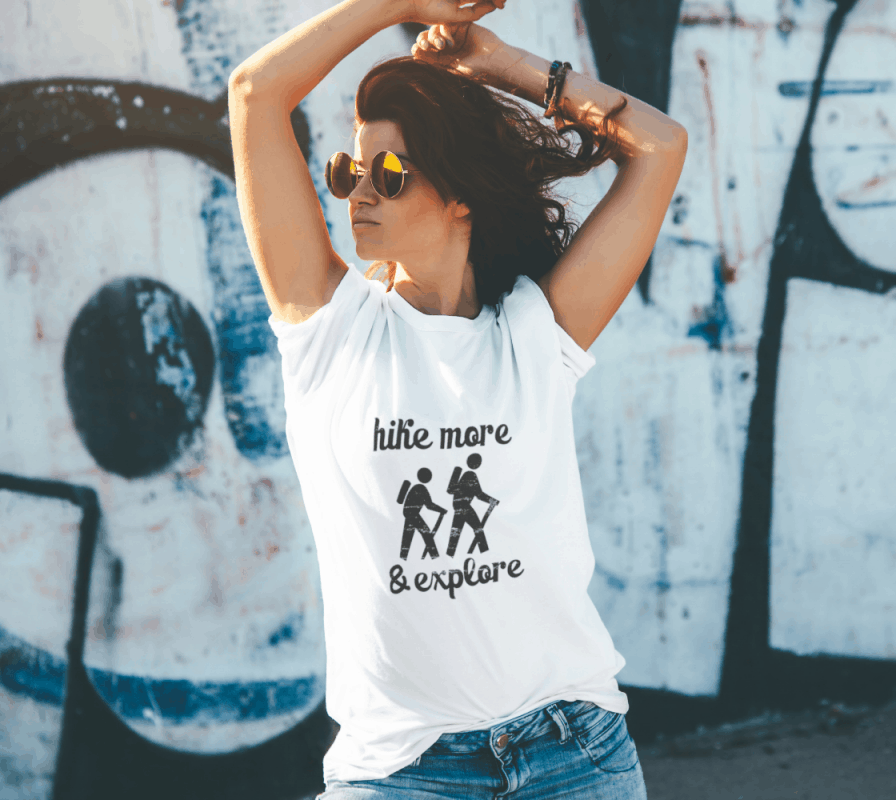 Inspired by adventures and nature. Ontario hiking and Bruce Trail apparel & accessories, designed by me.