The Princess Point trails in Hamilton, Ontario are a fabulous place to go hiking on the waterfront. You'll enjoy brilliant views of Cootes Paradise on the way, as well as some forest treks on the outskirts of Westdale. The hiking trails at Princess Point are part of the Royal Botanical Gardens trail system.
Posts may be sponsored. Post contains affiliate links. I may be compensated if you make a purchase using my link.
I'm going to tell you a little bit more about why you should visit the Royal Botanical Gardens trails and how to plan your trip to Princess Point in particular. In total, there are 31 hiking trails and 27km of paths that make up the Royal Botanical Gardens trail system.
Become an Ontario Hiking Supporter!
Join the Ontario Hiking Patreon and you'll become a VIP member of the Ontario Hiking community! You'll receive ad-free, downloadable hiking guides with new guides added weekly. Plus, there are many more perks! Become an Ontario Hiking Supporter today!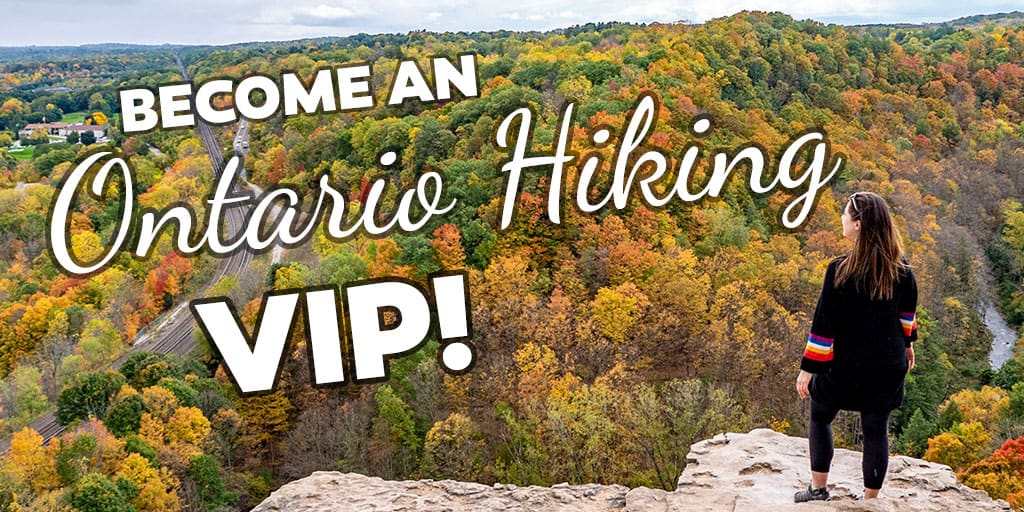 Royal Botanical Gardens: More Than a Garden
When the Royal Botanical Gardens comes to mind, I'm sure you think about the beautiful flowers and plants that make up the garden itself. The RBG is the largest botanical garden in Canada, and it's also a National Historic Site of Canada as it was founded in the 1920s.
Did you know that the Royal Botanical Gardens owns over 2400 acres of nature sanctuary, and it's a wild plant biodiversity hot spot in Canada? It's part of the UNESCO Niagara Escarpment Biosphere Reserve, it's an Important Bird Area according to Bird Studies Canada, and more than 750 native plant species grow here.
You can spot 277 species of migratory birds, 68 species of fish, 37 different kinds of mammals, 14 reptiles, and 9 amphibian species. Some notable plants include the Bashful Bulrush (not found anywhere else in Canada) and the Red Mulberry, Canada's most endangered tree (the highest populations of this tree exist on RBG lands).
Even though there are many hiking trails, 20% of the RBG property is completely protected without any visitor access. This ensures that animals and plants are preserved without human interference. Near many of these special protected areas, there are lookouts that allow people to spot wildlife from a distance.
Royal Botanical Gardens: Princess Point Trails
There are 31 hiking trails at the RBG, including the ones at Princess Point, Hendrie Valley Sanctuary, Rock Chapel Sanctuary, Cootes Paradise Sanctuary, Hickory Valley, Hopkin's Woods Special Protection Area and the Anishinaabe waadiziwin Trail.
Princess Point is at the southeast edge of Cootes Paradise in west Hamilton. While there are interconnected RBG hiking trails here, it also serves as a hub that connects many other trails together like the Waterfront Trail, Bayfront Park, and other Royal Botanical Gardens trails.
The main parking lot for the Princess Point trails is located at 335 Longwood Rd North. There is ample parking, and it costs $3.00 per hour (with a daily maximum of $15.00). We hiked there for about two hours, but paid for three hours of parking just to be on the safe side.
Princess Point Trail Map
Here is the Princess Point trail map as posted at the parking lot. You'll get a great view of the Cootes Paradise Nature Sanctuary trails here. Princess Point is at the southeast side of Cootes Paradise, as you can see by the "you are here" circle in red on the map. From here, we hiked on the Princess Point Trail, the Ginger Valley Trail, the Sassafras Point Trail, the Ravine Road Trail, and Caleb's Walk.
Princess Point Trail
The Princess Point Trail forms one small loop around the little peninsula (Princess Point). Then, it follows the edge of the Cootes Paradise waterfront with a couple of lookout points along the way. These are wooden platforms overlooking Cootes Paradise offering beautiful, scenic views.
Then, the Princess Point Trail cuts into a forested area. You can continue around in one big loop back to the parking lot or continue to the Ginger Valley Trail. To reach the Ginger Valley Trail, you'll need to walk across a grassy football field in a northwesterly direction until you see the trailhead.
Ginger Valley Trail
The Ginger Valley Trail is a mostly forested trail that isn't terribly exciting, but a nice walk through the trees regardless. There are a few small inclines and declines, but it's a mostly flat path.
Towards the end of the Ginger Valley Trail, you'll reach one big hill that's a steep descent (or ascent, if you're coming from the opposite direction).
Sassafras Point Trail
The Sassafras Point Trail is a worthwhile detour! From the Ginger Valley Trail, the Sassafras Point Trail leads all the way out to Sassafras Point. At the end of the trail, there's a wooden platform offering another pretty view of Cootes Paradise.
While we saw many birds in the trees and out on the water, we also saw a cute raccoon by the water's edge, too!
Ravine Road Trail
The Ravine Road Trail isn't a very scenic trail. Rather, it's a gravel path that connects many of these trails together. As Caleb's Walk is now a one-way path, you'll need to take the Ravine Road Trail to connect with Caleb's Walk from the south side of the path. It's a narrow walk and during the pandemic, it's one way only to protect the safety of fellow hikers.
Caleb's Walk
To access Caleb's Walk, start at the south side of the trail and walk north on it. You'll eventually connect back up with the Ravine Road Trail and the Ginger Valley Trail. Even though it's a little bit of a detour to walk around in a loop, you won't want to miss Caleb's Walk. It's very scenic with beautiful plants, and there's also a lengthy wooden boardwalk.
Plan Your Visit to Princess Point
Visiting the hiking trails at Princess Point is completely free, although you will have to pay for parking. The parking lot for Princess Point (335 Longwood Rd North) is $3.00 per hour with a maximum daily rate of $15.00. Proceeds from the parking fees go towards maintaining the natural beauty of the area.
If you've purchased a ticket to the Royal Botanical Gardens, you can park at any of the hiking trail parking lots for free by displaying your receipt. Likewise, if you're a member of the RBG, you'll receive a year long parking pass for any of the RBG trailhead parking lots. Also, there aren't any restroom facilities here, so please plan accordingly.
Trail Rules at the Royal Botanical Gardens
Please be respectful of the trail rules by following them. These should all be pretty self explanatory, but I'll post them here just in case.
Runners, bicycles, horseback riding, and motorized vehicles are prohibited.
Dogs are welcome but must stay on a leash, and you must clean up after your dog (and dispose of waste properly in the garbage cans).
Do not pick any plants.
Please do not feed the birds or wildlife.
You are not allowed to fly drones on any RBG properties.
What to Bring on a Hike
A proper pair of hiking shoes is an absolute must. It's also a good idea to bring sunscreen and lots of water, too. My water bottle of choice is the GRAYL Purifier because you can drink ANY water from any source, no matter what. Water from lakes, streams, rivers, public restrooms, you name it. It's the world's fastest portable purifier. Get your hands on one ASAP!
Don't forget to pack some bug spray because there can be biting bugs depending on the time of year. Even if there aren't any signs, it's safe to assume that ticks are all over Ontario hiking trails. Protect yourself against ticks by reading our guide to avoiding ticks on the trails.
For amazing deals on hiking products like backpacks, boots, clothing, and gear, check out the Decathlon Canada shop!
Want to see more photos from Princess Point?
Browse our entire travel photography album in one place. You can browse and buy any of our pictures, including prints, gifts and more.
More Hikes in Hamilton
If you're looking for more hikes in Hamilton, please check out the following articles:
Join the Ontario Hiking Facebook Group
You are also welcome to join our Ontario Hiking Facebook Group – it's a great way to ask questions about hiking in Ontario, share your Ontario hikes, and get inspired!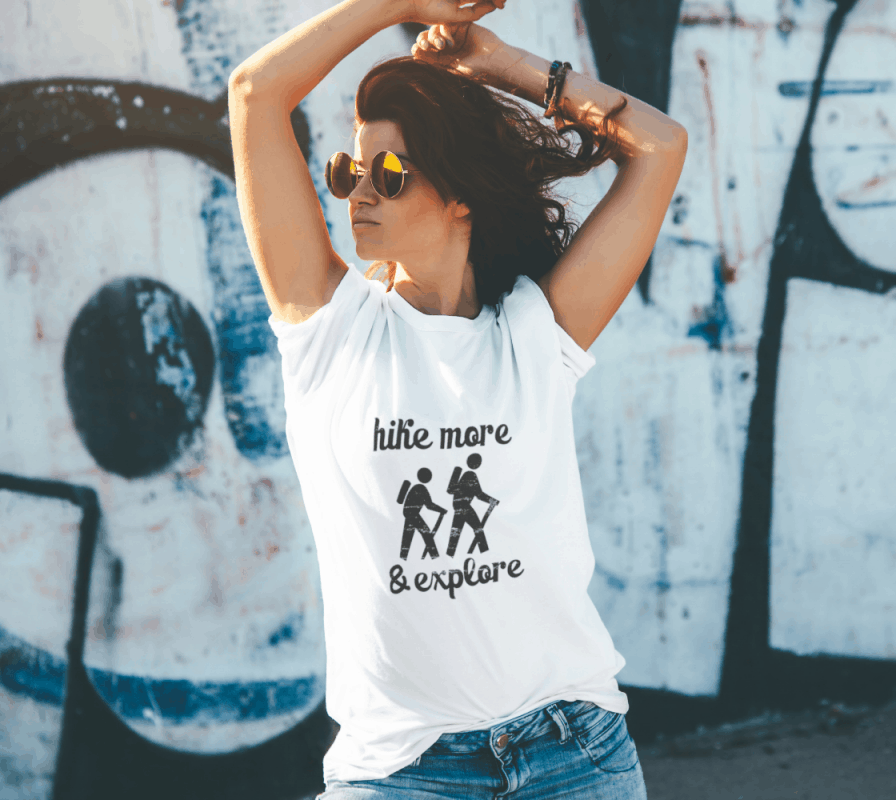 Inspired by adventures and nature. Ontario hiking and Bruce Trail apparel & accessories, designed by me.