Apps Mill is a conservation area, operated by the Grand River Conservation Authority (GRCA) and it's one of the best places to go hiking in Brantford, Ontario. On this 266 acre property (107 hectares), you'll discover mature forests and peaceful meadows with serene views of Whitemans Creek. It's a wonderful place to wander through the forest, walk across small bridges, and explore along the edge of the creek.
Posts may be sponsored. Post contains affiliate links. I may be compensated if you make a purchase using my link.
There's also a bit of history at Apps Mill – the mill itself, of course! While the building remains in a state of disrepair (and you can't go inside the building), it's a rather iconic sight and great for some photo opportunities.
Become an Ontario Hiking Supporter!
Join the Ontario Hiking Patreon and you'll become a VIP member of the Ontario Hiking community! You'll receive ad-free, downloadable hiking guides with new guides added weekly. Plus, there are many more perks! Become an Ontario Hiking Supporter today!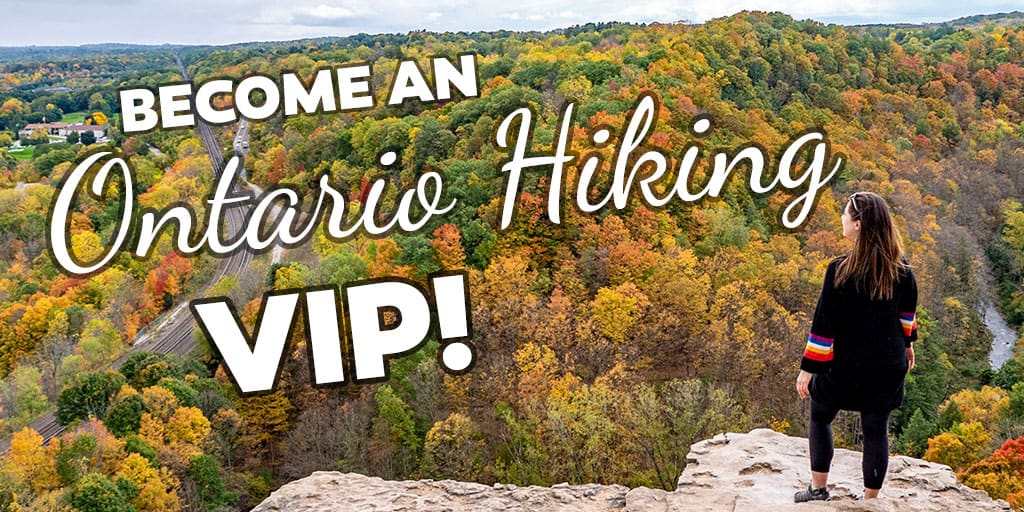 Apps Mill Trail Map
Here is the Apps Mill trail map that's posted at the trailhead, just outside of the nature centre. There is one big loop trail on the property surrounding Whitemans Creek. It's a relatively flat path with a few small inclines and declines through the forest.
This one is a family friendly trail that's great for beginners. You won't feel too bored if you're a more experienced hiker either, especially if you're seeking a little jaunt through the forest. There are plenty of adorable tiny footbridges on the way, and I'm sure you might spot some wildlife without too much trouble – birds, squirrels, chipmunks, and frogs.
Apps Mill Hiking Trails
The Apps Mill hiking trail is 3.4km in length when it forms the full loop (more on the partial trail closure in a bit). There are also lots of small offshoots from the trails down to the river in many places. These are smaller paths that are well worn. You can hike on these for a little bit if you choose and then link back up with the main trail.
I didn't find that the Apps Mill trails were well marked with any blazes. In fact, I didn't see any trail blazes at all. But, it's pretty impossible to get lost here. The trail is one big loop around Whitemans Creek. Just keep walking and you'll find your way, no problem.
When you start hiking from the Nature Centre, you'll encounter a small bridge and then a larger bridge over the creek. From there, you'll come across the historic old mill building.
Then, there are several opportunities to walk to the edge of Whitemans Creek. It's such a peaceful and beautiful spot. You might be able to spot some wildflowers in the spring, too!
Apps Mill Nature Centre
The Apps' Mill Nature Centre was donated by SC. Johnson and Son Ltd. of Brantford. This Nature Centre, operated by the Grand River Conservation Authority (GRCA), offers loads of programs for adults and children alike.
These activities help everyone to have a greater appreciation for nature and the great outdoors. There are hands-on nature activities for families, school programs, youth and community group programs, day camps, and even eco-adventure birthday parties.
Historic Apps Flour and Grist Mill
Not long after starting your hike, if you walk across the two bridges a short distance from the Nature Centre (rather than heading southwest into the forest), you'll come across Apps Mill itself. The historic Apps Flour and Grist Mill dates back to 1841. The old mill lies in ruins, and you cannot go inside.
Notably, there's a bit of graffiti on the outside of the mill, and there's a big painted heart on the building itself. I suspect that the heart has been there for some time. It makes for some lovely photographs!
Partial Trail Closure
Unfortunately, the Apps Mill trail no longer forms a complete loop. A portion of the trail is temporarily closed. Since June 2020, the trails on the western half of Apps Mill are closed. The trails are closed due to the presence of emerald ash borer. The GRCA wants to take care of hazard tree risks in the area.
The GRCA expects that the trails will be closed from two to four years. There are signs marking the closure. You can't miss them. When you reach one of the signs, you'll simply need to turn around and backtrack. Then, you can continue on the trail in the other direction.
It's a bit of an inconvenience that this trail no longer forms a loop. Unfortunately, there isn't much that we can do about it. Hopefully, this issue will be resolved sooner than later, and we can go back to hiking the loop once again. Even though the trail doesn't form a loop and you'll need to do some backtracking, Apps Mill is still very much worthy of a visit.
Want to see more photos from Apps Mill?
Browse our entire travel photography album in one place. You can browse and buy any of our pictures, including prints, gifts and more.
Plan Your Visit to Apps Mill
The Apps Mill Nature Centre is located at 308 Robinson Rd in Brantford. It is free to visit Apps' Mill and parking is also free. There is ample parking at the main entrance outside of the Nature Centre. There are also additional smaller parking lots surrounding the property on Robinson Road and Cleaver Road.
Currently during the pandemic, the Nature Centre is closed and so are all facilities. There aren't currently any restrooms available, so plan accordingly. There are usually restrooms available when the Nature Centre is open.
What to Bring on a Hike
A proper pair of hiking shoes is an absolute must. It's also a good idea to bring sunscreen and lots of water, too. My water bottle of choice is the GRAYL Purifier because you can drink ANY water from any source, no matter what. Water from lakes, streams, rivers, public restrooms, you name it. It's the world's fastest portable purifier. Get your hands on one ASAP!
Don't forget to pack some bug spray because there can be biting bugs depending on the time of year. Even if there aren't any signs, it's safe to assume that ticks are all over Ontario hiking trails. Protect yourself against ticks by reading our guide to avoiding ticks on the trails.
More Hiking at Grand River Conservation Authority Trails
Here are all of the Grand River Conservation Authority properties, including their parks, conservation areas, and trails with links to the ones I've visited so far:
Apps' Mills
Belwood Lake
Brant Park
Brantford to Hamilton Rail Trail
Byng Island 
Cambridge to Paris Rail Trail
Conestogo Lake Park
Dumfries Conservation Area
The Elora Cataract Trailway
Elora Quarry
FWR Dickson Wilderness Area
Guelph Lake Park
Hanlon Creek Trail
Laurel Creek Conservation Area
Luther Marsh Wildlife Management Area
Pinehurst Lake
SC Johnson Trail (Paris to Brantford)
Shade's Mills
Snyder's Flats
Starkey Hill
Taquanyah Conservation Area
Woolwich Reservoir
Join the Ontario Hiking Facebook Group
You are also welcome to join our Ontario Hiking Facebook Group – it's a great way to ask questions about hiking in Ontario, share your Ontario hikes, and get inspired!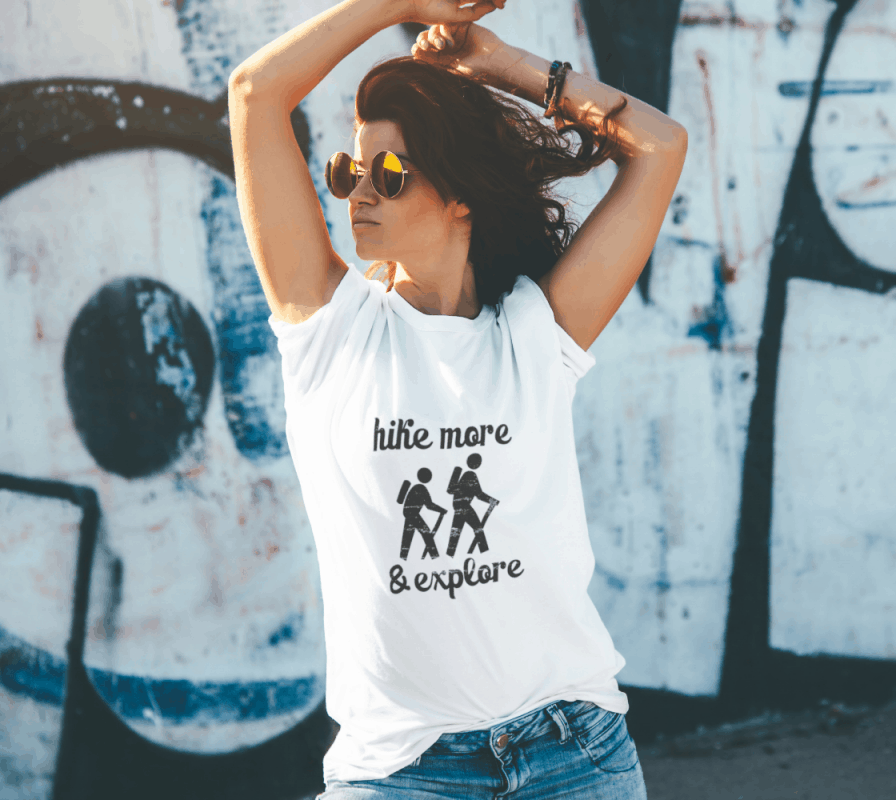 Inspired by adventures and nature. Ontario hiking and Bruce Trail apparel & accessories, designed by me.