Rondeau Provincial Park is known first and foremost for its incredible biodiversity. It's a renowned bird watching destination, and there's a popular bird watching festival in the spring called "Festival of Flight".
Posts may be sponsored. Post contains affiliate links. I may be compensated if you make a purchase using my link.
According to the Friends of Rondeau, over 360 species of birds have been spotted in the area. 130 of those species breed within the park, and many others are migrating birds that stop over at Rondeau in the spring and fall.
The diverse habitats are one reason why Rondeau Provincial Park attracts so many birds and an array of wildlife. There's an old growth Carolinian forest with trees that are hundreds of years old. Furthermore, the expansive coastal wetlands are home to even more species of birds and reptiles. Yes, Ontario's only lizard, the Common Five-lined Skink, lives at the park.
When you go hiking at Rondeau, you'll have the opportunity to immerse yourself in its beautiful scenery and possibly view some wildlife. Be on the lookout for birds, turtles, butterflies, moths, rabbits, and snakes. There are also many pretty wildflowers on the trails, and you might even have a chance to see the giant blooms on the Tulip Trees if you visit in June.
Join the Ontario Hiking Facebook Group
You are also welcome to join our Ontario Hiking Facebook Group – it's a great way to ask questions about hiking in Ontario, share your Ontario hikes, and get inspired!

Rondeau Provincial Park Trail Map
Here's a map of Rondeau Provincial Park showing almost all of the trails. Please note that the Marsh Trail is closed due to flooding. There is also a new trail that isn't on this map, Warbler's Way. You'll find the trailheads to Warbler's Way on Rondeau Road and the north side of the Harrison Trail.
All of the trails at Rondeau are considered to be an easy rating, and the trails are all quite flat. Many of these are also boardwalk trails. Here is a list of all the hiking trails:
Black Oak Trail (1.4km loop)
Harrison Trail (8km one way, 16km return)
South Point Trail (8km loop)
Spicebush Trail (1.5km loop)
Tulip Tree Trail (1.2km loop)
Warbler's Way (0.5km loop)
Rondeau Provincial Park Hiking Trails
Here's a full Rondeau Provincial Park trail guide. There are several different hiking trails at Rondeau in varying distances, from 1.5km loop trails to 16km out and back hikes.
New to hiking? Ontario Parks has a really helpful guide to hiking basics that everyone should read before hitting the trails. Always remember to leave no trace on the trails. This means that you should not litter (pack in/pack out, including dog waste), don't pick plants, stay on the designated trails, keep your dog on a leash, and be respectful to your fellow hikers.
Tulip Tree Trail
The Tulip Tree Trail is the most popular trail at Rondeau Provincial Park. If you only have time to hike one trail, be sure to check this one out. At 1.2km, it's an easy loop trail that shouldn't take you any longer than an hour to hike.
This is a barrier free trail covered almost completely by boardwalks, meaning that it's an accessible trail for wheelchairs and strollers. If you require an all-terrain wheelchair, you can borrow one from the Visitor Centre.
Some of the trees that you will see along the hike are the Tulip Tree, Sassafras, and Shagbark Hickory. When I went to the Visitor Centre, I was amazed to learn that some Sassafras trees are up to 500 years old. These trees are all excellent examples of the kinds of trees you'll find in an old growth Carolinian forest, such as the one found at Rondeau Provincial Park.
There are also many examples of temporary wet sloughs (swamps or shallow wetlands that appear seasonally, with standing or very slow moving water). This is yet another unique habitat that you'll find at Rondeau.
Warbler's Way
Warbler's Way is the newest trail at the park, and it opened in honour of Rondeau's 125th anniversary. True to its namesake, it's a fantastic place to view migrating warblers in the spring and fall.
It's an interesting shorter trail (0.5km in length), and worth checking out for its flora and fauna. Notably, there are lots of Black Walnut trees in this area. In the early spring, you might be able to witness red Bloodroot plants carpeting the ground.
Spicebush Trail
The Spicebush Trail is a 1.5km loop trail that should take you an hour or less to walk. You'll walk through a hardwood forest with Tulip Trees, maple trees, and American Beech trees. You'll walk between forest and marshy areas, and this diversity of habitats attracts a variety of wildlife.
In the spring and summer, there are an array of different wildflowers, and you can also see many ferns. The Spicebush has bright yellow flowers that bloom in the spring. I had the pleasure of seeing the pretty pink flowers on wild Black Raspberry bushes.
This is an excellent trail for birdwatching, and you'll also likely see some butterflies and moths, too. Keep your eyes out for frogs and snakes near the marshy spaces!
Southpoint Trail
The Southpoint Trail is a lengthy flat trail that's 8km in length. You can access it from several points: Lakeshore Road, Rondeau Road, or the Visitor Centre. This is a great trail for birding during bird migration seasons. Otherwise, it's a little less interesting for hiking. Many people go biking on this flat trail through the forest.
At the southern point of the trail, you'll be able to witness beautiful views of Lake Erie. Feel free to wander along South Beach, though this is not an official trail. I went for a walk on the beach here with a park naturalist who pointed out many birds, including Bald Eagles (we saw four in total!).
Black Oak Trail
The Black Oak Trail is a 1.4km walk through the pine-oak savannah. This is another great trail for birdwatching in the spring and fall. The meadows along this trail feature Wood Lily, Wild Columbine, and Woodland Sunflower.
Harrison Trail
The Harrison Trail is the lengthiest trail at the park. It's an 8km jaunt in one direction (16km round trip). It was once a gravel roadway that provided access to the lighthouse at the end of the peninsula. It's named for Thomas Harrison, the lighthouse keeper that walked every night along this path to illuminate the lighthouse.
Closed Trail: Marsh Trail
Unfortunately, the Marsh Trail is closed due to flooding.
More Things to Do at Rondeau Provincial Park
Aside from hiking, there are other wonderful things to do at Rondeau Provincial Park. The park has a very informative Visitor Centre, and you can learn so many things at their Discovery Program. Join naturalists on guided hikes where you can learn about the amazing diverse habitats in the old growth forest and perhaps spot some birds or wildlife.
Check out the Dunes
In addition to the trails, you can go for a walk around the dunes at Rondeau's beaches. These dunes are habitats for even more creatures, like the endangered Fowler's Toad and Common Five-lined Skink.
Visit the Visitor Centre
The Visitor Centre is an educational facility and it's a great spot to begin your journey at Rondeau Provincial Park. There are so many interactive displays with knowledgeable information about the park. You can also visit some of the resident animals, like rescued turtles and snakes.
There's a display in collaboration with local Indigenous communities (Aamjiwnaang First Nations, Eelünaapèewii Lahkèewiit and the Caldwell First Nations) to showcase culture and tradition. There's a small wigwam in the Visitor Centre, and there are works of art by Indigenous artists.
Naturalists are always around the Visitor Centre to answer any questions that you might have. There's also a small gift shop at the Visitor Centre.
Attend an Event
There are many programs and events at Rondeau Provincial Park, especially throughout July and August. These include guided hikes with a naturalist, children's programs, and programs on a variety of topics. They'll cover everything from Lake Erie shipwrecks to the species found in the park.
These special events and programs will spark your interest in new topics and will uncover new features of the park. Be sure to take a look at this events page to see what's happening when you visit.
Other Outdoor Activities
Some favourite outdoor activities at Rondeau Provincial Park include biking, swimming at the beach, boating, canoeing, and of course, camping. In the winter, you can go cross-country skiing and snowshoeing on the trails.
Want to see more photos from Rondeau Provincial Park?
Browse our entire travel photography album in one place. You can browse and buy any of our pictures, including prints, gifts and more.
Plan Your Visit to Rondeau PP
Rondeau Provincial Park is about three hours from Toronto, as well as an hour and fifteen minutes from both London and Windsor. It's a great destination for a weekend camping trip and hiking simply for the day.
As this is an operating provincial park, there are lots of facilities like restrooms, comfort stations, picnic shelters, a visitor centre and a park store. Rondeau Provincial Park has 11km of sandy beaches on Lake Erie with 11 beach accesses. There's also a more sheltered swimming experience at Rondeau Bay.
Please note that there are day rate fees to visit Rondeau Provincial Park. Like most provincial parks in Ontario, you pay one flat rate per car. I suggest picking up an Ontario Parks annual pass if you plan on visiting five or more parks a year, as it will end up paying for itself in time.
What to Bring on a Hike
A proper pair of hiking shoes is an absolute must. It's also a good idea to bring sunscreen and lots of water, too. My water bottle of choice is the GRAYL Purifier because you can drink ANY water from any source, no matter what. Water from lakes, streams, rivers, public restrooms, you name it. It's the world's fastest portable purifier. Get your hands on one ASAP!
Don't forget to pack some bug spray because there can be biting bugs depending on the time of year. Even if there aren't any signs, it's safe to assume that ticks are all over Ontario hiking trails. Protect yourself against ticks by reading our guide to avoiding ticks on the trails.
For amazing deals on hiking products like backpacks, boots, clothing, and gear, check out the Decathlon Canada shop!
More Hiking in Southwestern Ontario
Looking for more great hiking trails in southwestern Ontario? We've got a few trail guides that will help you out!
This trail is featured in our list of the 100 best hiking trails in Ontario. Take a look at the entire list to plan all of your future hiking adventures!
Become an Ontario Hiking Supporter!
Join the Ontario Hiking Patreon and you'll become a VIP member of the Ontario Hiking community! You'll receive ad-free, downloadable hiking guides with new guides added weekly. Plus, there are many more perks! Become an Ontario Hiking Supporter today!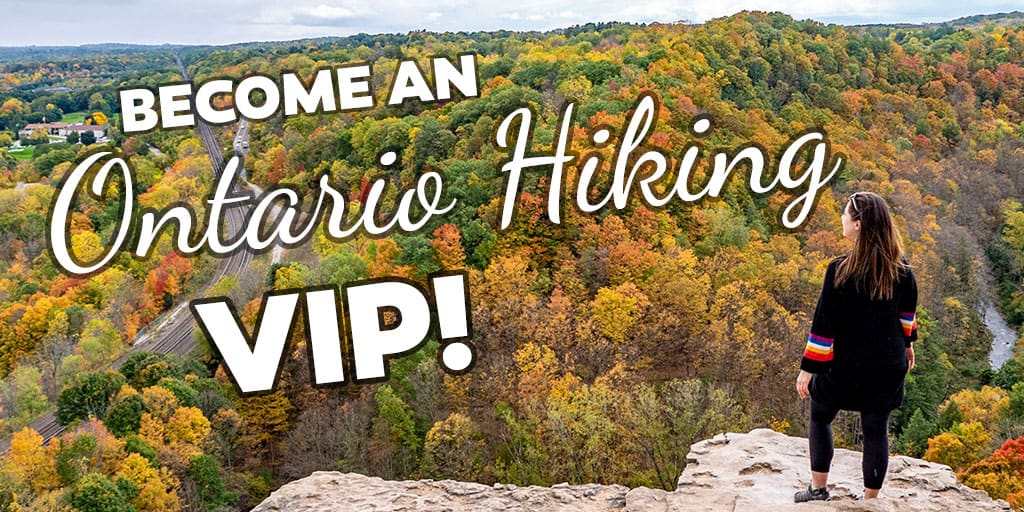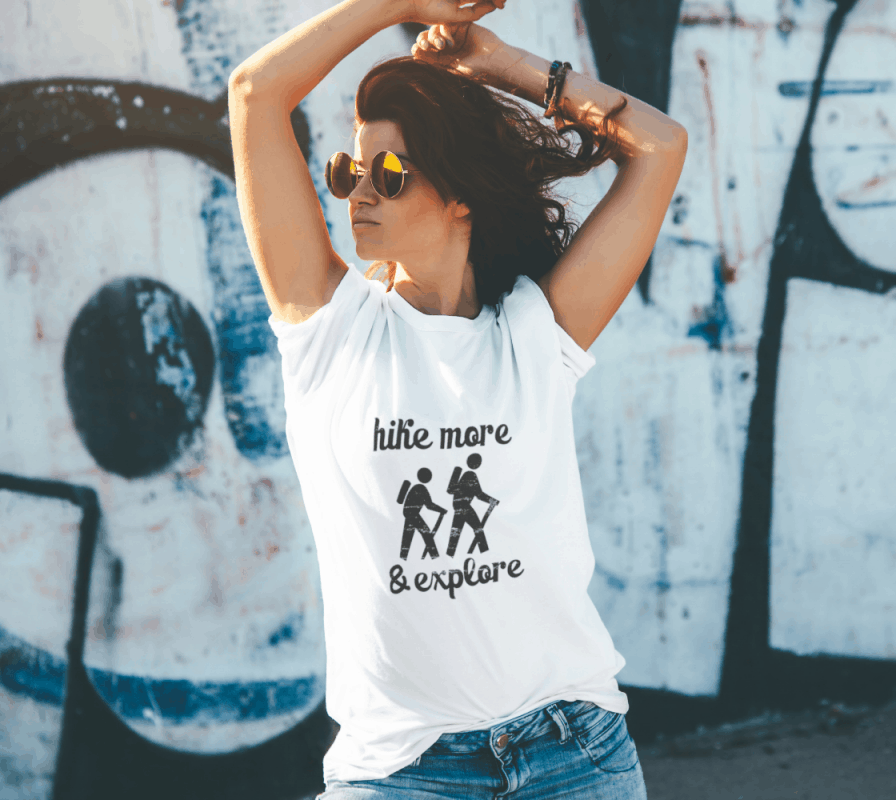 Inspired by adventures and nature. Ontario hiking and Bruce Trail apparel & accessories, designed by me.