Springwater Conservation Area in Alymer, Ontario is a great place to enjoy nature and the outdoors. There are four hiking trails at Springwater Conservation Area, campgrounds, a pond and a small beach. There's even a maple syrup festival here in the winter.
Posts may be sponsored. Post contains affiliate links. I may be compensated if you make a purchase using my link.
If you're looking for places to hike near London or St. Thomas, Ontario, Springwater Conservation Area is an excellent one to add to your list. Out of all the hiking trails in Elgin County, it's one of the best.
Become an Ontario Hiking Supporter!
Join the Ontario Hiking Patreon and you'll become a VIP member of the Ontario Hiking community! You'll receive ad-free, downloadable hiking guides with new guides added weekly. Plus, there are many more perks! Become an Ontario Hiking Supporter today!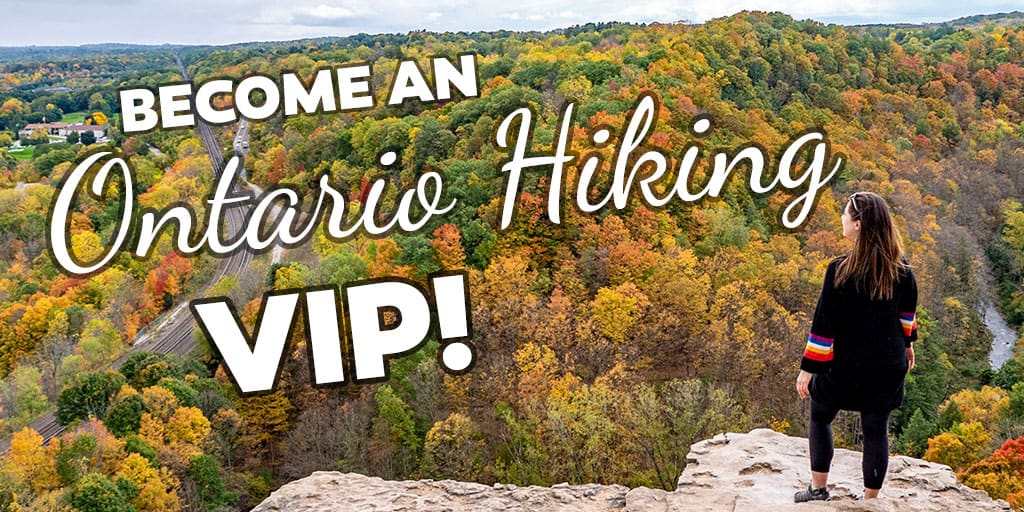 Springwater Conservation Area Map
Here is a Springwater Conservation Area trail map. As you can see, there are four different hiking trails. I recommend beginning your hike at the main day use parking lot where you'll start hiking on the Springwater Forest Main Trail. All of the other hiking trails connect to this one.
Springwater Conservation Area Hiking Trails
There are four hiking trails at Springwater Conservation Area, a 600 acre Carolinian forest. Looking at the trail map above, my route started on the red trail (Main Trail), ventured down to the purple trail (Jaffa Tract), looped back around and then I walked on the yellow trail (South Shore Trail) to get back to the car. The most interesting segments were around the Jaffa Tract with its boardwalks and the South Shore Trail around the pond.
I estimate that this was between a 5-6km hike. These trails are relatively flat paths the entire time, and they're great for beginner hikers and small children. They're also dog-friendly, too. I also saw someone riding their bike here as well.
Springwater Forest Main Trail
Beginning the hike at the Springwater Forest Main Trail, you'll be immediately surrounded by tall trees as you walk into the forest. The main trail is a relatively wide path, and it's pretty flat throughout the journey.
When I visited on a weekday afternoon, there were barely any other people in sight. I came across a couple walking their dog, and one other person the entire time I was there. Needless to say, this is an incredibly peaceful place where you can find solace in nature.
Jaffa Tract (Main Trail and Loop)
While the Springwater Forest Main Trail was a pretty wide path, the trail narrows on the Jaffa Tract. I thought this was the most interesting part of the conservation area. You'll walk across several narrow wooden boardwalks through the forest.
I was completely alone on the Jaffa Tract, except for one cyclist. I can imagine that it would be pretty fun to ride across the narrow boardwalks on a bike. Aside from the boardwalks, I also noticed some delicate wildflowers along the path on my trip.
Springwater Forest South Shore Trail
Looping back around, I decided to walk on the Springwater Forest South Shore Trail for an alternate way back to the car. This path follows along the Springwater Pond. This was the only place where I noticed a few flies and mosquitoes, so be sure to pack your bug repellent just in case.
While trees obscured the views of the pond for most of the way, there is a clearing at one point. Venture off the main trail a short distance to a small wooden dock. You can admire scenic views of the pond from this vantage point.
Other than the views of the pond from the beach and the parking lot, this is the best place to catch glimpses of the waterfront at Springwater Forest.
North Shore Trail Loop
This was the one trail at Springwater Conservation Area that I didn't hike. You can access this trail from the campground and the beach. It also connects to the northern point of the Springwater Forest Main Trail. You'll have to let me know how you enjoy this one if you end up exploring it.
Want to see more photos from Elgin County?
Browse our entire travel photography album in one place. You can browse and buy any of our pictures, including prints, gifts and more.
Plan Your Visit to Springwater Forest
Springwater Forest is open for day use activities and camping. It costs $10.00 a day for a day pass, and you can check in at the visitor's centre. The hours for Springwater Conservation Area are listed on the Catfish Creek Conservation Authority website.
There's a sandy beach, separated from the main campground, that's 150 metres long. The beach is perfect for swimming .It's located on Springwater Pond, a spring-fed pond.
There are canoe and kayak rentals, $40 for a half day (4 hours) and $75 for a full day (more than 4 hours). I'm not sure if the boat rentals are available this year, but they were not available in 2020. Please inquire at the visitor's centre for information. For the latest news about Springwater Conservation Area, please feel free to check out the official Facebook page.
Camping at Springwater Conservation Area
Camping at Springwater Conservation Area is open from the Victoria Day long weekend to Thanksgiving long weekend. They have 182 sites with hydro and water, and 82 non-serviced sites. If you're interested in camping at Springwater Forest, you can either visit in person or call 519-773-9037.
Springwater Maple Syrup Festival
There's a maple syrup festival at Springwater during operating weekends in March and March Break. You can watch demonstrations on maple syrup production and tour the traditional sugar shack. There's a pancake house and maple syrup products for sale. You can also take a wagon ride through the forest.
What to Bring on a Hike
A proper pair of hiking shoes is an absolute must. It's also a good idea to bring sunscreen and lots of water, too. My water bottle of choice is the GRAYL Purifier because you can drink ANY water from any source, no matter what. Water from lakes, streams, rivers, public restrooms, you name it. It's the world's fastest portable purifier. Get your hands on one ASAP!
Don't forget to pack some bug spray because there can be biting bugs depending on the time of year. Even if there aren't any signs, it's safe to assume that ticks are all over Ontario hiking trails. Protect yourself against ticks by reading our guide to avoiding ticks on the trails.
For amazing deals on hiking products like backpacks, boots, clothing, and gear, check out the Decathlon Canada shop!
More Hiking Trails in Elgin County
Looking for more great hikes in Elgin County? Elgin County in Southwest Ontario has more than 100km of trails to explore. Sections of the Trans Canada Trail run throughout Elgin County (you can read more about the Trans Canada Trail in St. Thomas).
Archie Coulter Conservation Area
Big Bend Conservation Area
Calton Swamp Wetland Complex
Dan Patterson Conservation Area
Elgin Hiking Trail
E.M. Warwick Conservation Area
Fingal Wildlife Management Area
Hawk Cliff Woods
Hawkins Tract
John E. Pearce Provincial Park
Kirk-Cousins Management Area
Lake Whittaker Conservation Area
Port Burwell Provincial Park
Join the Ontario Hiking Facebook Group
You are also welcome to join our Ontario Hiking Facebook Group – it's a great way to ask questions about hiking in Ontario, share your Ontario hikes, and get inspired!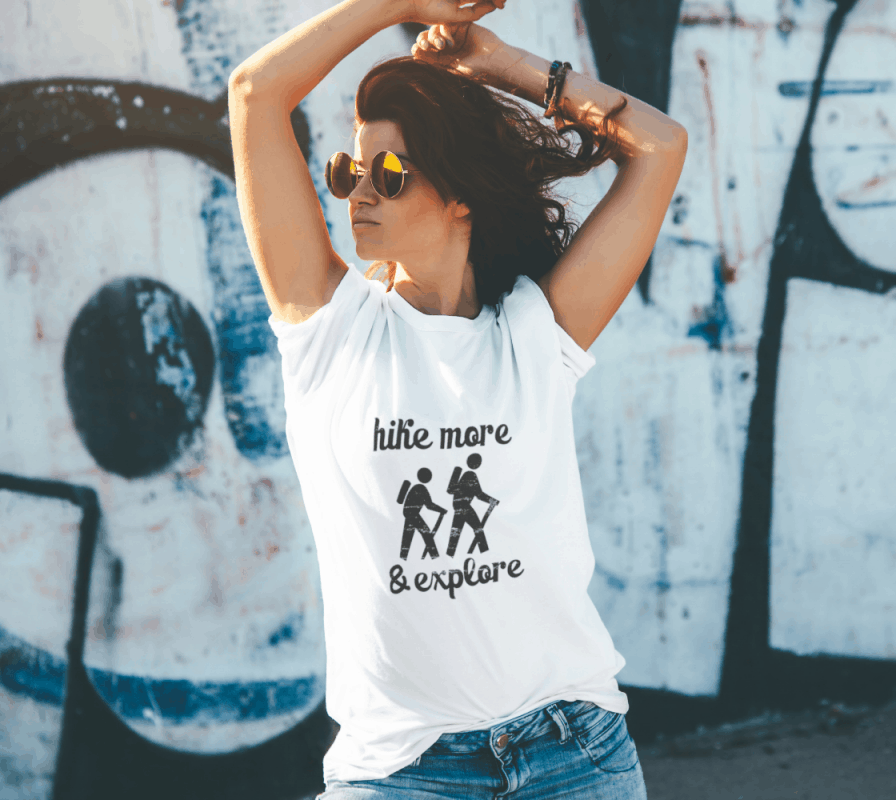 Inspired by adventures and nature. Ontario hiking and Bruce Trail apparel & accessories, designed by me.