Huron Natural Area is home to some of the best Kitchener hiking trails. I had no idea that this beautiful collection of trails existed until my friend, Sarina, introduced me to the park. She's a Kitchener-Waterloo local and local residents always know the best spots. Without a doubt, Huron Natural Area is one of the best sets of Kitchener Waterloo hiking trails, if not the best one. It's also Kitchener's largest natural space at 107 hectares.
Posts may be sponsored. Post contains affiliate links. I may be compensated if you make a purchase using my link.
There are several interconnecting hiking trails at Huron Natural Area. You can take a couple of hours and hike all of them or embark on a shorter hike completing one or two. It's the perfect place to go hiking in Kitchener with the whole family. While there are a couple of sections with gradual hills, these Kitchener trails are awesome for beginner hikers. Even as someone who is a more experienced hiker, I had a wonderful day out in nature. It's really a great set of hiking and walking trails for all.
Become an Ontario Hiking Supporter!
Join the Ontario Hiking Patreon and you'll become a VIP member of the Ontario Hiking community! You'll receive ad-free, downloadable hiking guides with new guides added weekly. Plus, there are many more perks! Become an Ontario Hiking Supporter today!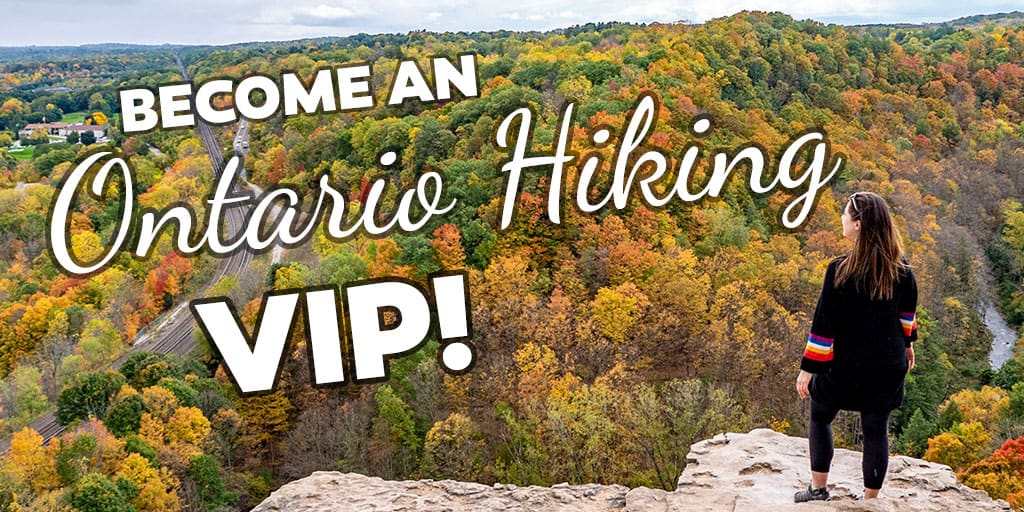 Huron Natural Area Map
Huron Natural Area is really easy to navigate, and I doubt that you'll get lost on your way. While there aren't many trail markings on the trees, there are navigational sign posts and maps on the way. These will show you exactly where you're standing and the directions of the trails.
Here is a better quality version of the Huron Natural Area trail map. You can reference the trail map and plan your hikes in advance. I personally didn't look at the trail map ahead of time. It's pretty easy to sort out once you're there, and there are several map signs posted on the trails themselves.
Hiking at Huron Natural Area
There are six different hiking trails of varying lengths at Huron Natural Area. These are some of the best hiking trails in Kitchener as you'll wander through forests, up and down a few little hills, and around a picturesque pond. For the most part, these all loop back around to the main parking lot on Trillium Drive. I love when the hiking trails form a loop or several loops because every view will be new and you won't need to do any backtracking.
Huron Trail
The Huron Trail is a 1.3km loop trail and you'll see it outlined in red on the map. This is where you'll likely start from the main parking lot. The paved sections of the trail are wheelchair accessible. We hiked along the Huron Trail to the left and connected with the Meadow Trail.
The Huron Trail is a mostly open space bordered by meadows. There are some bird houses and boxes to help the bird populations in this beautiful natural place.
Meadow Trail
From the Huron Trail, we had the option to continue the loop or head to the left on the Meadow Trail. We decided to continue walking on the Meadow Trail to connect to the westernmost trail, the Woodland Trail.
The Meadow Trail is marked in yellow on the trail map, and it's a shorter loop at 0.6km. It serves to connect a lot of different trails in the park to one another, including the Woodland Trail and the Strasburg Creek Trail.
Woodland Trail
The Woodland Trail is a 0.8km loop marked in purple on the map. This is where you'll enter the forest and walk along a dirt trail surrounded by tall trees. This is described by the park as a younger mixed forest with a slightly uneven terrain. Even though this trail goes through the woods, it's definitely not challenging and suitable for most hikers.
Strasburg Creek Trail
The Woodland Trail leads back to the Meadow Trail, and then you can connect to the Strasburg Creek Trail. This trail is 2km in length, marked in dark blue on the map, and it's the only trail in the park that doesn't form a loop. We walked on the Strasburg Creek Trail for a little while, venturing south to check out a little bridge before backtracking.
The Strasburg Creek Trail appears to connect Huron Natural Area to its surrounding neighbourhoods on the southern end of the park. If you live within walking distance of these Kitchener hiking trails, you might access the park from the Strasburg Creek Trail.
Forest Trail
Eventually, Sarina and I got back onto the Huron Trail (in red) and eventually made our way to the Forest Trail (in orange). The most notable feature along the Forest Trail is the Board of Education Pond. This is a gorgeous and very reflective small lake in the middle of the park. There's a boardwalk on the southern edge of the pond and many scenic views.
From the pond, continue walking beyond the boardwalk on the Forest Trail. The Forest Trail is 1km in length and forms a loop. Either loop back on the Forest Trail to the pond or continue hiking on one of the connecting trails.
Plantation Trail
We somehow made our way off the Forest Trail and onto a connecting trail at the edge of the park. It felt like we were a little bit lost for a few moments until we hooked up with a wide path. At the time, we didn't know where we were, but it turns out that we were on the Plantation Trail.
This is a 1.7km wide path with a stone surface that follows the edge of the forest. It's not the most scenic path in the world, but it will link back up with the Huron Trail and the parking lot. As it turns out, the Plantation Trail loops through sections of forest that were planted in the late 1950s as a way of regenerating the area after it was farmland for many years.
Plan Your Visit to Huron Natural Area
The main parking lot for Huron Natural Area faces an industrial park on Trillium Drive. There's lots of room to park your car in the parking lot. I visited on a busier fall weekend, and the main parking lot was mostly full. Many people parked right on Trillium Drive at the side of the road without any problem.
Don't worry if you see a lot of cars. Once we hit the trails, the natural space is large enough that it won't seem crowded. Near the main entrance, you'll be able to find restrooms, a picnic area and benches. The address for the main entrance is: 801 Trillium Drive, Kitchener.
Indigenous Murals at the Entrance
There are three new murals at the entrance to Huron Natural Area. Local Indigenous artists, Luke Swinson, August Swinson and Tsista Kennedy painted these works of art. The three beautiful murals showcase the ways that we are connected to the land. Not only are these works of art really colourful and meaningful, the City of Kitchener installed them as a way of welcoming Indigenous communities to the park.
The murals are just the beginning. The City of Kitchener hired Alanah Jewell, an artist and Wildred Laurier University graduate to work with local Indigenous peoples and communities to establish Huron Natural Area as a welcoming environment. Jewell is a member of the Bear Clan of the Oneida Nation of the Thames. She hopes to establish outdoor classes about foraging food, growing and harvesting food from gardens, and hosting events like powwows, drumming circles, and full moon ceremonies. I can't wait to see how these plans develop!
Huron Natural Area has historical connections to Indigenous peoples. At the south end of Huron Natural Area and along the Strasburg Creek, archaeologists uncovered an aboriginal village with 10 longhouses and numerous artifacts. The village is about 500 years old, and some of the artifacts are over 9000 years old.
What to Bring on a Hike
A proper pair of hiking shoes is an absolute must. It's also a good idea to bring sunscreen and lots of water, too. My water bottle of choice is the GRAYL Purifier because you can drink ANY water from any source, no matter what. Water from lakes, streams, rivers, public restrooms, you name it. It's the world's fastest portable purifier. Get your hands on one ASAP!
Don't forget to pack some bug spray because there can be biting bugs depending on the time of year. Even if there aren't any signs, it's safe to assume that ticks are all over Ontario hiking trails. Protect yourself against ticks by reading our guide to avoiding ticks on the trails.
Want to see more photos of Huron Natural Area?
Browse our entire travel photography album in one place. You can browse and buy any of our pictures, including prints, gifts and more.
More Hiking in Huron, Perth, Waterloo and Wellington
While I haven't tackled nearly enough of the hiking trails in Kitchener Waterloo, I'm hoping to change that soon enough! In the meantime, here are all of the trails that I've hiked so far in the region (including Huron, Perth, Waterloo, and Wellington counties).
Where to Stay in Kitchener-Waterloo
Looking to stay in Kitchener? I suggest spending a night or two in the area, especially if you're from out of town. There are lots of hiking trails in Kitchener to explore. Browse the handy map below to find a fantastic place to stay right in town.
Huron Natural Area FAQ
Do you still have some questions about hiking at Huron Natural Area? It's home to some of the best Kitchener hiking trails. I will try my best to answer all of your questions about these hiking trails in Kitchener Waterloo.
Where is Huron Natural Area and how do I get there?
The main parking lot and entrance is at 801 Trillium Dr, Kitchener, ON N2R 1K4. You'll drive into the Trillium Industrial Park and you can park at the main parking lot for free.
Is it free to visit Huron Natural Area?
Yes, it is free to visit Huron Natural Area. There are no admission charges, no parking charges, and no reservations required.
How much time should I spend hiking at Huron Natural Area?
Give yourself a couple of hours if you want to experience the entire park. If you want to go on a short hike, you can easily complete one of the loops in 20-30 minutes.
Where else can I hike in Kitchener Waterloo?
Some other great places to go hiking in Kitchener-Waterloo include: Homer Watson Trail, Walter Bean Trail, the Iron Horse Trail, McLennan Park, Borden Wetlands, Stanley Park Conservation Area, and a portion of the Trans Canada Trail runs through Kitchener-Waterloo.
Join the Ontario Hiking Facebook Group
You are also welcome to join our Ontario Hiking Facebook Group – it's a great way to ask questions about hiking in Ontario, share your Ontario hikes, and get inspired!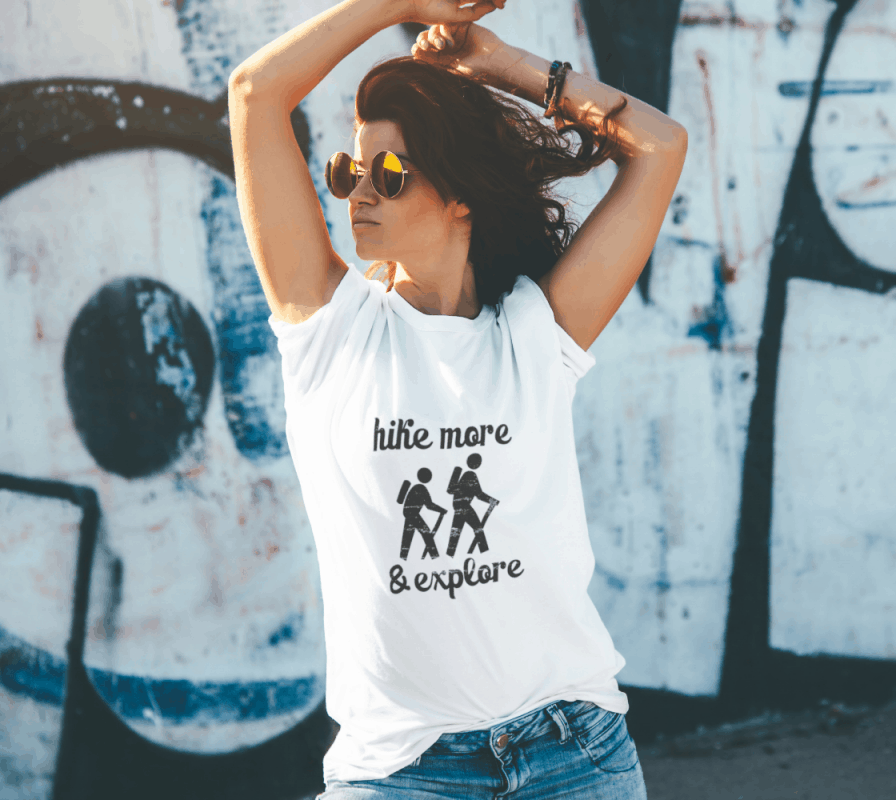 Inspired by adventures and nature. Ontario hiking and Bruce Trail apparel & accessories, designed by me.