Greenwood Conservation Area is one of the top parks in Ajax, Ontario. It also happens to be a fantastic place to go hiking in all seasons. I went to the conservation area towards the end of February on a very bright and sunny day (especially for February!). This is one of the best places to go hiking in Durham Region, whether it's the winter or any other season.
Posts may be sponsored. Post contains affiliate links. I may be compensated if you make a purchase using my link.
Before you decide to go hiking at Greenwood Conservation Area in the winter, make sure that you are prepared for icy and slippery trails. Wearing microspikes on your shoes is the best way to go hiking across icy conditions. I've worn mine on several occasions this winter and they've never failed me. It's such a small investment to make to be able to hike in all seasons. If there's enough snow, it's one of the best places to go snowshoeing in Ontario.
Become an Ontario Hiking Supporter!
Join the Ontario Hiking Patreon and you'll become a VIP member of the Ontario Hiking community! You'll receive ad-free, downloadable hiking guides with new guides added weekly. Plus, there are many more perks! Become an Ontario Hiking Supporter today!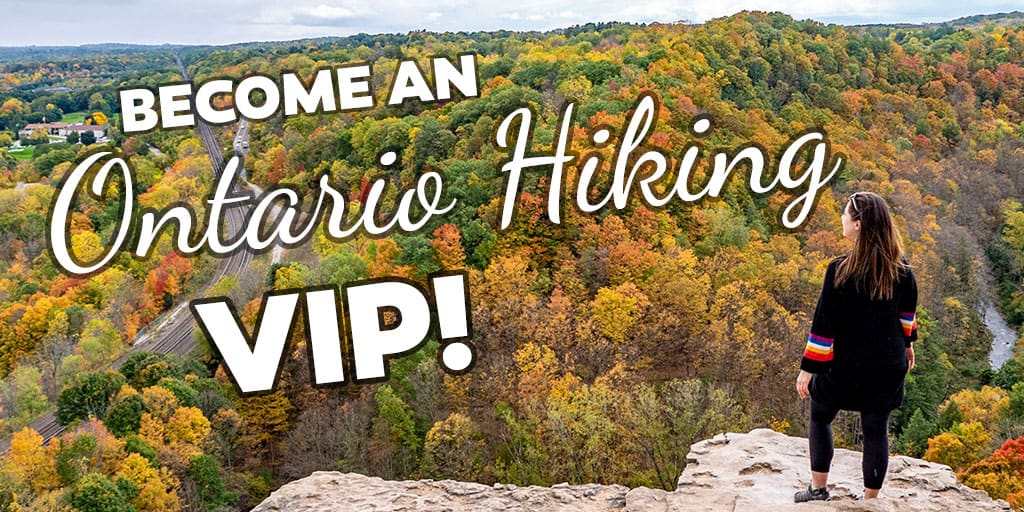 Greenwood Conservation Area Trail Map
I wasn't able to find a hiking trail map for Greenwood Conservation Area anywhere online, but thankfully there are some on display at the park. You'll find signs at the entrance and near the main pavilion marking the trails on the southern side of the park. I've taken a photo of the Greenwood Conservation Area map so you can view it in advance.
There's an entire north side (not pictured) to this expansive park in Ajax that I didn't have the chance to visit. I'd love to return to go hiking there, too. Once I hike it, I'll come back and update this article with more details.
If you plan to go hiking for the whole day, you could probably hike the northern and southern sections. I made a big loop in the southern section that totaled about 5km. There's a separate north entrance for those seeking to hike those trails, so you can visit either section to hike a shorter distance.
Hiking at Greenwood Conservation Area
There are several hiking trails at Greenwood Conservation Area, and I tackled the southern end of the park. The main trail is the Duffins Trail, which follows portions of Duffins Creek and meanders through the neighbouring forest. There are a few other hiking trails besides the Duffins Trail, including the Leash Free Area for dog owners.
Duffins Trail (and Beyond!)
Duffins Trail is a 2.9km loop trail that starts at the Greenwood Discovery Pavilion. It loops around near the Leash Free Area and you can partially retrace your steps to loop back around. I didn't follow the park's trail map. Instead, I relied on my All Trails app, which shows a very different path though another part of the park.
If you look at the southern part of the map, I hiked most of these trails. This included the Duffins Trail and another unmarked section that looped down to the south and back around. While these trails seem like they're frequented fairly often, there isn't any signage or arrows around there, which makes me believe that they're unofficial paths.
You'll start by hiking down a fairly steep hill (there are stairs off to the side if you'd rather walk on those, especially in the winter) where you'll see a small bridge over Duffins Creek. Continue to hike along Duffins Creek before veering off into the forest. There are arrows marking the trail, so it's pretty impossible to get lost.
Eventually, you'll reach a portion of the trail that's part of the Trans Canada Trail, also known as The Great Trail. I stayed on the Trans Canada Trail for a very short period of time before ending up on this unmarked section of trail. Again, it's pretty easy to follow the path even though there aren't any markers here. I also used my All Trails app to keep track of my hike, too.
After walking between lots of tall trees, as well as up and down some short slopes, you'll reach Duffins Creek once again. Duffins Creek was partially frozen and partially thawed when I visited. The last little bit of this trail was a little dicey.
I navigated across the trails for most of the time with ease on my microspikes. However, there was some melted water here where my spikes went right through the ice and into a giant puddle. I'm glad that my hiking boots are waterproof for these situations! I reached the first bridge after walking in a giant loop and realized that I was back at the beginning once again.
White Pine Walk
The White Pine Walk is a 1.9km loop trail that starts at the Discovery Pavilion, too. A portion of the Duffins Trail also doubles as the White Pine Walk (and the Recreational Trail!). Then, the White Pine Walk splits from the Duffins Trail and forms another big loop, ending closer to the parking lot.
Recreational Trail
The Recreational Trail is an easy and flat 2km trail that doubles up with the White Pine Walk in some areas. Along with the Bird Walk and the Meadow Trail, these are rated as the easiest trails at Greenwood Conservation Area.
Even though the Duffins Trail has the most difficult rating, it really isn't that hard to hike it. Anyone who is a beginner to hiking can easily enjoy any of these Ajax hiking trails. Don't let the ratings deter you from giving any of them a shot.
Bird Walk
The Bird Walk is a short, 0.5km loop trail from the Greenwood Discovery Pavilion to the Meadow Trail. You can add the Bird Walk and the Meadow Trail on to your Duffins Trail hike if you still have some energy (or if you decide to hike the Duffins Trail according to the trail map without adding on the extra southern trails like I did!).
Meadow Trail
The Meadow Trail is a 0.4km loop trail that makes your walk from the parking lot to the Discovery Pavilion a little more scenic.
Greenwood Conservation Area North Trails
There's another entire section of Greenwood Conservation Area north of 5th Concession that I haven't explored yet. When I return to Greenwood Conservation Area, I plan to hike these trails. I'll come back here and update once I do!
If there's enough snow on any of these hiking trails, I've listed them as some of the best places to go snowshoeing near Toronto. There just needs to be enough snow! When I visited, it was mostly a thin layer of ice.
Want to see more photos of Greenwood Conservation Area?
Browse our entire travel photography album in one place. You can browse and buy any of our pictures, including prints, gifts and more.
Plan Your Visit to Greenwood Conservation Area
You can drive right into the main entrance (2290 Greenwood Rd, Ajax, ON) and there is parking on site. It is free to park at Greenwood Conservation Area, and it's also free to visit.
As you walk from the parking lot, you'll pass a couple of the shorter hiking trails (Bird Walk, Meadow Trail, and Recreational Trail). Then, you'll reach a building called the Greenwood Discovery Pavilion. There are public restrooms at the side of the building that are open, even if the main building itself isn't open.
These hiking trails are dog-friendly trails, but please keep your dog on a leash unless you're in the leash free section. There's a small parking lot at the Greenwood Conservation Area Northwest Entrance on Church Street North, just south of the 5th Concession.
If you're looking to hike the northern trails of the park, go to the Greenwood Conservation Area North Entrance on Concession Rd 5.
What to Bring on a Winter Hiking Trip
Your packing list for a winter hiking trip will look much different than one in the summer! Here are some important things to consider bringing with you on a winter day hike.
Where to Stay in Ajax
Want to make a weekend of it? Spend the night in Ajax and you'll be able to hike the south section of Greenwood Conservation Area on one day and hike the north section the next day. There are lots of great hotels in Ajax.
I also noticed that there's an awesome Airbnb accommodation right on the edge of Greenwood Conservation Area. Here are all hotels and Airbnbs displayed in one place that you can browse on a map.
More Great Durham Region Hiking Trails
This is my very first hiking trip to Durham region! While I don't currently have any more Durham hiking trails to show you, I'll share some that encompass the York Durham Headwaters region for now.
Join the Ontario Hiking Facebook Group
You are also welcome to join our Ontario Hiking Facebook Group – it's a great way to ask questions about hiking in Ontario, share your Ontario hikes, and get inspired!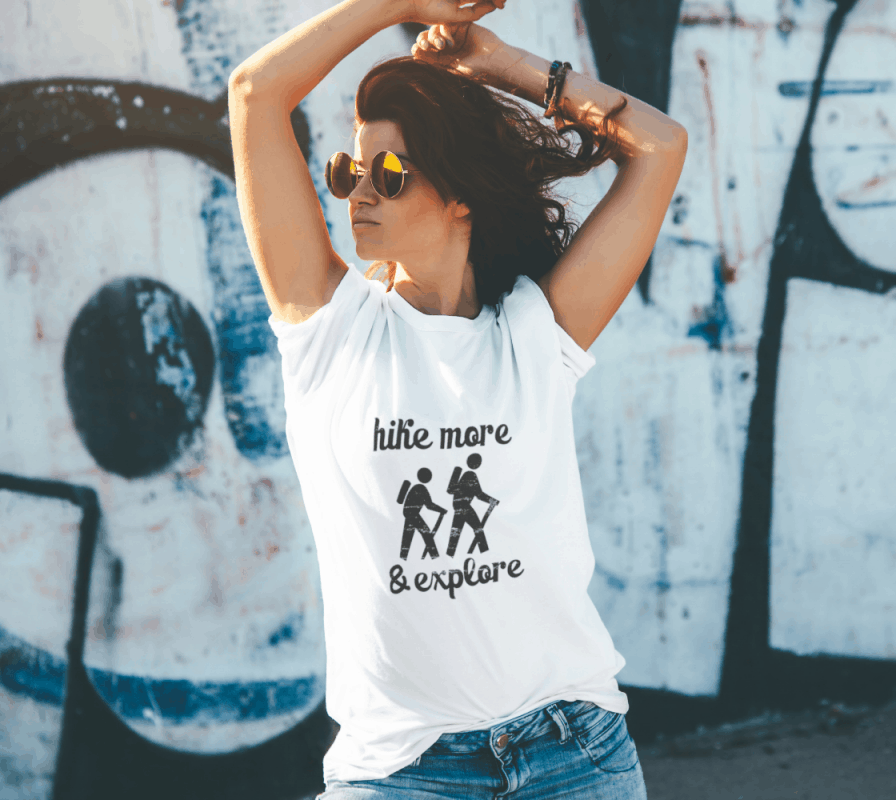 Inspired by adventures and nature. Ontario hiking and Bruce Trail apparel & accessories, designed by me.