Flowerpot Island near Tobermory, Ontario, is one of the most beautiful and unique places in our province. The island, part of the Fathom Five National Marine Park, is famous for its rock columns that resemble flowerpots (narrower at the bottom and wider at the top). There are also caves to explore, a historic lighthouse, and hiking trails.
Posts may be sponsored. Post contains affiliate links. I may be compensated if you make a purchase using my link.
I'm going to show you how to plan the perfect day trip to Flowerpot Island from Tobermory, including details about the Flowerpot Island hiking trails. It's also possible to camp overnight at Flowerpot Island. As I haven't personally done this before (and it's limited and not available to most visitors), I'll provide information on where to stay overnight in Tobermory, too.
Become an Ontario Hiking Supporter!
Join the Ontario Hiking Patreon and you'll become a VIP member of the Ontario Hiking community! You'll receive ad-free, downloadable hiking guides with new guides added weekly. Plus, there are many more perks! Become an Ontario Hiking Supporter today!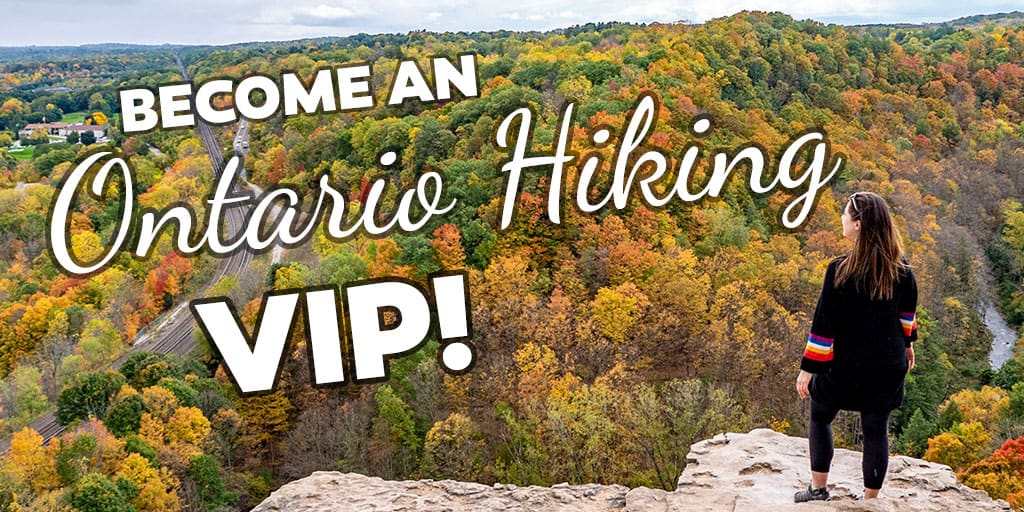 Where to Stay in Tobermory
As we didn't go camping on Flowerpot Island, we spent the night in Tobermory. We stayed in Tobermory the night before our trip to Flowerpot Island. On our arrival day, we went hiking at the Bruce Peninsula National Park. Then, we went to Flowerpot Island the next day. Our top pick for the best place to stay in Tobermory is the Bruce Anchor Motel.
It's a clean and comfortable motel with friendly staff. You'll be right in the middle of it all: a short walk to the harbour and town, and seconds away from the Flowerpot Island boat dock. When you stay at the Bruce Anchor Motel, you'll be able to park your car for free all day during your Flowerpot Island cruise. This is super convenient!
While the motel isn't terribly fancy, it has everything you need for a great stay. There's even a little spot to sit outdoors on a balcony if you've booked a second floor room. Check out more reviews of the Bruce Anchor Motel if you'd like to read more opinions.
Looking for More Places to Stay?
Want to compare other places to stay in Tobermory? There are lots of hotels, motels, and vacation rentals to check out, whether you stay in Tobermory or beyond. Here's a handy map that shows all hotels and vacation rentals in one place. Click on them to learn more and book your stay.
Getting to Flowerpot Island
There are two companies in Tobermory that operate ferries to Flowerpot Island, The Blue Heron Company and Bruce Anchor Cruises. While either tour company will get you there and back safely, we chose Blue Anchor Cruises for our adventure. Flowerpot Island is 6.5km away from the Bruce Peninsula.
As I mentioned above, the Bruce Anchor Motel and Bruce Anchor Cruises share the same owner. So, we found that it was an easy to choice to stay overnight at the Bruce Anchor Motel and simply walk across the street to the ferry dock for Bruce Anchor Cruises. While there is free parking for ferry guests nearby, we were able to leave our car at the motel parking lot the entire time.
Ferries to Flowerpot Island are seasonal. You can plan your visit between mid May and mid October, weather permitting. If the weather is too windy or treacherous, trips have the potential to get cancelled for the day.
Seeing the Shipwrecks
On the way to Flowerpot Island, you'll do some scenic cruising along the way to view some historic shipwrecks. While it's possible to see the shipwrecks from the side of the ferry, each Bruce Anchor Cruises boat has a glass bottom portion to it. You can look through the glass bottom to view the shipwreck as the ferry sails over top of it.
The Sweepstakes was a two-masted wooden schooner built in Burlington, Ontario, back in 1867. It was originally damaged off Cove Island and towed towards Big Tub Harbour in Tobermory. Unfortunately, the damage was too severe and the boat sank.
You can view a second shipwreck on your way to Flowerpot Island. This one was a wooden passenger steamer ship called The City of Grand Rapids. It caught fire in Little Tub Harbour in 1907, and the ship was towed to open waters so the fire wouldn't spread to the rest of the harbour.
Flowerpot Island Hiking Trails
There are two main hiking trails on Flowerpot Island: the Loop Trail and the Marl Trail. Here is a map of Flowerpot Island showing the trails and the best attractions / points of interest. The trail head is right where the boat docks at Beachy Cove.
Flowerpot Island Trail Map
You'll need to plan your visit according to how much time you have on the island. First, the boat ride to the island takes a little under an hour as you'll be embarking on a scenic sailing and marveling at the shipwrecks. The ride back only takes 20 minutes.
As for how long to stay on the island, here are the recommendations as set by Parks Canada:
1.5 hours to visit the flowerpots and the cave
3 hours to visit the flowerpots, cave and light station
4 or 5 hours to see the flowerpots, cave, light station, have a picnic, and hike the loop trail
There are also closures of certain areas from time to time. For instance, when we visited the caves were closed. Factor this into your trip. We spent three hours on the island and we were able to see the flowerpots, the light station, and hike a good portion of the loop trail (we went the same way there and back).
Loop Trail
The Loop Trail is the main trail on Flowerpot Island. By walking on the Loop Trail from Beachy Cove, you'll see the flowerpots, the cave, and the light station. Most visitors to Flowerpot Island will return and hike back the same way that they came due to time restrictions.
If you continue hiking on the loop trail towards the inner portion of Flowerpot Island, this is more rugged terrain. It's not super difficult, but it's not a simple jaunt like it is along the coast.
Marl Trail
The Marl Trail, described as moderate, is a 1.2km out and back trail that leads down to the coast. I've never hiked this trail because I've never found that there is enough time to do so when visiting Flowerpot Island. I recommend exploring the Marl Trail if you're looking for a more isolated spot on the island and you're looking for a new experience after visiting multiple times.
Things to Do at Flowerpot Island
There are lots of fun things to do at Flowerpot Island. It's such an awesome day trip from Tobermory. Here are all of the attractions at Flowerpot Island that you need to check out when you visit.
See the Large and Small Flowerpots
Of course, the main place to go sightseeing on Flowerpot Island is right by the coast to witness the amazing rock formations. There are two flowerpot-shaped rock pillars right on the shore. These have naturally eroded over many, many years. They formed when ancient glaciers froze and thawed over and over again, as well as from the waves crashing against the shore. There's the large flowerpot and the small flowerpot, not too far away from one another.
The flowerpots are quite a sight to behold. They look top heavy with flat tops and get more narrow towards the base. Greenery sprouts from the tops of the flowerpots. According to an ancient legend, the two flowerpots represent two lovers from opposing tribes. When the lovers escaped their tribes to be together, their boat crashed and they were forever petrified on the beach as the flowerpot rock formations.
Check Out the Caves
The caves at Flowerpot Island are right at the side of a large hill, up a set of wooden stairs. Unfortunately, the caves were closed when I visited and they've been closed for some time. There's a good chance that they're still closed, too. Please be sure to update me when they open and let me know what you think!
Hike to the Flowerpot Island Light Station and Lightkeeper's Cottages
At one end of the island, you'll discover the historic light station. It's 88 feet tall and constructed out of steel, perched at the top of a rocky cliff. There are also the old cottages of the lightkeepers. They were closed when we visited. However, sometimes they're open when volunteer staff members are on the island. You can stop by for a cold beverage and a souvenir.
Have a Picnic at Flowerpot Island
There are a couple of places on the island with picnic tables if you'd like to pack a picnic lunch. There is a picnic shelter near Beachy Cove and more picnic tables near the light station. Please remember to pack up all of your trash and carry it out with you. There aren't any garbage collection facilities on the island.
Go Swimming at Flowerpot Island
It is possible to go swimming at Flowerpot Island. There are only rocky beaches on the island, so you won't find any soft, powdery sand. Beachy Cove has some restrooms, so you can change into your bathing suit there.
Be warned: the water is cold, if not freezing. It's really not the best place to go swimming unless you're feeling pretty adventurous. I'd probably want to wear a wetsuit. It's possible to go snorkeling here, too. I'm not sure if you'll be able to see very much, however.
Flowerpot Island Camping
It is possible to go camping on Flowerpot Island. There are six tenting sites on Flowerpot Island, and it's the only place to camp at Fathom Five National Marine Park. These campsites do book up pretty fast as it's a unique and limited experience. Here's where you can find more information about camping at Flowerpot Island.
What to Bring on a Hike
A proper pair of hiking shoes is an absolute must. It's also a good idea to bring sunscreen and lots of water, too. My water bottle of choice is the GRAYL Purifier because you can drink ANY water from any source, no matter what. Water from lakes, streams, rivers, public restrooms, you name it. It's the world's fastest portable purifier. Get your hands on one ASAP!
Don't forget to pack some bug spray because there can be biting bugs depending on the time of year. Even if there aren't any signs, it's safe to assume that ticks are all over Ontario hiking trails. Protect yourself against ticks by reading our guide to avoiding ticks on the trails.
Want to see more photos from Tobermory?
Browse our entire travel photography album in one place. You can browse and buy any of our pictures, including prints, gifts and more.
More Bruce Peninsula Hiking Trails
Making the trip up to the Bruce Peninsula and looking to do a lot of hiking? Here are some more hiking guides for the Bruce Peninsula to help you plan your trip.
Join the Ontario Hiking Facebook Group
You are also welcome to join our Ontario Hiking Facebook Group – it's a great way to ask questions about hiking in Ontario, share your Ontario hikes, and get inspired!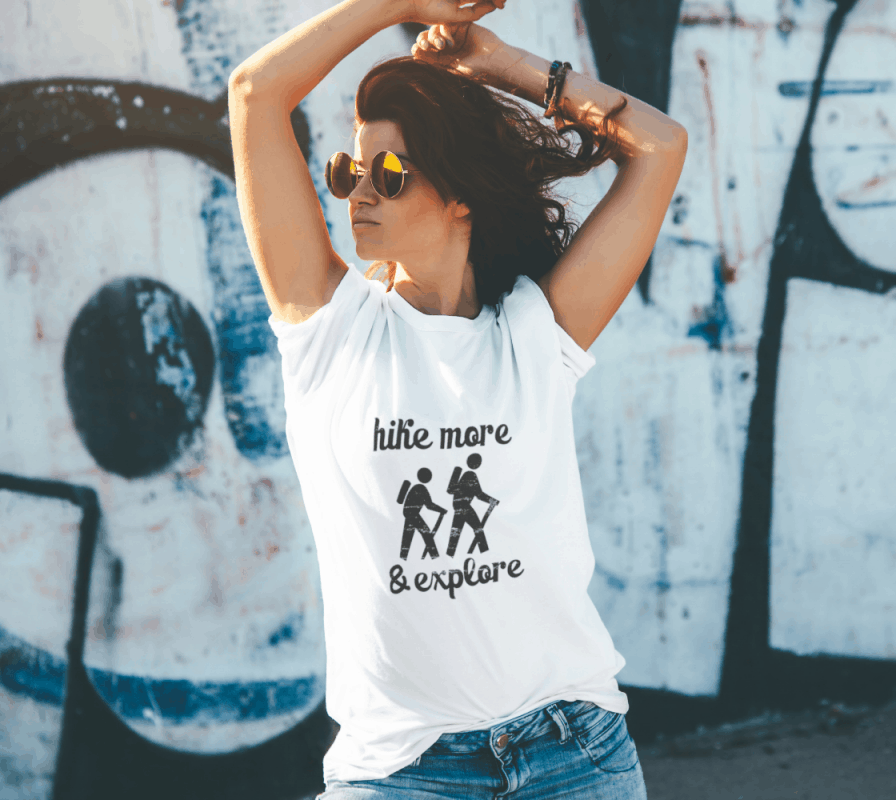 Inspired by adventures and nature. Ontario hiking and Bruce Trail apparel & accessories, designed by me.