The Loree Forest Loop Trail is a wonderful place to go hiking near Collingwood, Blue Mountain, and Thornbury, Ontario. This 5km loop trail winds through a gorgeous woodland where you'll be surrounded by tall trees. Eventually, you'll reach a scenic viewpoint and a ski lift, which is an interesting feature to witness on a hike.
Posts may be sponsored. Post contains affiliate links. I may be compensated if you make a purchase using my link.
This is a relatively easy trek with very few inclines and declines. It's a predominantly flat path that's great in all seasons. You'll be hiking mostly on the Bruce Trail and its side trails. I went hiking at the Loree Forest Loop Trail in January, and it's truly a winter wonderland after a snowfall. In fact, it was snowing while I was hiking, which made it even a little more magical.
Join the Ontario Hiking Facebook Group
You are also welcome to join our Ontario Hiking Facebook Group – it's a great way to ask questions about hiking in Ontario, share your Ontario hikes, and get inspired!

Loree Forest Loop Trail Map
Here is a trail map for the Loree Forest Loop. The parking lot is just off 21st Sideroad between 6th Line and 4th Line in Loree, Ontario (near Blue Mountain). There is a limited amount of parking at the side of the road, and this could fill up on weekends and more popular times of the year to hike. We visited on a weekday morning in the winter and didn't have any issues finding a parking spot.
Hiking the Loree Forest Loop Trail
From the parking lot, you'll see the trailhead and entrance to the hiking trail. You'll begin your hike into the Loree Forest, a 339 hectare protected natural space. The full name of this forest is the Len Gertler Memorial Loree Forest, named for an environmentalist who helped develop the Niagara Escarpment Plan.
In 1968, he wrote the Gertler Report, which educated the public on the importance of protecting the Niagara Escarpment. This greatly influenced UNESCO's decision to make the Niagara Escarpment a World Biosphere Reserve in 1990.
It's a long and straight path until you reach the Bruce Trail side trail signs. There is one minimal incline along this mostly flat path. It wasn't too slippery for us, but you might need microspikes in the winter, especially at this point of the trail. Then, you'll reach a blue sign indicating the beginning of the Len Gertler Side Trail.
Len Gertler Side Trail
You can choose to head east or west on the Len Gertler Side Trail. It doesn't really matter which direction you take. You'll hike the whole loop one way or the other. We decided to hike the loop in a counter-clockwise direction. From the connecting trail, we ventured to the right, walking east on the trail.
Hike through the peaceful forest where you might spot some birds or squirrels on the way. There's a really beautiful section where there are rows of tall trees on either side of the trail. You'll continue your trek on the Len Gertler Side Trail until it comes to an end.
Loree Forest Loop: The Bruce Trail
The Len Gertler Side Trail meets the main Bruce Trail, marked with white trail blazes. To continue on the Loree Forest Loop, you'll hike north on the trail (a left hand turn, from our perspective). If you walk south, you can keep hiking on the Bruce Trail, though you will head out of the Loree Forest.
A hike on the Bruce Trail continues through the forest and across short sections of meadow. There are some areas with warnings about poison ivy. Be sure to stay on the trails at all times, not only to protect the forest, but to ensure that you don't walk through poison ivy. You'll reach a clearing at the northernmost point of the Loree Forest Loop where it's possible to catch some astonishingly beautiful views.
Loree Forest Loop: Lookout Point and Ski Hill
Unfortunately for us, we were hiking in the snowy weather and it wasn't possible to see Georgian Bay…or much of anything. There's a big wooden platform where you'll can normally admire scenic views of Georgian Bay. For us, it was completely obscured by the snowy weather and didn't look like much of anything. All we could see was white. But, that's no problem – we'll return in the summer for an entirely new experience.
The ski hill is another interesting feature of this trail. You'll see a chairlift for The Georgian Peaks Club, a private members only ski hill with a few ski runs. When we hiked here, we actually thought that it was an abandoned ski resort! However, it appears that the ski resort is closed sometimes during weekdays, and I'm sure it's never terribly busy as it is a private resort.
Continue hiking past the ski lift and enter back into the forest on the Bruce Trail. The hiking trail continues through the trees and reaches an expansive field at one point. You'll then reach a fork in the trail where you can hike more on the Bruce Trail or venture back on the Len Gertler Side Trail. You'll want to walk on the side trail to complete the Loree Forest Loop and head back to your car.
Back to the Len Gertler Side Trail
Follow the blue trail blazes of the Len Gertler Side Trail through more of the Loree Forest. This is a really well maintained trail where the trails are well marked. You won't get lost out here, that's for sure. Keep hiking until you get back to the straight connecting path that leads back to the parking lot.
Plan Your Visit to the Loree Forest Loop
The Loree Forest Loop is a 5.5km loop trail that everyone can enjoy. It's great for both beginner and experienced hikers alike. This is a pretty easy, flat path, though you will need to watch out for some exposed roots and rocks on the way.
There aren't any restrooms or facilities here, so please plan for that in advance. This trail can become busy on the weekends, especially during the summer and fall. The parking lot will fill up in this instance. Be sure to arrive early to get a parking spot. In the winter, this wasn't too much of a problem, although it might still get busy on weekends.
It is 100% free to visit and hike at the Loree Forest Loop. If you find that you go hiking quite frequently on the Bruce Trail and its side trails, you might consider becoming a member of the Bruce Trail Conservancy (or donating to the Bruce Trail). The Bruce Trail Conservancy helps protect its current lands and secure new properties for the future, so we'll be able to enjoy the natural wonders of southern Ontario for many years to come.
What to Bring on a Hike
A proper pair of hiking shoes is an absolute must. It's also a good idea to bring sunscreen and lots of water, too. My water bottle of choice is the GRAYL Purifier because you can drink ANY water from any source, no matter what. Water from lakes, streams, rivers, public restrooms, you name it. It's the world's fastest portable purifier. Get your hands on one ASAP!
Don't forget to pack some bug spray because there can be biting bugs depending on the time of year. Even if there aren't any signs, it's safe to assume that ticks are all over Ontario hiking trails. Protect yourself against ticks by reading our guide to avoiding ticks on the trails.
For amazing deals on hiking products like backpacks, boots, clothing, and gear, check out the Decathlon Canada shop!
What to Bring on a Winter Hiking Trip
Your packing list for a winter hiking trip will look much different than one in the summer! Here are some important things to consider bringing with you on a winter day hike.
More Hikes in Bruce, Grey and Simcoe Counties
Looking for more hiking trails in Bruce County, Grey County or Simcoe County? Here are the Ontario Hiking guides that we have for you so far:
Become an Ontario Hiking Supporter!
Join the Ontario Hiking Patreon and you'll become a VIP member of the Ontario Hiking community! You'll receive ad-free, downloadable hiking guides with new guides added weekly. Plus, there are many more perks! Become an Ontario Hiking Supporter today!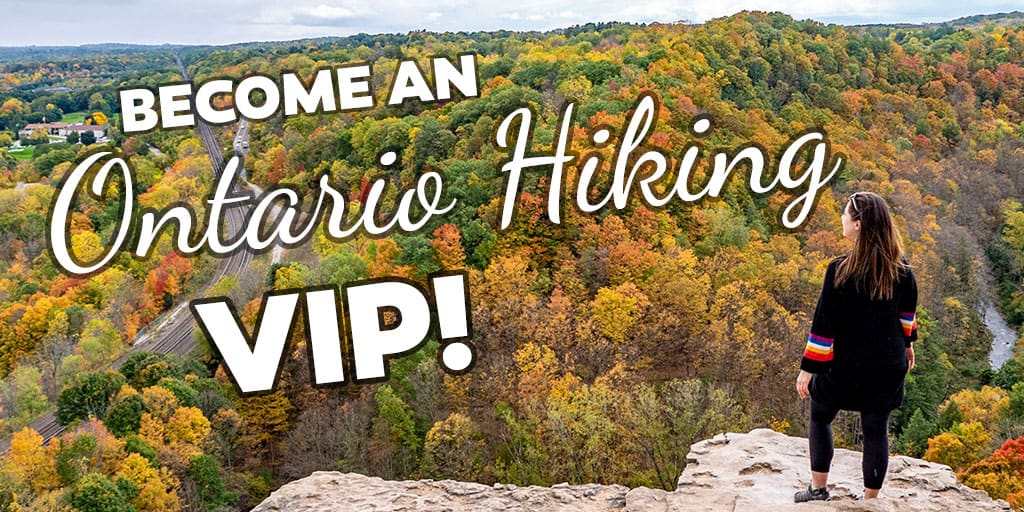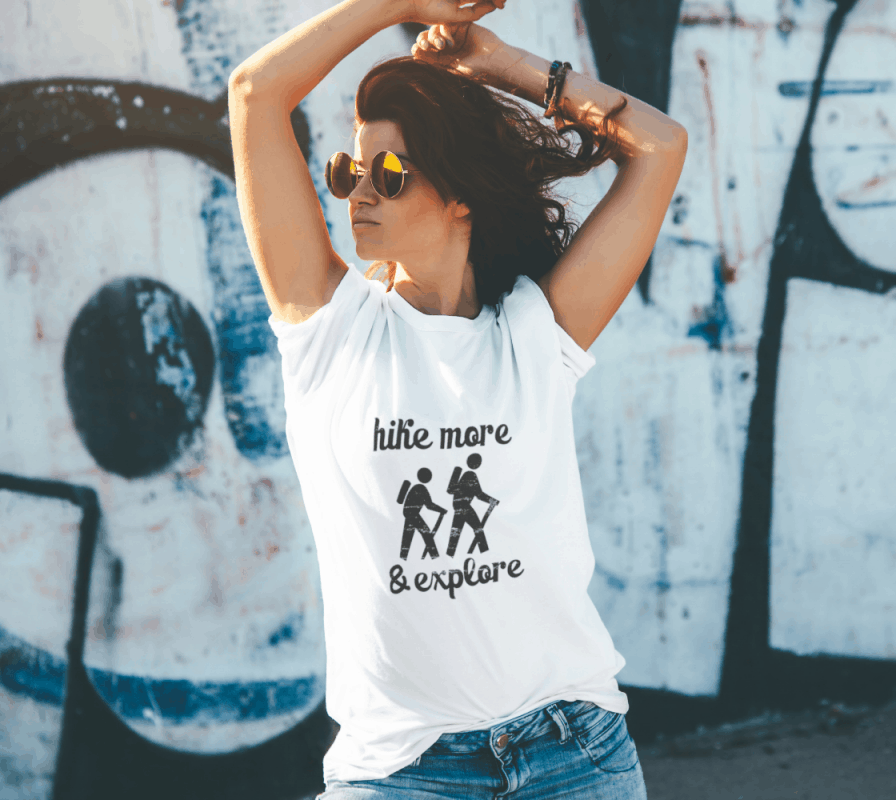 Inspired by adventures and nature. Ontario hiking and Bruce Trail apparel & accessories, designed by me.