Sleeping Giant Provincial Park in winter is equally amazing as a visit in the other seasons. You might be a little more limited in terms of the places you can hike, depending on how skilled or adventurous you are. Sleeping Giant, Thunder Bay, and Northwest Ontario put on quite a show in the winter: a spectacular and dazzling frozen wonderland.
Posts may be sponsored. Post contains affiliate links. I may be compensated if you make a purchase using my link.
This Sleeping Giant Provincial Park hiking guide will look a little different than one you may see for other times of the year. All of the trails, including the Top of the Giant, may be harder to access or even inaccessible. I'm going to show you all of the hiking trails that I visited at Sleeping Giant in the winter so you can make educated and safe decisions for your trip, too.
Become an Ontario Hiking Supporter!
Join the Ontario Hiking Patreon and you'll become a VIP member of the Ontario Hiking community! You'll receive ad-free, downloadable hiking guides with new guides added weekly. Plus, there are many more perks! Become an Ontario Hiking Supporter today!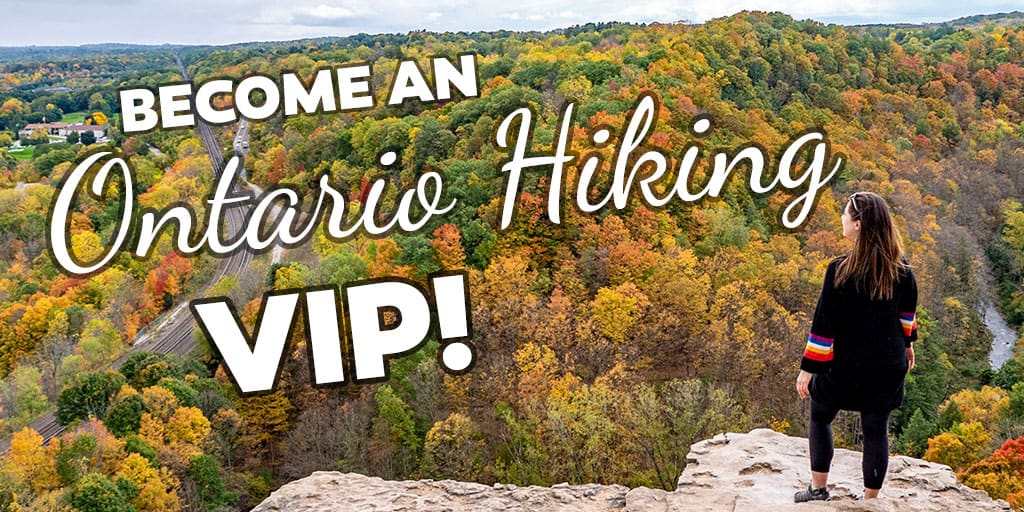 About Sleeping Giant Provincial Park
Sleeping Giant Provincial Park was originally called Sibley Provincial Park as it is located on the Sibley Peninsula. In 1988, the park was renamed to Sleeping Giant Provincial Park. The park is named for the Sleeping Giant, also known as Nanabijou (Spirit of the Deep Water). Sleeping Giant is a massive rock formation that looks like a giant lying on its back, as viewed from Thunder Bay across Lake Superior.
According to one Ojibway legend, Nanabijou turned to stone when Silver Islet, a rich silver mine, was taken by the white men. There are other legends that refer to Nanabijou and how he created the islands, lakes, and rivers of the world.
Safety at Sleeping Giant Provincial Park in Winter
There are a few things to keep in mind if you visit Sleeping Giant Provincial Park in winter. First, the park office is closed in the winter. I was fortunate enough to be able to speak to some staff members, but you might not have access to anyone (especially for a day hike).
Next, you will likely lose all cell phone signal at Sleeping Giant Provincial Park. There might be a few pockets here and there, but it's likely that you will lose touch with the outside world. It's a great way to immerse yourself in nature, but be safe about it. Let your loved ones know exactly where you'll be hiking and when they can expect to hear from you. Don't venture off the path that you've given them.
Be prepared with lots of warm, winter layers. Pack an extra pair of socks, hand warmers, toe warmers, and more layers. Bring lots of snacks and water. Be mindful of the time and when the sun goes down. Pack a flashlight, headlamp, and back-up battery for your cell phone. I'll have more advice below about the best things to pack for a winter day hike.
Last, if the hike or snowshoe adventure you take ends up being a little too adventurous, use your common sense. It's not a problem to turn around and head back to where you started if the snow gets to be too deep or the trails aren't maintained well enough. Know your own abilities and know when to turn back.
Hiking at Sleeping Giant Provincial Park in Winter
Sleeping Giant Provincial Park has over 100km of hiking trails, including the 40km Kabeyun Trail. There are numerous peaceful lakes, gorgeous scenic outlooks, and intriguing rock formations. With that said, there are quite a few places that are inaccessible or difficult to tackle in the winter.
The Thunder Bay Lookout is not accessible in the winter. The Top of the Giant is really difficult to access and not possible in many occasions. But, there are lots of things to do at Sleeping Giant Provincial Park in winter that you can't do at any other point in the year. For instance, there are cross-country skiing trails and the annual Sleeping Giant Loppet event (postponed and won't be held in 2021). Also, many of the lakes are completely frozen in the winter and you can walk across them.
Here are some of the hiking and snowshoeing trails that you can visit in the winter at Sleeping Giant. The staff at Sleeping Giant Provincial Park told me about the best trails to tackle while I was there. While I wore winter boots and didn't need my snowshoes on these trails, you might want to think about packing crampons. I wish I had some when I went hiking there. Some of the trails were a bit slippery and I fell more than once!
Sea Lion Trail
The Sea Lion Trail is 2.4km round trip from the parking lot at the southern Kabeyun trailhead. This is where you'll start your hike. The actual Sea Lion Trail itself is only 0.8km roundtrip, and it is rated as a moderate difficulty by Ontario Parks. It takes about an hour to complete, but it might take longer in the winter conditions.
Sleeping Giant Provincial Park trails are very well marked with sign points pointing out each trail, along with the kilometre distances. The Sea Lion Trail is a rewarding hike for not very much effort. The views along the way are captivating from start to finish.
Hike on the Kabeyun Trail until you reach a big sign that reads "Sea Lion" with an arrow. You can't miss it! The Sea Lion Trail wraps around part of Perry Bay. There are stunning views of the bay on the entire journey. There are also a few signs that will detail some of the geologic history of the region.
The Sea Lion rock formation is a natural rock arch that formed over a billion years of glacation and erosion. It used to actually resemble a sea lion before the 1900s, but its "head" fell off one day. The waters of Lake Superior continue to weather and sculpt the rock archway, and it will eventually collapse even more.
One day, you'll only be able to see a stack here. Who knows when the rock formation, as it stands, will collapse!
Kabeyun Trail
The Kabeyun Trail is the main trail at Sleeping Giant Provincial Park. It is 37km one way (74km round trip) that you can tackle over a few days. It's possible to do overnight camping trips and hike the Kabeyun Trail all in one go, but most people just hike portions of it for the day.
You can start your journey at the North Kabeyun Trailhead or the South Kabeyun Trailhead. At one point, it does round the tip of the Sibley Peninsula, but it isn't a true coastal trail. There are lots of popular side trails off the Kabeyun Trail, such as the Top of the Giant Trail, the Head Trail, the Tee Harbour Trail, the Thunder Cape Trail, and the Sea Lion Trail.
You might find that some sections of the Kabeyun Trail are easy, and some are quite difficult. It may not be possible to hike the entire Kabeyun Trail in the winter. I only hiked a portion of the trail from the South Kabeyun Trailhead.
Middlebrun Bay Trail
Another hiking trail at Sleeping Giant that you can take in the winter is the Middlebrun Bay Trail. It is 4.9km long (9.8km round trip) and rated as moderate. The trail leads to an isolated beach at Middlebrun Bay with spectacular views of Lake Superior.
Top of the Giant in Winter
The entire trip to the Top of the Giant is 21.8km out and back from the South Kabeyun Trail parking lot, and it generally takes hikers 6-10 hours to complete. It is a very challenging trail that leads to the top of one of the tallest cliffs in Ontario.
While I am sure that someone out there has likely attempted hiking to the Top of the Giant in the winter and succeeded, it's not something that I can recommend for the average hiker. I asked the park staff if it was possible, and they did not recommend it. I've read other hiking blogs and stories online of experienced hikers who have tried and ended up turning around once they reached the Top of the Giant trail.
This trail can be incredibly deep with snow, the trail will not be exactly visible in the winter weather, and the conditions can be treacherous. Even though it might not be possible to visit the park's main attraction in the winter, I think it's still an incredible winter hiking adventure.
More Hiking Trails at Sleeping Giant
Of course, there are many more hiking trails at Sleeping Giant Provincial Park. While the steeper ones will be the most difficult in the winter, there are others that may not be maintained or trekked very often. Some have difficult crossings that may result in slippery or wet areas. I suggest trekking the ones that I suggested above, although you may have some adventures on the other hiking trails mentioned at the Ontario Parks website.
If you're looking to go snowshoeing at Sleeping Giant, there are a few popular spots. According to the Ontario Parks website, the most popular trails include the Sea Lion Trail, Sawyer Bay, and a portion of the Kabeyun Trail to Tee Harbour. These align with some of my winter hiking suggestions. I didn't need snowshoes at the Sea Lion Trail as my winter boots were good enough. Like I said above, you may want to invest in some crampons if you're not using snowshoes.
If you are searching for more things to do in the region, check out my guide to visiting Thunder Bay in the winter on my travel blog!
Frozen Lakes at Sleeping Giant Provincial Park
Aside from hiking the trails at Sleeping Giant, you should also take a walk on some of the frozen lakes. The smaller lakes will completely freeze over, and it is perfectly safe to walk on them. Even the largest lake, Mary Louise Lake, is completely frozen over. The ice levels are tested, and even a portion of the ski and hiking trails traverse the frozen lakes in the winter.
I spent two nights in a cabin at Sleeping Giant Provincial Park, perched on the edge of Mary Louise Lake. I walked out to Mary Louise Lake from my cabin and it was a magical experience. It was lovely to venture out across the frozen lake, admiring the scenery all around.
For the best place to watch the sunset at Sleeping Giant, go to the lookout point at Highway 587 and Mary Louise Lake. There is a sign for the lookout and a space to park your car. There's a trail that meets the frozen lake. Then, it's a short walk onto the frozen Mary Louise Lake where you can see the Sleeping Giant itself. The sun sets down right onto the rock formation, and the scenery is incredible. You'll see snow drifting across the ice as the sun descends onto the Sleeping Giant.
Want to see more Sleeping Giant photos?
Browse our entire travel photography album in one place. You can browse and buy any of our pictures, including prints, gifts and more.
Sleeping Giant Provincial Park Cabins in Winter
The campsite at Mary Louise Lake is closed during the winter season. But, you can stay in one of five rustic cabins on site all year long. I stayed in cabin #5, Coral Root. Outdoors, there is a pinic table, a fire pit, and scenery of the lake from the house. These cabins are extremely comfy and cozy, even in the dead of winter. There's a heated sun porch with tables and chairs before you enter the interior of the cottage itself.
Each cabin has three bedrooms that sleep up to 6 people. You will find everything you need for a comfortable stay. There's a full kitchen with a fridge, stove, microwave, coffee maker, cutlery, dishes, pots, pans, and a kettle. There's also a washroom with a shower. Unlike some other cabins at Ontario parks, this cottage has running water in the kitchen and bathroom.
The cabin even has a fireplace so you can stay nice and warm, as well as a heating system. There are also pillows, linens, and blankets in each bedroom. All you'll need to bring are towels and food that you'd like to cook. It's possible to book the cabins at Sleeping Giant at the Ontario Parks site. I stayed there midweek and I was the only one there! The cabins do book up during the weekend, so you will want to book them in advance for weekends.
What to Bring on a Winter Hiking Trip
Your packing list for a winter hiking trip will look much different than one in the summer! Here are some important things to consider bringing with you on a winter day hike.
Sleeping Giant Provincial Park is just one amazing place to go hiking in the winter. I have a list of 20+ best winter hiking trails in Ontario that you need to check out.
Join the Ontario Hiking Facebook Group
You are also welcome to join our Ontario Hiking Facebook Group – it's a great way to ask questions about hiking in Ontario, share your Ontario hikes, and get inspired!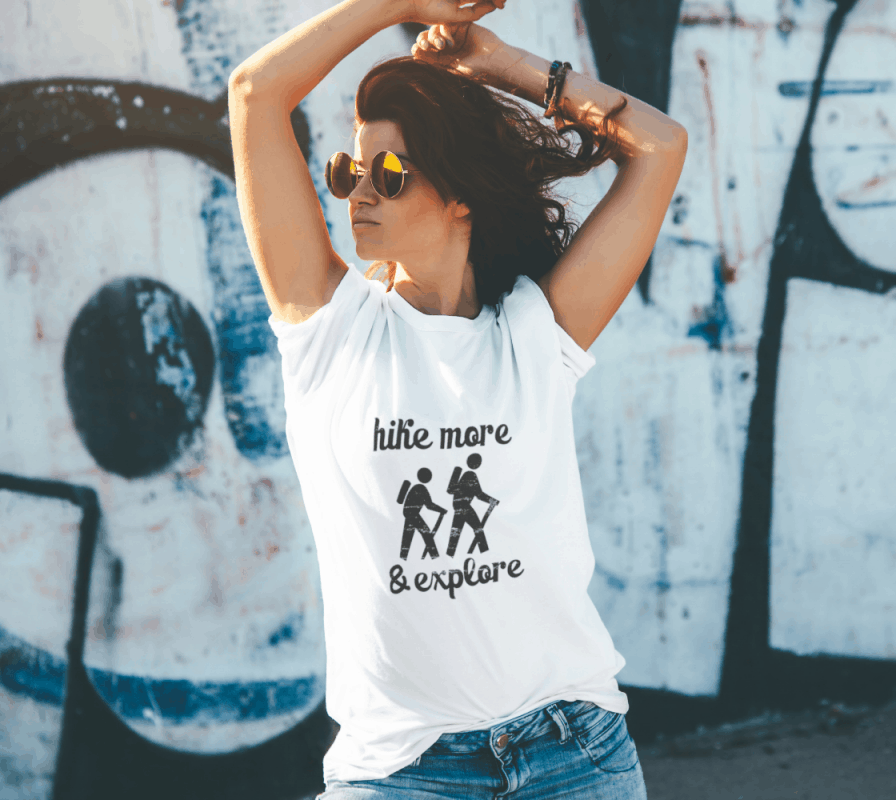 Inspired by adventures and nature. Ontario hiking and Bruce Trail apparel & accessories, designed by me.